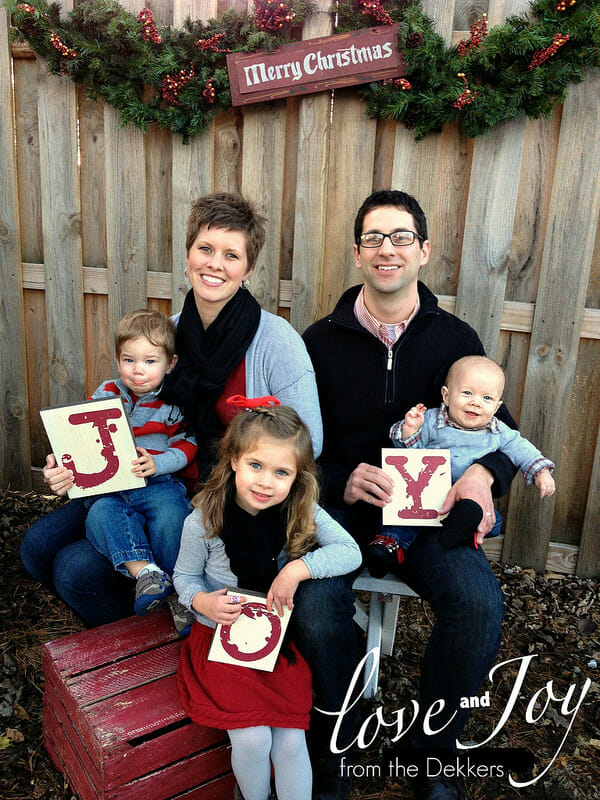 Merry Christmas!
We sent out our Christmas cards last week — so I figured it was safe to share them on the blog now 🙂
We actually just took this picture a few weeks ago — right by the swingset in our backyard! It was a random warm, sunny, December day, so I quickly put a few benches and decorations on the fence. Then I called my sister (who lives down the road) and she came and used my phone to snap a few pictures. Simon was just waking up from his nap and not happy to be getting his picture taken — but 4 out of 5 smiles isn't bad.
I was thrilled with the cards we printed from Minted.com (the calendars look great too, but I can't share those on the blog yet!)
I also took advantage of the free address printing option Minted was offering this year, so I didn't even have to address any of my cards! Score!
The back of the card says:
Nora (4 Years)
Nora started 3-school this fall, and is in the children's choir at church.
She loves riding her bike, playing dress-up, singing, dancing, doing crafts, playing doctor, and baking with mom.
She recently celebrated her 4th birthday with a Cinderella party.
Simon (21 months)
Simon is full of energy — he runs, jumps, and climbs on everything!
He loves riding on his scooter, swinging, playing with trucks, pretending to cook, and trying to keep up with his big sister.
Simon will turn 2 in March.
James (5 months)
James joined our family almost 2 weeks "late" on July 14.
He is rolling, cooing, grabbing his feet, and trying really hard to crawl.
He is such a happy baby and well-l0ved by his older siblings!
.
Our Christmas Cards from Previous Years:
2014 Christmas Card + Baby Announcement
2011 Christmas/New Year's Card + Nora's Birth Announcement
2010 Christmas Card + We Moved Announcement (plus, all previous year's cards)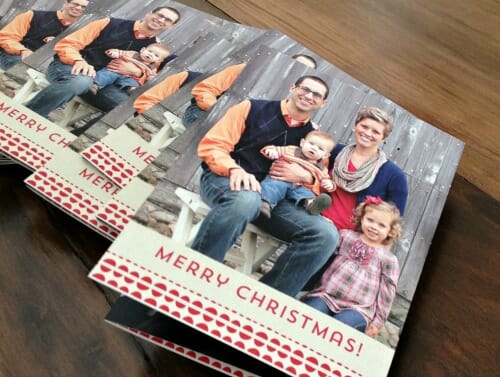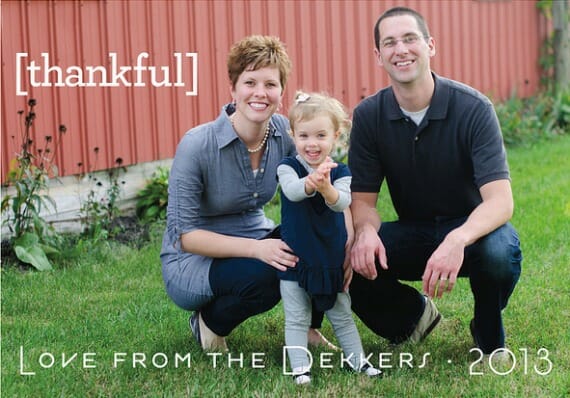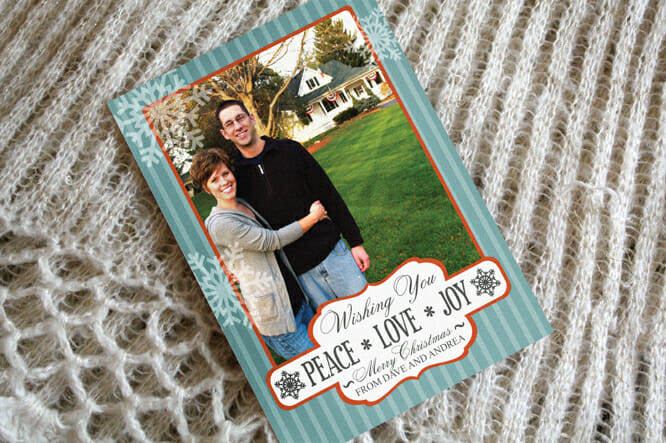 .
My Favorite Christmastime Posts from the Archives:
Since I'll be taking a little blogging break until the New Year, I thought I'd share a few of my favorite Christmastime posts from the archives — in case you're looking for some Christmas inspiration!
This is one of my all-time favorite Christmas posts — I wrote it on Christmas Eve right after we had moved into our farmhouse. It's a play on the "Twas The Night Before Christmas" poem!
Here's a bunch of creative ideas to repurpose old holiday cards.
A humorous plea to all those well-meaning relatives who insist on buying our kids boatloads of toys every year!
10 Tips to Simplify Holiday Entertaining
A word of encouragement to those of you who might not be having a simple or stress-free holiday season.
A practical post on how I get cash back for all my holiday online shopping.
.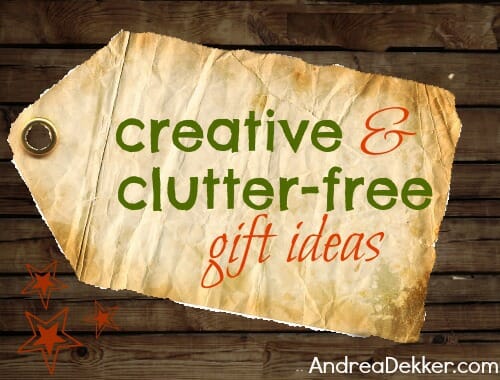 Clutter-Free Gift Series:
Over the past 5+ years, I've written countless posts on clutter-free gift giving. If you're still looking for a gift for someone on your list, I'm positive one of my clutter-free ideas will work.
Here's a link to ALL my posts about clutter-free gifts.
A few more ideas:
Creative ways to give gift cards.
Creative ways to give food gifts.
Creative ways to give acts of service gifts.
Creative ways to give experience gifts.
.
My Favorite Holiday Recipes:
In case you're still looking for the perfect recipe, I've shared a few of my favorite holiday dishes below.
And if you're attending a potluck-style party, here are a few of my tips for bringing a dish to pass.

.
Merry Christmas!
We'll see you back here after the New Year!
Love, the Dekkers