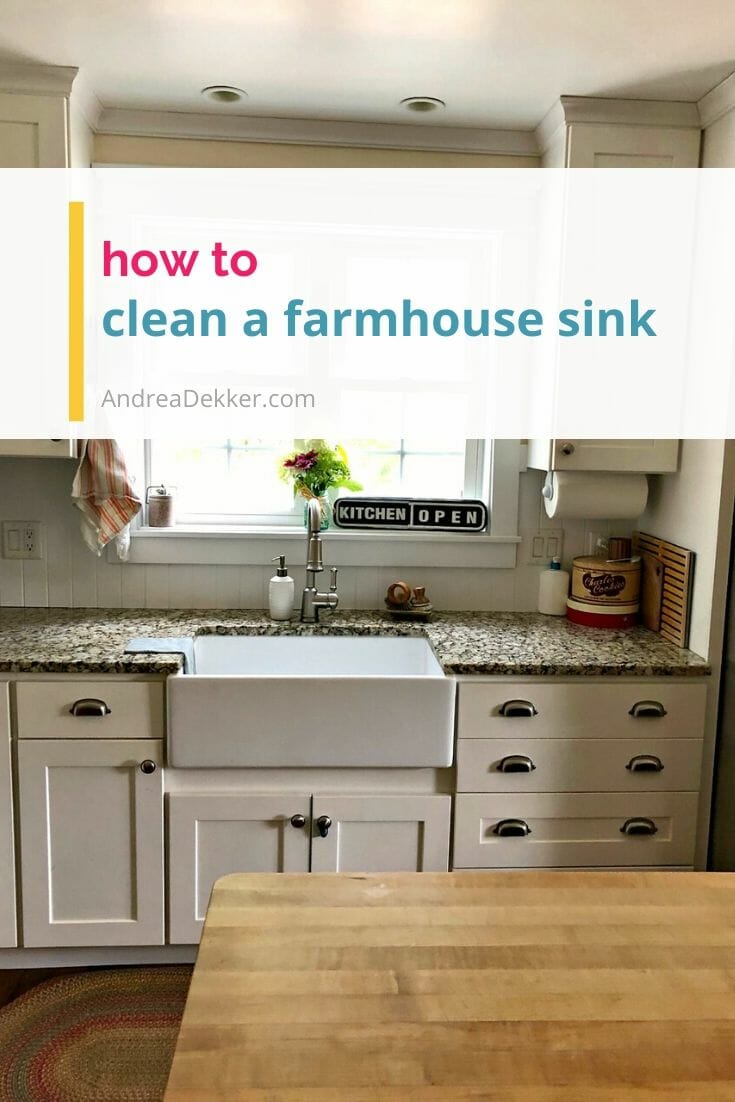 Do you love the look of a classic farmhouse sink but think it will be too high maintenance? Come and see exactly how easy it is to clean a farmhouse kitchen sink!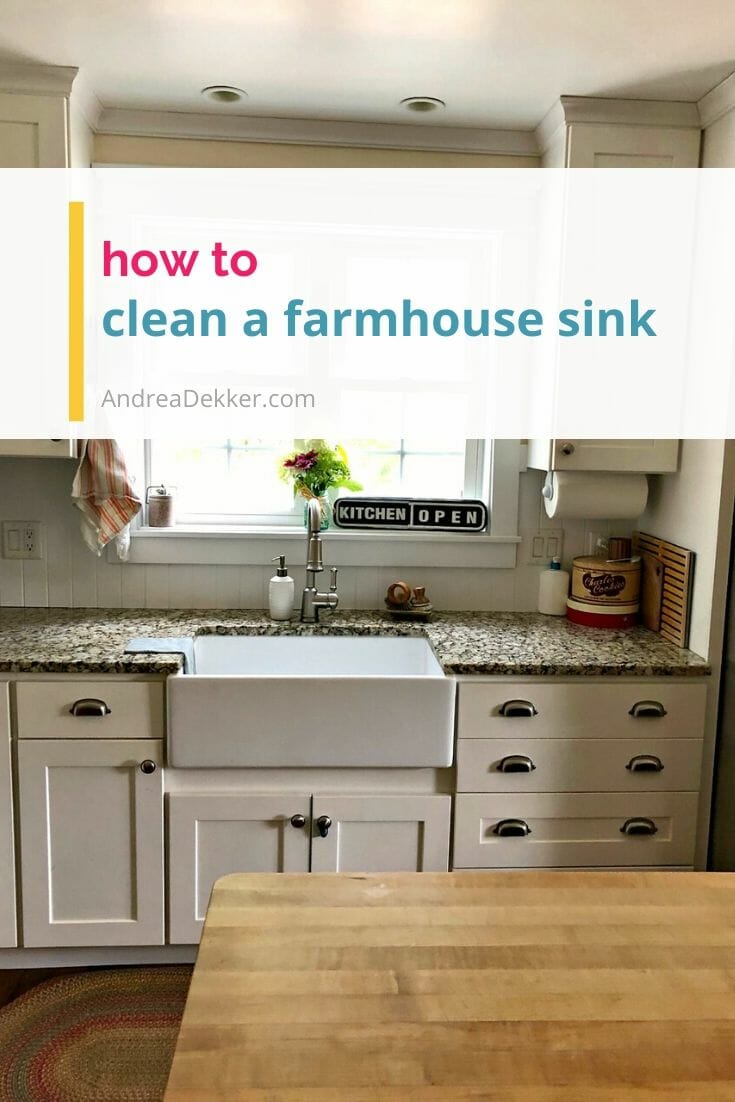 A white porcelain farmhouse kitchen sink was on my shortlist of non-negotiables when we renovated our kitchen back in 2012 (yes, it's really been that long!)
I was willing to compromise on a lot in the name of time, money, or practicality — but I wouldn't budge when it came to the farmhouse sink.
I didn't care how much it might cost or how long it might delay our renovation, I was going to have a big, beautiful, white porcelain farmhouse kitchen sink, no matter what!
Now, several years later, I can honestly say I've never regretted that decision once!
This sink is one of my favorite things in our kitchen… and wow is it big!
The extra-large, extra-deep size of our kitchen sink makes it an ideal location for baby and toddler baths, handwashing awkward fabric items, and doing a massive amount of dishes in record time. (We can fit THREE 9″x13″ pans laying flat with plenty of room for other dishes as well… or 24 mason jars!)
It looks fantastic, it functions exactly the way we hoped it would, and it's super practical too!
For example, since it's an under-mounted sink, we can simply wipe crumbs and junk from the counter right into the sink and we never need to clean around yucky grout or try to get crumbs out of the crack between the sink and the counter.
I realize a farmhouse sink might not work in every kitchen, but it's amazing how nice they look in many kitchens (even non-farmhouse kitchens).
If you're in the market for a new kitchen sink, I would highly recommend pricing out a farmhouse sink. They aren't as expensive as you might think.
Since I get lots of questions and inquiries about our sink, I thought I'd share a bit more information — now that I've been using iton a daily basis for several years!
Where to buy a farmhouse kitchen sink:
Farmhouse kitchen sinks are so popular these days, it's much easier to find them now than it was 8 years ago when I was hunting high and low for a good deal! They are at most home improvement stores, IKEA, and even on Amazon!
We purchased our sink from Signature Hardware and were VERY happy with the customer service, free shipping, free returns, and the huge variety of quality options available on their website (they currently sell over 300 different farmhouse sinks!)
We purchased the 30″ white porcelain (now called fireclay) farmhouse sink with the smooth apron. The only difference is that our sink has an off-set drain — but it doesn't look like that's an option right now.
It was right around $600 for our sink… BUT, when it arrived, it had a small chip on the "front" (it's reversible but I wanted the drain to be on the left side).
Signature Hardware immediately shipped us a new sink at no extra cost and said we could keep the old sink too. So, I sold the old sink on Craigslist for $300 (to someone who used it as a right-drain) and happily enjoyed getting our sink for half off!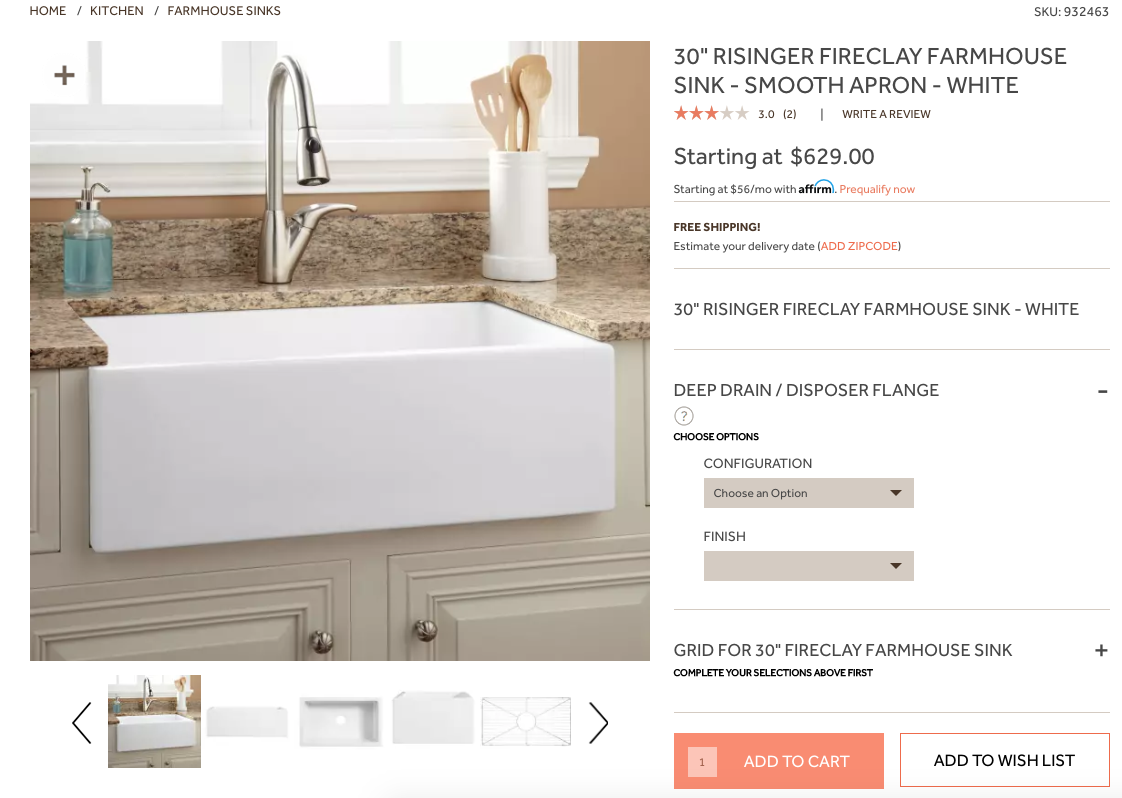 How to clean a farmhouse kitchen sink:
This is the #1 question I get about our sink… and honestly, it's SO easy!
Unlike stainless steel sinks that have 10,000 watermarks and fingerprints, a porcelain/fireclay sink doesn't show any of that.
However, since it's such a big sink and since it's very rectangular, food particles tend to get caught in the corners of the sink.
We simply use the sprayer on our faucet to wash everything down the drain whenever we're cleaning up the kitchen.
NOTE: I highly recommend buying a Moen kitchen faucet. They totally stand behind their products and just recently replaced our 8-year-old kitchen faucet that has sprung a small leek.

We didn't have any paperwork or our receipt and they shipped us a new (more expensive) model — no questions asked! I was SHOCKED!
As for how to clean a kitchen sink, I simply use a mix of vinegar and water or a little dish soap to clean it on a daily basis.
I use Soft Scrub to make it shiny white again if it starts getting a little dingy looking, or if it gets any scratches (which honestly doesn't happen all that often).
Either way, it only takes a few minutes to clean our kitchen sink and have it looking like new again.
How to protect a porcelain sink from scratches and black marks:
Believe it or not, it's actually pretty hard to "scratch" porcelain (or fireclay) sinks. It's more likely that you'll get grey/black marks on the bottom from pans or stainless steel utensils.
These might look like scratches, but they are easily removed with Soft Scrub, a sponge, and a little elbow grease.
When we wash dishes (especially anything glass or metal) we protect the bottom of our sink with a rubber mat.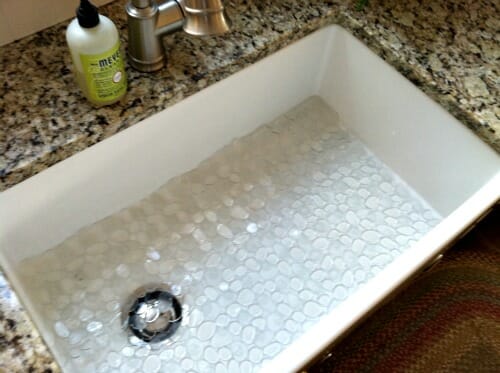 You can buy smaller mats for 2-basin sinks at almost any home goods store; however, the larger farmhouse sink mats are extremely expensive (I saw some for $89!!!)
Of course, my frugal genes just wouldn't let me spend that much for a sink mat, so I purchased this clear "pebble" bathtub mat instead, and cut it down to fit the bottom of our sink.
It works like a charm and cost less than $10!
.
How to wash dishes with only one sink basin:
This is the #2 question I get from SO many of you!
And just so you know, you CAN buy farmhouse sinks with 2 basins. So if this is a concern for you, just go with a 2-basin sink versus a 1 basin.
I specifically wanted a 1-basin farmhouse sink though (for the large capacity I mentioned above).
If you've always used a 2-basins, this will be a change, but honestly, the only difference is how you'll dry the dishes.
We wash them in the sink, rinse them over the sink, and lay them on the counter to the side of the sink to dry. We use these microfiber mats to lay the dishes on — they work really well.
Sometimes, if there are only a few dishes to wash, we use a plastic tub that fits in half the sink.
That way, we save some water and the whole process goes faster. However, most of the time, we fill the sink with dishes so it's not worth using the plastic tub.
We store the tub (and our sink mat, dish soap, and other cleaners) in the cabinet under the sink (read more about how we organize the area under our sink).
There you have it — how to clean a kitchen sink (specifically a porcelain farmhouse sink).
In my opinion, it's no more work than any other kitchen sink.
The aesthetics are what sold me on our beautiful farmhouse sink, but the practicality and functionality are seriously a game-changer for how I use my kitchen.
Our farmhouse kitchen sink is so amazing — I doubt I'd ever choose any other type of kitchen sink!
Do you have a farmhouse sink or a porcelain kitchen sink? If so, what are your best tips to clean and care for it?