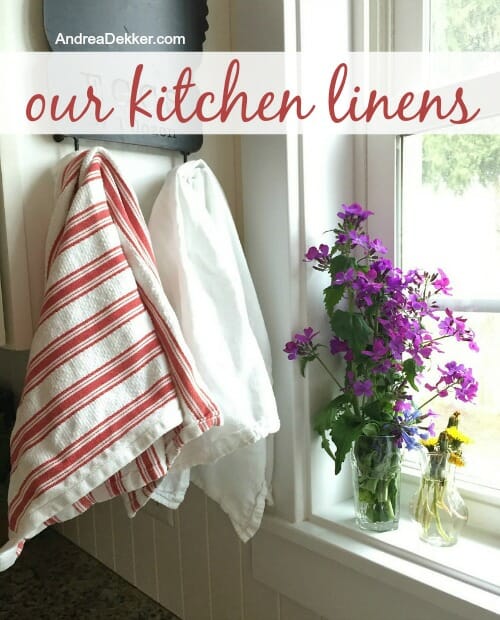 When we were first married and moved all our things (and our ideas) into one home together, it didn't take long for us to realize that we each had certain ideas of the "right way" to do things!
Oddly enough, one of our first "we do things differently" moments was regarding kitchen towels!
Dave was adamant that we have 2 separate towels — one for drying hands and one for drying dishes. I was adamant that we changed out the kitchen towels and washcloths every day because I just can NOT handle even the slightest hint of mustiness on washcloths or towels (especially not in the kitchen).
It took a little while for me to remember to use the "right" towel to dry my hands, and it took Dave a bit to remember to change out the towels every morning, but after 10 years of marriage, we have our system for kitchen towels, sponges, and washcloths completely under control 🙂
Whew!
In all seriousness though, I feel we have a really great system for using, changing, and washing our various kitchen linens; and you might not believe it, but this is something I'm asked about very regularly.
Just last week, I got 2 more emails asking what types of kitchen towels and washcloths we use, how often we change them, what we do with the dirty ones, etc. etc.
So today… I'm sharing just about everything anyone could ever want to know about our kitchen linens!
What Kitchen Linens We Use:
We use 6 different kitchen "linens" on a daily basis…
1. Hand Towel:
We use red striped hand towels from Grove.co. They are nice and thick, dry quickly, and I love the red stripes!
2. Dish Towel:
We use white cotton flour sack towels to dry our dishes because they don't leave any lint (you can buy these at almost any home-goods store). We also use these towels to dry off fruit after washing it (mainly apples and grapes).
These towels are some of my favorites (they even made my favorite things list earlier this year) because they really are "lint-free" and they dry SO quickly!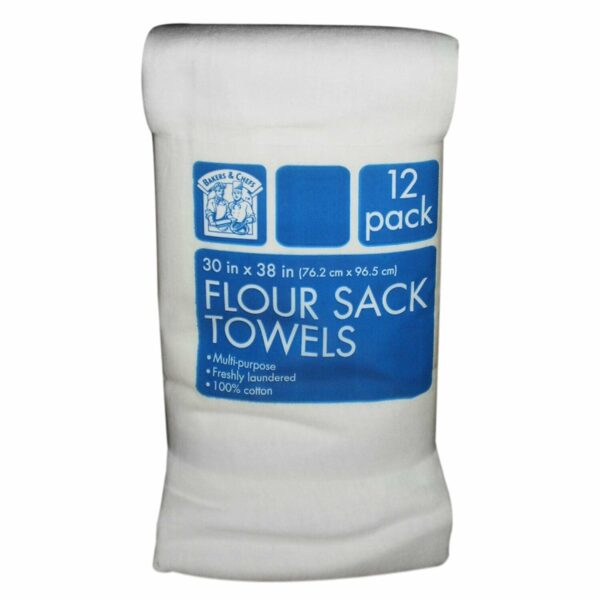 3. Kid's Cloth:
We use the Perfect Clean Wipers for pretty much all cleaning purposes around our house. We use different colors for different things, and the gray (or light blue) cloth is for kids' hands and faces. Nora usually washes her own hands in the sink now, but we almost always use the same cloth for both Simon and James. Sometimes we'll use different cloths if they are sick.
We keep this cloth draped over the kitchen faucet so it's away from any dirtiness on the counters.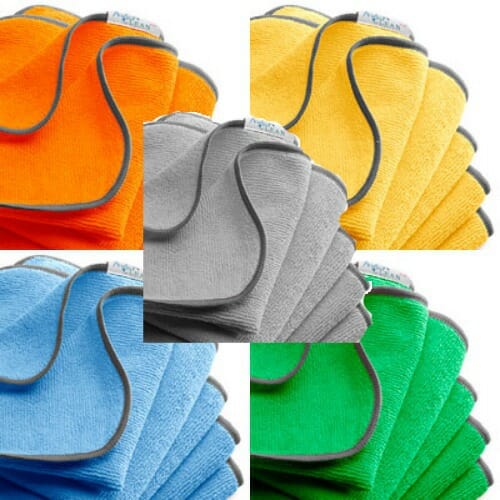 4. Counter Cloth:
We use the green Perfect Clean Wipers for wiping up the counters, the table, the highchairs, etc. We lay this one over the edge of the counter.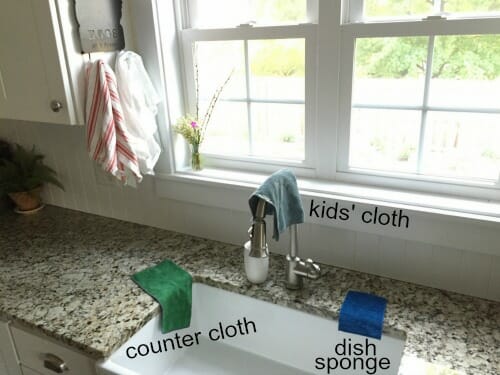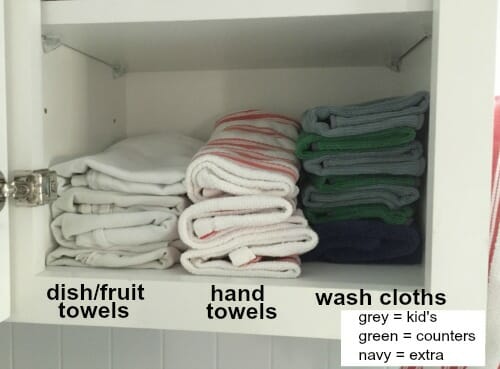 5. Dish Sponge:
We have used the Unger Microfiber Washable sponges for many years now — and we love them! Unfortunately, Unger no longer sells these sponges, so I'm down to my last 3 (others have been tossed after being washed too many times!)
I've been on the lookout for other thin washable sponges, but so far, I haven't found anything I like nearly as much as the Unger sponges. I love using washable sponges because I can bleach them after every use!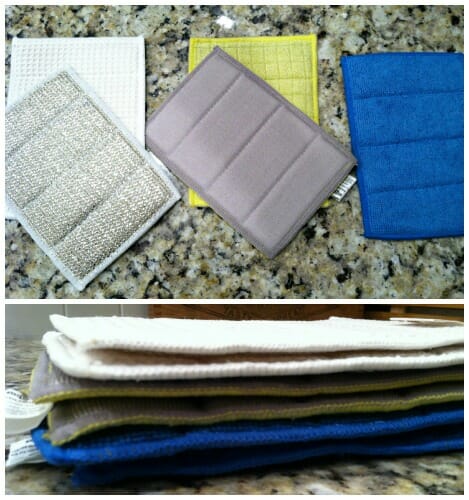 We store our kitchen sponges and dishwashing gloves inside the cabinet under the sink (with all our other dishwashing supplies). I have the clear plastic container and the clothes pins stuck to the inside of the cabinet with 2-sided tape.
6. Cloth Napkins:
We've been using cloth napkins for 6 years now, and although they are quite stained, they are holding up fabulously. We all have our own napkin and we use it for 3 or 4 meals (or until they are pretty dirty). We put them on our chairs after each meal and then back onto the table when it's time to eat.
Ironically, we usually pull paper napkins out when we have company over, just because we usually get comments like "Whoa, pulling out all the stops for company!" or "You don't need to be fancy for us." I've found it's just easier to use paper and avoid those conversations. 🙂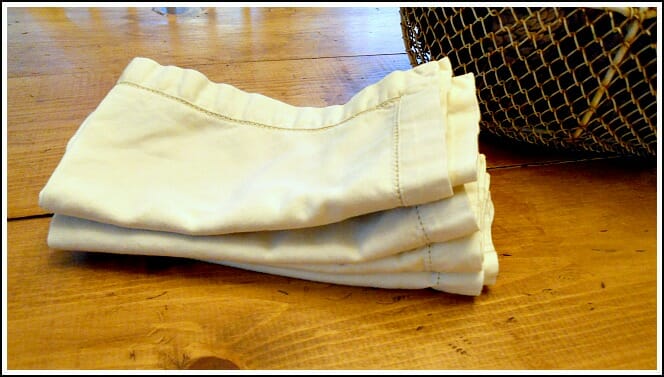 What We Do with Dirty Linens:
Every morning, either Dave or I take the towels, sponge, and washcloths from the previous day and toss them into a small bin that we keep on top of our dryer.
We do it in the morning because the washcloths are always dry by then, so it cuts down on any musty smells coming from the laundry room.
Since we have 5 of each towel and 5 of each washcloth, I usually do a load of linens halfway through the week, and then again over the weekend — usually every 3-4 days. I include all the kitchen towels, sponges, and washcloths, and the bathroom hand towels, bath towels, washcloths, etc.
I use HOT water and bleach to get them very clean and to make sure they don't smell musty!
NOTE: If you have musty smelling towels, here are my top tips to clean stinky towels, and this post shares my all-natural method to tackle smelly towels once and for all.
.
Where I got my metal chicken towel holder:
Ever since I shared pictures of our kitchen renovation (almost 4 years ago now) I am regularly asked where I got the black metal chicken towel holder in our kitchen 🙂
I got it about 10 years ago (when we first got married) at either Hobby Lobby or a local garage sale… so chances are slim that you'll find the exact same one anywhere.
I do remember feeling very excited when I found a towel hook with TWO hooks to accommodate Dave's request for two kitchen towels! It has served us well over the years!
In fact, I even got a chicken towel hook for the kid's play kitchen — which Nora thought was so fun!
I realize it might seem crazy to have such an exact routine for our various kitchen linens, but after 10 years of doing it the same way every day, it's completely mindless.
It literally takes just a few seconds to switch out the towels — and even the kids will shout "blue" or "green" or "grey" if you ask them what washcloth or towel to use for different things!
Although kitchen linens are a very tiny part of our home and our daily routine, having a system in place helps to simplify, organize, and streamline our kitchen more than you might think (or maybe we're just crazy!)
How do you handle your kitchen linens?