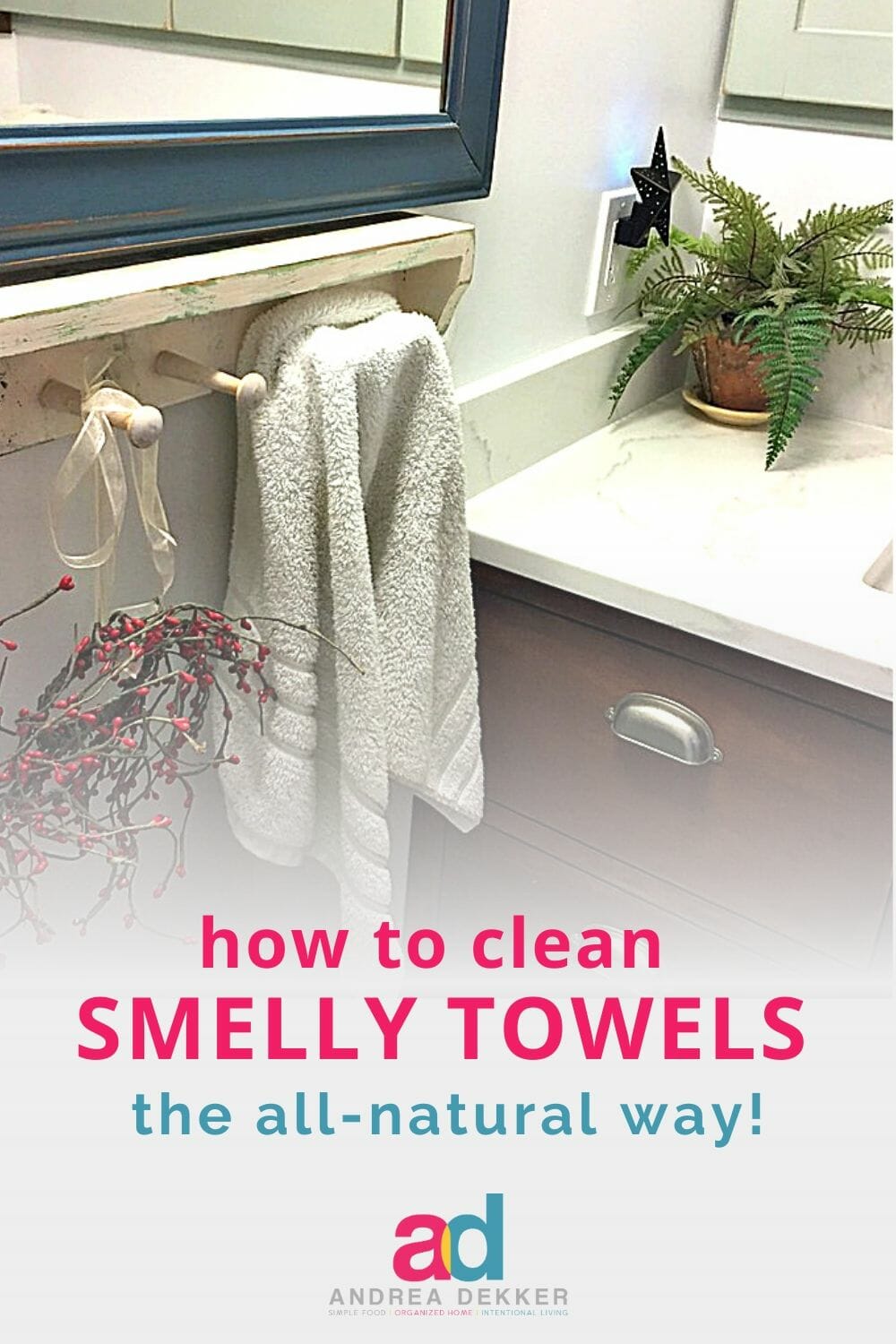 Learn how to clean and refresh your smelly towels in an all-natural way with virtually no extra effort (your washing machine will do all the heavy lifting for you!)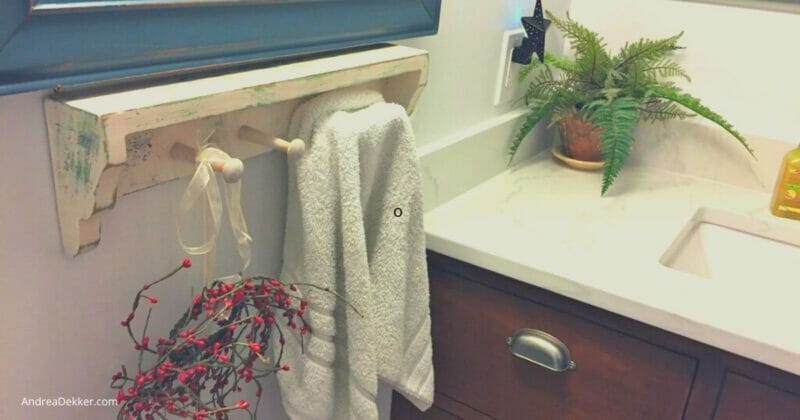 I joke with Dave that our family doesn't need a dog because I sweep up all the crumbs and my sense of smell is just about as strong as a dog's!
OK, not really — but if you ask anyone who knows me, they will tell you I can smell almost anything almost anywhere! 🙂
When it comes to smells, my nose is one of the most sensitive around… which is why I often opt for unscented products whenever possible. I also rarely wear perfume, and I only burn candles during the holidays (and only a few select scents).
Anyway… one of the worst smells for me (even worse than a blowout diaper after eating asparagus) is the dank, musty, mildewy scent of SMELLY TOWELS or stinky washcloths!
Seriously, I can't handle it.
As someone who prides herself on being frugal and resourceful, I have to admit that I've actually thrown out perfectly good towels and washcloths simply because I couldn't remove that stinky towel smell.
The Cause of Your Smelly Towels:
Before we get too far into this post, I just want to share a little more about what causes that horrible stinky towel smell (because it might not be what you think!)
According to my research, the moldy, mildewy, gross smell wafting from your towels is a result of residue from detergents and fabric softeners that have not been thoroughly rinsed out.
Since towels are SO absorbant, washing machines can have trouble fully rinsing out detergents and fabric softeners (which is why I don't use detergent or fabric softener — more on this later though!)
This residue, combined with damp conditions in your bathroom, creates a breeding ground for bacteria.
When bacteria inhabit your towels, they emit waste… this waste is what you smell. (source — it's long but fascinating)
Yup, pretty nasty, huh?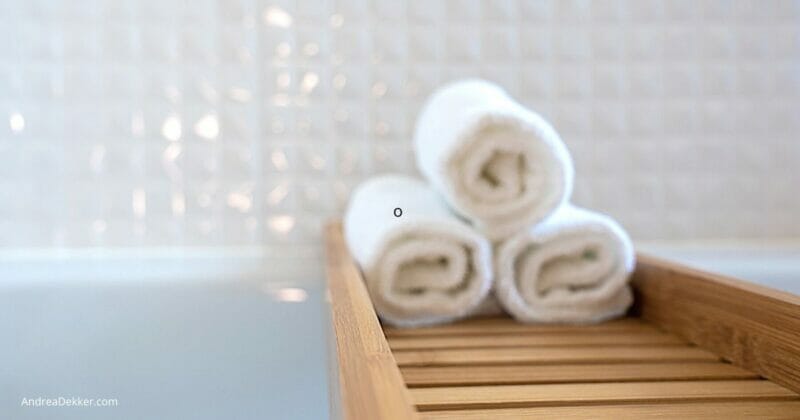 I've learned a lot about cleaning and disinfecting over the last 10 years, and just a couple of years ago, I shared my simple method for how to clean stinky towels.
I haven't had to throw out a single towel since then… woohoo!
However, my previous stinky towel cleaning method uses bleach.
Now, I don't have anything against using bleach, BUT, I made a commitment to use "natural" cosmetics and personal care products this year… and that has started spilling over into my cleaning products too.
Plus, if I'm really honest, my sourdough is going much better now that I'm not using bleach on my towels (more on this in another post!)
While I'm not opposed to cleaning with bleach (especially not to get that nasty stinky towel smell out), I decided to do a little research to see if I could come up with an all-natural way to keep our towels smelling clean and fresh.
Well, guess what?
I found an all-natural method that really works for smelly towels!
If you struggle with stinky, smelly towels but want to try something all-natural before resorting to bleach or other harsh chemicals, I've got just the recipe for you.
Bonus points that it's SUPER simple and really frugal!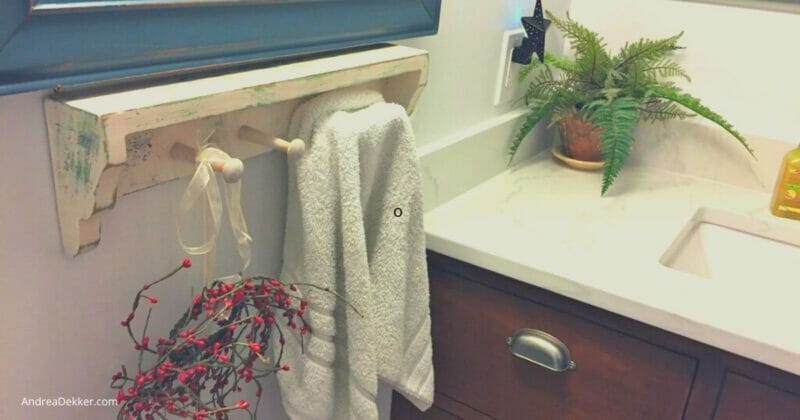 How to Clean Smelly Towels (The All-Natural Way)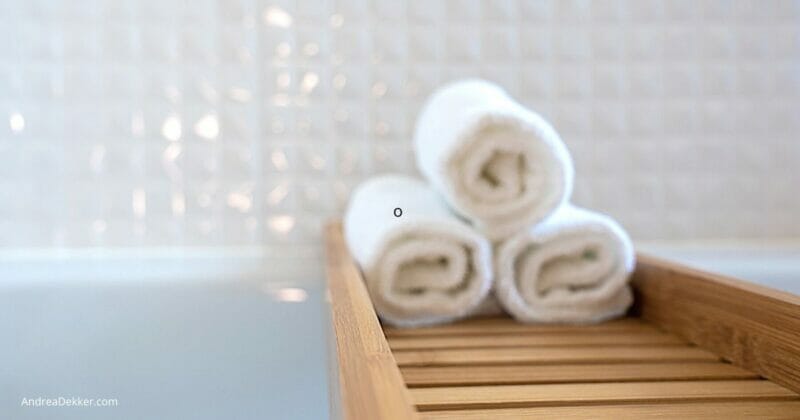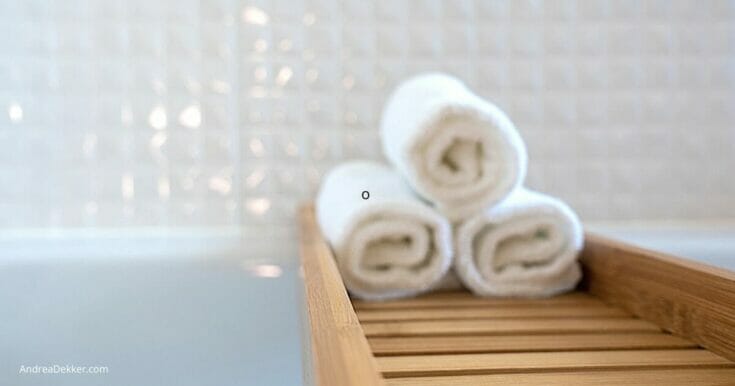 Learn how to clean and refresh your smelly towels in an all-natural way with virtually no extra effort (your washing machine will do all the heavy lifting for you!)
Materials
Smelly Towels
Hot Water
White Vinegar
Baking Soda
Instructions
Load washing machine with smelly towels (don't cram it too full).
Add 1 c. white vinegar to the detergent slot (do NOT use any regular laundry detergent or bleach).
Wash on the hottest setting (either "normal" or "heavy-duty" cycle).
Leave wet towels in the washing machine, add 1/2 c. baking soda right in with the towels, and wash again on the hottest setting.
Immediately hang towels to dry in the sun, or dry fully in a hot dryer.
Repeat with additional towels.
Notes
This process essentially "strips" the towels of built-up residue that creates a breeding ground for mold and mildew to thrive.
It should only be done "as necessary" since it is hard on the fabric.
Also, the same simple all-natural method can be used for grungy (and stinky) sheets, pillowcases, cloth napkins, and even cloth diapers.
For daily and weekly washing, use hot water with a small amount of detergent or laundry balls.
Recommended Products
As an Amazon Associate and member of other affiliate programs, I earn from qualifying purchases.
See, I told you it was simple!
After you put in the work to refresh your towels and remove the smell, you certainly don't want to end up with smelly towels in another month again.
In order to keep your towels smelling fresh and clean, there are a few things you can (and should) do.
10 Tips to Stop Smelly Towel Odors from Returning:
Hang damp towels immediately after using and let them dry FULLY before putting them into a hamper.
Run a fan in your bathroom (or open a window) to allow more air ventilation.
Change out towels regularly (I change hand towels and washcloths daily; bath towels every 3 days).
Don't fill the washing machine too full — the towels need room to move.
Wash towels with very hot water.
Wash towels on the "normal" or "heavy" setting.
Don't use too much detergent (we don't use any detergent!)
Never use fabric softener (we use wool dryer balls instead).
Don't let damp towels sit in the washing machine.
Line dry towels in the sun if possible, or dry completely on in a hot dryer.
Related Resources:
How I Prevent and Eliminate Stinky Towels (with bleach – not all-natural)
Why I Created a Laundry Routine and how it simplifies my life
101 Uses for Vinegar (laundry is one of them!)
How I Wash all our Laundry WITHOUT Detergent (hello Laundry Balls!)
10 Life-Changing Tips when You're Overwhelmed With Laundry
My 7 Laundry Don'ts (these will change the way you think about laundry forever!)
Whew — that's a lot of laundry talk for one day!
Based on your emails and comments, I know laundry is one thing we all struggle with — it's never-ending after all!
I might not be able to answer every one of your pressing laundry questions, but I've totally got you covered when it comes to gross smelly towels. 🙂
If you struggle with stinky, smelly towels, try this all-natural cleaning method and let me know how it works!