A Look At Our Outhouse Shed (5 Years Later)
posted by Andrea | 07/10/2019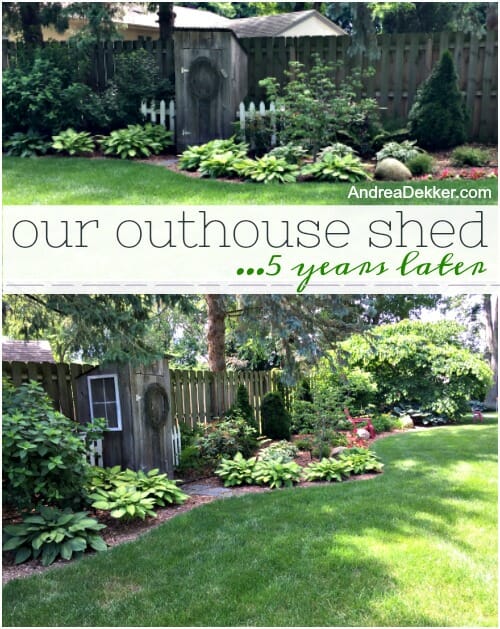 I honestly can't believe it's been 5 years since we added the cute little outhouse garden shed to our landscaping.
Believe it or not, it's something I've wanted in my yard since I was a little girl (weird, I know!) I've just always loved this idea — especially for a century-old farmhouse! Even now, I feel like it's a useful, practical, and functional addition to any size yard — and it just looks SO stinkin' cute!
This is the original vision I had in my brain (and Pinterest).
And this is what we now have in our yard… keep in mind, most of my plants are not blooming yet — it will look even prettier in another month or so with more blooms and flowers!
My dad helped us build our outhouse shed using wood leftover from the 100 year old barn that was previously part of our farm (way back before we purchased the home).
Since our yard is very large, it is nearly impossible to share a "before and after" post about the entire yard — it would take you 2 hours to read!
Instead, I'm planing to select a few different areas to showcase throughout the rest of the summer and fall months.
First up is the west side of our yard with the cute little outhouse shed.
Below, you can see 2 photos of the shed, right after we built it (2014).
Here's what it looked like in 2016…
And again in 2019…
The fence and shed have weathered nicely over the last 5 years — and the plants have filled in all the gaps!
The photos below show the cute little "window" I hung on the side.
Here's what this area looked like in 2017…
And this is what it looks like this year (2019) after expanding the bed earlier this spring…
This is roughly the same angle, just further away (from 2014).
And now 2019.
As you can see, we've expanded the bed to the right of the shed to accommodate more plants — most of which we transplanted from other areas of our yard.
Eventually, we'll start selling some of our split perennials when we run out of places to put them in our own yard. I did this at our old house and made hundreds of dollars every spring from selling split plants and shrubs we no longer needed.
.
This area of our landscape is probably one of my personal favorites — it's almost always shady, it's wide open, AND it's what I see out our bedroom windows!
The picture above is from 2014, the picture below is from 2019.
It's so fun to see how things morph and change throughout the years — but it's also crazy how much the landscaping changes over just a few weeks!
The picture below was from mid-May.
And this is the same view from the first week in July — only about 6 weeks later!
Our kids love this little shed — and even though they don't play in in (it's too small and there are bugs inside!) they love playing around it and pretending it's a little house or school room or whatever!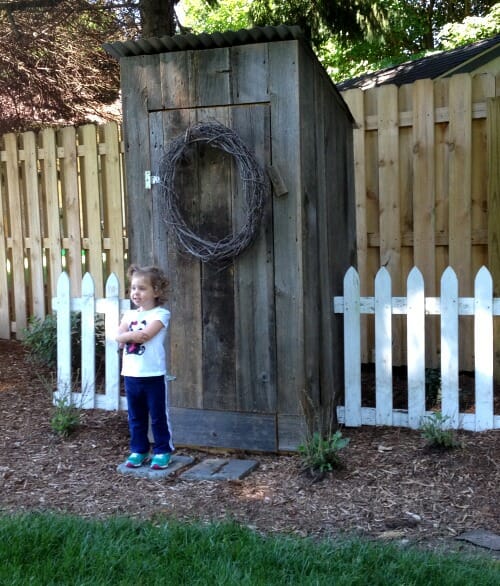 Looks like our family has grown and expanded a bit over the last 5 years too!
.
As I'm sure many of you understand, landscaping is a SLOW process — no instantly gratifying before/after photos like you get when painting a wall or installing new cabinets.
It has taken many months and years to see the changes in our landscaping — but it sure is rewarding to look back now and see how far we've come and how much we have improved the look of our home and yard.