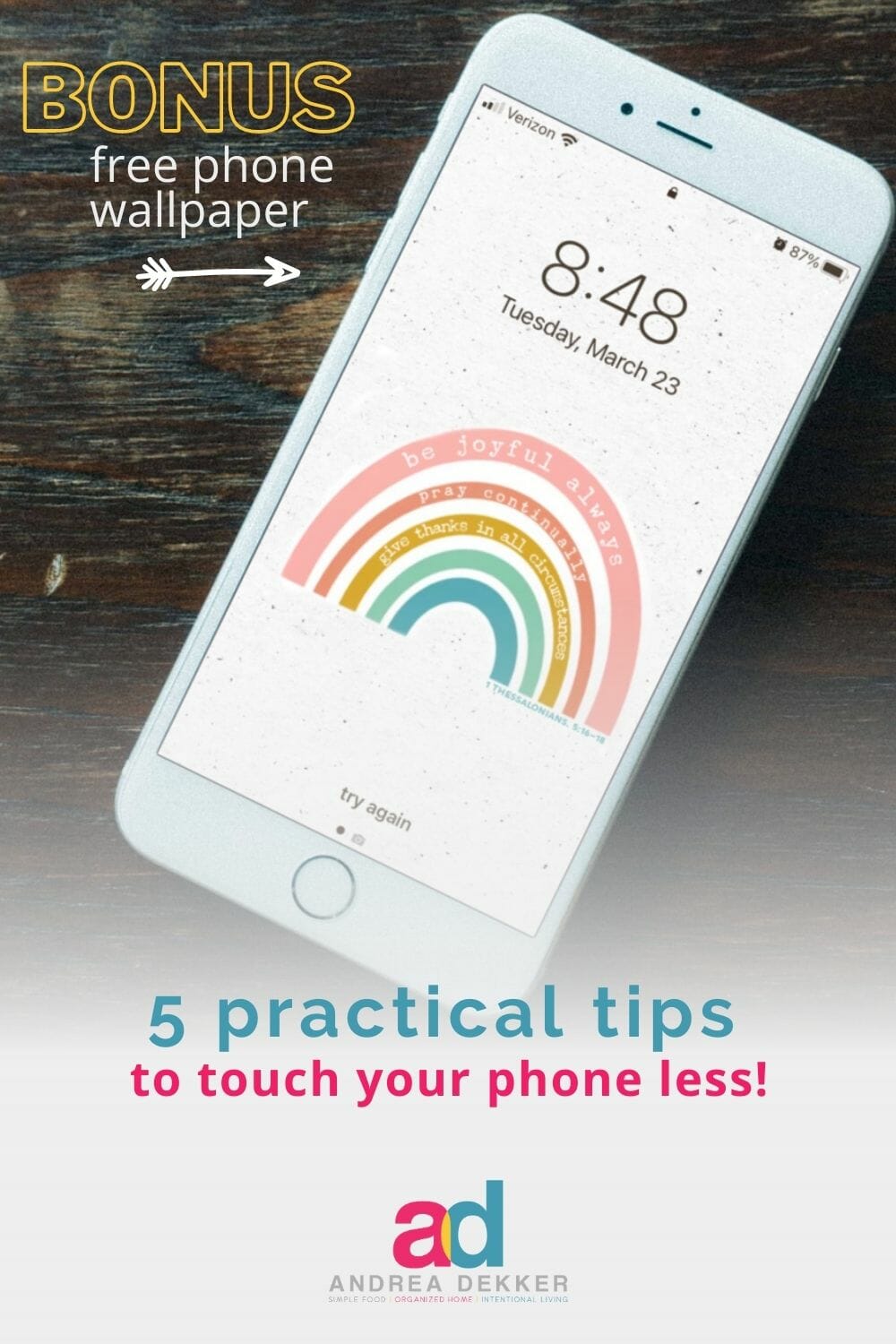 Gain more freedom from your phone with these 5 tips that will train your brain and your body to touch your phone less often.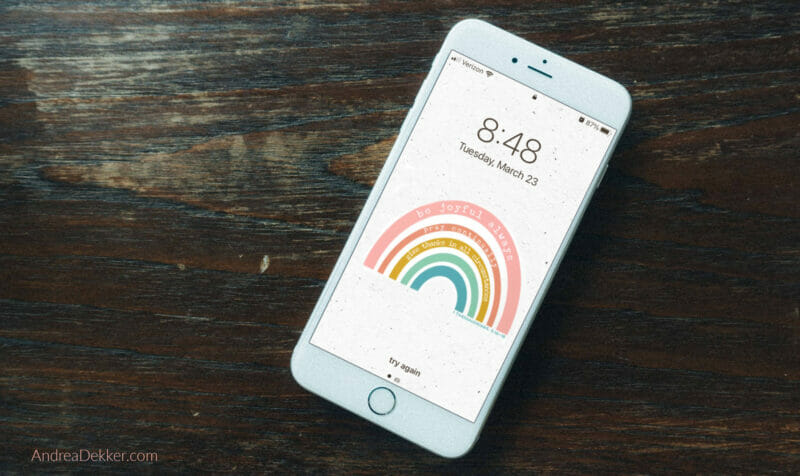 Over the last 18 months, I've been on a mission to learn more about how our brains, our bodies, our disposition, and our actions are affected by social media and various tech devices.
My primary focus, for now, is the smartphone; and honestly, all my research has been fascinating!
I'm most interested in the smartphone because it's currently the only "device" Dave and I use outside of our computers (which are mainly used for work purposes). And, based on societal norms, smartphones will eventually be a device each of our children will need to learn to use as well.
As is often the case, my feet are parked firmly in the "all things in moderation" camp as I view my phone as a TOOL that can be used for good or bad.
However… Dave and I want to do our best to use our phones as tools for good — both for our own mental health and to model appropriate technology usage for our growing children.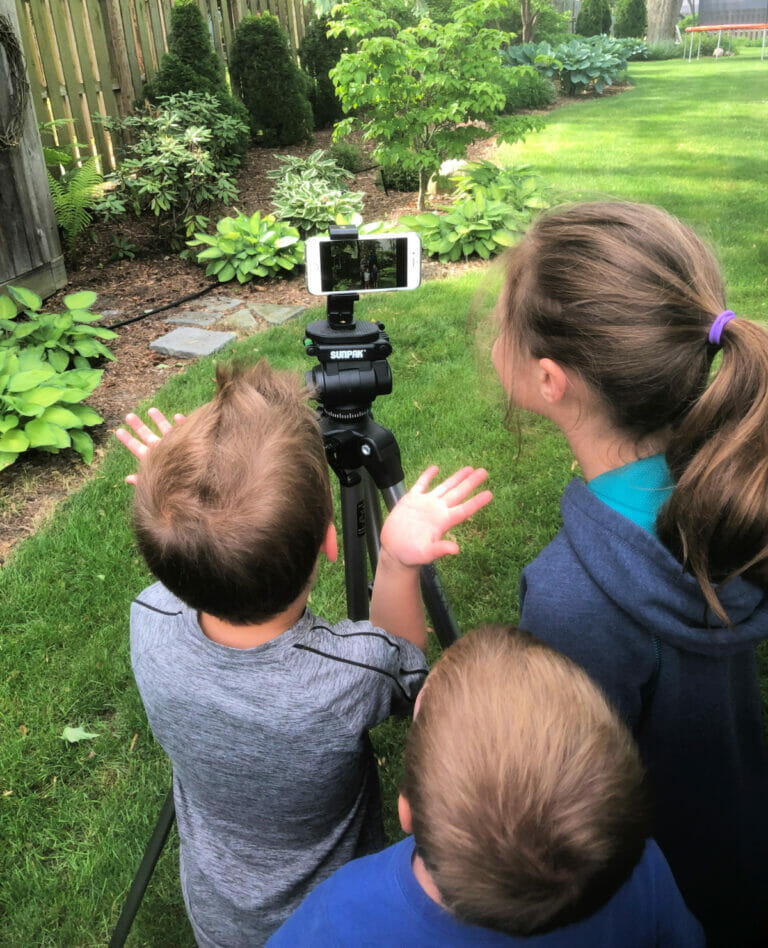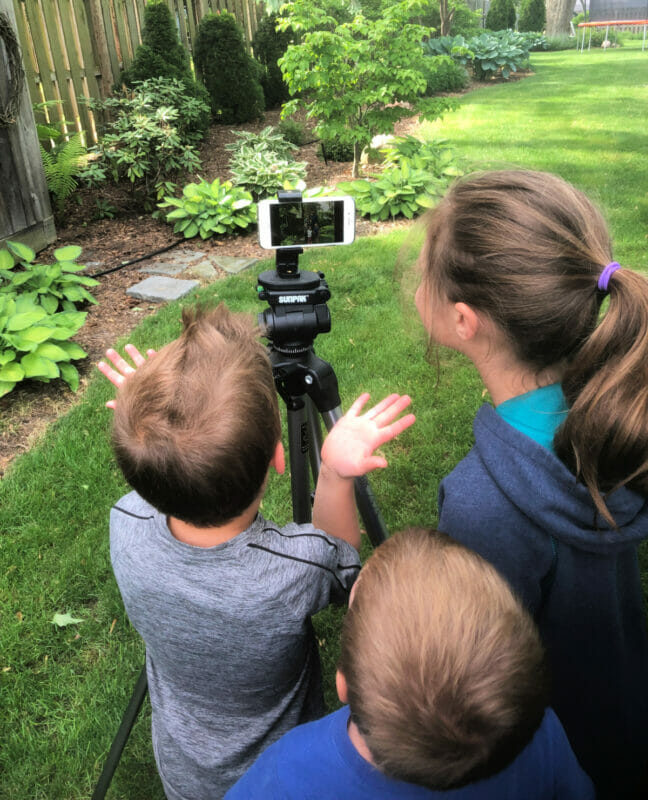 NOTE: I'm often asked what devices our children use. My answer is simple (for now!) because they currently have no access to devices, outside of our "home phone". This is truly not a punishment or a tension point in our home.
The older 3 use computers at school, but I suppose since devices are not given as an option at home, the kids simply don't ask. They do watch TV on Saturday mornings, we often have a family "movie night" on the weekends, and we sometimes do Facetime with relatives.
I don't think this is the only "right" or "correct" approach… it's just what works for us for now. We are always open to changing our approach as our children's needs change.
Based on what I've read and learned over the past year, Dave and I both decided to be more intentional about not using (or even touching) our phones unless we needed them for a very specific purpose.
I'm honestly a little embarrassed to admit how hard it was for us (at least initially).
Although I would never have described Dave or my relationship with our phones as "bad" or "obsessive", it's very clear to us now that we had developed a bad habit of picking up our phones far too frequently (often just out of habit).
Even though we weren't constantly looking at our phones, we did always feel the need to have them with us "just in case". And even though we weren't using them for games or social media, we definitely touched them more than we needed to — regularly pulling them out of our pockets whenever we had a minute or two of free time.
Can you relate?
I defended my actions thinking I was "saving time" by quickly checking my email or responding to a few text messages… and certainly reading a book on my phone or taking pictures for my yearly photo books are worthy causes.
Right!?!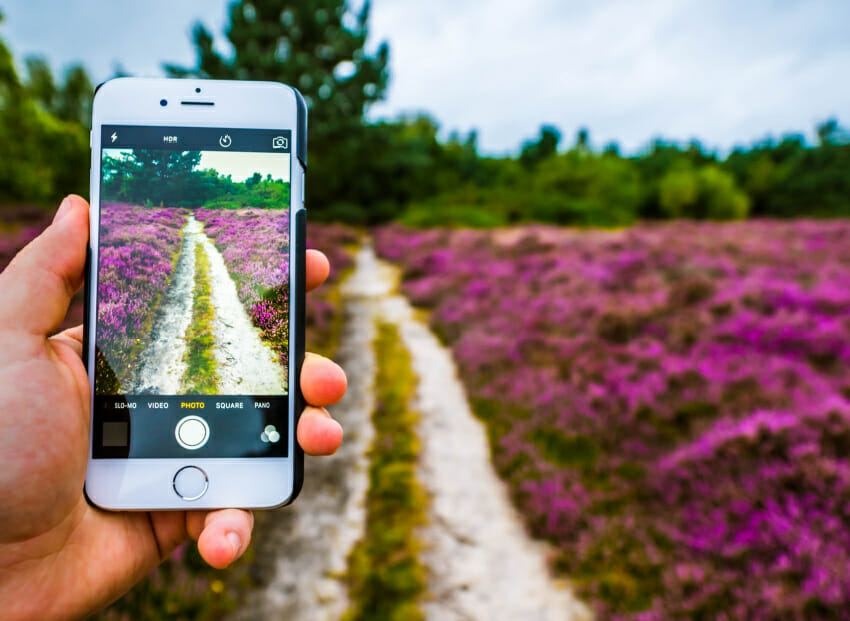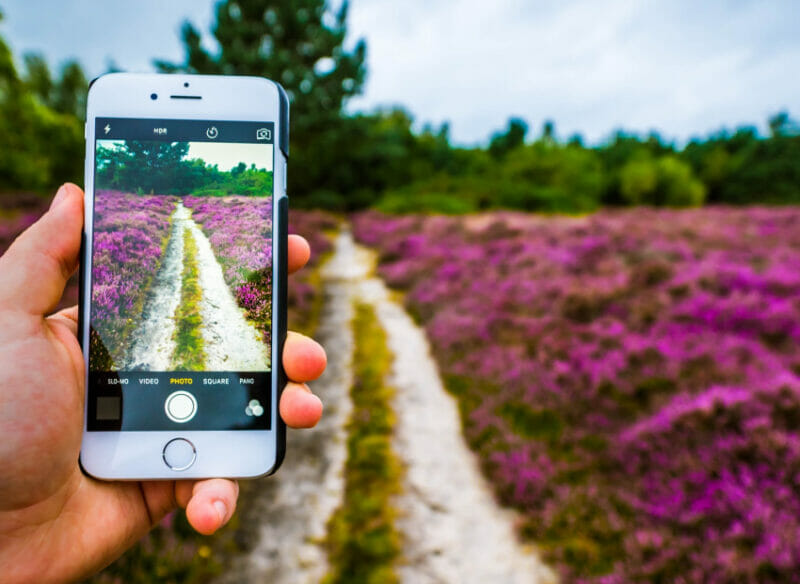 Maybe so, but I now feel personally convicted to make an effort to touch my phone less — not because I feel that using my smartphone is "bad" but simply because I don't want my phone to have so much power over me and I don't want my children to think it's normal for adults to be "tethered" to their phones.
Our Plan to Touch Our Phones Less:
Dave and I set up a few non-legalistic guidelines… and honestly, I'm really happy with the results so far.
Of course, it's not a fool-proof system and I definitely don't think we've found a perfect balance just yet, but we're taking steps in the right direction and that's always my goal.
If you'd like to put a little distance between you and your phone but just don't know how to get started, let me share the 5 guidelines that have worked for us.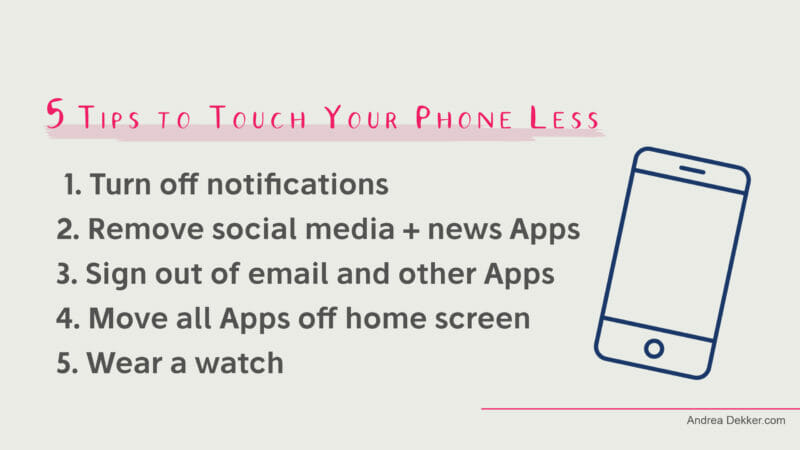 Watch my tips in action:
If you don't see the video player above, you may watch the video here.
AND, if you'd like to receive more exclusive weekly content (like the video above), simply enter your email address below!
5 Tips to Touch Your Phone Less
1. Turn off Notifications
A few years ago, I shared why I turned (almost) all my notifications off, how to turn notifications off, and why you should consider it (read the full post here).
The CliffNotes version is simply that notifications are almost impossible to ignore, and if you get notifications for everything, you will touch your phone CONSTANTLY.
If you stop the notifications, you'll stop touching your phone as often (and drastically improve your concentration and productivity). So simple!
2. Delete Social Media and News Apps
I know, I know… this might sound scary to some — but just remember, you can download the Apps whenever you want to check in.
Just give it a try for 1 week and take note of how much less time you spend on your phone!
3. Sign Out of Email and Other Apps
Signing out of your Apps makes it just a little bit more inconvenient to open your phone (because you know you'll have to type your password again).
It's a tiny change that's mostly all mental, but it really works for us.
For example, I used my phone to check email dozens of times throughout the day, but now I almost never access my email on my phone and reserve it for my designated "work periods" when I'm at my computer.
4. Move all Apps Off Your Home Screen
Yup, this is as simple as it sounds — just drag and drop all Apps and folders from your home screen onto a screen on the right.
Even if you aren't willing to delete or sign out of your current Apps, you might be able to deter yourself from using them as often (or as mindlessly) if they require extra effort to access.
In the video above, I share a screencast of how this looks on my phone (and how easy it is to implement on your own devices). It's SUCH a simple tip that has worked wonders for me over the last 6 months.
As an added bonus, you'll enjoy a nice clean, simplified home screen every time you open your phone!
NOTE: download my phone wallpaper for free below.
5. Wear a Watch
As silly as it might sound, this was a game-changer for me.
I finally bought a watch over the summer and I can't believe how quickly it eliminated my need to "check my phone for the time" – which often resulted in inadvertently getting sucked into checking something else — like my email.
When I DO pick up my phone, I love seeing a simple + inspirational message on the screen, so I regularly create different wallpapers for whatever mood or season of life I'm in.
If you'd like to "dress up" your newly decluttered homepage (assuming you took my advice and moved all the Apps off your home page!) you may download my current wallpaper here (or by clicking on the image above).
Here's a closer look at the rainbow design.
Which one will you choose first?
If you like the idea of touching and using your phone less, I highly encourage you to give one or two of these ideas a try.
Tweak them so they fit your lifestyle, ask your family for their input (this can be eye-opening), or simply use my ideas as a "springboard" for totally new ideas that work better for you.
Whatever you do, you'll be intentionally moving closer to your goal, so that's a win!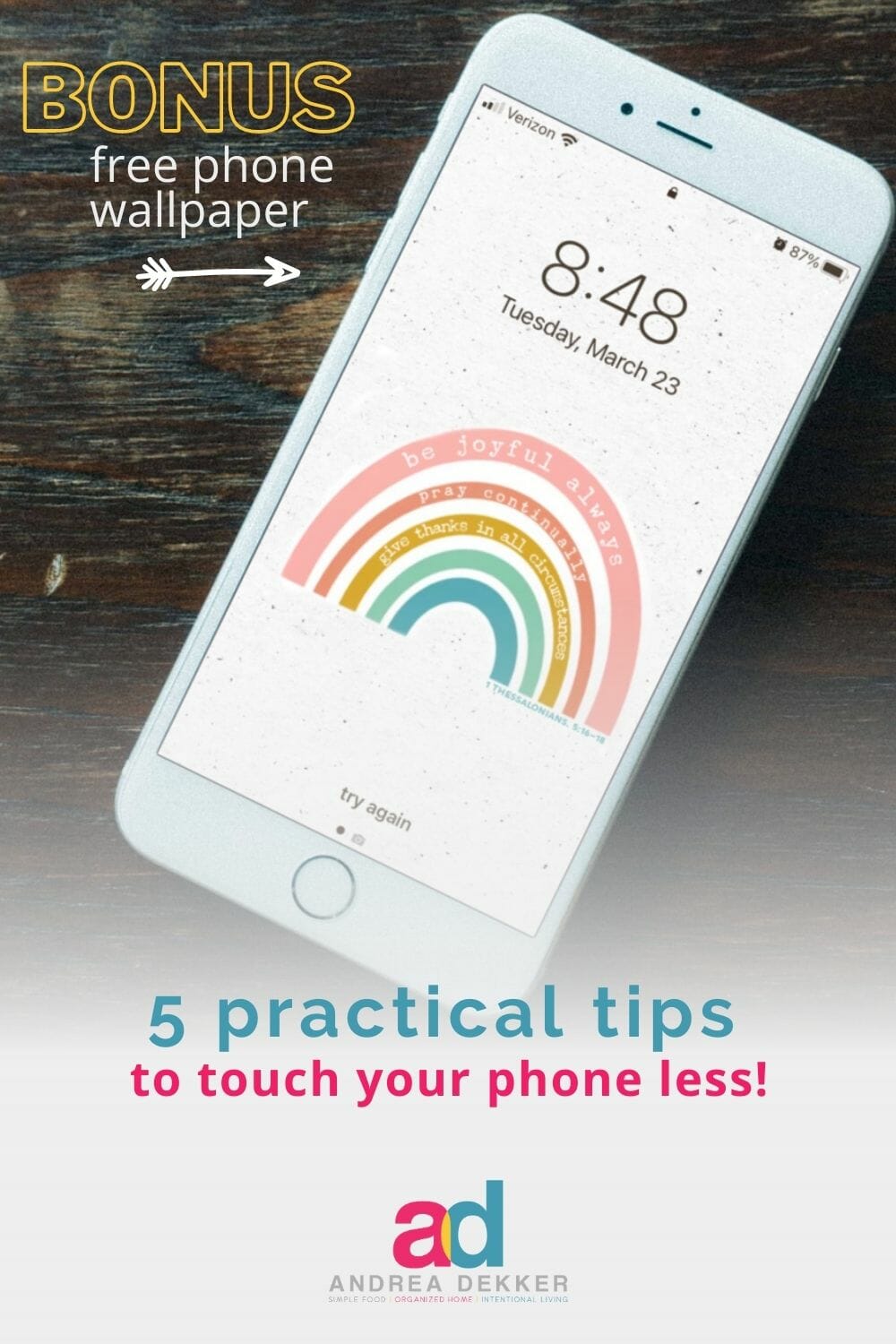 Enjoy exclusive video content every week!
As part of my lovely email community, you'll get a new vlog from me in each weekly email — in addition to a wealth of practical, doable ideas to help you simplify your home and life.
There is no spam, no sales pitch, no funnel… unsubscribe whenever.