Lots of favorites today — including spring break with my favorite people AND a planner giveaway from my favorite planner company! (Scroll to the end of the post!)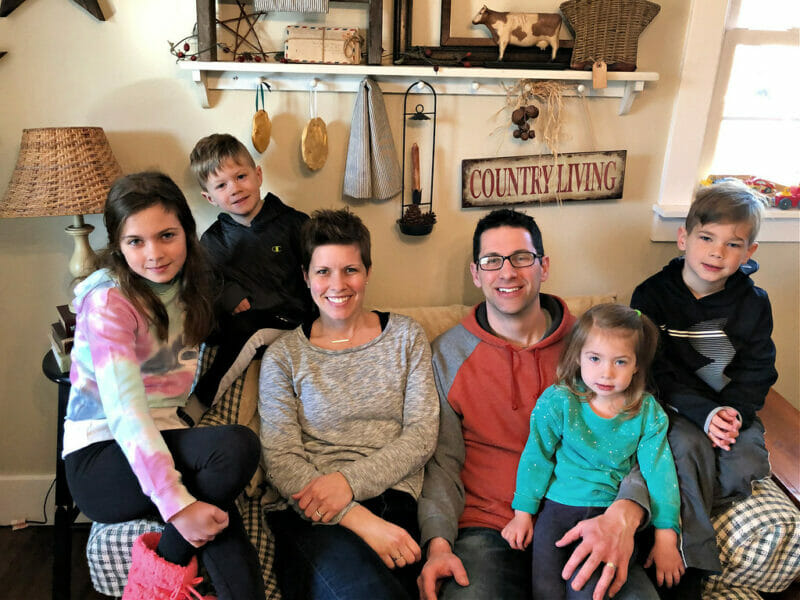 Our family is currently enjoying 10 days at home during Dave and the kids' spring break (one of my favorite times of the school year!)
We have no big travel plans, but we've already visited the zoo, the library, thrift stores, and a few local parks. Later this week, we plan to head to the art museum and hang out with various friends and cousins.
We also plan to break in our new firepit, eat Culver's custard, read through a big pile of library books, have a LEGO-building contest, play some basketball, and tackle a bit of yard work.
A fun-filled staycation is definitely Dave and my favorite way to spend a school break. I'm not sure how much longer we can convince our kids that staying home is more fun than traveling… but we're happy with each year we get!
Here are a few of my favorites for the month…
---
FAVORITE MOMENT = Clara's Half Birthday
You know that the Dekker family loves celebrating half birthdays… and 3.5 is personally one of my favorites.
It's usually the first half birthday they really understand what's going on… plus, it's SO stinkin' cute when little kids say "free" instead of "three". For the last 2 weeks, I've had the pleasure of listening to Clara tell everyone she comes into contact with that she is now "free and a half".
As an added bonus, we made a half bundt cake, which just so happens to look like a "C". She was thrilled!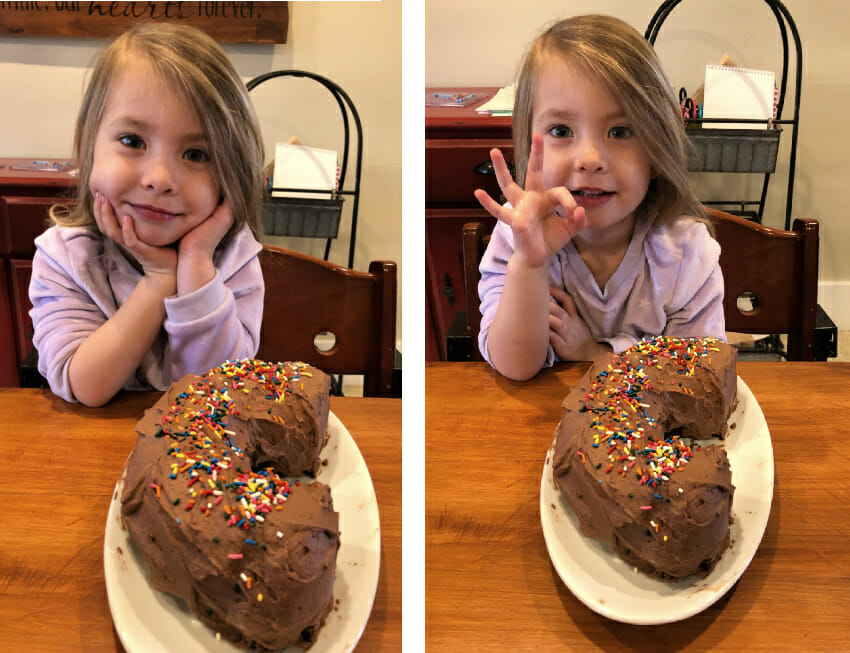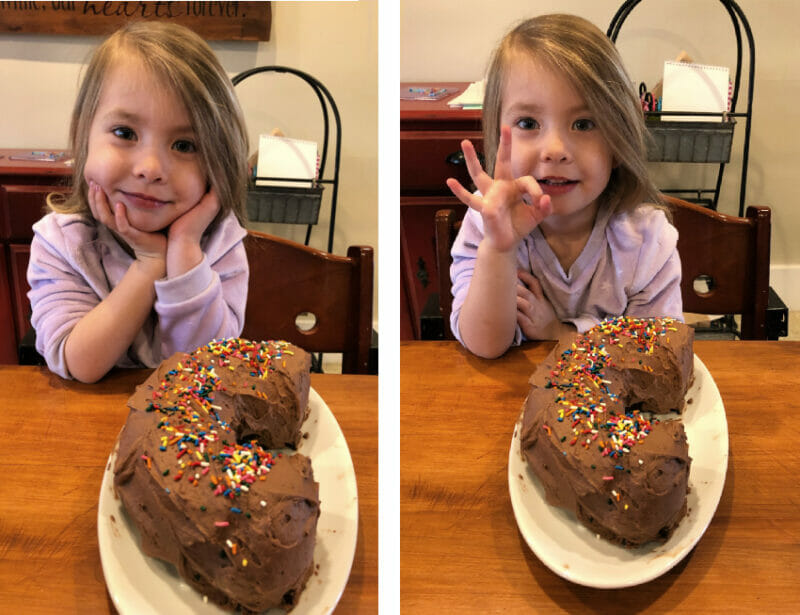 ---
FAVORITE ACCESSORY = Stamped Bar Necklace
About 6 months ago, I asked for recommendations for "name necklaces" — specifically a horizontal bar with 4 sides so I could have each child's name on one of the sides.
Seriously, you would not believe how hard it was to find this exact concept for less than $1000!
I found vertical bars, flat bars, non-customizable bars, solid gold bars… dozens of different options, but nothing horizontal with 4 sides and fully customizable.
And then, a friend reached out and said she actually makes stamped jewelry out of her house and she'd be happy to make me a necklace!
Well… that' was easy!
A week later, my necklace arrived… and it's perfect (thanks Alyssa!)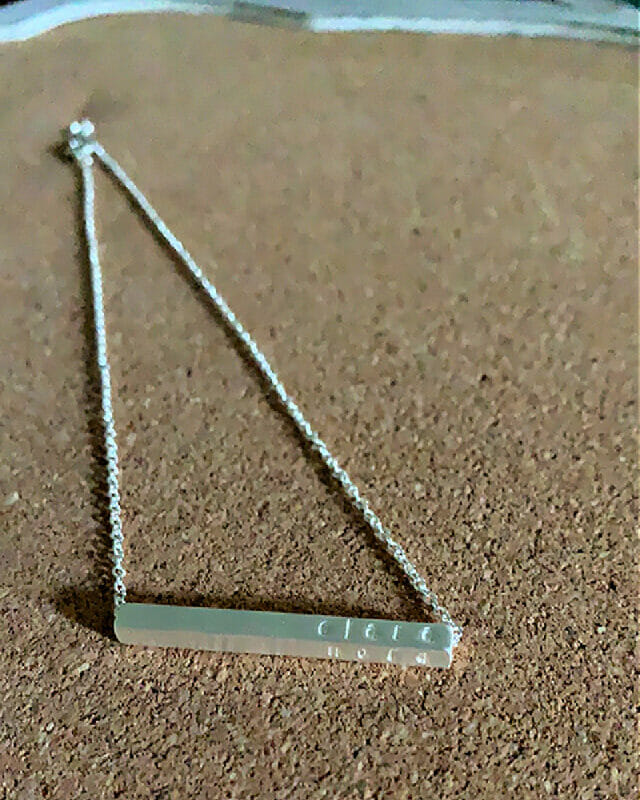 The kids love it, I love it, and I get asked about it wherever I go.
Unfortunately, my friend doesn't have a website or an online shop, but if you live in the area and are interested, you may contact me for her email address. 😉
PAST FAVORITE = Floss Sticks
Many years ago, I made a goal to floss more regularly.
I'll be honest, I still don't do it every day, but thanks to my discovery of floss sticks about 5 years ago, I floss significantly more than before.
The truth is, for most of my life, flossing was one of those things I figured didn't really matter since I never got cavities. However, a few years ago, my dental hygienist told me that regular flossing helps to prevent germs and bacteria that can cause the bones in our gums to decay — and then eventually pull away from the teeth. I know I'm probably not explaining it exactly right, but she said that a lack of flossing is a huge contributing factor in adult teeth falling out later in life.
So… I figure a few bucks on floss sticks and a few extra minutes in the bathroom are worth it for my smile!
As an added bonus, floss sticks are REALLY easy to take with me — in my wallet, in my car, etc. so I'm never stuck (pun intended!) with food between my teeth. 😁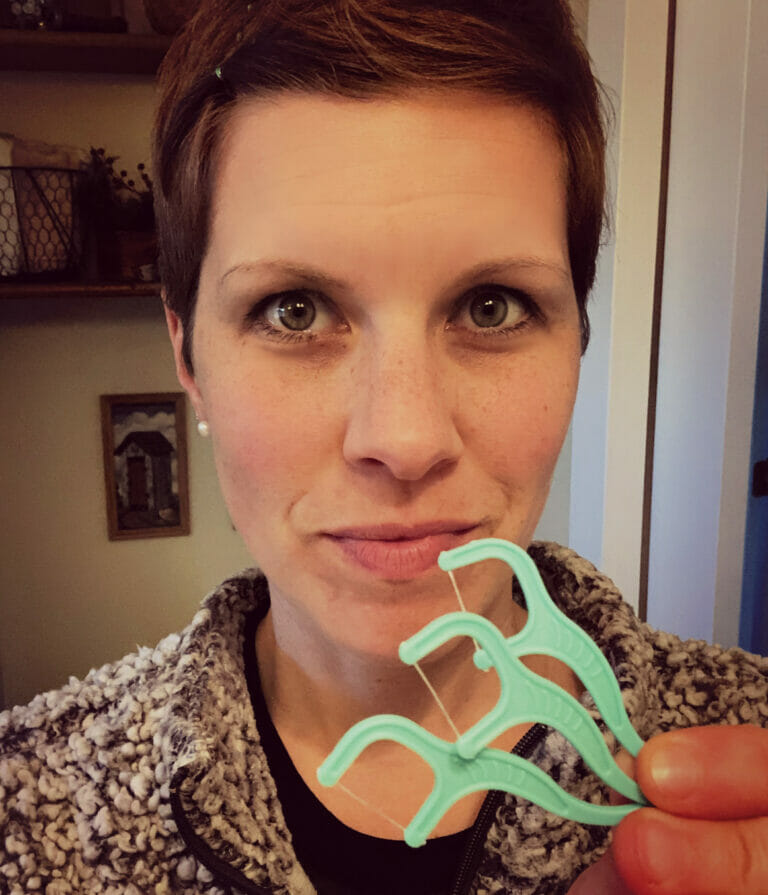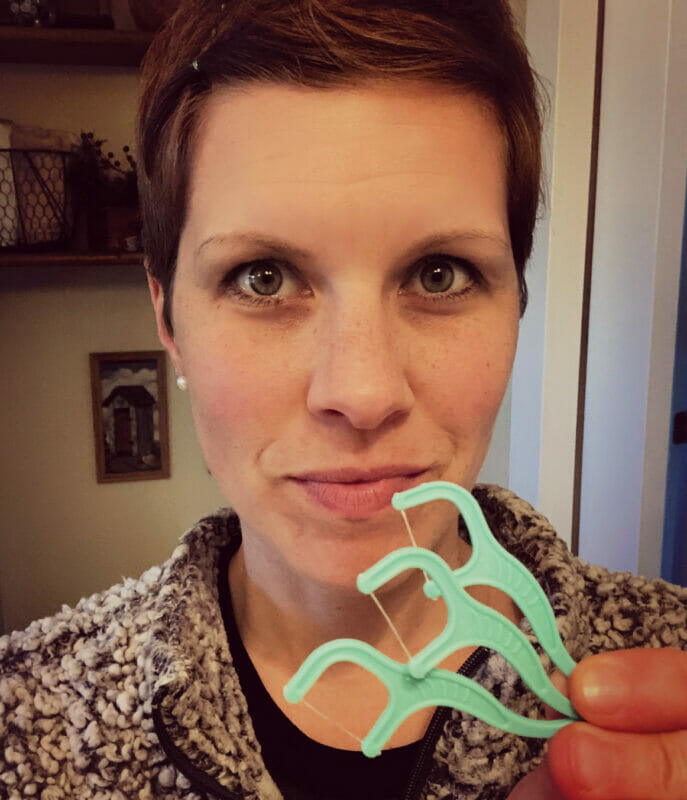 ---
FAVORITE BOOK = Make Time
I've read A LOT of books over the last month, and truthfully, I think I'd recommend them all.
However, one book really stuck out because it offered SO much practical advice to make the most of the time we have.
It was a super quick read and the authors have a fantastic dry sense of humor that literally had me laughing out loud more than once!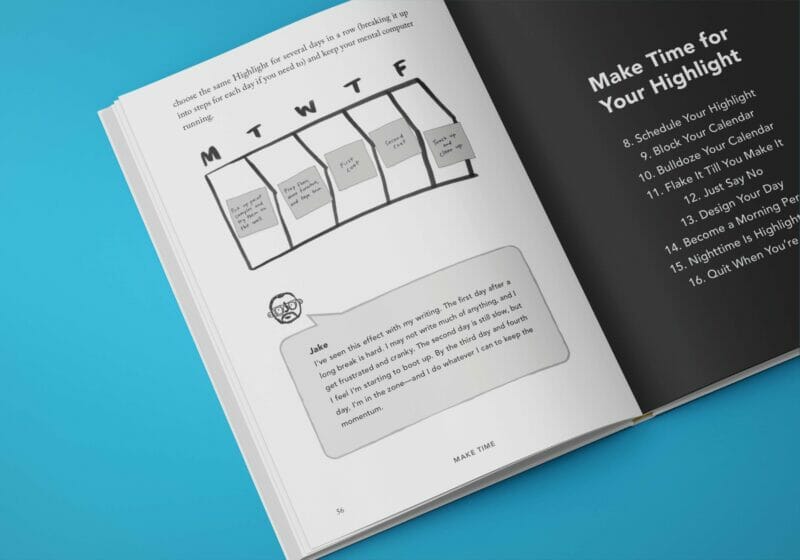 You may also visit the Make Time blog for more free resources.
---
FAVORITE MEDIA = Dwell App
It's official… I actually paid for an App several months ago. And if I'm willing to pay for an App (something I've never done until the Dwell App) you know it must be worth it!
In general, I've been trying not to touch my phone as much these days, but when I go for a walk or fold laundry or work out in the yard, it's nice to have something to listen to.
Often, I rotate through a few of my favorite podcasts, but I also really enjoy using the Dwell App to listen to scripture.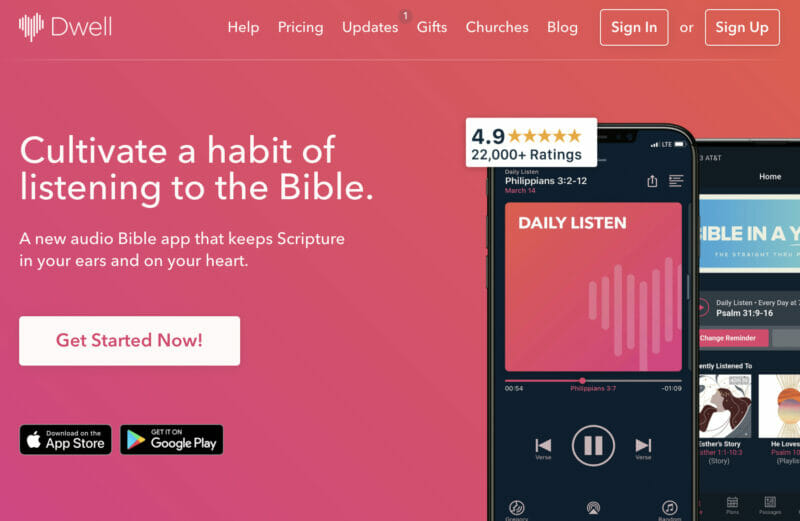 There are dozens of really cool features, a handful of different voice and background music options, and the ability to repeat verses if you're trying to memorize them.
It's been a fun tool for our kids' Bible memory at school, and a great way to listen to Bible stories when we're in the van.
It's $29.99 per year and it can be gifted to someone else too — which would be a great clutter-free gift!
FAVORITE TOY = Snake Cube Puzzles
Want a REALLY fun, clutter-free, mess-free, tech-free activity for your children or grandchildren? Try snake cube puzzles!
I found a couple of these super fun puzzles at a thrift store this past fall, but never imagined they would be such a huge hit with the kids!
We now have 6 of them (some larger, some smaller) and the kids take them all over the place — on the bus ride to school, in the car, over to the neighbor's house, outside, etc.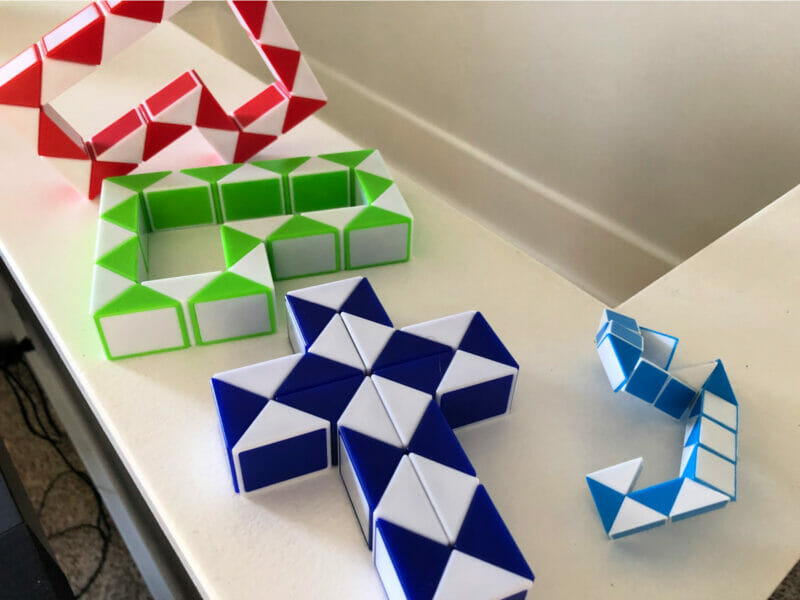 If you really want to have some fun, look up "snake puzzle ideas" on YouTube to learn how to fold them into all sorts of cool shapes… like a heart (which the boys both want to do for their school Valentine's next year).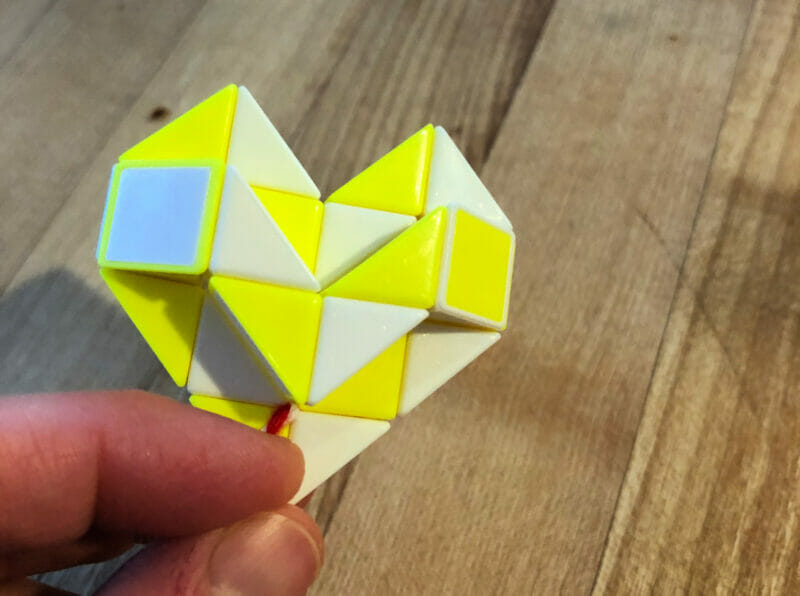 FAVORITE SNACK = Cottage Cheese + Fruit
I can vividly remember a conversation I had with my nearly retired boss when I was a college intern at a local organization.
This person ate cottage cheese with pineapple almost every day for lunch… and although I swore I'd never jump on that bandwagon, he regularly told me, "just wait until you're older".
Well, wouldn't you know, cottage cheese + fruit is one of my most favorite snacks!
I especially love it with cantaloupe — but pineapple or berries are both good combos too.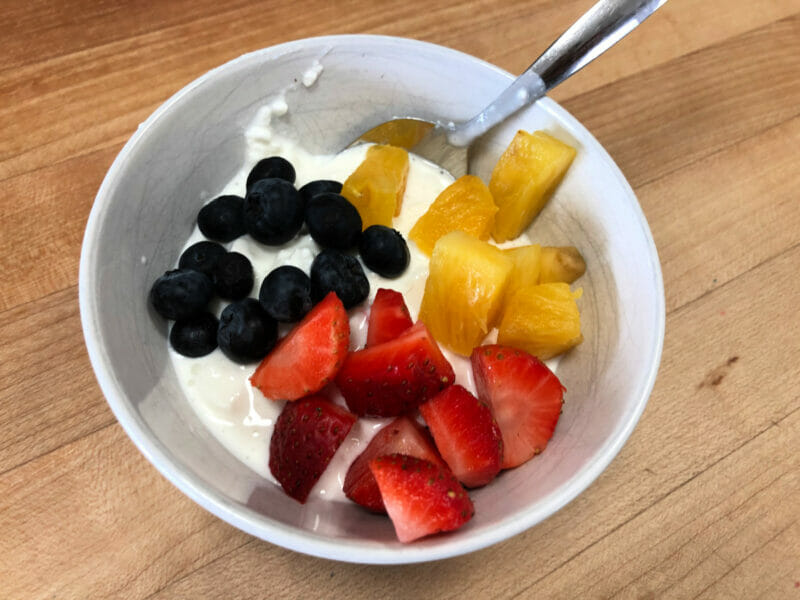 FAVORITE QUOTE = Kay Warren
"Joy is the assurance that God is in control of all the details of my life, the quiet confidence that ultimately, everything will be alright, and the determined choice to praise God in all things."
Last week, I read Kay Warren's book, Choose Joy: Because Happiness Isn't Enough, and I really liked her definition of joy (see quote above).
I can't tell you how often I see others (including myself) striving for "happiness" through a bigger house, a better job, a nicer car, more reliable friends, the music they like best at church, more followers online, a better personality, a 10-pound weight loss, a weekend getaway, etc.
Now certainly, none of the things I listed above are bad in and of themselves. However, we will be sorely disappointed if we pursue them only because we think they will bring lasting happiness or a fulfilling life.
Happiness is fleeting, flimsy, unreliable, and unpredictable. True joy, on the other hand, does not depend on our possessions, our position, our people, our places, or our personality.
Of course, joy is a choice we much choose every day — even in spite of bad circumstances, even in the middle of situations that seem too hard to bear, and even if our worst nightmares come true. It's not easy!
FAVORITE ARCHIVED POST = Long-Torso Swimwear
Yes, it's that time of year again — swimsuit season!
If you have a super long torso like I do, you might find this post extremely helpful.
I share all the details of how I created the look of a one-piece swimsuit without that uncomfortable too-short-for-my-torso feel!
Also, I welcome any other recommendations for specific swimwear brands that work well for REALLY long torsos.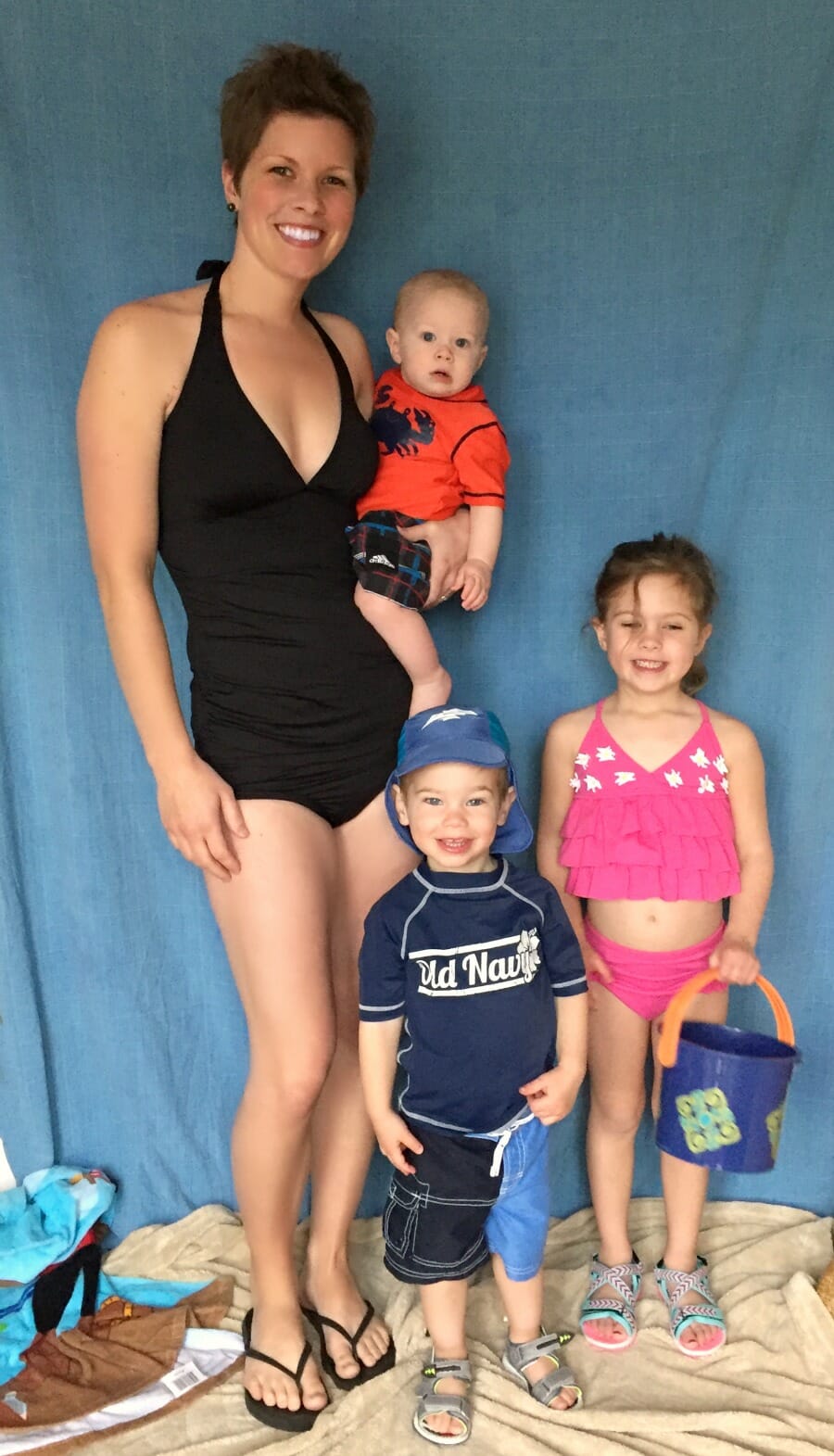 ---
FAVORITE ROUTINE = Nightly To-Do Lists
EVERY single night, before I go to bed, I make some sort of a to-do list for the next day. I make the list on the right side of my weekly planner, and I keep the list going all week long.
To date, this is my most favorite planner layout yet, and one I will continue using as long as it keeps working so well for me!
Now, I know that April isn't usually a time we think about planners — but since the amazing planners from Personal Planner are fully customizable, you can start your planner in April, May, or any other month of the year (and you can customize the layout too).
Dave always starts his planner in August, to coincide with the school year, and I start mine in October — simply because it makes me feel like I'm ahead of the game. 😉
If you're in the market for a new planner, notebook, wall calendar, journal, etc. today is your lucky day… because you can enter the super simple giveaway below for your chance to win a Personal Planner gift certificate!
a Rafflecopter giveaway
You may also use the code: SPRINGTIME for 15% off your entire purchase (valid March 1, 2021 – May 31, 2021).
Whew — that's all for me this month. 😆
If you're interested, you can scroll through ALL my Favorite Things posts HERE!