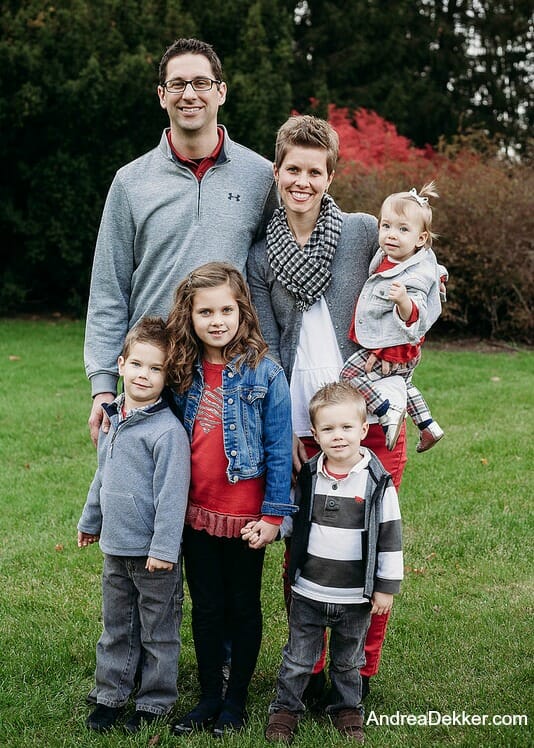 We had family pictures taken exactly 1 month ago… and thanks to the world of digital everything, we got the digital files back from our photographer right before Thanksgiving!
I'm guessing I'll use some of these on our family's Christmas card this year, but I also wanted to share a handful of my favorites on the blog — along with a Dekker Family Life Update!
Enjoy!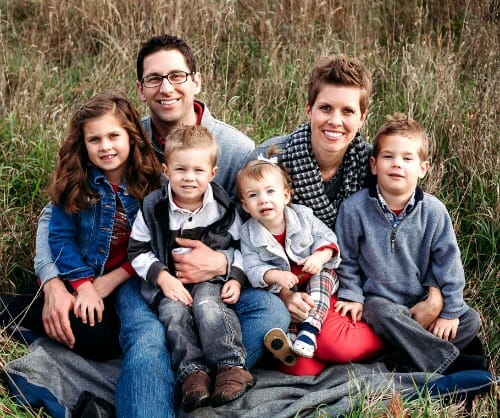 It's been 2.5 years since our last professional family pictures (I don't count Clara's newborn photos as those were mostly just of her) and apparently getting 4 young children to all look at the camera, smile, and not act stubborn or weird is more challenging than I anticipated.
We truly don't even have one family photo where every single person is looking and smiling a nice "normal" smile… but other than that, the temperature cooperated, the sun and shade cooperated, the rain held of JUST long enough for us to finish, and the park we chose seemed to work well for various different poses.
Aside from a brief period of stubbornness from Simon, the kids were really good sports about being outside with no coats at the end of October.
We did bribe them with ice cream sundaes for dessert when we got home though!
Here are a few individual shots…
Nora (7)
These pictures were technically taken a few weeks before her birthday, but Nora is seven now — I know, I can't believe it either!
Nora absolutely loves school, all her classmates, her teachers, riding the bus, all her "special" classes (p.e., music, art, Spanish, etc.) and basically everything else there is to love about 1st grade. I'm SO thankful!
Learning seems to come fairly easily for her and she has an excellent memory, which obviously helps too!
She took a 4-week dance class last month (we got a free coupon) and she is going to try a 3-week volleyball camp in December. She also joined the Math Pentathlon group at school (Dave is a volunteer). I'm not exactly sure what she does there; Dave says they play strategy games — she seems to like it and it's only for 45 minute after school one day a week.
Nora is going to be Mary in our church's Children's Christmas Program this year — partnered up with a 1st grade boy from her same class at school, who will be Joseph! 🙂
She had a cavity-free dentist appointment last week with 3 or 4 more wiggly teeth that will most likely come out soon. Hopefully some of her adult teeth start growing in, otherwise she'll really need to ask Santa for teeth this Christmas!
.
Simon (4 1/2)
Simon is still just as sweet and soft-spoken as ever — especially at school, church, or in any other public setting. He's NOT shy at all; he just doesn't feel the need to say a whole lot, and rarely is the one to start up a conversation.
At home, however, he's very loud, energetic, and loves being the "oldest" when Nora is gone at school.
He and James are best buddies and, for the most part, Simon ALWAYS looks out for James.
Simon also loves being a mother figure to Clara. Almost every morning, he takes over feeding Clara breakfast (usually while I'm cleaning up the kitchen and she's still eating). He can usually get her to eat every last bite on her plate — which is pretty impressive considering Dave and I rarely get her to eat everything!
Simon still says "B" instead of "V" for words like SUV or TV or vegetables… and he still makes an "f" sound instead of the "th" sound for words like through, three, Thursday, etc. Considering he never spoke a word until he was 2, I'd say he's made fantastic progress. His teachers are not concerned at all!
Simon loves preschool (especially the snacks!) and enjoys attending story hour at the library, Coffee Break at church, a morning program at our Early Childhood Center, and a play group at our church.
He can write his name now, he LOVES to color, and he is an excellent "cutter" (the other day he said, "mom, isn't it crazy how good I am at cutting now that I'm in school? I almost always stay right on the lines!)
Simon will be a sheep in our church's Christmas Program!
.
James (3)
The first word that comes to mind whenever I see pictures of James is "Stud"!
James can be VERY stubborn, but also fills his role as the "middle child" quite well as he's usually fairly willing to go along with whatever crazy game, activity, or project Nora and Simon come up with.
He's also very sweet with Clara — always wanting to "help" me change her diaper, get her up from naps, change her clothes, build towers for her to knock over, and read her books.
He can get himself dressed and undressed, he can go to the bathroom and wash his hands on his own, he can brush his own teeth, and he can get his own shoes on. He still needs help with the coat and gloves — but we're making definite progress!
James desperately wants to be able to write his name, but so far, he can only write a backwards "J" and then spells the rest out-loud. He can trace his name if I write it first, but the "ames" still give him trouble!
James also enjoys attending story hour, coffee break, and various play groups… and he will also be a sheep in the kids' Christmas Program.
.
Clara (14 mo.)
Clara rocked our photo-shoot — smiling at the camera every chance she got. This is not surprising considering she smiles most of the day.
Unless she is physically hurt, scared, or really hungry, you will most likely find her smiling or laughing!
She has been down to 1 nap per day since the beginning of the school year (SO nice) and aside from when she's sick or stuffed up, she consistently sleeps from 7pm until 8am every night. Hallelujah!
She is definitely a mama's girl, preferring me over everyone… and since she's my baby, I'm OK with this 🙂
Clara STILL DOES NOT WALK on her own, but she can stand on her own, she can walk with a push toy, and she can get anywhere and everywhere she wants to go on her little bike/scooter we gave her on her birthday.
.
Dave + Andrea:
Dave and I have kept busy with lots and lots of yard work this past month — raking and mulching leaves, cutting down perennials, cleaning out planting beds, etc. We "finished" everything we wanted to do over Thanksgiving weekend, which means no more yard work until spring!
We are both enjoying our role as Sunday School Superintendents at church — which also involves leading the singing time before Sunday School starts. I was initially a little nervous about this new "challenge", but it seems to be a good fit for us, for our personalities, for our gifts and talents, and for the ages of our kids (3 of which are in Sunday School now).
Dave and I plan to start (and finish) our laundry room project over the winter months (the project we postponed from this past summer). Then we have a laundry list of little landscaping projects to tackle again in the spring. Ah, the joys of home ownership!
Dave is in his 13th year of teaching already! He is such a great teacher and puts SO much time and energy into his job, offering to help students before and after class, skipping his lunch break to give retests, filling out college recommendations for seniors, and talking with parents when students are struggling.
He is very patient, an excellent listener, and is always looking for teachable moments (I see this with how he interacts with our kids at home too).
Aside from helping with Nora's Math Pentathlon and helping me with Sunday School, Dave is not involved in ANY extracurriculars at school or church — yes, he is enjoying that "extra" time, and we enjoy having him home a little more often!
While Dave steps back from many of his extra activities, I've found that I now have the time and energy to say "yes" to more things, people, and activities again.
I've helped out at the kid's school so many times already this year, I'm on several committees and groups at church, I've taken my kids out and about to various programs, special events, family activities, etc. and I feel like I just have more "mental space" to be able to meet various other needs (bringing meals to people, donating baked goods, sending cards and kids' artwork to elderly family members and people from church, getting together with friends, etc.)
I've always said I'm "not a baby person" and as I transition into a new season of life (not pregnant, not trying to be pregnant, not recovering from being pregnant, not dealing with a sleepless newborn, etc.) I honestly feel SO energized!
I suppose this is probably how I felt for most of my life before having Nora 7 years ago; but for the past 7 years, I truly felt like I was in some sort of fog — wanting to do so many things, but knowing I didn't have the physical, mental, or emotional capability of actually following through.
It was not a bad 7 years by any means, but I can definitely tell I feel differently now that I'm almost through that stage of life — yes, it feels good!
I have lots of fun posts planned for the next month (with a few more giveaways) and I'm super excited for another New Year and a chance to "start fresh" again. I have so many new recipes, new organizing projects, and other tips, ideas, and resources to share. One of these days, I might even get around to starting up an e-newsletter!
.
Just a FEW more photos!
It's been a good Fall season for our family and we're looking forward to Christmas, winter, snow, and starting another New Year.
We have no major plans for anything out-of-the-ordinary… but we do have quite a bit on our calendar for the next 4 weeks.
A wedding
Several Christmas parties with friends and family
Nora's school Christmas program
Our church's Children's Christmas program
Various special days and activities at school (many of which require food from me)
A potluck dinner at church
Dave's birthday
Dave's Dad's birthday
My mom's 60th birthday
New Year's parties
and more!
I have a feeling the next few weeks will fly by… and before we know it, I'll be back here wishing you all a Happy New Year!
Until then, we hope to enjoy the holiday season with our kids as they are finally old enough to understand and get excited about Christmastime!
Happy Weekend!