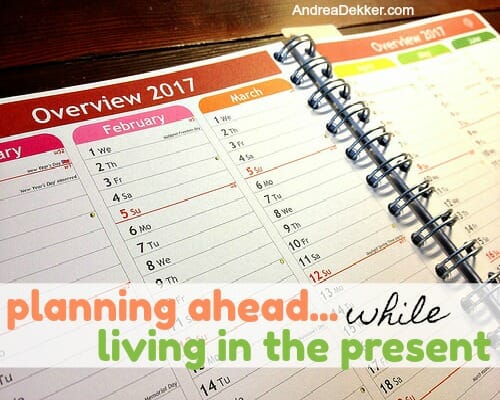 I'm someone who really enjoys planning ahead, setting goals, and daydreaming about the future — in fact, I just blogged about my "someday daydreams" last week!
I loved one of the comments on that post: "I think dreaming is essential. It doesn't have to mean we aren't content with now, but instead adds possibilities and lightheartedness to our hearts."
This is exactly how I feel about planning ahead, setting goals, and daydreaming. It does NOT mean I'm not content with where I'm at right now — it's just fun to think about what my future might hold for me someday down the road.
Even though I love thinking and planning for the future, I honestly feel like I do a fairly decent job of intentionally living (and enjoying) the present moments as well…
However, I always try to "keep tabs" on my futuristic planning and thinking to make sure it doesn't get the best of me!
So often, I catch myself thinking:
once I get past this obstacle, life will be smoother
once my kids are older, life will be easier
once this house project is finished, life will be less chaotic
once Dave is home for the summer, our days will be more relaxed
once I finish this next project or to-do, I'll take time to relax
once the kids are in school during the day, I'll finally have more time to focus on me
once our kids are older, Dave and I can finally do some traveling
I often use these types of thoughts as motivation to push through a difficult or trying time… and I certainly don't think it's bad or wrong to have goals, dreams, and ambitions, or to be excited about the future.
That said, if I'm not careful, I'm the type of person who can put too much stake in "the future".
Can anyone relate?
A couple weeks ago, a reader shared the following anonymous quote with me, and I haven't been able to get it out of my thoughts:
I WAS DYING

First I was dying to finish high school and start college.
And then I was dying to finish college and start working.
And then I was dying to get married and have a family.
And then I was dying for my kids to get old enough to go to school so I could go back to work.
And then I was dying to retire.
And now, I really am dying……and I realize that I never really lived.

Anonymous
Wow, that really forces us to think about how we live (or don't live) our current lives!
.
As I mentioned above, I've always been the type of person to look into the future and wonder about what life might be like in a few months, years, or even decades.
But the fact of the matter is, we can't ever know for sure.
We can't even know for sure what will happen in 1 hour, let alone 1 month or 1 year!
.
Of course, I don't think we should stop planning for the future or live recklessly, but I DO think this quote is an excellent reminder to live and enjoy life RIGHT NOW… today!
Be excited for your school years to end, but also enjoy learning and socializing and growing as an individual.
Be excited for your upcoming wedding, but also enjoy your last few weeks and months as a single person.
Be excited for the next milestone in your baby's life, but also enjoy where they're at right now (even if that's right in the middle of sleepless nights).
Be excited to get back to your career, but also enjoy your days at home with your children.
Be excited for your huge home renovation or upcoming vacation, but also enjoy the planning process leading up to the renovation or vacation.
Be excited for your upcoming retirement, but also enjoy your days at work.
.
I'm not an overly sentimental person by any means, but I DO see the value in making our current daily lives a priority over constantly looking ahead to the future. I believe I can be productive and goal-oriented… but still keep my main focus on the "here and now", trying my best to live and enjoy today.
I might not "enjoy every moment"as the over-used cliche phrase suggests… but I sure enjoy a lot of them!
I'd love to know if you have any tips or strategies to remind yourself to live in the present.