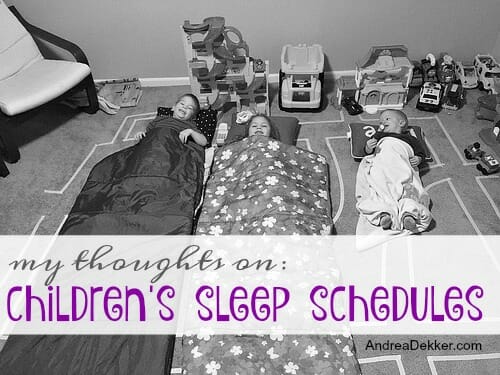 It's been just over a year now since we hired the sleep consultant to help us get James "on track" with his sleeping and napping.
At the time, James was about 8 months old and sleeping HORRIBLY. Not quite as bad as Nora was at his age, but I knew we needed help because I couldn't deal with a sleepless child for 3 years ever again!
I honestly didn't know what to expect when I hired the sleep consultant… and although James never actually slept ALL the way through the night until just a few months ago, I learned so much from the sleep consultant and applied that knowledge to Nora and Simon (as well as to James).
I'm happy to say that for about a year now, Dave and I have enjoyed HOURS of kid-free time every night, thanks to their amazing bedtime routine.
I've been asked countless times to share more about how we got our kids into such a great sleeping schedule… but even after thinking through it for several months, I'm honestly not sure there's a simple 3-step, 5-step, or 8-step process I can share that will actually be helpful for other families.
In my opinion, so much of OUR routine and schedule is very specific to our family's needs, our daily schedule, and our current stage of life. Our sleep schedule and bedtime routine won't necessarily be practical (or even possible) for so many other families. Plus, what works for US at THIS exact point in our lives certainly won't work for everyone else — so sharing specific dos and don'ts just doesn't sit well with me.
That said, after dealing with 3 years of sleeplessness with Nora, a lot of trial-and-error with James, working with a sleep consultant, and now enjoying more sleep than I've had in a long long time, I definitely do have quite a bit to share regarding MY thoughts on children's sleep schedules.
But first, let me share a bit more about OUR current sleep schedule.
Our Kid's Sleeping Schedule:
Currently (April, 2017), our kids all go to bed at 7:00pm without any fuss. In fact, there are many nights when Simon asks to go to bed by 6:30 already!
Unless they are sick or scared by a storm, they all sleep soundly, rarely ever waking up, until 6:30 or 7:00am.
Nora (5) never naps — although we do have her take a short "rest" on Sunday afternoons.
Simon (3) almost never naps — usually once a week he'll tell me he wants to rest. If he falls asleep, I wake him up after 30-40 minutes so he still sleeps well at night.
James (21 months) takes a 2-hour nap pretty much every afternoon from roughly 1:00 – 3:00pm.
**NOTE: If you want to read more about our specific bedtime routine (baths, snacks, books, etc) I share that at the end of this post.
A Few Reasons This Schedule Works for OUR Family:
As I mentioned above, our routine and schedule is very specific to our family's needs, our daily schedule, and our current stage of life — which is why it's really difficult for me to feel confident giving actual advice about sleep schedules.
For example, doubt many families have both parents home by 3:30 every afternoon like we do. And I'm sure most of you think we are crazy for eating dinner at 4:30 or 4:45pm every night! However, these 2 factors are a HUGE reason why we can easily get our kids in bed by 7:oo every night (sometimes even earlier).
Also, our children are all very young and quite close in age (3 kids in 3.5 years). This means we don't have soccer practices or choir concerts or church activities in the evening hours, so we can easily get everyone to bed early. And since they are close in age, they all need roughly the same amount of sleep.
And finally, Dave and I are both naturally very structured and prefer to be home as much as possible. It doesn't bother us in the least to both be home for the bedtime process every night. It also comes very naturally for us to perform exactly the same bedtime routine and nightly schedule every single night.
Now… A Few Of MY Thoughts on Children's Sleep Schedules:
1. Sleep Schedules for Newborns are totally OVER-RATED!
In general, I think the amount of pressure put on parents to get their newborn babies into good sleeping routines is completely ridiculous. Yes, I fully understand the hell of unending sleepless nights, and I am thoroughly enjoying our current sleep schedule, BUT I also think that periods of sleeplessness are sort of a "given" when we make the decision to have children.
I've talked about the "4th Trimester" before… and I honestly think it is completely pointless to waste any amount of time, energy, or stress worrying about a newborn baby's sleeping habits until at least 4 months old. If you have an angel baby (like Simon) who magically puts himself to sleep on his own by 3 months old, count your blessings. If not, just accept that your baby is like most other babies and needs time to learn how to sleep.
Give yourself those first 3 months as a grace period and try not to stress too much (even though I know it's brutal when you're awake all night long).
2. The Term "Sleeping Through The Night" Doesn't Mean "Sleeping All Night Long"
You know all those parenting books that claim their advice and suggestions will have your child "sleeping through the night" by 6 weeks old? Well, did you also know that the definition of "sleeping through the night" simply means that your baby sleeps for a 6-8-hour stretch of time?
Big deal, they could easily sleep from 8pm – 2am (6 hours) and then be up for hours before going back to sleep for a few more hours. And yes, I realize this might sound heavenly to some of you right now… but the goal of most parents I know is to get their children to "sleep all night long" not for just 6-8 hours.
I have Facebook friends and acquaintances who love to brag about how quickly their kids "sleep through the night" — when they are really just considering a 6-hour stretch as sleeping through the night. So annoying.
If you are a frustrated parent wondering why the books and tips aren't working to get your babies or toddlers to sleep all night long, my suggestion is honestly to stop reading the sleep specialist's books. I've read many of them and I honestly can't even think of one I'd publicly recommend on my blog.
.
3. Realize that Sleeplessness Cannot and Will Not Last Forever
While the sleepless nights seem to drag on forever when we're living through them, I think we do all realize (way in the back of our sleep-deprived minds) that our babies will learn to sleep eventually. Sometimes it's by 4 months old, sometimes it's not until 4 years old… but I promise, it will happen eventually.
When Nora was a baby, I forced myself to think "big picture" to stop myself from going crazy. Anytime someone asked, "so, is she sleeping through the night YET?" I would respond flippantly, "No, but she'll be off to college soon enough and then I won't have to deal with her sleeplessness."
It helped me to not take offense to the comments or to continually be stressed that she STILL wasn't sleeping well.
And wouldn't you know… right after her 3rd birthday, she magically started sleeping through the night. Since then, she has been a fabulous sleeper!
4. Be Consistent and Be Patient
When you're in the process of trying to develop a sleep schedule for your child(ren) remember that it will most likely take some time, especially with younger children. It literally took Dave and me over 3 years to finally get our kids in a good sleeping routine — and we're both super scheduled and routine-oriented — don't lose hope!
Although it's so tempting to hope for a "magical" book, medicine, tool, or piece of advice that will instantly get our children to sleep faster, better, easier, longer, etc. that's not very realistic.
It will take time (sometimes lots of time) to figure out the sleeping schedule and bedtime routine that works best for you, your children, and your family. TRY to be patient but consistent at the same time. Do things the same way every night until they become second nature for you and your children.
If, after several weeks, or even a couple months, that particular routine still isn't working, then re-evaluate — but please don't give up after just a few nights.
.
5. When you find what works for you, don't feel the need to justify it to anyone.
There aren't a lot of "guarantees" when it comes to parenthood — but one thing I can absolutely guarantee you, without one shred of a doubt, is that you WILL be judged by others NO MATTER WHAT YOU DO.
If you co-sleep… you will be judged by someone.
If you let your child sleep in any type of crib, pack 'n play, swing, stroller, car seat, or bassinet… you will be judged by someone.
If you rock your kids to sleep… you will be judged by someone.
If you let them cry it out… you will be judged by someone.
If you use blankets, bumpers, sleep sacks, swaddle blankets, or any sort of toy… you will be judged by someone.
If you feed your child to sleep… you will be judged by someone.
If you use a pacifier… you will be judged by someone.
If you use medical intervention… you will be judged by someone.
If you DON'T seek out help or medical intervention when others think you should… you will be judged by someone.
The important thing to remember is none of the people who judge you know the full story — they don't know the "whys" to what you are doing… or ALLLLLLL the other things you've tried in the past.
Just smile, nod, and go on your way — I promise, your life will be SO much better!
.
6. It's often easier to include future children into a current sleeping routine.
I always joke that we never had any type of bedtime routine or sleeping schedule until Simon was born — and HE put Nora on a schedule!
It's true though — despite our best efforts, Nora never developed any sort of sleeping schedule until Simon naturally fell into his own sleep schedule around 3-6 months old. A few months later, Nora FINALLY slept through the night for the first time ever (age 3 years, 1 month!) and we started creating a bedtime routine for both kids.
When James came along, even though he wasn't a great sleeper, we already had our routine in place and it was SO much easier to simply include him into our current routine than develop a new routine from scratch.
I'm positive that when our 4th baby comes along later this year, it will be that much easier to include him or her into our current routine as well. Of course, it will take time, but it will happen eventually!
.
7. Remember that babies and children are people too.
Think about nights when you just can't sleep — for whatever reason. You know you feel tired, you know you WANT to sleep, you know you'll be tired the next morning if you don't sleep… but you just can't sleep.
Or what about when you're sick, stuffed up, or just can't get comfortable? What about when you go on vacation and sleep in a different bed? What about when you don't have your same pillow, the same room-darkening shades, the same noise maker, etc.? All of these seemingly small things can play a huge role in our ability to sleep well at night.
These situations are very frustrating for adults (at least for me)… and they are equally as frustrating when they happen to children and babies.
We've had nights when Simon comes down time and time again because he can't breathe through his nose. He whines and cries and just can't get comfortable. And Nora has had her share of bad dreams, restless legs, and other situations that keep her awake even though she desperately wants to fall asleep.
Most recently (over our Spring Break vacation) James insisted on falling asleep in between Dave and me in our bed. It only took him 5-10 minutes to fall into a deep sleep and then I'd transfer him to his crib where he slept soundly all night long. James has NEVER ever slept in our bed (or really even with either of us) so I have no idea why this happened on our vacation but it did! When we got home, he willingly went right back to sleeping in his crib with no issues.
.
I could potentially keep going, but these are the main thoughts I wanted to share!
And just so you know, even though I currently get 7-8 straight hours of sleep at night, I am not too far removed from those horrible sleepless nights that I don't realistically remember the gruesome details!
Just 4 months ago, I was waking up every night with James… and in 5 more months, I'll be up at night with another newborn. So I certainly think (hope) my thoughts are relevant for the parents in the thick of sleepless nights.
The important thing for me is that I'm no longer super stressed or worried about when my baby will "sleep through the night" or what I can do to get them to sleep.
My babies will sleep eventually… in the meantime, I will scale back, do less, sleep whenever I possibly can, and learn to function on less sleep!