As many of you probably already know, clothes clutter is a HUGE issue for so many of us.
Not only are our closets JAMMED full of clothing, we often feel like we have "nothing to wear" (I know this because I too have had this thought while gazing into my closet filled with clothes.)
I've actually pared down my wardrobe a lot over the past 5-7 years — and although my closet is currently extra-full due to ALL the maternity clothing I've borrowed (seriously, I can't wait to get all of them out of my closet and back to my much smaller wardrobe!) I finally feel like I'm at a place where I wear the majority of what I have on a very regular basis.
As you'll read below, I'm FAR from a fashionista, but I feel comfortable in my clothes, I feel like they fit me well, I feel like I look OK in them, they mix and match well together, and they are all super easy to care for (wash, dry, put away, etc.)
Obviously this didn't happen overnight — I've made plenty of stupid clothing purchases over the years, I've kept clothing I didn't like because I "paid good money for it", I've kept clothing that didn't look good on me just because it was a little sentimental, and I've DEFINITELY kept a few items tucked way in the back of my closet "just in case I might need them some day".
Sound familiar?
I'm guessing that many of you can relate to my closet woes!
If not, then ALL the emails and comments I get on a daily and weekly basis asking questions on how I handle my clothes clutter must be from your friend, or your sister, or your coworker 🙂
.
So since we're still in the first month of a New Year — and since winter is a great time to stay inside purging your closets — I thought I'd answer a few of the questions I get regarding my own clothes clutter and share a bit more about the process I went through to get to this point.
.
What kind of closet do you have?
Contrary to what many people think, we definitely do NOT have a walk-in closet. Dave and I SHARE a normal, reach-in closet (it's about 8ft. wide). However, we have really maximized the space in our closet thanks to an awesome custom closet system from ORG West Michigan.
Our closet is not huge by any means, but it has never presented an issue for us and our clothing — but that's probably because I literally measured the amount of clothing we needed to store and then created a closet design to fit the volume of clothing we had.
We also made the choice to pay extra for solid wood french doors instead of hollow-core doors or bi-fold doors. This way, we can use the backs of both doors to hang hooks or clear shoe organizers and utilize every single inch of storage space.
Do you rotate clothing by season?
No!
Even though we live in Michigan and have crazy temperature changes, we don't rotate clothing. ALL the clothing we own is in our bedroom (except for winter coats and boots.)
I don't think rotating clothing is necessarily bad, it's just not something I ever wanted to start doing — and since I usually dress in layers, I often wear short-sleeve shirts and tank tops even in the winter months, just with a sweater over top.
.
Do you store clothing anywhere other than your closet?
Yes.
Although Dave and I store the majority of our clothes in our closet, we also EACH have a smaller dresser to store folded items. We use our dressers for socks, undies, t-shirts, pj's, work-out clothing, etc.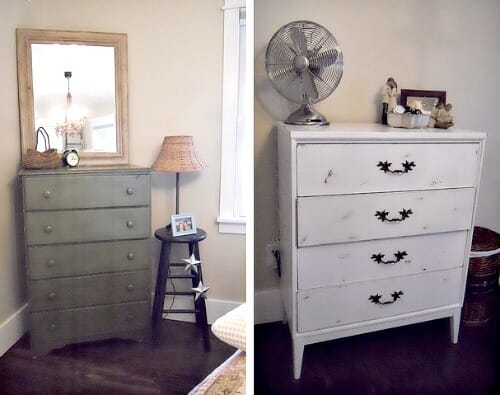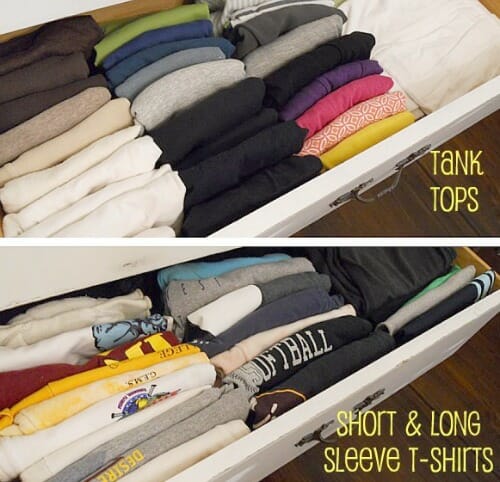 You can read more about how I organize our various accessories here. And you can watch a video about how I fold our t-shirts here.
Also, as I mentioned above, we don't keep our winter coats, boots, gloves, etc. in our closets. They actually live in an armoire by our front door. It's not the perfect solution but it will work until we turn our laundry room into a mud room (hopefully this spring!)
How can you share a closet with Dave if you don't rotate clothing?
Honestly, I feel like we have a ton of clothes — but I know that compared to many other families, we really don't!
That said, I think both of us have just come to a point where we know what types of clothes we like to wear, we know what looks good on us, and we know how much space we have to fill.
Also, neither one of us enjoys shopping for clothes (obviously a huge help when it comes to clothes clutter) so we ONLY go shopping when we are in desperate need of something specific. In those situations, we might buy a few items — but they are almost always to replace other items that were ruined or are past their prime. This means that we're constantly getting rid of things BEFORE we bring anything new back into the closet.
I think that is a key factor in maintaining the organization of any space — but especially a shared closet space. Even if you are the type of person who loves to shop and continually update your wardrobe, it won't be an issue if you also continually purge from your wardrobe as well. Such a simple concept — not as simple to actually implement 🙂
You can read more about how exactly we organize our closet here.
How do you handle changing sizes and maternity clothing?
I know this won't work for everyone, but I've been fortunate to be able to borrow pretty much ALL my maternity clothing. I have a couple staples like 1 pair of jeans, 1 pair of comfy pants, and a few tank tops, but that's it. I've borrowed everything else from friends and relatives — which means I can give it ALL back again when I'm finished using it!
Also, in regards to changing sizes — I haven't had much of this (yet)! I'm sure it's coming eventually, but so far, I've pretty much stayed the same size for the past 10 years — and I really do still have some of the clothing I wore in college.
If you are the type of person who regularly changes sizes, I would encourage you to purchase a few staples for each size and then (if you don't have room in your closet to store it all) keep labeled bins of each size clothing under your bed or in a nearby location so you can quickly rotate sizes when necessary.
What are your tips for buying more clothing?
Don't 🙂
In all seriousness, I've found that the best way to save money and keep my closet reasonably organized at all times is to stop shopping. That might sound like overly simple advice — but it definitely works!
IF you are going to buy additional clothing (or even IF you acquire additional clothing for free) take the time to go through your closet and get rid of a few items too. I have no issue with buying more clothing (if you can afford it) as long as you're not just adding more to your closet each time.
.
Where do you buy your clothing? And how often do you shop?
Well, I've already mentioned that I don't shop for clothing all that often — probably only a couple times a year at the most. And I almost NEVER just go to the mall to 'browse' or see if there are any deals. If I go shopping, it's always with a specific goal in mind and I'm looking for specific items to fill a "need" I have.
Probably the first place I look for clothes is Kohl's — not because they have such awesome fashion, but because I usually find something that works and I often get gift cards and coupons to Kohl's too.
I never did much online shopping for my own clothing until ThredUp started offering women's clothes last year. Since then, I have purchased a handful of items from them — and I even got a couple of my maternity staples via their online shop as well!
Although the items I purchase from ThredUp are used, I normally wouldn't buy used clothing for myself. I've never purchased adult clothing from a garage sale or a thrift center — not really sure why, but I think it has something to do with the fact that it's so "hit or miss" and you need to spend a lot of time weeding through the racks of 2nd hand items that usually aren't organized by size or style. I'd rather just walk into a store, go to the size I need, pull it off the rack, and buy it. And with ThredUp, I can use filters to only search for the items that I want to see in the sizes and colors that work best for me — so it's WAY more convenient than garage sales or thrift stores.
.
What items should we definitely remove from our closets?
I'm so glad you asked 🙂
I actually wrote a blog post specifically about that a couple years ago. You can read it here!
How can you manage with so few clothes?
Well again, I seriously feel like I have a ton of clothes and a ton of options to wear every day… but here are 4 reasons I'm able to get by with less clothes.
1. I work from home.
Obviously, I don't need to have many business or professional clothes since I sit at home and work from my computer. This has helped me significantly cut back on my wardrobe.
2. I don't mind wearing the same things often.
Since I rarely ever see the same people on a daily basis (besides Dave and Nora) I'm totally fine with wearing the same clothing more than once in a week or even two days in a row (if it's not dirty).
3. I wear tons of neutrals and coordinating colors.
I naturally gravitate towards white, cream, grey, black, and brown when it comes to picking clothes for myself — so since almost ALL of my wardrobe consists of those colors, it makes it really easy to mix-and-match different pieces to create new looks. Again, I'm far from a fashion icon, but this works for me and allows me to have fewer items of clothing.
4. I dress in layers.
Honestly, if you looked carefully at my closet, you would probably count 15+ cardigan sweaters or shirts. These are my all-time favorite clothing staple and I wear one almost every day. I have multiple different black, grey, brown, and white cardigans in different styles and different thicknesses and I simply layer them over a variety of tank tops, button-up shirts, short sleeve shirts, etc. to create a new look.
This has also proven extremely helpful in stretching my very limited maternity wardrobe since unbuttoned cardigans will work no matter how big my belly gets!
You can read more about my minimalist wardrobe here.
.
Why do you want to have so few clothes?
Honestly, this is a really good question — because we really do have plenty of room in our closet for more clothing.
I think for me it just comes down to the fact that clothing isn't "my thing". I don't love clothes, I don't love shopping for clothes, I don't love washing or folding clothes, and I really don't love trying to decide what to wear each day. So by having fewer clothes, it means I have fewer options, fewer items to wash, fewer items to store, and fewer items to eventually replace.
I realize this might sound ridiculous to some of you — and that's totally OK. If you're a fashionista, love shopping, and have the time, space, and money to acquire lots of clothing — I'd say go for it!
I'm sure there are things I spend money on that you might think is a waste too… so just because I've drastically reduced my wardrobe these past few years, that doesn't mean that's necessarily the right plan for you.
What about kids clothing… how do you store and organize those?
Great question! The short answer is that I don't store very much of our outgrown children's clothing — you can read more about WHY I've chosen not to keep our kid's clothing here.
I also try not to accumulate too much children's clothing because I know they just don't need it! You can also read more about how exactly I organize our kids' clothing here, and here.
OK so that's it for today — I think I've covered most of the common clothing questions I get.
If you're interested in reading more of my thoughts about clothes clutter — you'll find a bunch more posts on this topic right here.
What are your best tips to clear your clothes clutter?