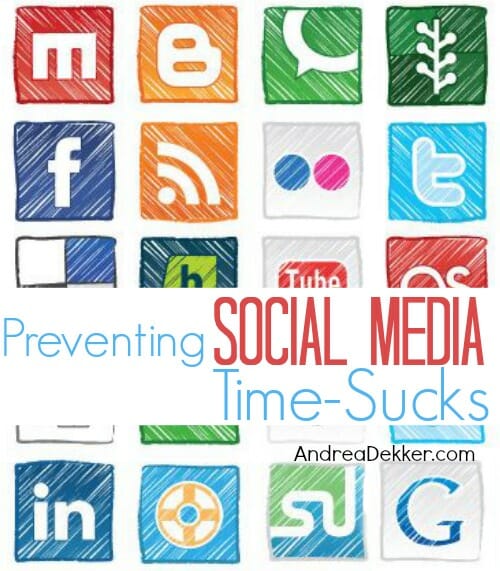 A few weeks ago, I posted a question on Facebook asking what topics people REALLY wanted me to blog about. Not surprisingly, many of you requested more information on how to prevent social media time-sucks.
I'm sure time-management has always been an issue for many many years, but the many forms of social media have made time-management just that much MORE difficult.
Obviously, I use social media for business purposes — but even for personal use, I have highly benefited from social media (Facebook in particular). I love how easy it is to stay connected with family and friends — share pictures with relatives across the country, and read interesting articles from around the web.
That said, I have a bunch of ideas, tips, and tricks that have helped me to better manage my time spent on social media, but before we get too far into this post, I want to offer 2 things to think about if you're struggling to manage your social media time.
Social media is NOT the one to blame.
Honestly, I don't want to sound rude, but it's not social media's fault if WE are addicted to it and spend hours and hours each day glued to our screens.
Just like everything else, social media is a tool — how we choose to use that tool is up to us.
As I mentioned in a previous post, I think social media is an amazing resource that I'm happy to have in my life. I've benefited a lot from Facebook, Twitter, Pinterest, etc. so it's not the tools that are the problem.
It's US!
I know that, and I'm pretty sure you know that too — it's just a good reminder before we get too far into a post about preventing social media time-sucks.
WE are the force of change behind all of the preventative measures I list below!
It doesn't have to be "all" or "nothing".
I've come across SO many people lately who decide that they are wasting time on social media and their solution is to simply cut it out of their lives completely.
While I realize this is how some people function, I'm a huge proponent for "everything in moderation" and I think that by totally cutting social media out of your life, you'll eventually start craving it so much that you'll regress back into your obsessive ways and be addicted all over again.
Just like eating, smoking, or any other other bad habit, you will usually have more success if you take things slowly, in moderation, instead of just trying to "quit cold turkey".
In my opinion, social media is NOT bad. But just like anything else, we can't let it consume ALL our time. In moderation, social media can be very good, very fun, and even very useful.
.
OK, so now that we have that out of the way, let's talk about 5 ways we can all better manage the time we spend on social media.
1. Track Your Current Usage:
I think one of the first steps you should take if you feel like social media is eating up mass amounts of your time is to simply track your usage.
Every time you log on, look at the clock, and then pay attention to how much time you spend logged on. Write that time down and keep track for a few days or a few weeks.
Just like you track your income and expenses when you're trying to set up a financial budget, tracking your time is an extremely useful concept when you're trying to set up a "time budget".
Sometimes, I've found that the simple knowledge that I am, in fact, tracking the amount of time I spend on social media (or any other activity) makes me more aware of what I'm doing and helps me waste less time.
2. Set a Timer:
This might sound very juvenile — but it DOES work!
I know many parents who set timers to tell their children when it's time to get off the computer or step away from the TV — so why not do something similar for yourself?
There are even Apps you can download and web-based programs you can install on your computer to literally lock you out of your social media accounts for set periods of time if you're trying to be productive (I can't think of the names right now but feel free to leave them in the comments!)
3. Have a Plan:
Along with setting a timer, I think it's a good idea to have a general "plan" of when you will (and will not) let yourself visit your favorite social media sites.
For example, during working hours, you might limit yourself to 15 minutes during your lunch break, or 10 minutes right at the beginning of the day. Then at home, you might limit yourself when the kids are sleeping or during their "quite time".
Another idea is to use social media as a reward for finishing tasks or meeting deadlines. If you complete a big project or finish XX number of items on your to-do list, then you get 20 minutes of social media time.
4. Focus On Your Favorites:
With the insane number of various social media sites (and new ones popping up all the time) I think it's essential to only focus on your favorite sites.
For me, Facebook is the one I enjoy using the most — both for business and personal uses — so that's the one I spend the most time on. I use Twitter occasionally for business and only go on Pinterest when I'm looking for specific ideas or inspiration. I basically never use any of the other multitude of social media sites.
I realize I COULD do a lot more with social media (especially from a business stand-point) but I just don't.
5. Don't Beat Yourself Up:
Honestly, I never let myself feel bad for ENJOYING social media — or even for sometimes "wasting time" on social media.
Yes, there are days I could spend more time being productive, but the fact of the matter is, if you guilt yourself for using social media, it will become something you continually obsess about to the point where you end up thinking about it MORE often.
For example, when you're on a diet, you might tell yourself, "I really shouldn't eat that but I really want to" and you'll keep thinking about how you really SHOULDN'T eat it… but that you really WANT to eat it. Then, instead of eating just one, you eat the whole plate full because you've been thinking about eating it for so long.
Similarly, with social media, if you constantly tell yourself "I shouldn't but I want to" you'll end up thinking about it all day and spend way more time on social media than if you just had a plan (like I mentioned above).
I could go on and on with various tips and tricks to prevent social media from taking over your life — but I feel like these 5 offer a good place to start.
And, going back to the points I made at the very beginning of this post, it all starts with US and our personal will-power to resist the temptation to LET social media suck all of our time 🙂
So as you set out to better mange your time spent on social media, just remember that it's a TOOL — we are in control of how we use (or abuse) that tool!
Do you have any other tips to prevent social media time-sucks?