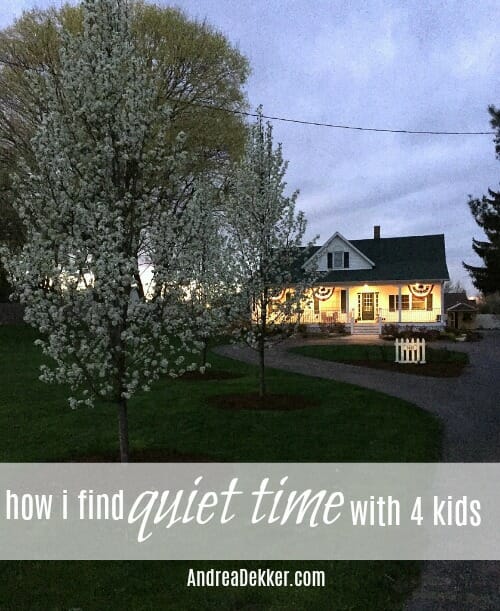 In preparation for my 33rd birthday TOMORROW, I was thinking about what I'd really love the most as a 'birthday gift'. I sort of want a bike basket, and cheesecake is always good too! However, quiet time alone, at home, is probably one of the top things on my list!
In general, I like my environment to be very quiet… which, I suppose, is somewhat laughable considering I'm a stay-at-home-mom of 4 little children!
I never have the TV or radio on for "background noise", I leave my phone on vibrate almost all the time, I use a quiet noisemaker or fan to block out other noises when I'm sleeping, and I could drive for hours without listening to the radio, CD's, etc.
It's not that I can't handle noise, I just prefer less noise whenever possible — and although Dave almost always has some sort of music on as background noise while he grades, exercises, drives, or does yard work, he definitely prefers quiet over crazy loud as well!
I think our mutual desire for quiet is probably one of the reasons we are both fairly neat and organized as well — we don't like the "visual noise".
Whatever the case, an excess of quiet time is not extremely easy to come by with a baby and 3 other rambunctious little people running around all day long. Nevertheless, I regularly find ways to meet my "quiet time quota" each day — which makes for a much happier mama and a much more enjoyable day for everyone!
Here are a few ways we get a fair amount of quiet time every day… even with 4 kids!
.
1. We put our kids to bed very early.
I know this might not be possible for too many more years, but our children are usually all in bed around 7:00pm every night (Clara is often sleeping by 6:30).
Obviously, there are exceptions to this — if we have guests over, if we go somewhere later in the afternoon and don't get home as early, if we're on vacation, etc. etc. However, for the most part, we start the bedtime process by picking up the entire house/yard right around 6:00. Then we do baths/shower, PJ's, snack and books, brush teeth, sing songs, lights out.
We have started letting Nora stay up a little later to read (or we read to her) a couple nights a week, but even still, she is always in bed by 8:00, often earlier, which leaves Dave and me with several hours of quiet time every evening!
We use this time to do yard work, fold laundry, clean out the dishwasher, pack lunches, etc. Dave does the majority of his lesson planning and grading during this time and I try to write at least one full blog post every night after the kids are sleeping. I also use this time to get groceries or work on any projects around the house and yard when necessary.
We usually go to bed around 11pm, sometimes later if we're in the middle of something, sometimes earlier if we feel we need to catch up on sleep — either way, it's AMAZING how much we can accomplish in this 4+ hour chunk of time every night; and the fact that it's usually all done in relative peace and quiet is just an added bonus!
.
2. We wake up before our kids.
I realize going to bed later and waking up earlier are not ideal for every personality — but they work well for both Dave and me right now.
We are usually both awake by 5:30, and since our kids stay in bed until 7:00, this gives us another hour+ to enjoy a quiet house while we get ready for the day (which really does set a positive mood for both of us.)
I laugh because Dave and I are complete opposites in the morning — he immediately makes coffee and breakfast, and then sits at the table to read, work on his computer, finish up school work, etc. After about 45 minutes of sitting quietly, he hops in the shower, quickly gets ready, and is out the door shortly after 6:30 (obviously, not during the summer!)
On the other hand, I wake up and immediately get to work. I make the bed, start a load of laundry (if it's a day I'm doing laundry) or put dishes away that were drying over night. I get dressed, get ready, make sure everything is set for breakfast, and then I work on my computer until the kids wake up, at which point, I get breakfast going.
Not only does waking up before our kids help us to enjoy a quiet, calm start to our day, it also allows us to cross several more to-dos off our lists and be completely "ready for the day" before encountering any noisy interruptions.
NOTE: even as a morning person, there were YEARS of my life when I slept in as long as my babies let me. I didn't wake up even 1 minute before I absolutely had to. It wasn't ideal for my productivity, but it was necessary for my sanity!

If you are in that season of life, definitely do not feel the need to wake up early! There are other ways to find productive and quiet hours in your day — just enjoy your sleep!
.
3. We have specific times when the kids play by themselves.
As we've added more children to our family, and as our children have gotten older, they have become better and better at playing together and entertaining themselves for longer periods of time (hallelujah!)
As I've mentioned before, parenting 4 children has actually felt much easier for me than when I just had 1 or 2… and the fact that they can now entertain themselves is one of the main reasons why.
I am no longer required for EVERY SINGLE THING they do. They can get all their own toys out, they can get their own shoes on and go outside whenever they want, they can go to the bathroom without my help, and they can come up with their own ideas for fun. Plus, now when Nora is home, she even takes the initiative and reads to the boys on occasion… it's glorious!
I'm not exactly sure when all of this started, but we are now to the point where the older 3 kids go upstairs or outside to play (without an adult) after every meal — which means I can clean up the kitchen in peace!
Since none of the older kids nap anymore, I use this time (specifically the time after lunch) to load the dishwasher, put leftover foods away, wipe down tables and counters, sweep up crumbs, prep food for the next meal, refill water bottles, and leave my kitchen looking neat and clean.
Of course, I love the fact that my kitchen is clean most of the day, but I also thoroughly enjoy that 20-30 minutes of quiet time to clean up, think through the rest of my day, and get ready for the next meal. I usually also enjoy a little dessert or sweet treat, all by myself, after lunch. It's my reward for making it through half the day! 🙂
Again, I know this exact scenario won't work for every family or every age of child, but if you can come up with a small chunk of time (preferably in the middle of the day) when you aren't 100% responsible for entertaining your child(ren), I'm positive it will work wonders if you're the type who needs a little more quiet time.
Maybe your younger children still take naps and you can turn a TV show on for your older children, or maybe you could hire a neighbor kid to come over and play with your children after he/she is home from school.
Even just 20-30 minutes of time you know you can count on and plan for can be SO helpful — especially if the rest of your day is fairly loud and chaotic!
.
4. We have very quiet hobbies.
In general, we don't willingly do many loud or crazy activities — that's just not what we're interested in right now.
The time will come when our kids are much more involved in sports, music, and other extra curricular activities, but for now, we choose not to do any of that.
I spend most of my extra time working in the yard, cleaning or organizing something, working on my digital photo books, cooking or baking, watching a Netflix movie, or reading — all of which are very quiet activities.
Dave enjoys reading, running, yard work, and watching sports on TV in his spare time (and the TV volume is always very low!)
We rarely go out in the evenings, and we'd rather invite just a few couples over than entertain a huge group.
The fact that we know and accept this is very helpful for creating more quiet in our days. We know ourselves enough to say "no" to activities and commitments that will be loud or crazy (especially if we already have a lot going on that day).
.
5. We make quiet time a priority.
As with almost everything in life, it's easier to achieve something if you make it a priority.
Dave and I know it's very important for both of us to have plenty of quiet "down time", so we're pretty intentional about carving out time for quiet activities each day.
Whether it's making time for exercise, reading, writing, family activities, running a business, working outside the home, spending time with friends, entertaining, or finding a few moments of peace and quiet each day, you will be more likely to make something happen in your life if you simply make it a priority.
If Dave and I are not intentional about getting our kids to bed on time, setting our alarm to wake up early, saying 'no' to people and activities we know will cause us to feel frazzled and stressed, we will end up being grouchy and grumpy because we aren't getting enough quiet in our days.
On the flip side, if we prioritize some quiet time into each day, we are both so much happier, we respond better to each other and our children, we handle the rest of our day much easier, and we are even much more productive!
Do you need quiet? If so, how do you find those moments each day?
.