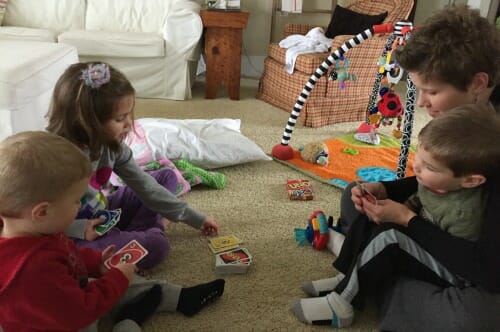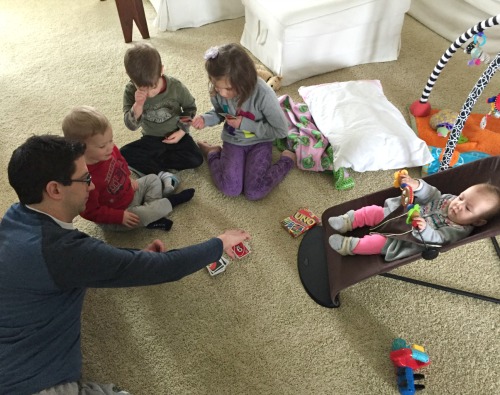 Greetings from the North Pole!
Seriously, the past 2-3 weeks have been SO cold around here (literally freezing!) We have so much snow and ice our mail truck can hardly make it to our box… and the sub-zero windchill and crazy blowing snow have made it almost impossible to get the kids outside to play.
And… wait for it… our furnace went out, in the middle of the night, the day Dave had to go back to school, AND my van was in the shop getting a repair, so we couldn't even leave our frigid house!
It was 49ºF in our house by the time the repair man fixed the furnace around 9:00am. I can't even imagine how cold it would have gotten if he couldn't come right away!
Thankfully, we have a few really great space heaters, so our bedrooms were all cozy warm, and since the kids bedrooms are so large, we were able to spend all morning in the boys bedroom (a balmy 73º with our space heater) until the rest of our house warmed up.
NOTE: If you're on the look out for a REALLY great space heater, I would suggest the fairly pricey, but extremely reliable, Riccar Summer Breezes Zone Heater (I share more about it in this post.)
I checked the weather forecast last night and it looks like we're in for a nice "warm-up" this week. Temperatures should be above freezing every day — maybe some of our huge snow mountains will melt a bit!
In the meantime, we're staying cozy inside and enjoying the kid's newest "treat"… Hot Chocolate!
Dave and Nora went back to school the middle of last week while I tried to get our home and life back to "normal" after our very different holiday schedule!
Throughout Dave's Christmas break, I enjoyed getting out of the house much more than I normally do. I frequently left Clara home with Dave (he caught up on all the Star Wars movies) while I took the older 3 to the library, the thrift store, or on other various adventures around town. I even had a few outings all on my own — it was glorious!
Interestingly enough, Clara kept waking up once or twice every night during break, even though she had previously been sleeping 10-12 hours straight for over a month before. I joked with Dave that she was just making up for lost time with me during the day… but now I think that actually might have been true.
She started sleeping through the night again the day Dave went back to school (and I was with her all day that day)! Since then, she has slept through the night every night again — I guess she just loves her mama 🙂
Nora also has a different schedule now that she will be going to school 4 days a week instead of 3.
This is the first year our school offered a 'transitional' option for Kindergarten, and although I was originally nervous about sending her 4 days after Christmas break, I definitley feel like she's ready for it. Plus, I have a feeling it will make the transition to first grade (5 full days a week) go more smoothly.
She loves reading, playing Uno (when she wins), and doing the many new craft projects she got for Christmas. She also declared that she is finally "old enough" to hold Clara while standing up (a big accomplishment for her!)
Simon and James enjoy having the house to themselves now that big sister is gone during the week again.
They set up car ramps, get every single ball out every single day, and play games Nora doesn't usually like playing (too babyish for her now!)
Simon is SO excited to start preschool next year and asks me, "how much longer until I go to school" at least 5 times every single day!
He loves picking out his own clothes and getting himself dressed… which means we often have some interesting combinations and lots of backwards shirts 🙂
James is still one of the happiest people I've ever met. He smiles all the time, laughs at everything, and makes everyone around him happy.
He loves helping me in the kitchen — especially when I let him sample the goodies!
Miss Clara is getting some rolls… in fact, she might be my chubbiest baby yet.
However, the biggest "milestone" for her is that she no longer screams every time we put her in her carseat! Yay! I successfully took her and the boys on 3 errands last week and she never made a peep. She even fell asleep in the carseat twice!
Also, she's laughing now! It's so cute!
.
I've been slowly picking away at various home organizing projects — 1 drawer here, 2 shelves there — and I've brought 2 loads away to the thrift center. It feels good to PURGE again (I'm sharing more about this in tomorrow's post)!
In my last Peek Into Our Week post, I mentioned the new coat I ordered from Eddie Bauer — I'm still loving that coat and have gotten many compliments on it. I also decided on a pair of new winter boots that I really like.
I found them at the Clark store in our mall (yes, I went to the mall!) and got them for 1/2 off plus an additional 20% off, so they were a great deal. If I wear them for another 13 years (like I wore my last pair of winter boots) I will definitley get my money out of them!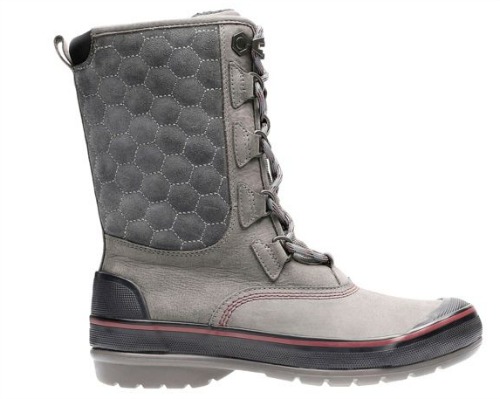 What I've Been Watching and Reading:
Dave and I are almost finished with the current season of The Crown, and I caught a few episodes of Fuller House as well!
I finally started reading again after a 3 month hiatus post Clara's birth. Last week, I read From Sand and Ash by Amy Harmond — SO good! It took me a while to get into it (I actually re-read the first 3 chapters because I was so confused at the beginning) but then I was hooked. I read the rest of the almost 400 page book in just a few days.
I would highly recommend it (set in Italy during WWII).
.
Our Weekly Menu:
MONDAY:
TUESDAY:
WEDNESDAY
THURSDAY
FRIDAY
SATURDAY
SUNDAY
.
That's all for now — we're hoping to get outside a bit this week (if the weather forecasts are correct and it's a little warmer). If not, I'll have to get creative and come up with more indoor ideas to entertain the kiddos!
What are your favorite indoor winter activities for young kids?