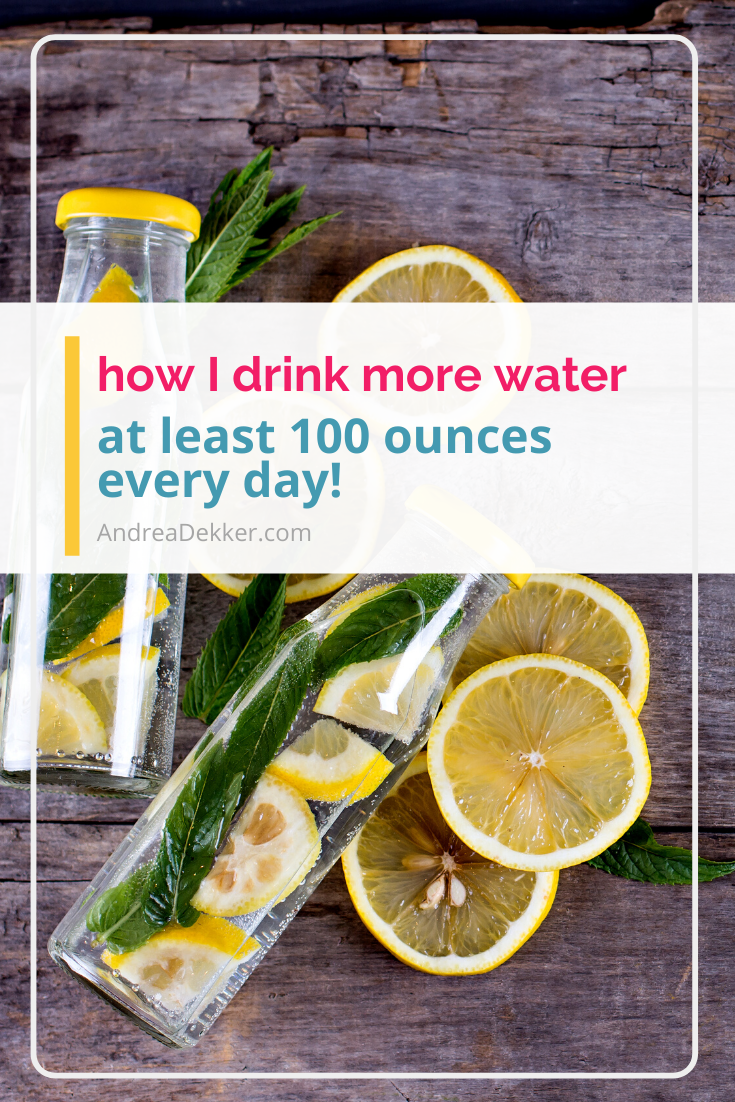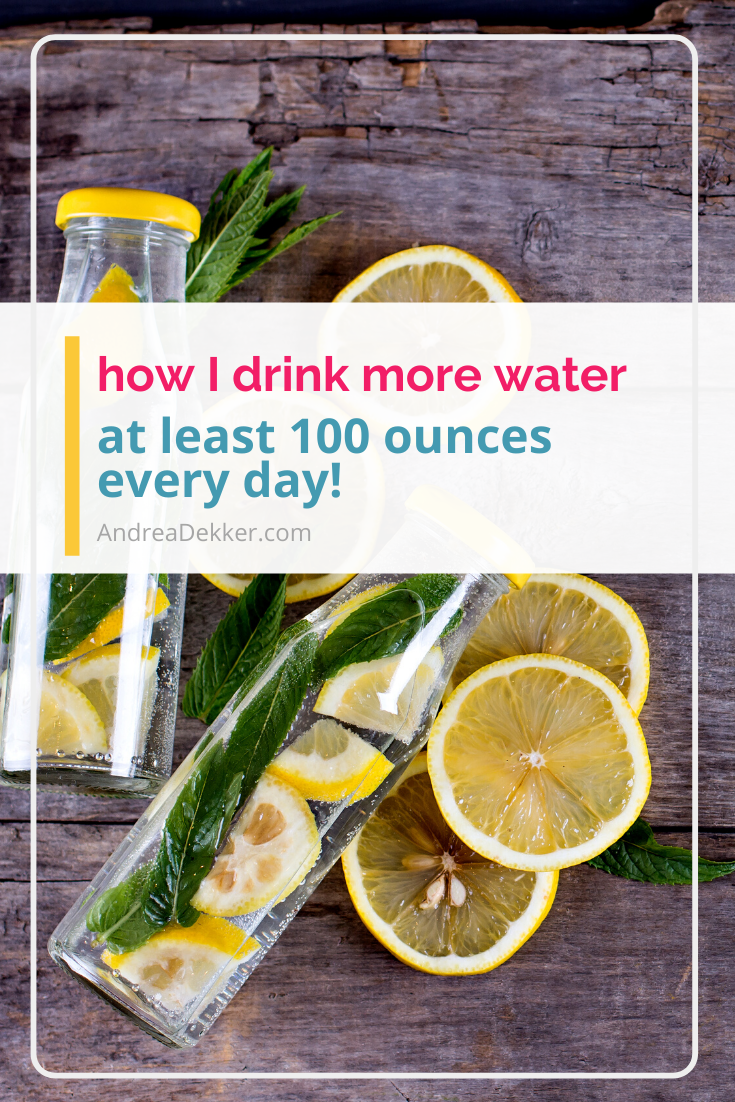 If you're looking for an extremely simple, frugal, and quick "fix" for many common ailments like dry skin, headaches, chapped lips, low energy, restless legs, etc. my non-professional suggestion is to DRINK MORE WATER every single day!
I've been amazed, time and time again, how a few extra glasses of water will completely eliminate so many of these annoying symptoms!
Why I Started to Drink More Water:
Back in 2012 (just a couple months after Nora was born), I realized I was thirsty ALLLL the time, my skin was dry, my lips were chapped, I felt extremely lethargic all day long, and I was experiencing more headaches.
I figured all these symptoms were somewhat related to the fact I wasn't sleeping due to Nora's lack of sleep as a baby. However, after doing a little research and asking my doctor, I realized I was basically dehydrated and all I had to do was drink more water!
How wonderful to have such a quick, simple, easy, frugal "fix" for all these symptoms!
At the time, I was not a huge water drinker, but I immediately started forcing myself to drink more water every day.
I carried my water bottle with me wherever I went, I drank water with many of my meals, and I drank several swallows of water EVERY time I woke up with Nora in the middle of the night (which was A LOT).
Within a week, most of my symptoms had vanished!
My skin and lips were no longer dry and chapped, my headaches were gone, I wasn't thirsty all the time, and I even had lots more energy — despite the fact I still wasn't sleeping great at night.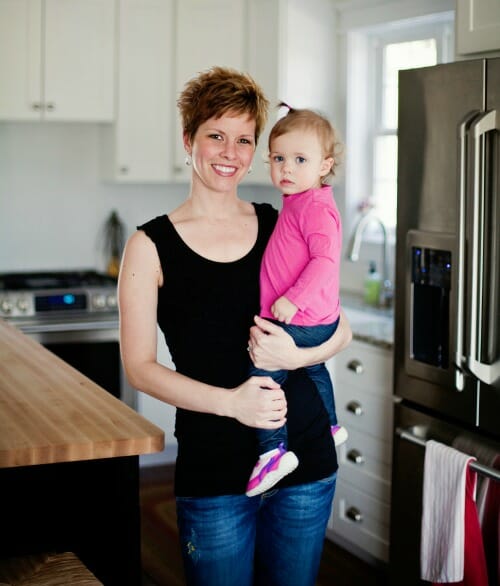 Since then, I have made it my goal to drink more water every single day (usually at least 100 ounces each day) as a cheap, easy, calorie-free way to improve my skin, my hair, my sleep, my mood, my digestion, my metabolism, and basically my overall health.
This post may contain affiliate links. Please read my disclosure.
My Water Bottle:
I know many of you will want to know exactly what water bottle I use, so I figured I should share that before I get too far into this post!

Dave and I use the Contigo AutoSpout water bottles (purchased in a 3-pack from Costco.) We decided on these water bottles because we don't like straws and we wanted something that was VERY easy to clean. So far, we've been using and liking these bottles for over 2 years now.

When I purchased our water bottles, I also purchased a 3-pack of the kids Contigo water bottles (also significantly cheaper at Costco versus Amazon.) The kid's bottles are not as easy to wash due to the straw, but they are spill-proof and the kids love them.

The kids also have a Thermos Funtainer — it's a great stainless steel option.

I talk more specifically about our water bottles in this post from last year.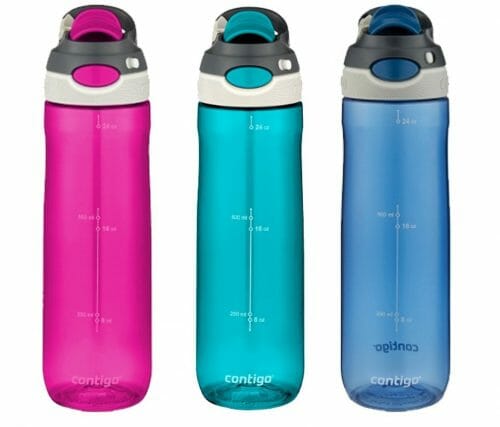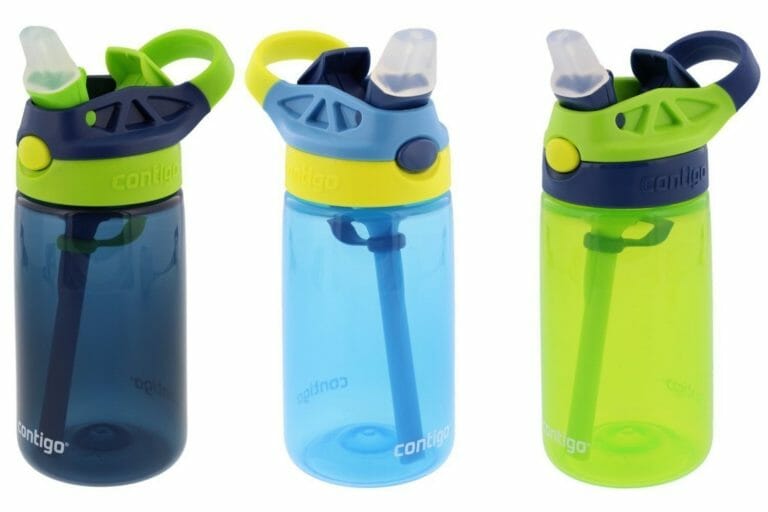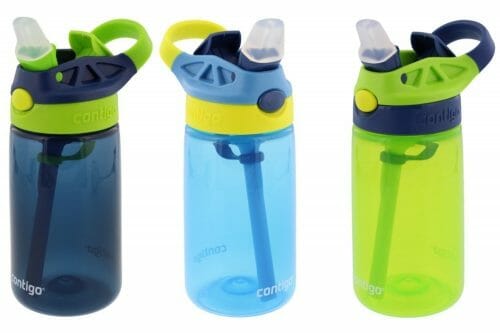 .
How Much Water Should You Drink?
Everything I've read suggests drinking a MINIMUM of half your body weight in ounces of water each day.
For example…

…if you weigh 150 pounds, you should drink a minimum of 75 ounces of water per day.

…if you weigh 200 pounds, you should drink a minimum of 100 ounces of water per day.
If you exercise regularly or sweat a lot, you should drink more water than the minimum — potentially as much as your full body weight in ounces of water each day (150 ounces for 150 pounds, etc.)
Even though I don't exercise regularly or sweat all that much, my goal is to drink a minimum of 100 ounces of water every day — I'm usually closer to 150 ounces though!!!
.
How do I drink at least 100 ounces of water every day?
I'm glad you asked!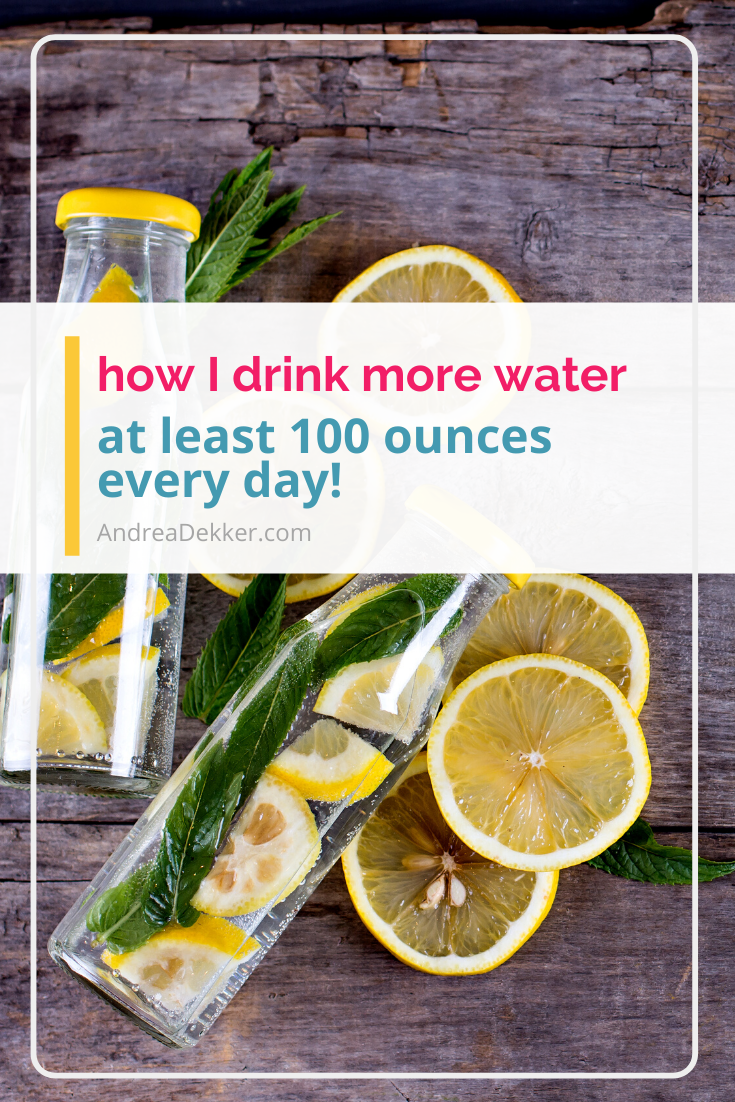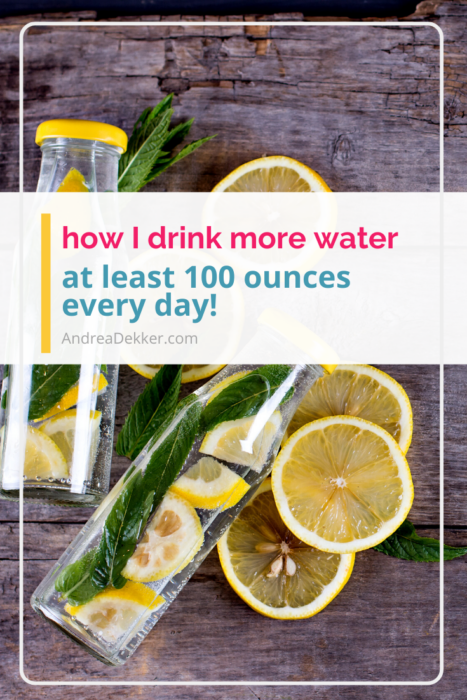 Water Bottle #1 (24 oz.)
Dave and I wake up at 4:00 every weekday (usually 5 am on weekends) and after I go to the bathroom, the very next thing I do is drink my entire 24 oz. water bottle. Yes, the entire thing!
The water is room temperature, which makes it easier for me to drink more water so quickly. If you prefer hot/warm/cold water, do that. I've heard it's really good to add lemon to your water (or even a little apple cider vinegar), but I'm not a lemon or vinegar water fan.
I refill my water bottle immediately, make the bed, get dressed and ready for the day, and sit down at my computer with my second full bottle of water.
Water Bottle #2 (48 oz.)
From 4:30 – 6:30 am, I drink another 24 oz. water bottle while I work at my computer, make breakfast, read, etc.
I usually try to stop drinking around 6:30 as I almost always eat breakfast around 7:00, and I've found that I digest my food better if I don't drink with my meals or for a short while before and after my meals.
I know this might sound very odd, and it did take a week or so before I adjusted to not drinking with my meals, but now it's just normal for me. I can even handle spicier foods without anything to drink!
Water Bottle #3 (72+ oz.)
From 8-11 am, my goal is to drink at least one more full water bottle — often I drink more than this.
The kids and I always take our water bottles with us when we run errands, and I always have mine within reach at home or outside.
I stop drinking shortly after 11:00, as we almost always eat lunch at 11:30 and, as I mentioned above, I've found I digest my food better without lots of extra liquid mixed in with the food!
Water Bottle #4 and #5 (96 – 120+ oz.)
From 1-4 pm, I drink at least one more full water bottle — often 2 more. Then I stop drinking at 4:00 as we usually eat dinner around 4:30.
I love knowing that I've usually polished off an entire gallon's worth of water by dinner time (128 ounces).
That's A LOT of water!
Water Bottle #6 (144+ oz.)
I try not to drink too much after dinner as I hate getting up in the middle of the night to use the bathroom. However, I do usually end up drinking another full water bottle between 7-9 pm.
Of course, if we're doing yard work or if I'm legitimately thirsty, I'll drink more. But we're finally to the point where our kids don't wake us up every single night, and I certainly don't need to wake myself up because I drank too much water in the evening!
.
I know it might seem silly or slightly "over the top" to have a system that assures I drink more water every day, but using the time-frames listed above works really well for me because I have something to gauge my progress by each day.
I don't need to calculate ounces or try to remember how much water I still need to drink, I just make sure to finish my water bottles by 6:30 am, 11:00 am, 4:00 pm, and 9:00 pm.
If I do that (and drink my full water bottle first thing in the morning) I know I will easily drink plenty of water for my body size and activity level.
.
No, I don't live in the bathroom either!
I found that after a week or so, my body got used to the increased water intake and I was back to a more "regular" bathroom schedule.
And yes, Dave drinks A TON of water at school too (I have many teachers tell me they can't drink enough water because of their rigorous class schedule).
As with all new routines, it will be a bit of a learning curve to figure out how to drink more water each day, but I'm confident the benefits will be very apparent once you find that new routine!
.
At this point in my life, water is essentially the only thing I drink on a daily basis.
I occasionally have a glass of milk with dessert, and every once in a while I'll enjoy a Diet Dr. Pepper… but otherwise I drink water exclusively.
As with any new habit, it took some time to get used to drinking so much extra water (especially drinking so much in the morning and not drinking anything with my meals). But after tweaking and modifying my water routine for the last 7 years, I'm continually amazed at how positively it impacts so many aspects of my daily life.
It also sets a really great example for my children — all of whom drink more water each day now too. In fact, we don't even have juice in our house anymore, and lemonade is reserved for special occasions, like birthday parties.
I certainly don't think you need to set time limits for yourself, stop drinking with meals, or stop drinking everything else but water — I'm just sharing what works best for me right now.
However, I WOULD encourage you to pay more attention to how much water you drink each day… and if necessary, come up with a plan to DRINK MORE WATER!
I'm almost certain you will experience positive changes as a result!!
A Few More Water-Related Posts:
The "sneaky" way I get my kids to drink TONS more water when they are sick.
How drinking enough water improves my quality of sleep.
The correlation I noticed between staying hydrated and my restless leg symptoms.
More about our current water bottles.
A list of 7 benefits I've experienced from drinking lots more water. This is an older post (with a different water bottle) but still relevant!
How many ounces of water do you drink each day?