My Favorite Rhubarb Recipes for Spring
posted by Andrea | 04/26/2017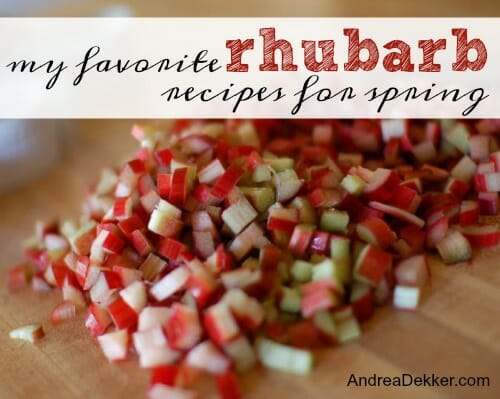 Last week, Nora came barreling inside yelling for me to "come quick". I figured something horrible happened and raced to the back door… only to find her proudly carrying an arm full of rhubarb she had just picked "all by herself" from our garden 🙂
NOTE: yes, I know rhubarb leaves are poisonous — so does Nora.
She was so excited and instantly wanted to bake something with our fresh-from-the-garden produce.
I know rhubarb isn't usually the most exciting or sought after fruit around — but in our garden, rhubarb is by far the very first thing to pop up… and OH how exciting that is after a long cold Michigan winter of no flowers, no fruits, no veggies, and not even much sun.
So yes, I share Nora's excitement in the first harvest for the year!
If you share mine and Nora's enthusiasm for rhubarb, you'll most likely love these 3 simple and delicious rhubarb-filled recipes.
Add them to your menu this spring!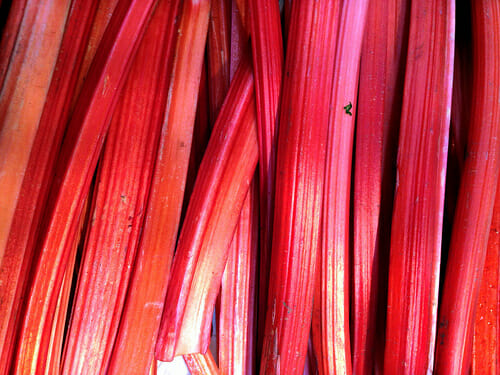 .
Rhubarb muffins are super simple to make and a great way to use up extra rhubarb.
I especially love the yummy cinnamon sugar topping that makes them just slightly crispy!
They are perfect for a snack, or as part of your breakfast… and of course, they freeze well too.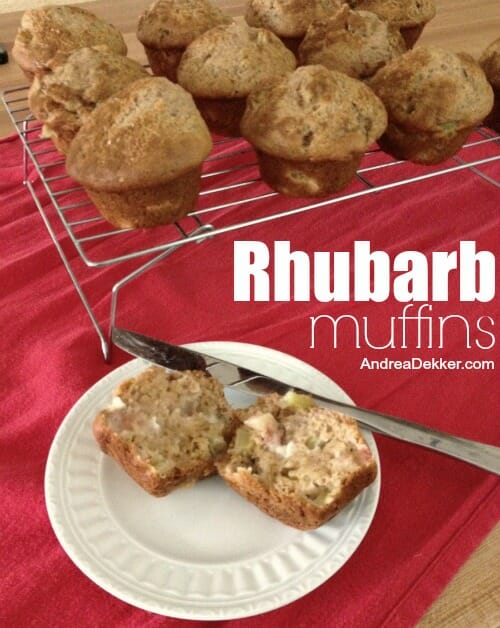 .
Of course, we love plain strawberry pie too — but adding the rhubarb gives it a little tartness that is so refreshing this time of year.
.
The recipe I use (at the very end of that post) is the same one my mom used, and it was published in a tiny little cookbook that we no longer have. I simply have a photocopy from my mom.
I'm sure there are many different recipes around, but the combination of 1 quart strawberries and 1.5 cups rhubarb seems to be a fabulous combination for my taste buds!
.
We have 2 rhubarb plants in our garden — which essentially means an endless supply of rhubarb for our family all spring and summer long (it's honestly amazing how much fruit one plant produces).
I'm sure we'll tire of it once other fruits and veggies start to grow, but right now, we will enjoy cooking and baking with our one and only "crop"!
What are your favorite rhubarb recipes?
Visit my virtual recipe box for more simple, delicious, family friendly recipes!