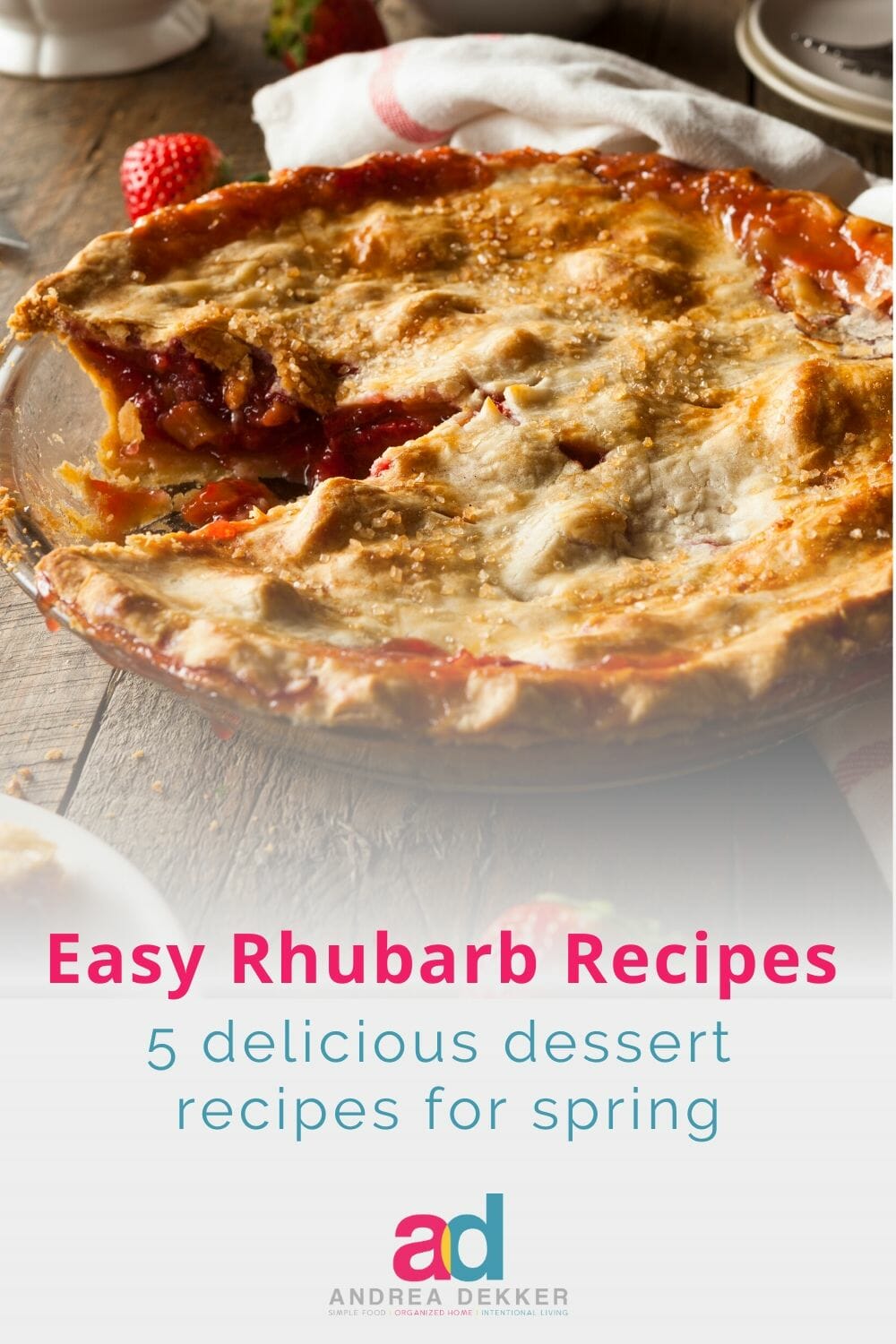 Rhubarb is one of my favorite springtime treats. Thankfully, there are plenty of easy rhubarb dessert recipes to satisfy my hankering for this tasty fruit!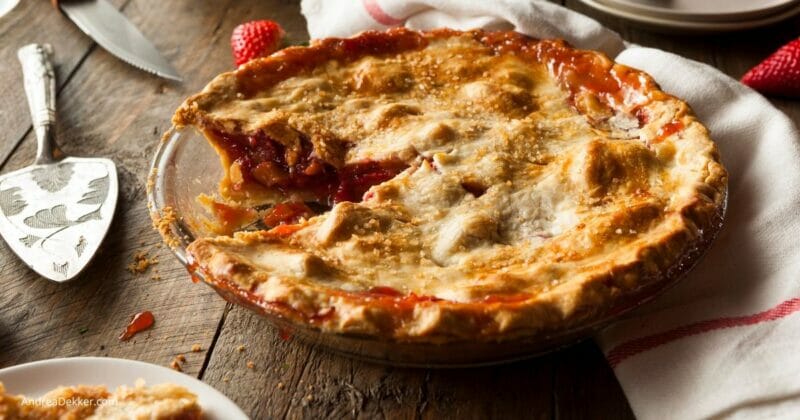 A few weeks ago, the kids all charged inside yelling for me to "come quick".
I figured something horrible happened and raced to the back door… only to find them proudly carrying armfuls of rhubarb they had just picked from our vegetable garden.
NOTE: I know rhubarb leaves are poisonous; so do my kids.
The kids are always so excited to pick those first stalks of bright red rhubarb because it's one of the only edible plants to grow during our cold West Michigan springs.
Of course, they instantly wanted to bake something with our fresh-from-the-garden produce.
They know I have a long list of easy rhubarb dessert recipes that I pull from all throughout the spring, so they each get to pick a recipe and we rotate through them all until we need a rhubarb break.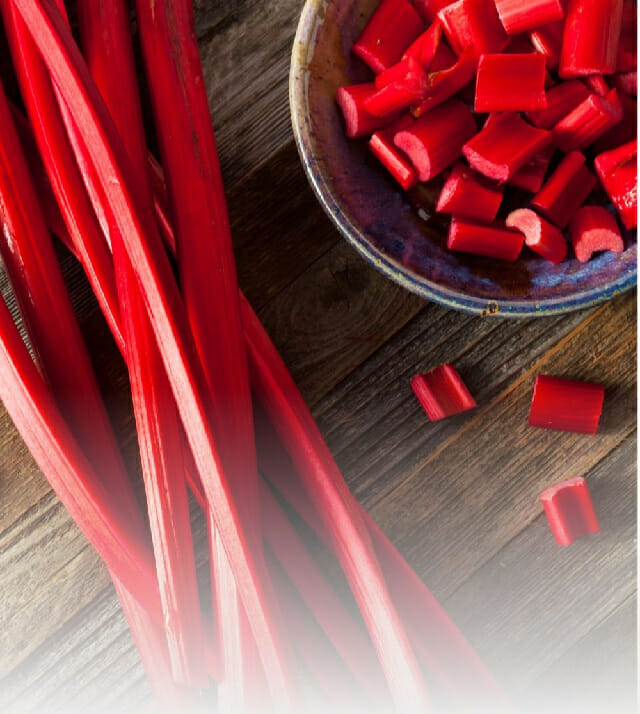 While rhubarb isn't usually the most exciting or sought after fruit — it's the very first thing to pop up in our garden, and oh, how exciting that is after a long cold Michigan winter of no flowers, no fruits, no veggies, and not even much sun.
If you share my kids' enthusiasm for rhubarb, you'll love all the tasty rhubarb-filled treats I have for you today!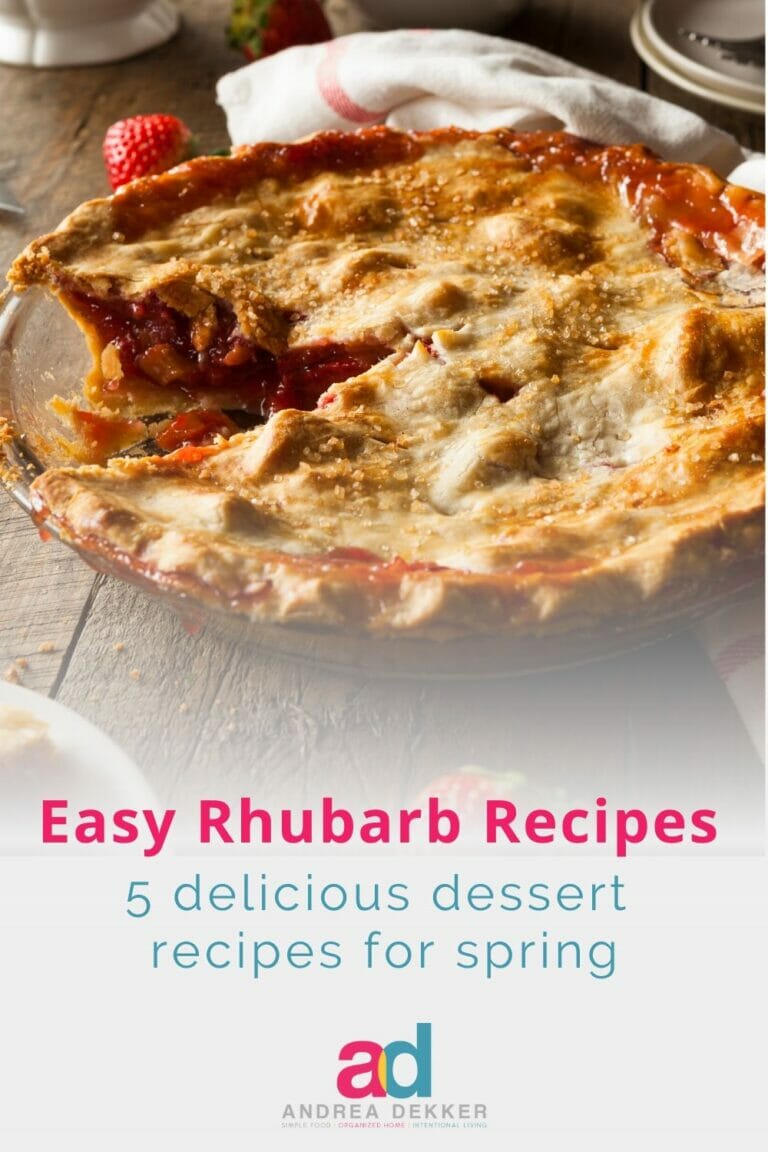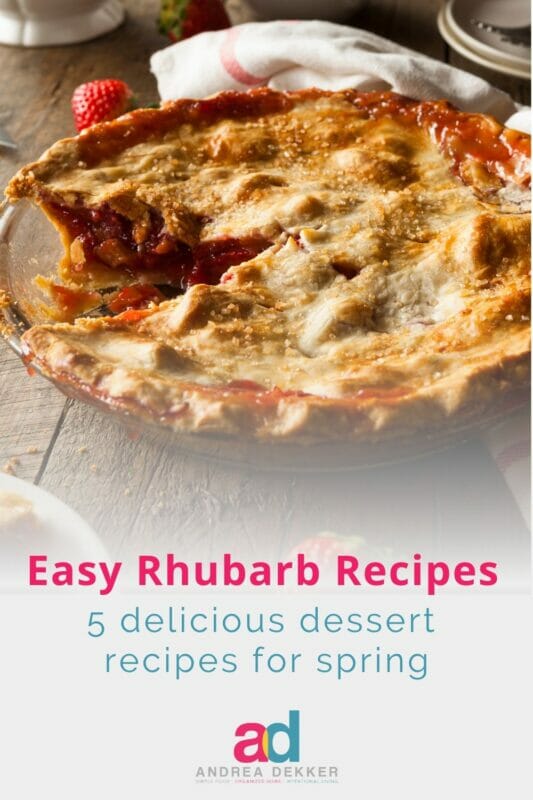 Add a few of these easy rhubarb dessert recipes to your menu this spring!
Then come back and let me know which one is your favorite!
1. Easy Rhubarb Crisp with Crunchy Whole-Grain Oat Topping
Rhubarb Crisp is one of my most favorite rhubarb dessert recipes because it's SO quick and easy. Just combine rhubarb with some sugar, mix up a deliciously sweet and crunchy oat topping, and bake in the oven.
And… if you've never enjoyed warm rhubarb crisp with a scoop of vanilla ice cream, you're totally missing out!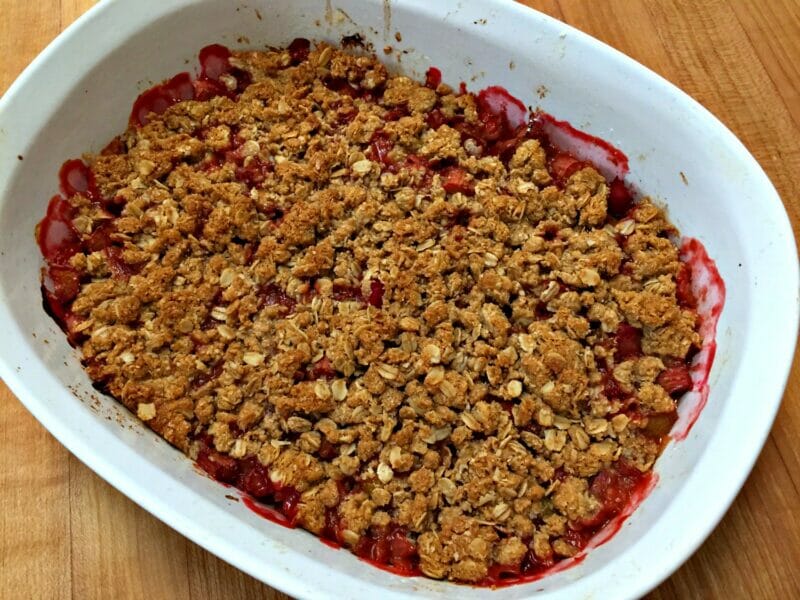 2. Cinnamon Sugar Rhubarb Muffins
I call them "muffins" but if you add a little cream cheese frosting, these delicious rhubarb muffins instantly become a cupcake dessert your family and guests will rave about!
I usually make them with a simple cinnamon sugar topping that makes them just slightly crispy!
They are perfect for a snack, dessert, or as part of your breakfast… and they freeze well too.
3. Strawberry Rhubarb Pie
I love almost any type of pie, but strawberry rhubarb pie is one of my most favorite rhubarb desserts.
Of course, we love plain strawberry pie too — but adding the rhubarb gives it a little tartness that is so refreshing this time of year.
.
4. Bumbleberry Pie
What is bumbleberry pie, you might wonder?
If you've never heard of or experienced this delicious dessert, let me be the first to share my recipe with you today!!
Bumbleberry Pie is a mix of all your favorite fruits enclosed in a delicious flaky pie crust. I usually use blueberries, strawberries, blackberries, apples… and yes, rhubarb.
It's SOOOOOO good!
5. Strawberry Rhubarb Jam
Have you ever enjoyed strawberry rhubarb jam over a bowl of vanilla ice cream? If so, you know why it made my list of "easy rhubarb dessert recipes".
The recipe I use for strawberry rhubarb jam is the same one my mom used. It was published in a tiny little cookbook that we no longer have. I simply have a photocopy from my mom.
I'm sure there are many different recipes around, but the combination of 1-quart strawberries and 1.5 cups rhubarb seems to be a fabulous combination for my taste buds!
Strawberry Rhubarb Jam tastes very similar to strawberry jam, but it's not as 'seedy' and it's MUCH less expensive (especially since we get free rhubarb).
If you still have more rhubarb to use up, keep in mind it freezes really well.
Just wash it, dice it, and put in freezer bags. It will last for months in a deep freezer!
OR, you can cook it down with a tiny bit of water and freeze it in a "pureed" form if you'd like.
Still want more easy rhubarb recipes?
The King Aurthor's website has a handful of additional rhubarb desserts — always have good luck with their recipes.
I'm sure we'll tire of rhubarb once other fruits start growing around here, but right now, we will enjoy cooking and baking with our yummy spring "crop"!
What are your favorite easy rhubarb dessert recipes?
Head on over to my virtual recipe box for more simple, delicious, family-friendly recipes!