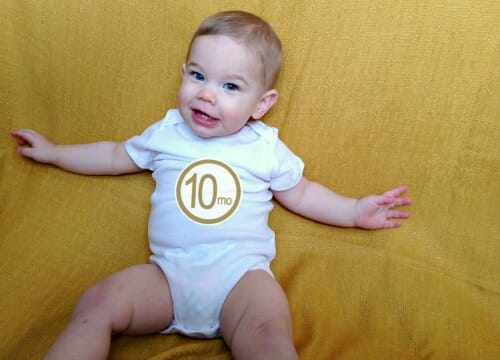 As you may have noticed, I stepped away from my blog for about 12 days to enjoy some time off over the holiday season. And considering everything we packed into our holiday season, it was actually a very relaxing time away for me.
We started our Christmas break by FINALLY putting up the Christmas tree… yes, Nora was thrilled 🙂
She had been begging me for weeks, but I said we were going to wait until Dad was off of school for Christmas break. I figured he could help keep Simon away from it. However, I was actually pleasantly surprised by how well Simon did with the tree. He was completely intrigued by it and was "petting" it constantly. He also pulled off the bottom 2 feet of ornaments EVERY SINGLE DAY, but Nora had fun putting them all back on after he went to bed at night.
We also found a new spot to keep our gifts (since under the tree certainly wouldn't work with Simon around).
And speaking of gifts, Nora and I had fun making a few of our gifts this year. We made this recipe for homemade gak for her cousins, and we made cement stepping stones for both my mom and Dave's mom — complete with Nora's name, handprint, and lots of "jewels" 🙂
She has become so much more independent over the last 6 months — and I swear, her brain never shuts off. She's always thinking up new ideas for gifts we can give, crafts we can do, recipes we can make, and all sorts of pretend adventures we can go on. She's definitely a handful (especially compared to Simon) but boy is she fun to hang out with!
As expected, we had a bunch of Christmas parties to attend over the last two weeks of December — and I'm thankful that most of them only involved food, family, and maybe a few games.
It was nice not to have gifts at every party… but even still, our kids were definitely spoiled!
Nora got the privilege of sleeping over at both my parent's house and Dave's parents house over Christmas break — and I took that opportunity to clean up and clean out the play area upstairs.
I could tell that our current system wasn't working as well as it did before we added another child to the mix. So now that we have two kids playing up there (plus the addition of so many more toys) I knew we had to make some changes. Dave and I moved a bunch of furniture around, swapped out a few storage pieces, and got rid of a bunch of stuff Nora never plays with anymore.
The end result was a much more open, more user-friendly play room filled with their new things 🙂
you can see what this area looked like "before" in these photos
Since my sister and her husband stayed with us for a few days, Dave and I even squeezed a date night into our Christmas break while they watched our kids! I also took every opportunity to take a short afternoon nap each day while Simon was sleeping and Dave was playing with Nora. I'm certainly thankful that my main pregnancy "side effect" this time around seems to be exhaustion… but boy does it wipe me out!
Oh yeah, and speaking of pregnancy side effect… in case you missed our Christmas card announcement from before my break, I'm pregnant!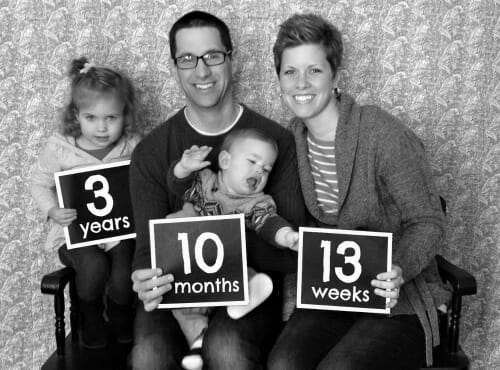 We're excited to prepare for baby Dekker #3 to arrive around July 3, 2015!
Simon and the new baby will be 16 months apart — which I realize is pretty close in age, but I'm seriously so thrilled to have a summer baby (when Dave will be home ALL DAY) that I don't even care about the smaller-than-average age gap.
I know the first year or two will probably be insane, but for me, the first year with any baby feels insane, so I think I'll do OK 🙂
---
Speaking of babies… Simon celebrated his 10 month birthday over our Christmas break; and since I have too many post ideas to share with you this month, I'm just going to squeeze his monthly photos + update on the end of this post.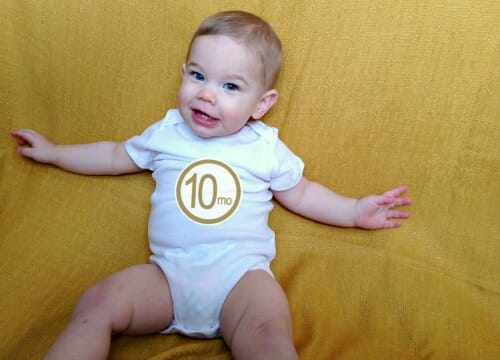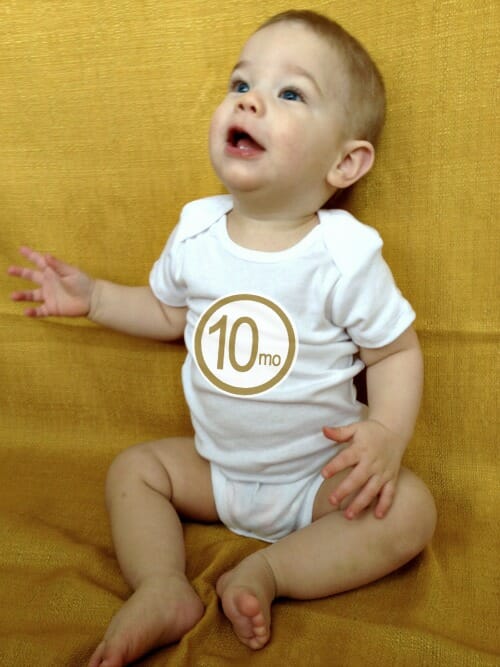 Besides getting FIVE more teeth, growing another inch or so, and getting another haircut, not much has changed since last month.
He's eating a lot, babbling a lot, moving a lot, and getting into everything!
He also learned how to do peek-a-boo, "so big", and he's starting to get the hang of waving. Yes, it's cute 🙂
Aside from the fact that he refuses to nap anywhere but his own crib, he is super easy-going and OH so sweet. The old ladies at the grocery store alway feel special when he flashes them a big cheesy grin — I just don't tell them that Simon smiles at anyone who makes eye contact with him!
Overall, I'd say the last 4-6 weeks in our house have been pretty laid back considering how crazy the holiday season can be. Dave and I both enjoyed our time away from work, but I think our entire family is ready to be back to our more "normal" routine again.
Here's hoping 2015 has lots of fabulous surprises ahead!
Happy 10 months Simon… and Happy New Year everyone else!