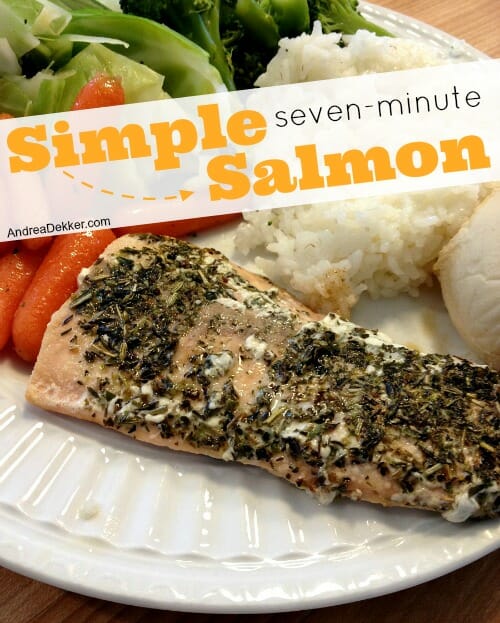 When it comes to cooking fish at home, Dave and I are FAR from experts. We have grilled salmon a few times before, and I have a super simple recipe for Lemon Garlic Tilapia — but that's about it.
I always kind of assumed that cooking fish inside would make our house smelly, or that it was too complicated, or even too expensive.
Well, over the past few months, I've put all those fish myths behind me and have been experimenting with cooking more fish at home (thanks in part to the amazing deals on fish during Lent!)
Since fish isn't necessarily my favorite protein, I started with salmon because I knew I liked it (and Dave likes most fish). I looked up a bunch of different recipes, watched YouTube videos about how to cook salmon at home, and waited for it to go on sale.
I was able to get a package of 4 frozen salmon "tails" (not the best cut, but totally fine for us) for only $4.99 — so about $1.25 per 4-ounce portion!
I didn't really follow any specific recipe, but instead used the guidelines from some of the videos I watched.
The results were WAY better than I expected — and it literally took longer to preheat our oven than it did to cook the salmon. Dave and I were so impressed that I've made this "Seven-Minute Salmon" recipe a couple more times already — with amazing turnouts each time!
If you'd like to try your hand at cooking fish at home, I would highly recommend scouring your local grocery store for deals on fish this time of year — and then trying out this simple salmon recipe 🙂
Recipe for Simple Seven-Minute Salmon
serves 2
INGREDIENTS:
2 T. butter
2 (4-6 oz.) salmon fillets
your favorite seasoning of choice
salt and pepper to taste
a few squirts of lemon juice (optional)
DIRECTIONS:
Preheat oven to 450*F
Place butter in baking dish
Put baking dish in oven while oven preheats
Rub seasonings on one side of salmon (I used what I had in the house, Penzeys' Spice "Herbs de Provence")
When the oven is preheated, remove pan and place the salmon seasoned side DOWN in the butter
Sprinkle top side with salt and pepper
Bake for 4 minutes
Remove from oven and gently flip salmon fillets over
Bake for another 1-3 minutes depending on the thickness (until it's pink and flaky)
Squirt with a little lemon juice (optional)
Eat and enjoy!
I serve our salmon with veggies, rice or pasta, and garlic bread or fresh rolls.
Obviously I'm not a salmon expert, but it has been pretty tasty each time I made it so far — and it's just SOOO simple! It definitely makes you think how crazy it is to pay $30+ for salmon in restaurants!
What are your favorite fish recipes to cook at home?
Visit my virtual recipe box for more simple, delicious, family friendly recipes!