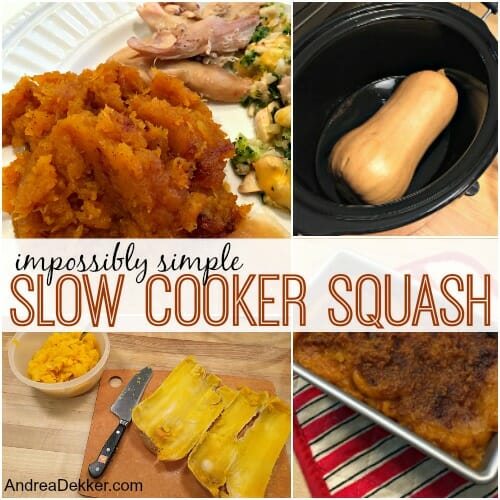 If you've never tried squash before (any type of squash) NOW IS THE TIME!
They are fresh, in-season, and most likely selling at rock-bottom prices at your local grocery store or farmer's market.
I know I was previously intimidated by the idea of cooking squash. I didn't know how to do it, it seemed like a lot of extra work to roast it, peel it, remove the seeds, and then actually make something with it. Plus, I didn't know if I would like the taste once I went through "all that work".
But then, a few years ago, we decided to grow squash in our garden — which meant I was forced to quickly learn the ins and outs of cooking squash!
Since then, we have grown some type of squash in our garden every year, and I've learned SO many new ways to cook and eat squash.
Our family now enjoys squash weekly (often many times a week) and yes, the kids really DO eat it!
If you feel like squash isn't something you can cook… I have a feeling my impossibly simple slow cooker squash recipe will prove you wrong!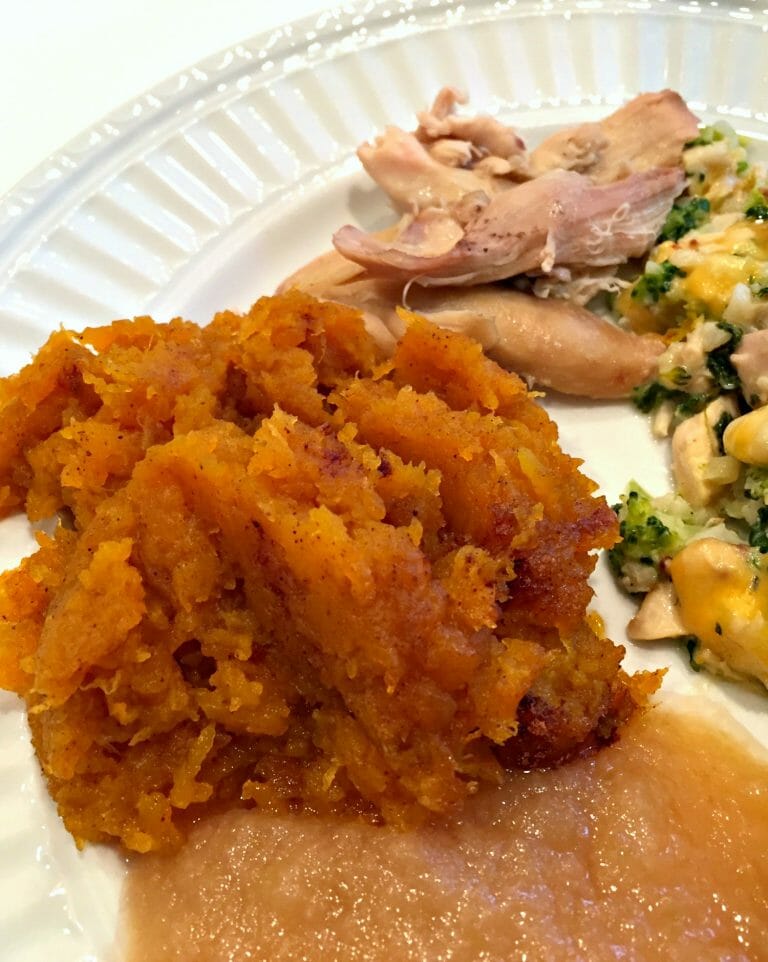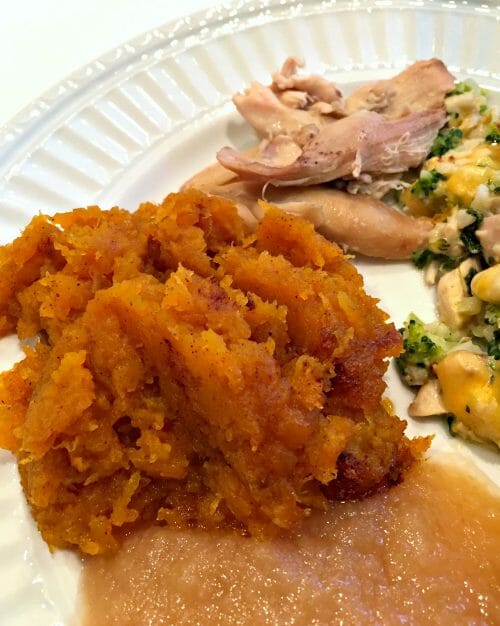 Recipe for Impossibly Simple Slow Cooker Squash:
serves 4
INGREDIENTS:
1 butternut squash (or any type of squash)
2T. brown sugar or maple syrup (optional)
1 t. cinnamon (optional)
DIRECTION:
Wash squash and place in slow cooker (NO water or broth or anything else, just the squash).
Cover and cook on low for 6-8 hours.
Place cooked squash on a cutting board and cut in half (some liquid will most likely drain out).
Scoop out seeds (discard seeds or save them to roast).
Scoop squash flesh out of skin (it will be as soft as butter).
Eat as-is or enjoy with a little brown sugar, maple syrup, and/or cinnamon.
Butternut squash is my all-time favorite squash to cook in a slow cooker — I eat it plain for breakfast even, and it basically tastes like a dessert if you mix in the brown sugar and cinnamon!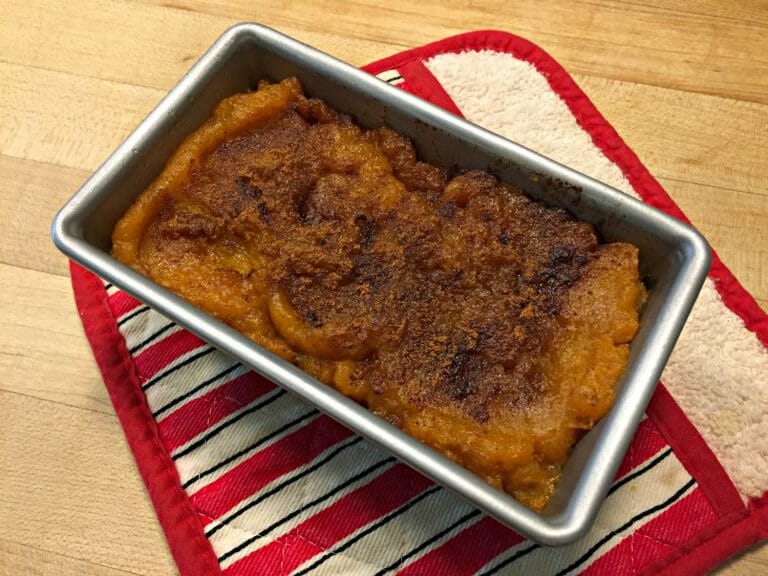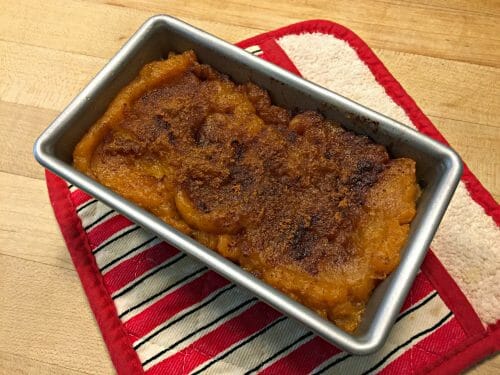 Our whole family also loves spaghetti squash. I'm to the point now where I almost never make actual pasta noodles, but instead, sub spaghetti squash in all our favorite pasta recipes.
Acorn squash is another great squash to make in the slow cooker — and yes, you can really just put it in the slow cooker, turn it on low, and come back 6-8 hours later for perfectly cooked, delicious squash.
There is no trick, there is no gimmick, it's really THAT SIMPLE!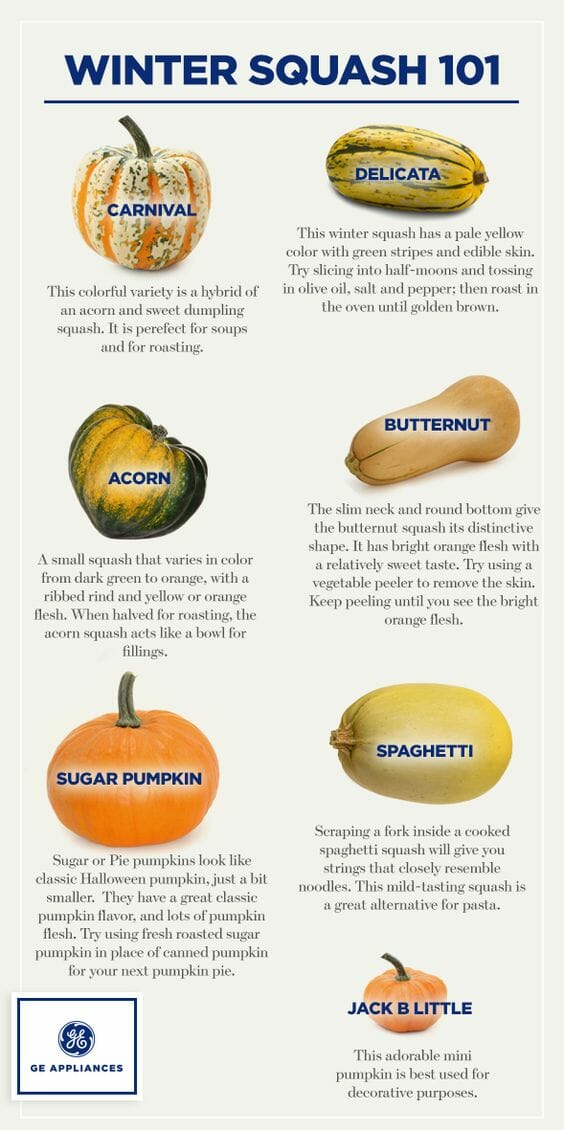 A few ways to use your cooked squash:
add a couple scoops of mashed butternut squash to mac and cheese for a creamier sauce
substitute spaghetti squash for any noodles in your favorite pasta dish (make sure you squeeze out the spaghetti squash first)
make butternut squash soup (I like this recipe)
serve it as homemade baby food (Clara LOVES it!)
use the mashed squash in place of pumpkin for pies and other baking needs (not spaghetti squash, but other kinds work well)
Squash has many fantastic health benefits too:
it can help to regulate blood sugar
it can lower cholesterol
it is shown to be anti-inflammatory
it can act as an anti-depressant
it's packed FULL of anti-oxidants
it's heart healthy
The next time you're at the store or the farmer's market, pick up a squash and toss it in your slow cooker when you get home. Even if you don't love the taste, it will still be a fun and easy kitchen experiment — and you can then say you tried squash!
Do you love squash? What are your favorite recipes?
Visit my virtual recipe box for more simple, delicious, family friendly recipes!