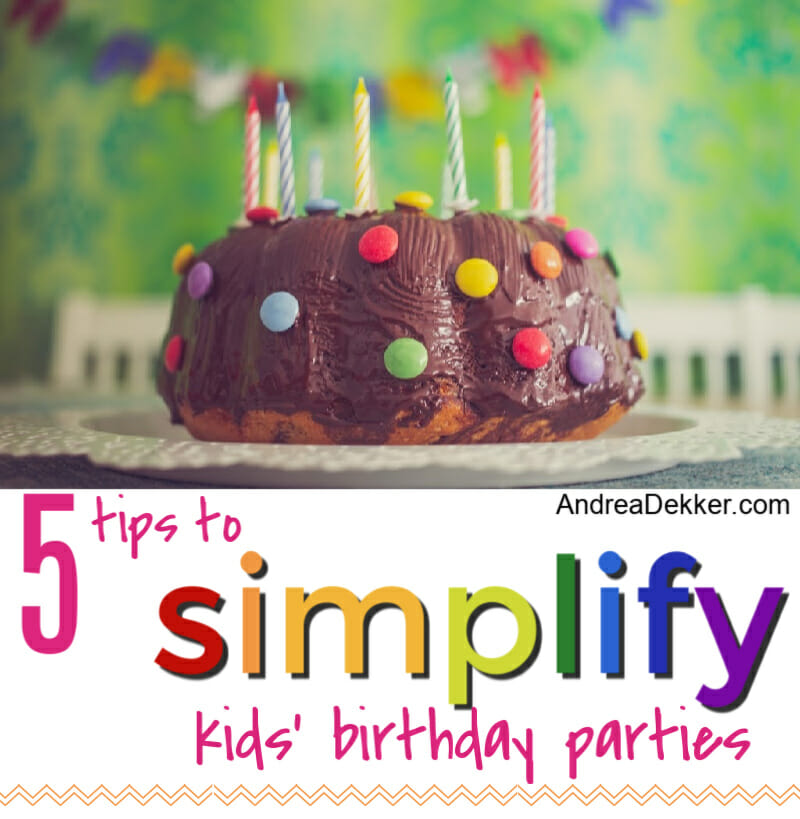 Children's birthday parties is one topic I get regular questions and emails about each week — specifically, how to SIMPLIFY kids' birthday parties.
Thanks to the explosion of social media over the past 15 years, there's a new set of "standards" parents feel we should live up to in order to "keep up with the Joneses" and give our children the same privileges we see on Facebook and Instagram.
Well, I'm a firm believer that it IS possible to celebrate our children on their birthday (and every day) without tons of stress, financial investment, or a huge mess to clean up the next day!
What do you think?
Since it's Nora's 8th birthday TODAY (happy birthday, sweet girl), I thought it was the perfect time to share a few of my tips to simplify kids' birthday parties!
These are all tips I've put into practice in my own life over the last 8 years of parenting — celebrating a total of 19 birthday so far!
5 Tips To Simplify Kids' Birthday Parties: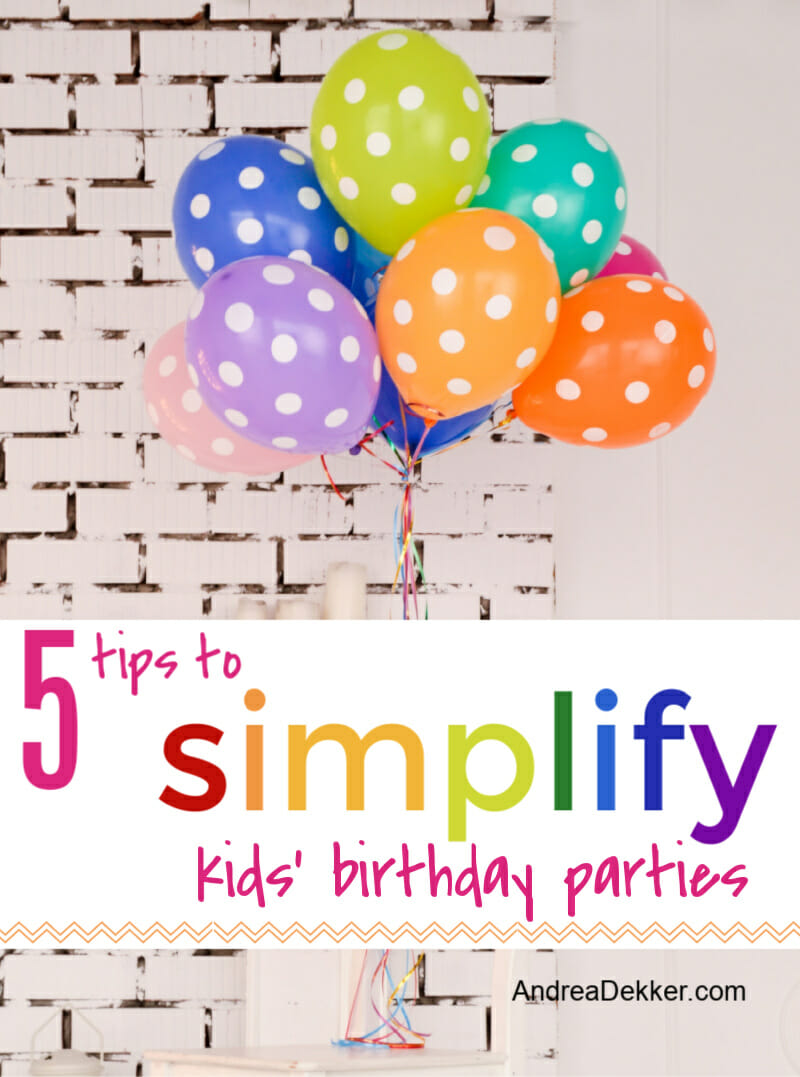 1. Invite Fewer Guests
One of the best, fastest, and easiest ways to simplify any party is to invite fewer guests.
Yes, I understand there might be challenges to this (especially if you are known for your massive gatherings)… and, as with all my tips, I know it won't work for every person or every family.
But if you want my opinion, a smaller guest list is the way to go to simplify kids' birthday parties!
We've always kept our birthday party guest lists extremely SMALL — grandparents, aunts, uncles, cousins. DONE!
Dave and I each have 2 siblings, but some live out of state and don't attend birthday parties. However, even if every one of our immediate family members came, our parties would max out at 17 extra guests.
Usually, the kids' birthday parties are close to 10 extra guests — which is extremely doable in my opinion.
Fewer guests mean less food to buy, less mess to clean up later, and fewer gifts to make room for!
It's also much less overwhelming for young children or children who tend to be shy when they are put "on the spot".
.
2. Consider What Your Child Actually Wants
Revolutionary… I know! 😉
It's so easy to get caught up in a party-planning frenzy with our own agenda — to the point where we forget to stop to consider what our child actually wants.
Simon usually pushes for a simple donut + fruit birthday party — which is SO easy for me to pull off. Plus, if you've never hosted a morning birthday party, you should definitely give it a try! Everyone leaves by 11 am and you have the rest of your day to do whatever you want!
For Nora's 5th birthday, we had a Frozen theme and she insisted she wanted to decorate her own cake.
The finished product didn't look completely horrible, but it certainly wasn't professional-looking in any way. HOWEVER, it only took us 10 minutes from start-to-finish and she was absolutely THRILLED with the results!
Of course, I also saved a huge amount of time and money over ordering a professionally decorated cake (or trying to decorate one myself), so it really was a win-win situation!
You might be surprised how much simpler your parties could be if you ask your child about their preferences… and actually LISTEN to what they say!
.
3. Skip All The "Extras"
We don't have games, activities, or prizes at our parties. We also don't have goodie bags for people to take home, and we really don't do much decorating either.
We usually stick with themed plates, napkins, a couple of helium balloons, and maybe a few toys or costumes we have around the house (like for Simon's school bus birthday party or Nora's Cinderella birthday party).
.
4. Don't Throw a Traditional Party At All!
I realize this sounds super "scroogish" — but hear me out! This is actually one of my BEST tips to simplify kids' birthday parties!
Dave and I decided that our children could have a birthday party with all their same-gender classmates for their 7th birthday (Nora did this last year and it was so fun!)
After that, they will no longer have any "traditional birthday parties". Instead, they will be able to do fun stuff with a friend or two, have grandparents over for dinner, do stuff together as a family, bring treats to school, etc.
For example:
This year, in addition to having grandparents over for dinner tonight, Nora and I are going to see Frozen II with her "best friend" and her friend's mom (the friend's birthday is 5 days after Nora's).

We'll go out to lunch beforehand, ride the carousel at the mall, get their free birthday cookies from Barnes and Noble, and have all sorts of fun with no younger siblings around. 🙂

We made a fun birthday treat for her entire class, she's going out for donuts with Dave tomorrow morning, and we have a plan to order an American Girl Doll and go shopping with her birthday money next week!
They get all of this birthday fun without a huge party for ME to plan, cook for, and clean up after!
Can I get an "Amen"!?!?
I promise… Nora already had a fantastic birthday week (I know because I asked her). And she has been looking forward to our lunch + movie + shopping + donut celebration for WEEKS now!
All children are different, I know! But our kids are honestly looking forward to when they are 8 and get to do all sorts of extra special birthday things verses awkwardly opening gifts in front of a bunch of adults or peers and being reminded 837 times to say "thank you".
.
5. Stop Worrying What Others Might Think of YOU
This is a biggy for so many parents these days… and it might require some honest introspection!
I know my previous suggestions to simplify kids' birthday parties will ALL get some push-back (and that's OK). My tips aren't for everyone.
However, I have a feeling many of you will push back because you're worried what others will think of you if you do something so "out of the box" like not give party favors, or pare down your guest list a bit.
Might we annoy or offend friends and relatives if they aren't invited?
Will we hurt anyone's feelings if we have a friend's party and only limit it to the kids in their class?
Can we really get away with only serving cake and ice cream — or should we just make the full meal to keep people happy?
But what if my kid says they only want a "blue" party and I can't do cute decorations for that? What will social media think?
We need to have _____ because so-and-so's party had ________.
Will I look like a bad parent if I don't have a party for my child every year?
Stop… just stop!
As you set out to plan your kids' birthday party, I beg you to stop worrying or even wondering what anyone else might think of your party. I would also encourage you to plan your party with no intention of sharing any pictures on social media.
You might be surprised how different your decisions are when you aren't concerned about creating a Pinterest-perfect party or pleasing everyone on your guest list!
.
I'll be the first to admit that I regularly oooh and aaah over the AMAZING birthday parties I see on social media.
I love searching Pinterest for "kids' birthday party ideas" and scrolling in awe at what other parents and party planners have come up with. I have utilized so many of the ideas for my own children's parties — just at a "lesser level"!
If YOU love planning, preparing for, and executing big birthday parties… then you should keep doing big birthday parties!
After all, we need some jaw-dropping inspiration when we search Pinterest for birthday party ideas! 🙂
However, if kids' birthday parties are a source of stress, if they create a financial burden for your family, or if you get the sense that many of your kids' birthday plans are actually YOUR attempt to "prove yourself" or "put on a good front" for other guests or social media, I would highly encourage you to take a step back and utilize a few of my tips to SIMPLIFY kids' birthday parties!
We LOVE celebrating our children on their birthdays – and they love being celebrated.
However, they can be celebrated and loved without over-the-top birthday parties!
Who here votes to simplify kids' birthday parties?
That's one vote for Clara — and another vote for me too!
In case you're interested, here's the link to all our kids' birthday parties.

Here's a look at the fun (and simple) way we celebrate half birthdays!

And make sure you follow me on Instagram to see how Nora's birthday celebrations unfold this weekend!
What are YOUR best tips to simplify kids' birthday parties?