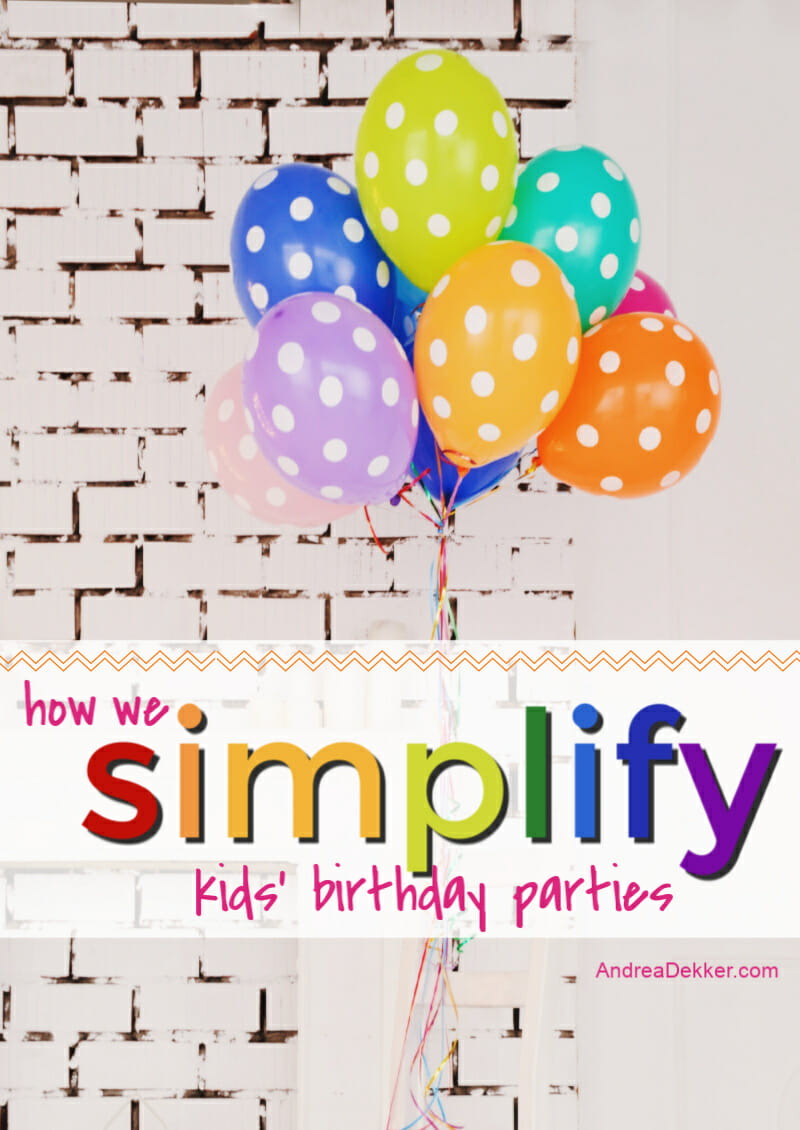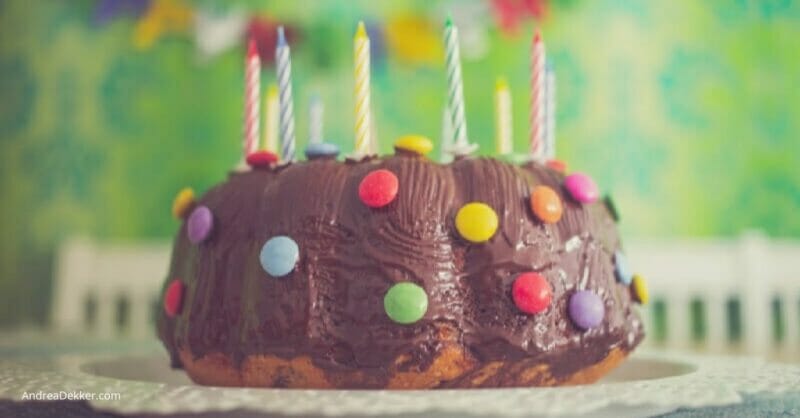 Thanks to the explosion of social media over the past 15 years, children's birthday parties have reached a whole new level of "wow"!
It's really easy to get sucked into thinking our kids absolutely must have super cute, "Pinterest Perfect" birthday parties based on everything we see online.
Yes, I have used Pinterest as a source of inspiration for our kids' parties… but after putting together nearly 28 simple birthday celebrations over the past 10 years, I'm confident we can celebrate our children without excess stress, a large financial investment, or a huge mess to clean up the next day!
Sound good to you?
If you'd like a little help, encouragement, or permission to simplify your children's birthday parties, here are my top 5 tips!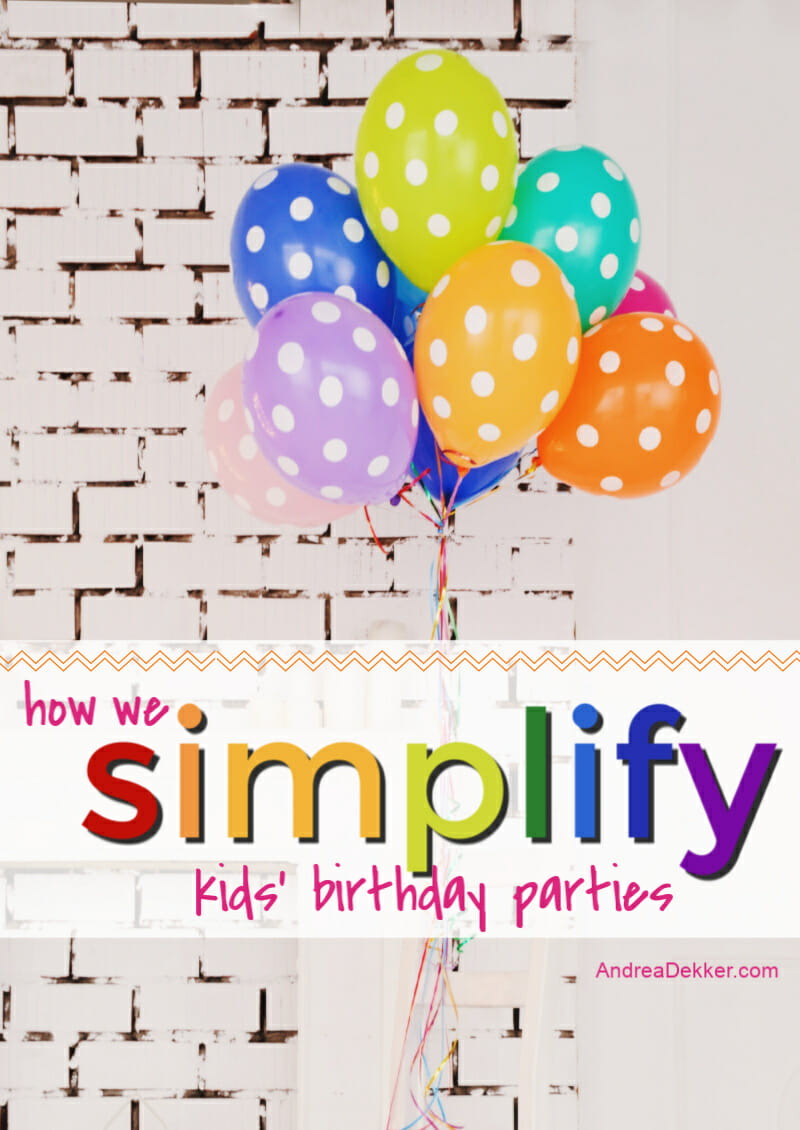 1. Invite Fewer Guests
One of the quickest and easiest ways to simplify any party is to invite fewer guests.
Yes, I understand there might be challenges to this (especially if you're known for hosting massive gatherings) so I realize this overly-simple tip won't work for every family. But, at the risk of neglecting one of the most obvious ways to simplify any gathering, I couldn't forget to put this tip on my list.
If your goal is "simpler", a smaller guest list is a fantastic start.
We've always kept our birthday party guest lists quite small — grandparents, aunts, uncles, cousins (this usually amounts to 10 extra guests).
Fewer guests mean less food to buy, less mess to clean up later, and fewer gifts to make room for.
It's also much less overwhelming for young children or children who tend to shy away from being "put on the spot" (yup, we have a couple of those!)
2. Consider What Your Child Actually Wants
Revolutionary… I know! 😂
It's so easy to get caught up in a party-planning frenzy with our own agenda — to the point where we forget to stop to consider what our child actually wants.
Simon usually pushes for a simple donut + fruit birthday party which is so easy. Plus, hosting a morning birthday party means that everyone usually leaves by 11 am and we have the rest of the day to do whatever we want (we're big fans of Saturday morning parties!)
We went with a "Frozen" theme for Nora's 5th birthday and she insisted on decorating her own cake.
The finished product certainly wasn't professional-looking but it only took us 10 minutes from start to finish, she was absolutely thrilled with her efforts, and I saved a ridiculous amount of time and stress trying to create a fancy "Frozen" cake!
You might be surprised how much simpler your parties could be if you ask your child for their preferences… and actually listen to their requests.
3. Skip All The "Extras"
We don't plan games, activities, or prizes — we just let the kids play together. We also don't have goodie bags and we don't do much decorating either.
We usually stick with themed plates, napkins, and a couple of helium balloons from the dollar store. We'll add in a few toys or costumes if we already have them in the house (Simon's superhero party was fun for that!)
4. Don't Throw a Party At All!
I realize this sounds super "scroogish" — but hear me out!
A few years ago, Dave and I decided that our children could each have a friends birthday party in 2nd grade (with the kids in their class). After that, they wouldn't have traditional birthday parties anymore (not even with aunts, uncles, and cousins).
Instead, we simply invite both sets of grandparents over for dinner on a day close to the birthday (the birthday child gets to choose the meal).
The child still gets to bring a birthday treat to school, we usually get donuts or cinnamon rolls for breakfast, they still get gifts from us and grandparents, and we try to do a variety of fun/special things together as a family over their birthday weekend.
As you can imagine, no parties after 2nd grade really simplifies things (especially with multiple children).
Also, we stopped throwing "first birthday parties"… sorry younger kids!
NOTE: We regularly enjoy celebrating the kids' half birthdays with our own family — so they might miss out on their first birthday party, but they get a whole bunch of fun half birthday "parties"!
I know this might be a huge deal for you (if you love throwing a big first birthday bash, then go for it). However, for me, it felt like more of a hassle, especially since so many of our relatives were gone around the times we wanted to have parties.
I saved myself a ton of time, energy, and money… and the kids don't remember their first birthday anyway.
I felt zero guilt celebrating our children's 1st birthday parties at home with our own family!
5. Stop Worrying What Others Might Think
This is a biggy for so many parents these days… it might require some honest introspection.
I know my previous suggestions to simplify kids' birthday parties aren't for everyone. However, is that because you just love birthday parties… OR because you're worried what others might think if you don't go all out for every party?
Might we annoy or offend friends and relatives if they aren't invited?
Will we hurt anyone's feelings if we limit the party to the kids in their class?
Can we really get away with only serving cake and ice cream — or should we just make the full meal to keep people happy?
But what if my kid says they only want a "blue" party and I can't do cute decorations for that… what will social media think?
We need to have _____ because so-and-so's party had ________.
Will I look like a bad parent if I don't have a party for my child every year?
Stop… just stop!
As you set out to plan your kiddos' birthday party, I beg you to stop worrying or even wondering what anyone else might think of your party.
I also encourage you to plan your party with no intention of sharing any pictures on social media.
You might be surprised how different your decisions are when you aren't concerned about creating a Pinterest-perfect party or pleasing everyone on your guest list!
As I mentioned above, my kids and I do enjoy searching Pinterest for "kids' birthday party ideas" whenever we're planning our simple affairs.
We love scrolling in awe at what other parents and party planners have come up with. I've even utilized some of the ideas for our parties — just slightly more "low key" and "low budget".
Bottom line: we love celebrating our children on their birthdays and they love being celebrated — both of which can be accomplished without the stress or time of over-the-top parties.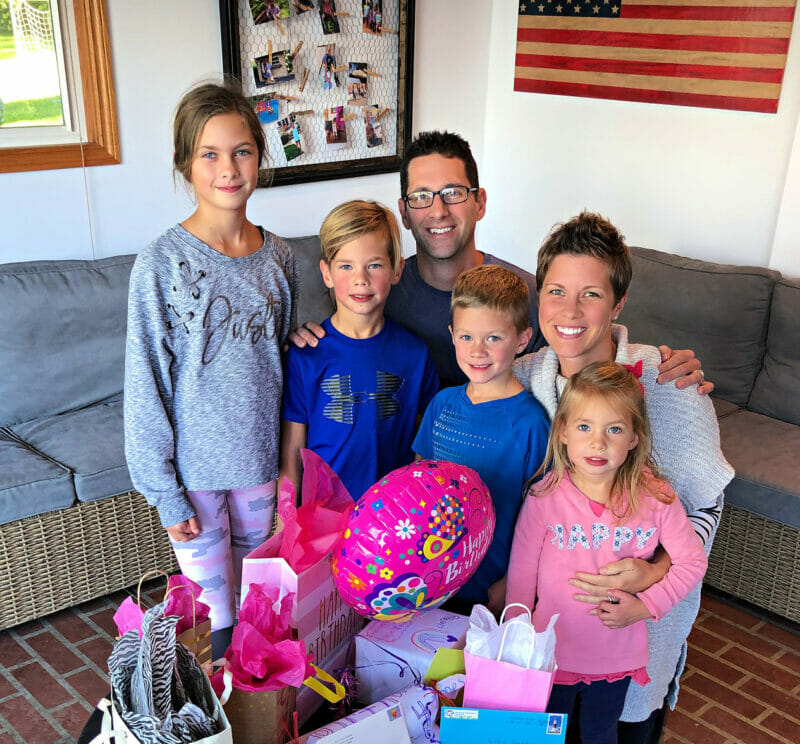 If you love planning, preparing for, and executing big birthday parties… then don't let me stop you! After all, we need some jaw-dropping inspiration when we search Pinterest for birthday party ideas!
However, if kids' birthday parties are a source of stress, if they create a financial burden for your family, or if your kids' birthday plans are an attempt to "prove yourself" to other guests or social media, I encourage you to utilize a few of my tips and SIMPLIFY things a bit!
Who votes to simplify kids' birthday parties?
That's one vote for Clara — and another vote for me too!
What are your tips to simplify kids' birthday parties?