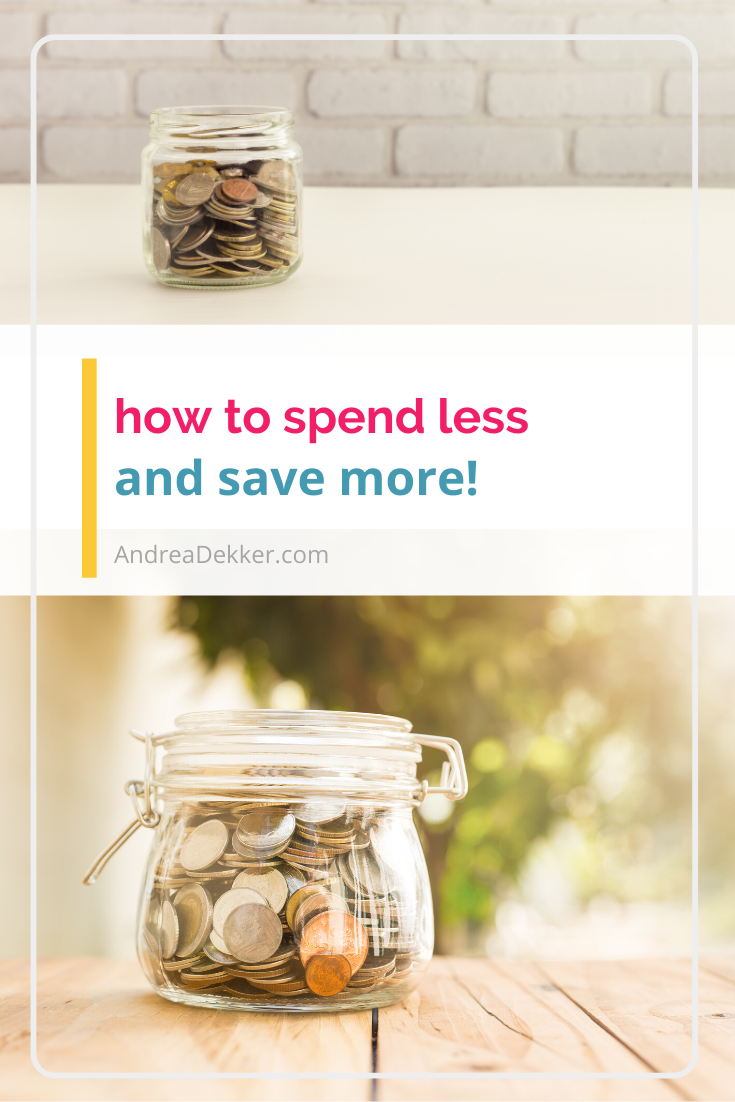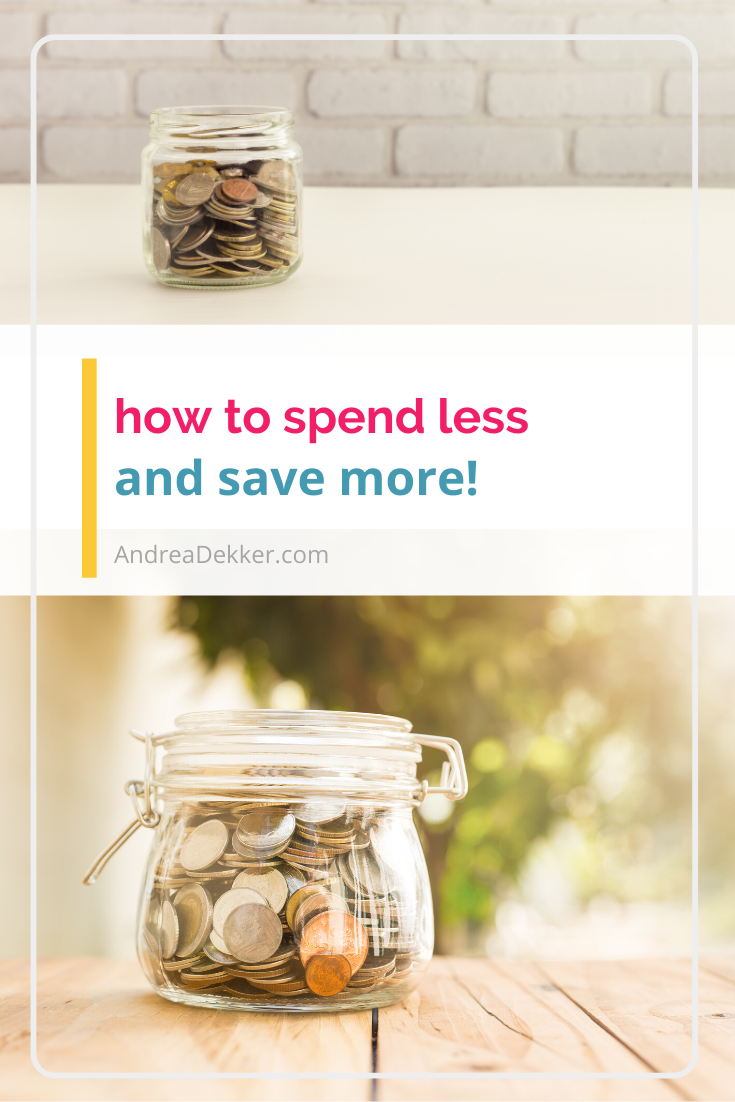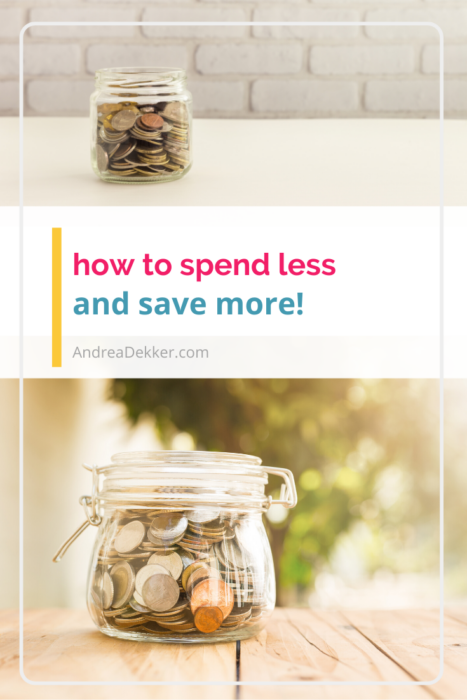 I'm always interested in how to spend less and save more, so, during the month of January, I usually spend some time looking back on our personal finances and my business stats from the previous year.
I know I might be weird, but I really enjoy combing through the different spreadsheets and comparing our income and expenses to previous years.
NOTE: I use GoDaddy to track all my business finances, and I use our simple Finance Tracking Workbook to keep tabs on our personal finances.
This year, I immediately noticed our 2019 grocery spending was 40% LESS than our 2018 grocery spending! That's HUGE!
I'm confident this is directly correlated with the fact that I did almost ALL my grocery shopping at Aldi last year!
Now I'm curious to see how our grocery budget fairs in 2020, since Aldi recently raised their prices!
These grocery spending stats piqued my interest, so I looked back over our grocery spending from 2006 (when we got married) through 2019.
Then I took it one step further and compared ALL our spending from 2006 through 2019. Yup, I definitely know how to have a good time!
The chart below details our YEARLY spending for the last 14 years on groceries, restaurants, entertainment, and clothing (rounded to the nearest "10").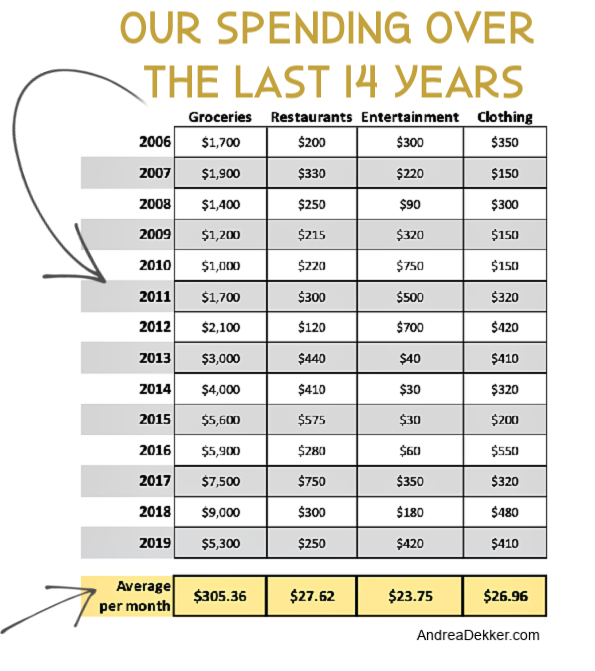 I wasn't super surprised to see that aside from 2019, our spending on groceries has gone up every year as our children get older and as we entertain more frequently (although $9,000 in one year was pretty "YIKES" for me! Glad we got that down a bunch last year!)
However, I was honestly SHOCKED to realize HOW LITTLE we spend on restaurants, entertainment, and clothing year after year. I even went back to the notes I leave within the spreadsheet to verify that I didn't have my numbers totally messed up!
We average only $27.62 per month at restaurants, $23.75 per month on any type of entertainment, and $26.96 per month on clothing… for a family of 6!
This is PROOF that I'm not lying or exaggerating when I write about staying home, eating at home, and buying used whenever we can!
.
A Few Clarifications:
GROCERIES = ALL food, diapers, cleaning supplies, medicine, cosmetics, and paper products I buy from Aldi, Costco, Meijer, health food stores, bulk food stores, farmer's markets, local produce stands, and online.
RESTAURANTS = ALL prepared food we buy — fast food, take out, pizza, coffee or other beverages, donuts, ice cream, food courts, hot lunch at school, and sit-down restaurants.
ENTERTAINMENT = ALL activities outside our home — travel, vacations, date nights, movies, bowling, day trips, the zoo, Rebounderz, community activities, church activities, or any other forms of entertainment.
I do not count our Netflix membership as entertainment since it's at home (I consider it a utility bill). I also do not count "gasoline" as entertainment — I have a separate line for gas.
CLOTHING = EVERYTHING we wear — socks, shoes, underwear, everyday clothing, church clothing, swimsuits, snow gear, backpacks, purses, diaper bags, jewelry, pajamas, sunglasses, hats, gloves, uniforms, costumes, seasonal items, school gear, etc.
I do NOT include gift cards in these totals — so if we are given restaurant, coffee, or store gift cards, I don't log that amount within our expenses worksheet. We were also gifted with a quarter cow 3 times during this 14-year period, so there were times when we didn't need to buy beef for several months in a row.
Even still, I think we're doing pretty well for a family of SIX!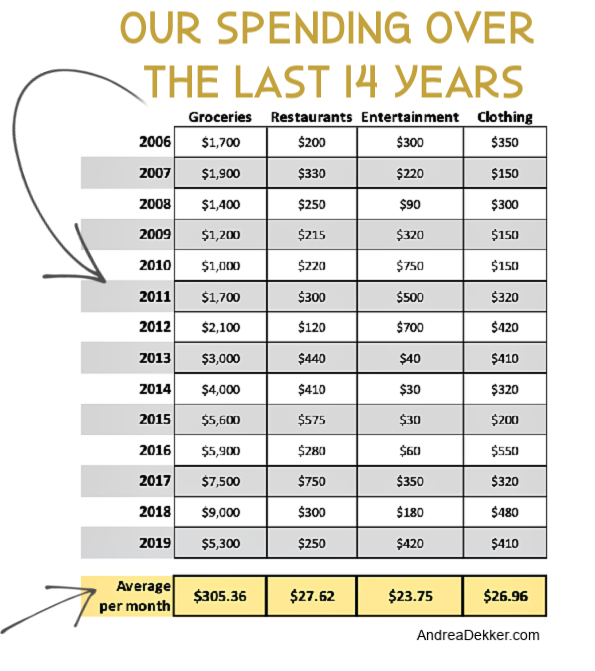 Of course, I keep track of so many other areas of our finances too (spending, investing, utility bills, home renovations, charitable giving, income, etc.), but these 4 categories are the ones I'm questioned about quite often.
So… how do we keep our spending down month after month, year after year?
I don't think there's one answer to this question — nor do I have a step-by-step process to follow to achieve the exact same results.
Rather, I believe there are several factors that affect our ability to keep our monthly and yearly spending SO LOW!
Dave and I both grew up with frugal parents who lived well below their means, so this lifestyle has ALWAYS been modeled for us.
We've always lived off one income (Dave's Christian school teacher salary) so we don't allow ourselves to live extravagantly because we know an extravagant lifestyle is not possible with 4 children on a Christian school teacher's salary. (We use my income to invest, put towards retirement, build up our savings, and pay for house projects.)
We are both introverted and very content to be at home without a huge agenda.
We both have fairly "demanding" jobs in the sense that there is always more we COULD do — so when we have downtime, we just like to sit and relax at home, not go out and do something.
Dave can't go out for lunch during the school day so he always packs a lunch.
Our kids almost never get hot lunch (they prefer a homemade lunch).
We both prefer mornings versus evenings, and there aren't nearly as many ways to spend money at 4 am as there are at 10 pm!
I love to cook and would MUCH rather cook and eat at home than try to navigate a restaurant with 4 young children (even if it's free).
We have no desire to travel with 4 children, and I'm currently unwilling to travel without the kids (Dave's working on me though!)
We do some sort of no-spending challenge at least once a year.
We try to eat from our pantry and freezer before stocking up again.
We would much rather host people at our house than go out somewhere.
We ask for gift cards and memberships for Christmas and birthdays (Rebounderz, the Zoo, Culvers, etc.)
We do TONS and TONS of free activities through our church, school, and the local community.
I buy 95% of all our things used (from local thrift stores or via Craigslist or Facebook Marketplace) for a fraction of the cost of buying new.
We simply don't shop all that often — and it's hard to spend money if we're not shopping!
We've never been big on "date nights" or any sort of formal entertainment. We'd rather just watch something on Netflix or work on a yard project together.
We never hire babysitters (we've only paid a babysitter 2 times in our life!) Our parents are willing to help out some, but we really just don't have the need for childcare as we're always home.
We are very content with what we have, and we find ways to "do without" until I can get a rock-bottom price on what we "need" from a local thrift store.
We live in a low cost-of-living area.
The point I want to make is NOT that you should give up all fast food and never go on another vacation or date night ever again.
NO, not at all!
Rather, I want to prove that…
our family truly DOES live the simple lifestyle I share here on the blog — it's not just a show or a fake life I portray.
consciously SPENDING LESS each month WILL add up to huge savings over the course of several years.
Let's do a little more math…
If you spent $100 less each MONTH that adds up to $16,800 after 14 years (not including interest)
If you spent $100 less per WEEK, you would amass a whopping $72,000 (pre-interest) after 14 years!
Seriously, what could YOU do with that kind of money!?!?!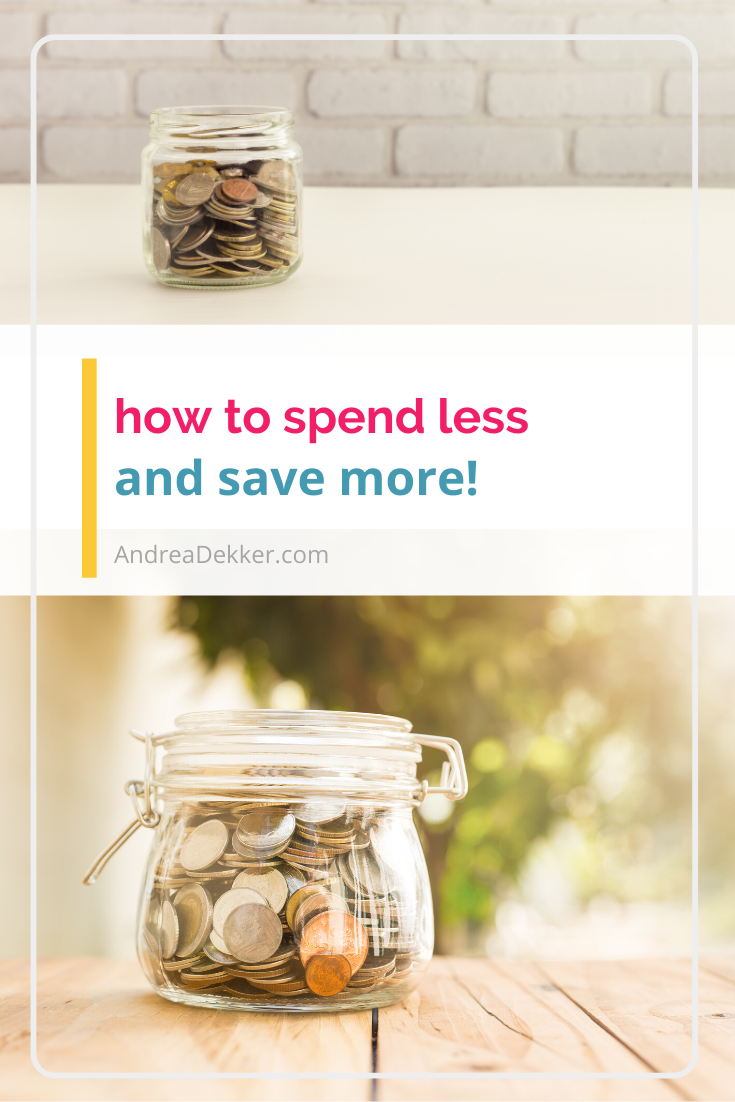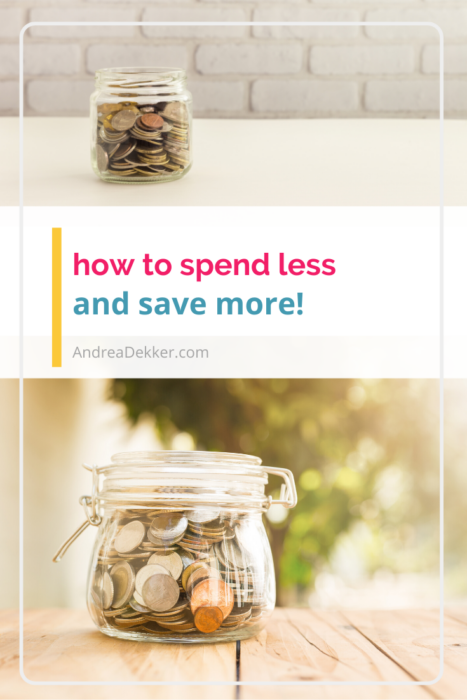 How YOU can spend less (and save more) each week:
I know it might seem like a lot of money when you just sit and think about somehow cutting an extra $100 from your expenses each week or each month — but in the vast majority of cases, it's TOTALLY doable.
Here are 10 Ideas to Spend Less Each Week:
Pack lunches, snacks, and drinks at home 4 days a week
Eat dinner at home 6 nights a week
Switch to shopping at Aldi
Buy whole ingredients versus prepackaged foods
Look for used and second-hand alternatives before running out to the store to buy new
Stop using food, clothing, or other purchases as "rewards" (this is an easy habit to get into)
Stop shopping when you're bored
Suggest meeting a friend or coworker at a park or community center to reduce the expense of going out
Take a year off from vacations and plan a few local day trips instead
Implement a "mini no spending challenge"
Even if you just implement a few of these concepts, I think you'll see a significant drop in your spending.
How to KEEP Your Savings and Not Spend it Again!
You might be able to successfully spend less each week — but if you don't put that money somewhere safe, you will be tempted to spend it again very soon!
I suggest opening a separate savings account and having a specific amount directly deposited from your paycheck each period.
Since you're already spending less, you most likely won't miss the extra money coming out of your paycheck.
You can also manually transfer money into this account each week or each month if you have extra sitting in your checking account after the bills are paid.
You might just be amazed how quickly this new account grows… and the growth will offer more motivation to continue living frugally and setting more savings aside.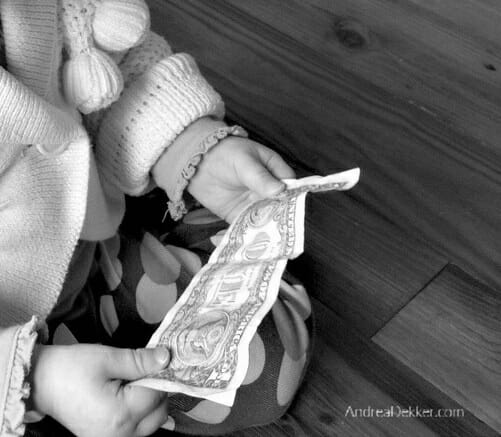 Every financial situation is different, and there is no one-size-fits-all approach to saving money… but consciously focusing on spending less each week won't hurt anyone!
If you feel $100 a week (or a month) isn't doable for your situation, choose a smaller amount.
The exact dollar amount isn't nearly as important as developing a frugal mindset, learning to live below your means, occasionally doing without, and delaying your gratification just a few more days.
Stop making excuses and instead make a choice to put aside a little money from every paycheck for the foreseeable future… and start looking for ways to cut back on your monthly expenses.
You'll be amazed by how much savings you amass after a couple of years!

It might be enough for a fun family vacation, a new-to-you car WITHOUT a loan, a new furnace when your old one dies, or just to continue building your savings for a "rainy day"!
How do YOU spend less and save more?