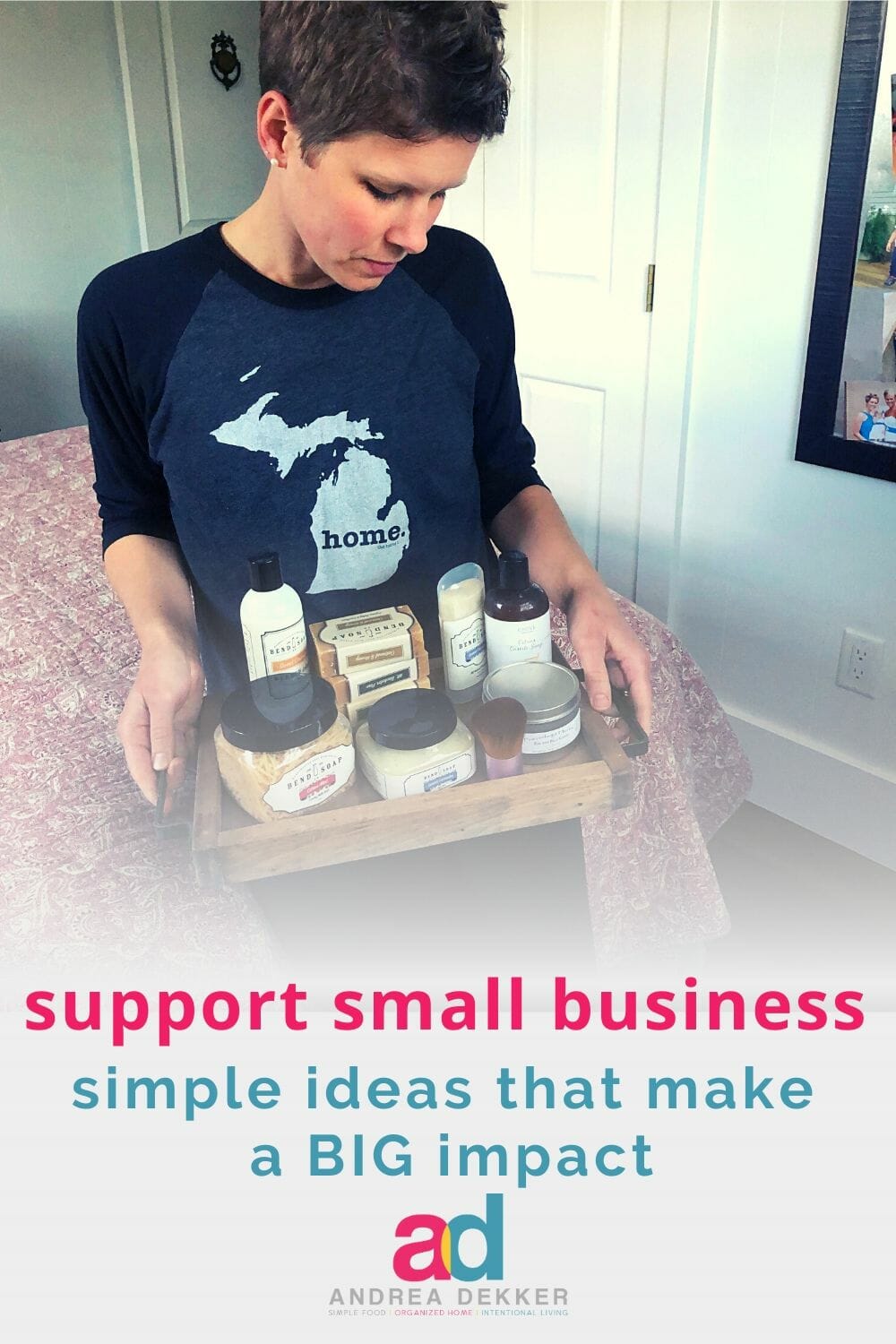 Inside: 6 simple ideas to support your favorite local (and not-so-local) small businesses. You might not realize how BIG of an impact you can make!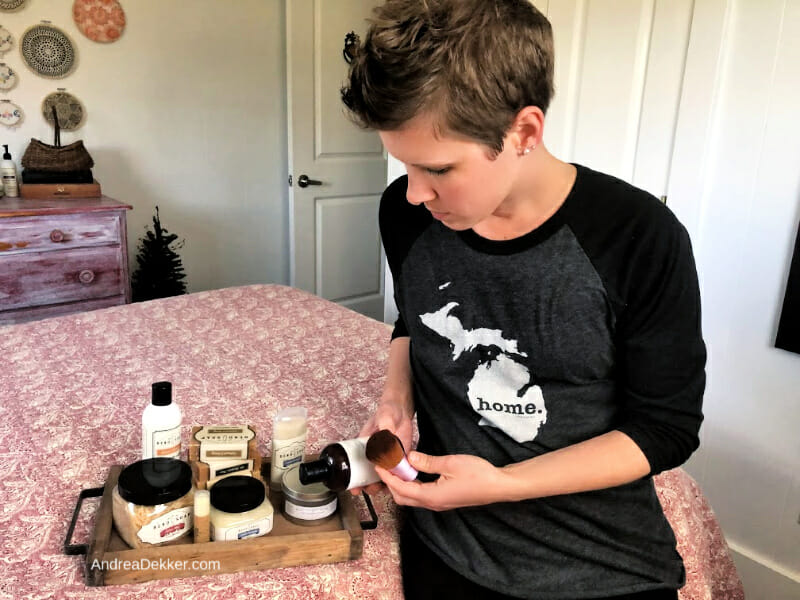 As someone who makes a conscious effort to stay away from the news, even I can't totally turn a blind eye to the many reports of small businesses closing their doors due to the stay-at-home orders, causing our economy to slump.
It's disheartening at best, and downright scary at worst!
Small businesses are crucial to our country's economy and I hate to see so much struggle and hardship among us "little guys" (and gals).
As a (very) small business owner myself, I know how frustrating and helpless it feels when "normal business" is interrupted by situations out of my control.
I also know how exciting, fulfilling, and validating it is when loyal clients, customers, and (in my case) readers continue to support me in tough times.
FYI: my small business is doing fine, thanks to the fact that blog traffic has gone up with everyone at home. I'm grateful for YOUR support, and for the ability to run "business as usual" around here!
I've been thinking of ways my own family can support our favorite local and online small businesses. I know money is tight for some, but there are many no-cost ways we can ALL help!
Whether it's a brick and mortar shop in town, a favorite local eatery or coffee joint, an in-home service or subscription, an Etsy shop, or even a favorite blog or website, there are countless SIMPLE ways we can all do our part to keep necessary small businesses afloat during these trying times.
Let me explain…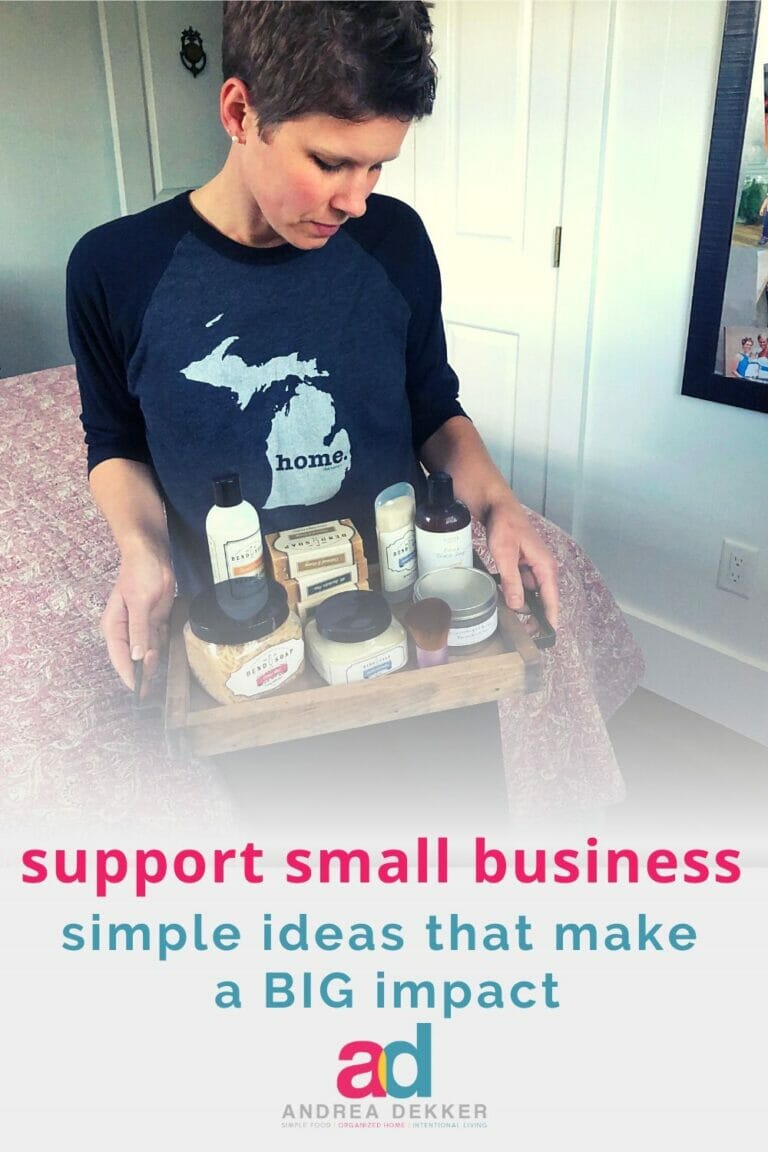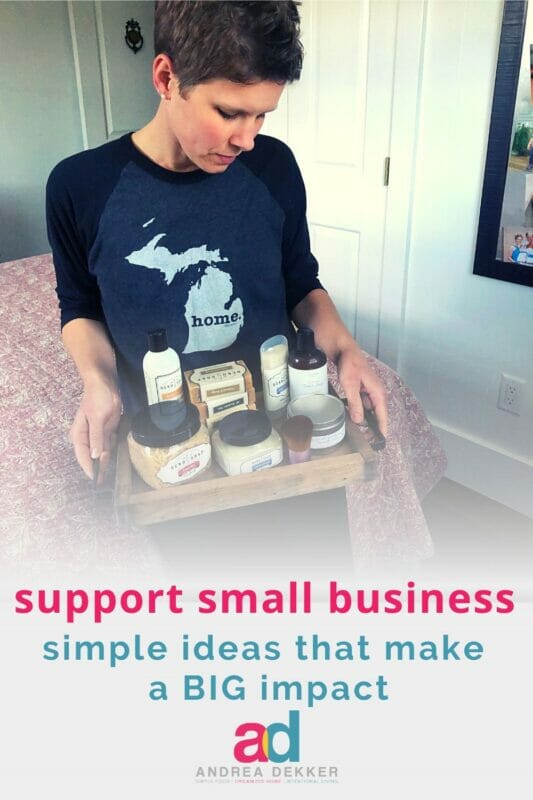 3 No-Cost Ideas to Support Small Businesses
Even if you can't afford to help your favorite small businesses financially, there are still plenty of ways you can make a big impact with NO financial investment.
Idea #1: Leave positive reviews
Never underestimate the power of positivity. Even if it doesn't translate into dollars, it gives businesses a much-needed boost of confidence and sense of purpose (seriously, positive words are SO needed right now!)
Leave a product review or testimonial on their website, social media profile, or sales page.
Give their podcast, product, book, or service a 5-star rating.
Leave an encouraging comment on your favorite blogger's post (more than just "thanks" or "love this").
Give a "thumbs up" to their YouTube video and leave a positive comment.
Like or comment on their social media posts (more people will see them this way which could inadvertently drum up more business for them).
Send an encouraging email or social media DM.
Idea #2: Share their business and brand on YOUR platform
Do you have social media? Then you can do A LOT of good for so many small businesses!
Share their products, blog posts, websites, and anything else you like about them on your social media profiles (tag them so they are notified).
Do thoughtful product reviews in your Instagram Stories.
Show logos or brands of your favorite places and products on your Facebook or Instagram page.
Pin their content to your Pinterest boards and then share it with others.
Sign up for their affiliate programs and continue to promote their products and services while enjoying a small commission!
Idea #3: Visit their website and click around
The vast majority of small businesses place advertisements on their websites and blogs. This means that the more traffic they get to their actual website, the more money they'll make (even if you don't click on the ads).
Click through their emails and social posts to actually visit their live websites.
Browse several pages and see what interesting information you can find. Then feel free to share it again on your social media.
Yes, this is SO simple… but the additional exposure can make a huge difference in monthly revenue for a small business.
3 Ways to Financially Support Small Businesses
I love these ideas for supporting small businesses if you have a little extra wiggle room in your budget!
Idea #1: Buy Gift Cards, Certificates, or Memberships
Buying gift cards provide extra cash for small businesses to cover their expenses during this downtime. Plus, you technically aren't out any money since you'll always be able to use the gift cards later.
Hair or nail salon
Mechanics
Car washes
Pizza places
Local diners
Coffee shops
Bakeries
Antique stores
Thrift stores (ours are selling gift certificates!)
Chiropractors or massage therapists
Lawn services
House cleaning
Zoo memberships
Gym memberships
Stock up if your budget allows, and you can help out your favorite small businesses while planning ahead for Christmas gifts — win-win!
Idea #2: Order Take-Out or To-Go
We have local farmers selling produce boxes "to-go" for $20. It's a great bargain for what we get, and it saves lots of produce from being wasted.
We also have so many local restaurants, coffee shops, bakeries, pizza joints, and more, offering deals on take-out food.
Obviously, we don't do this on a daily basis, but it sure is nice to have a night (or afternoon) off from cooking 3 mails a day. And even just a few times a month can help small businesses (especially if we all do our part).
Idea #3: Shop Small Businesses Online
Outside of my new Apple computer purchase, I've been shopping almost exclusively on Etsy or via bloggers who sell things I might want (physical goods, courses, eBooks, etc. )
It's not a huge expense on my part, but every sale adds up for small businesses.
My Favorite (online) Small Businesses:
These are just a handful of my favorite small businesses — ones I support regularly.
I'd be thrilled if you showed them a little love too! 🙂
Bend Soap Company
If you've been around the blog or social media over the past 6 months, you know our family has moved full-steam-ahead with the "delicious" all-natural goats' milk soaps, lotions, deodorants, and lip balms from Bend Soap Company.
I started small with just a few bars of soap last fall, and after my first purchase, I made the plunge and ordered over $100 of natural products in my next shipment (including the most amazing all-natural deodorant ever!)
Seriously, I can't tell you how many different "all-natural" brands of deodorant I've tried over the years, only to resort back to my old store-bought standbys. Not so with Bend's deodorant. I'm totally hooked forever and ever!
Bend Soap is a family-run operation and all products are made in the USA. I love knowing I'm supporting their sweet family (with 10 kiddos) by purchasing these fantastic products.
My favorites from Bend Soap:
NOTE: get 10% off with code AD10
Grove.co
My regular deliveries of cleaning products and other home goods from Grove.co have saved me countless trips to the store over the past 6 years.
My shipments are often the same each month, but I can change up my orders (or cancel them completely) if my needs change.
I ordered almost all our diapers and wipes through Grove for Simon, James, and Clara, and it was so nice to know our shipments would arrive on time without worrying about running out of diapers or getting out to go to the store at the last minute.
My Favorites from Grove:
NOTE: If you sign up for their VIP membership, you'll get free shipping on all your orders AND special freebie gifts throughout the year!
Prairieland Herbs
This mother-daughter shop is still my go-to for face cream and other natural, homemade cosmetics.
I've used and loved their products for more than 10 years, and I can't NOT share this sweet little small business with you!
My Favorites from Prairieland Herbs:
NOTE: Get 20% off with code: PAMPERYOU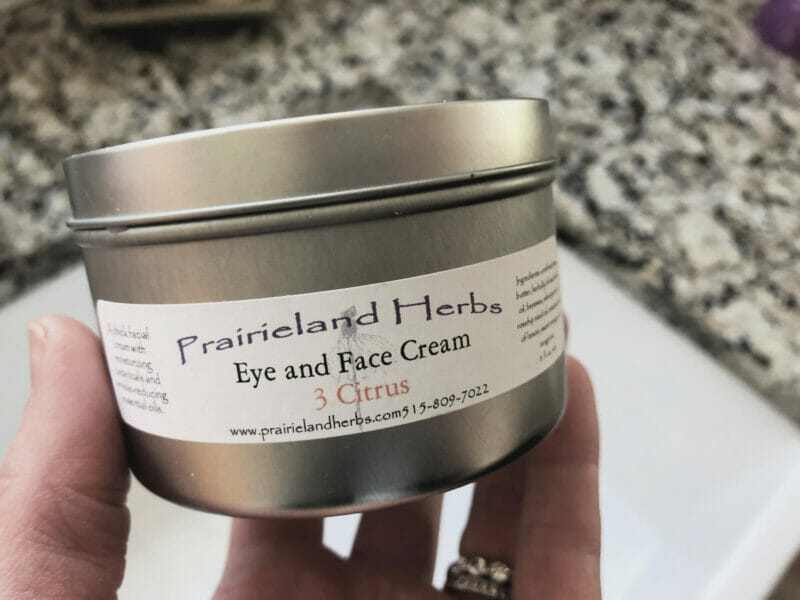 Simple Beauty Minerals Makeup
As I've mentioned before, I wear very little makeup on a daily basis. However, I do wear bronzer (especially in the winter) and I like having SOME makeup on hand for special occasions!
I love the lightweight feel of the Simple Beauty Mineral makeup — it doesn't actually "feel" like I'm wearing anything. Just my natural skin!
My Favorites from Simple Beauty Minerals:
Pepper Bras
I get SO many questions about "undergarments", but it's not exactly something I feel comfortable talking about on the blog. That said, I'm stepping out of my comfort zone today because I LOVE this small business!
I'll spare you too many details and just state the obvious… I'm not overly "curvy" so finding a bra that actually fits (and isn't from the tween section) is fairly challenging.
In fact, for the last 8 years, I've worn the Glamormom Nursing Tanks instead of a bra (even when I wasn't nursing) because they were comfortable and they actually fit well.
After Clara finally finished nursing, I decided I needed to buy a real bra since my nursing tanks were definitely showing their wear after 8 years of CONSTANT use.
I did a little research and was pleasantly surprised to stumble upon the folks at Pepper. I instantly fell in love with their mission and vision and placed an order the next day.
Pepper specializes in helping us smaller gals feel confident and comfortable by offering fantastic AA and A size bras that actually fit REALLY well (without crazy padding or other gimmicks).
No more shopping at Gap kids to find a bra (joking… sort of!)
My Favorites from Pepper:
NOTE: get free shipping on all orders with code ANDREA
Second Nature Furnace Filters
We've supported Second Nature for many years now (way back when they were called Filter Easy).
I originally "found" them online because I needed filters for our strange size furnace ASAP. Their website boldly stated they could make ANY size filter — and apparently they can!
I ordered the exact size we needed and enjoyed free shipping to my front porch just a few days later.
Now, we have our shipments automated so new filters arrive every 2 to 3 months (depending on the season) and I don't need to remember to swap out our filters because I just change the old filters when the new ones arrive!
It's such a simple system!
NOTE: Get a full set of filters COMPLETELY FREE (including free shipping) when you place your order here. Seriously, if you need 3 filters, you get them all free!
The Blog Fixer
For those of you who run a blog, you absolutely MUST know about The Blog Fixer!
It has quickly become my go-to resource for blog-related issues! In fact, I just recently used their nofollow fix last month… and Kris created a custom fix for an issue I was having with my thumbnail images back in February.
Their growing list of "blog fixes" will save you countless hours of "busy work" and make sure your blog is up-to-date with the latest requirements and best practices.
Fun fact: Kris is married to Katie from the popular blog "Kitchen Stewardship" and they only live about 15 minutes away from us. Katie is the one who loaned me her grain mill when I first started grinding my own grains back in 2018!!!
See why I love supporting small businesses!?!
A few more goodies from my online friends
I could go on and on — but I think you get the idea!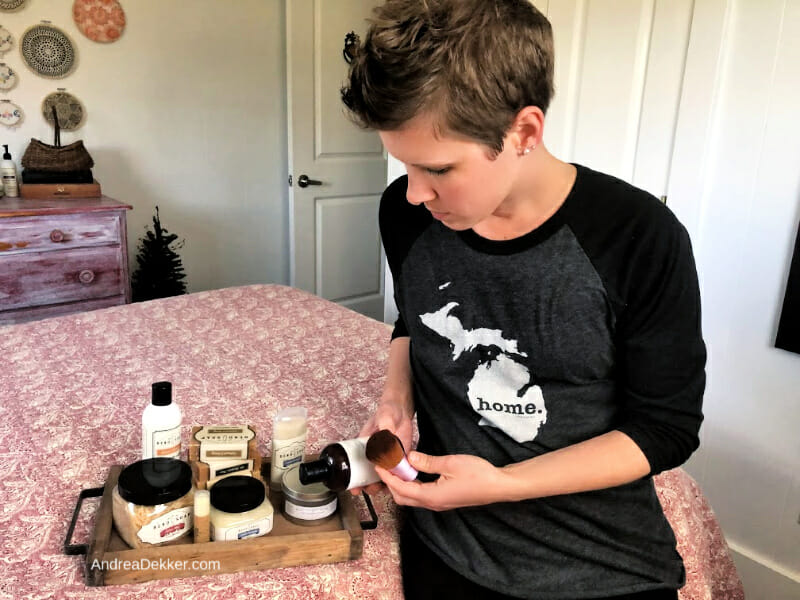 Supporting small businesses can make a BIG impact on our economy! Let's all band together to show what we can do!
And yes… I'd love for you to share this post to help spread the word.

I'm convinced we can make a huge difference for small businesses everywhere!