Written goals are much more effective than a jumbled list of ideas… use this handy free printable to create your own list of written goals!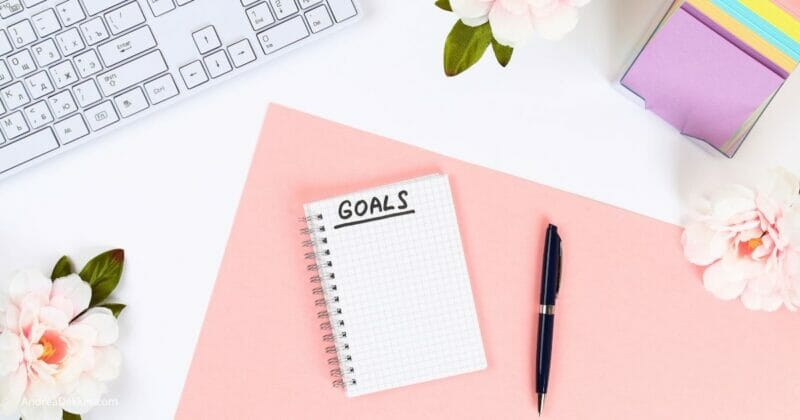 My digital life has gotten a little extra TLC over the past month… specifically my emails (I deleted over 15,000 from my archives) AND my digital files (most of which are stored in Dropbox and Google Docs.)
Is it weird that I get almost as much satisfaction from decluttering this non-visible clutter as I do from a big kitchen or closet purge?
Seriously, just think how amazing it would feel to remove 15,000 ITEMS from your home in roughly 1 hour — that's essentially what I did with my email!
Anyway…
As I was sorting and filing and creating subfolders for my subfolders (what can I say, I like a well-organized filing system!) I came across a GEM of a document.
I found a picture I had taken of my simple-living goals from several years ago.
I believe it was circa 2010.
I know it was before we found our farmhouse (because it was in my "idea book" that I tossed after we bought our house)… possibly right before I officially launched my blog.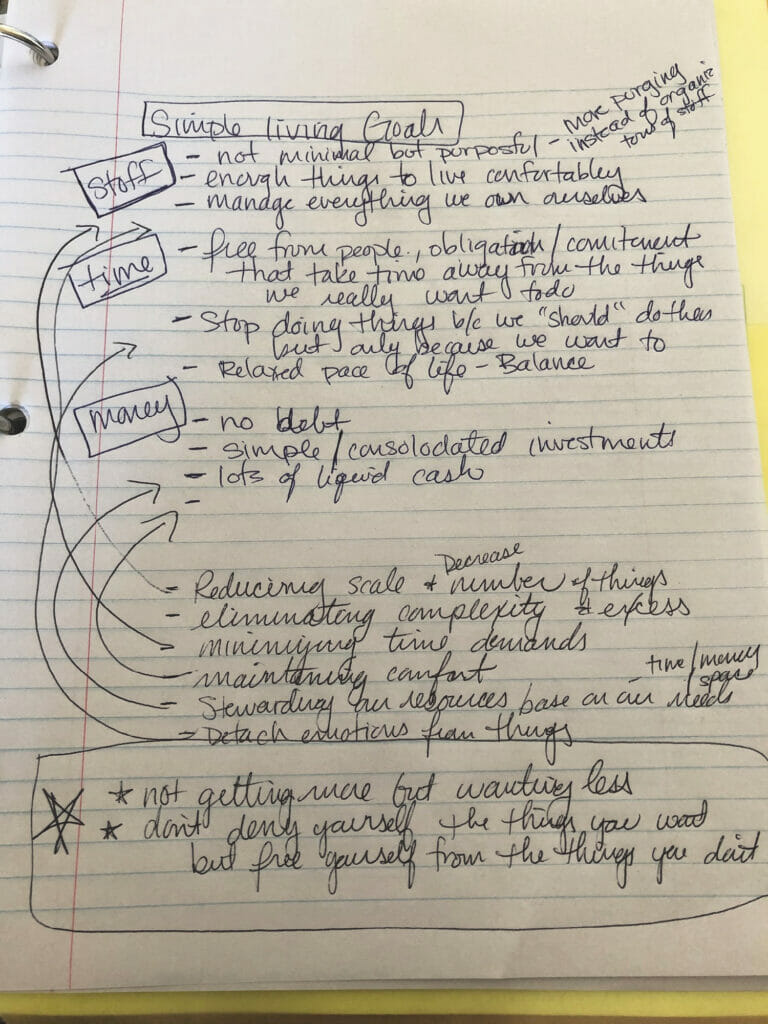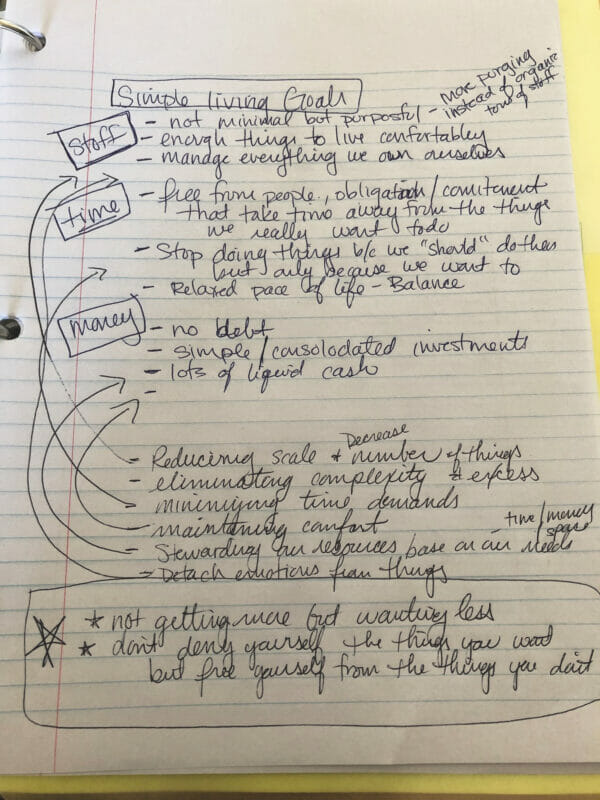 Since I know you can't read my messy half-cursive scribbles, I've typed it all out below — moving the extra content at the bottom to the appropriate categories above (and fixing all my typos!)
[MY] SIMPLE LIVING GOALS:
1. STUFF:
not "minimal" but "purposeful"
enough to live comfortably
more purging and decluttering versus organizing so much stuff
manage everything we own ourselves (no house cleaners, nannies, landscapers, assistants, etc.)
detach emotions from things
reduce the "scale" and the number of things we own
2. TIME:
free from people, obligations, and commitments that take time away from the things we really want to do
stop doing things because we feel we "should"
relaxed pace of life — find balance
minimize time demands
properly steward our time
3. MONEY:
no debt
simple, consolidated investments
lots of liquid cash
steward our resources based on needs
maintain comfort
generous giving
---
The part I love most about this list, however, is what I wrote in the starred box at the bottom…
"Not getting more, but instead wanting less."
"Don't deny ourselves the things we want, but free ourselves from the things we don't."
---
I realize these are not Instagram-worthy quotes… but I can honestly say that the thoughts, goals, dreams, and aspirations I wrote back when I was just 23 years old are the same Simple Living Goals I have today.
I might word them slightly more eloquently these days, but the concept is still the same.
And truthfully, most of the goals listed above have already come to fruition.
(Read more in this post — it's probably one of the most "emotional" posts I've shared on the blog).
Of course, Dave and I have put in years of hard work and made many sacrifices to achieve these goals… but I'm honestly not so sure they would be our current reality if I hadn't written them down 10 years ago.
Experts like Michael Hyatt have preached "written goals" for years, and there are countless collegiate and business studies that statistically prove the effectiveness of written goals.
It's not just a theory… it really works!
Have you witnessed the power of WRITING your goals down?
If not, I highly encourage you to give it a try!
I've always enjoyed writing — it's something I do when I have too much to process.
It's how I organize my thoughts and feelings.
I know not everyone processes their thoughts in the same ways, but I'm confident the act of physically WRITING your goals down will be helpful for you, even (maybe especially) if you aren't an organized person!
To give you a little nudge in the right direction, I've created a super simple printable you can use to jot down a few of your own simple living thoughts, dreams, goals, and ambitions.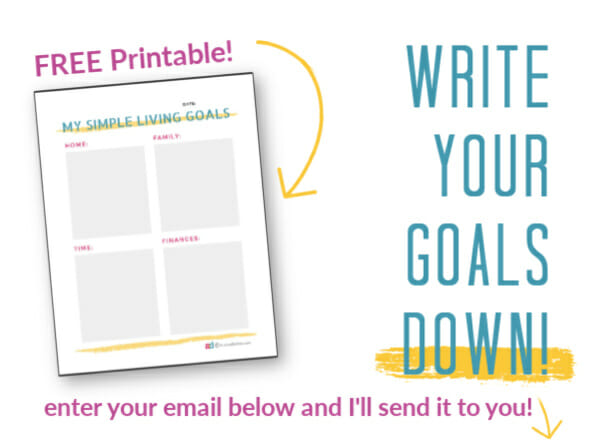 I did take the extra step to make it an editable PDF for those of you who want to do it all digitally. However, I STRONGLY encourage you to print this single-page document and physically write on it.
Even if you throw it away when you're finished, the act of writing your goals down (even just once) will help you mentally hold onto them much longer.
RELATED READING: