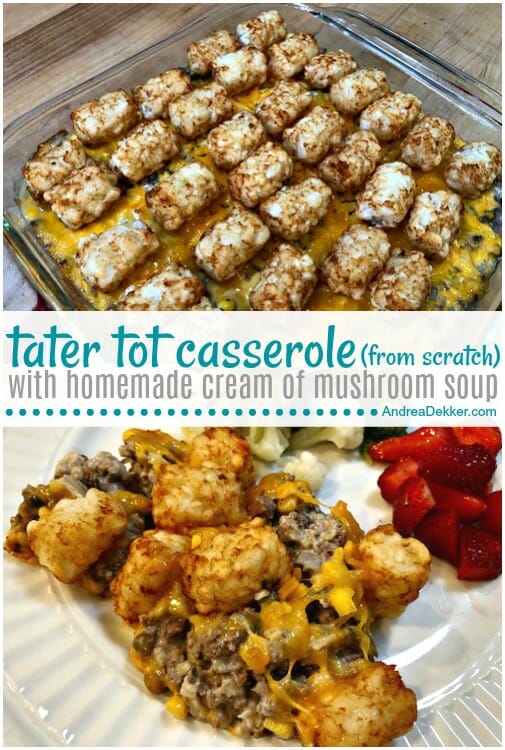 Tater Tot Casserole is one meal Dave and I both grew up enjoying… and it's definitely one of our kids' most favorite meals ever — right up there with Chicken, Broccoli, Rice casserole!
Of course, I like that Tater Tot Casserole uses simple ingredients I always have in the house, I like that it can be made ahead of time in just a few minutes, and I LOVE that my whole family will eat it without any complaints!
I make both Tater Tot Casserole and Chicken, Broccoli Rice Casserole roughly once a month all year round, and we never get tired of them!
Last year, I shared my new and improved, 100% from scratch recipe for Chicken, Broccoli, Rice Casserole — with lots of added veggies, and a made-from-scratch sauce to replace the Cream of Chicken Soup.
That recipe is still a huge hit with my family (and with many of you)… so I thought it was time to finally share a healthified recipe for Tater Tot Casserole (with made-from-scratch Cream of Mushroom soup).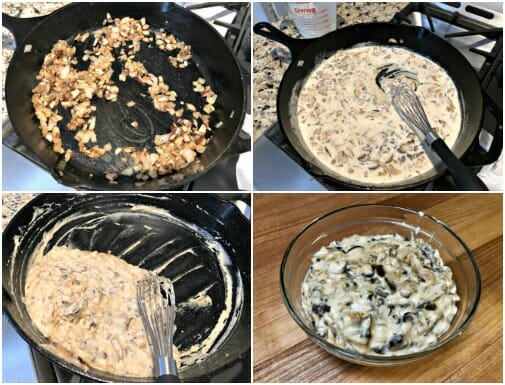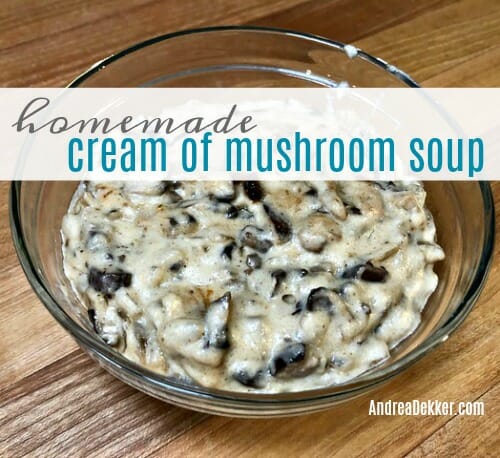 I've been making it this way for over a year now and no one has complained yet — so I think that means it's a "winner"!
This recipe still uses ingredients that can all be prepped ahead of time (most of which I have in the freezer at all times) so the finished meal actually still comes together REALLY quickly. In fact, the meal in today's post only took me 20 minutes to put together — and that's including the time to make homemade Cream of Mushroom Soup AND extra time to take pictures!
My More Nutritious Changes:
I swap the white rice for cauliflower rice.
I replace half of the ground beef with cooked lentils for lots of added fiber without as much fat or calories (you could also use ground turkey, but we get a quarter of a cow, so we always have lots of beef!)
I use plain Greek Yogurt in place of sour cream.
I make my own cream of mushroom soup from scratch (in minutes!)
I've also tried using Veggie Tots in place of Tater Tots, but they were not a huge hit for our family — I might try them again in the future though.
If you'd like to try a healthified version of this family-favorite, give my recipe below ago.
As always, PLEASE feel free to make any tweaks or changes based on your family's taste preferences and the food you already have in the house!
Yield: 6 servings
Tater Tot Casserole From Scratch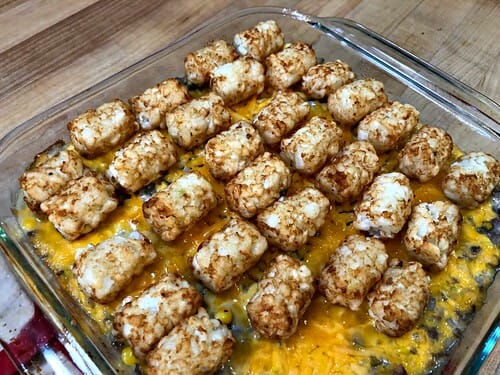 I've healthified this family favorite to include more veggies, more fiber, less fat, and homemade Cream of Mushroom Soup!
Ingredients
1 c. pre-cooked ground beef or ground turkey
1 c. pre-cooked lentils (or an additional cup of meat)
1 c. frozen corn
1 c. cauliflower rice (or white rice)
1/2 c. plain Greek yogurt (or sour cream)
1 recipe cream of mushroom soup (see recipe in post below) or a 10.75 ounce can of soup
Salt and Pepper to taste
1 c. shredded cheddar cheese
Tater Tots (or Veggie Tots) -- enough to cover the top
Instructions
Preheat oven to 375ºF.
In a medium bowl, mix ground beef, lentils, corn, and cauliflower rice.
Add Greek yogurt, cream soup, and salt/pepper. Mix well.
Scoop mixture into a greased 8" x 8" (or equivalently sized) dish and top with cheese.
Place tater tots on top of cheese and bake in preheated oven for 30 minutes, or until heated through.
Notes
The prep-time listed in this recipe assumes that all ingredients are pre-cooked and ready to go as I personally keep bags filled with pre-cooked ground beef and pre-cooked lentils in the freezer all the time -- obviously, this recipe will require more time if you need to cook these items first!
I do usually make the Cream of Mushroom soup right before mixing up this dish -- that will take another 10 minutes or so, but could be made ahead of time as well.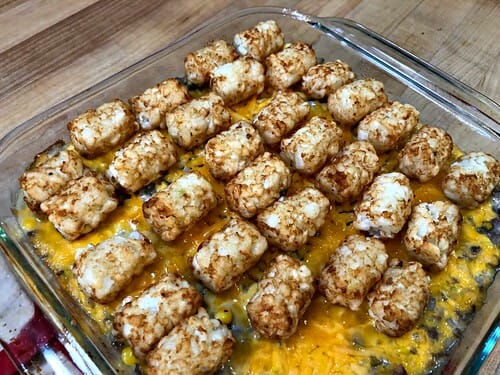 And now… the recipe for Homemade Cream of Mushroom Soup!
Yield: 1.5 cups
Homemade Cream of Mushroom Soup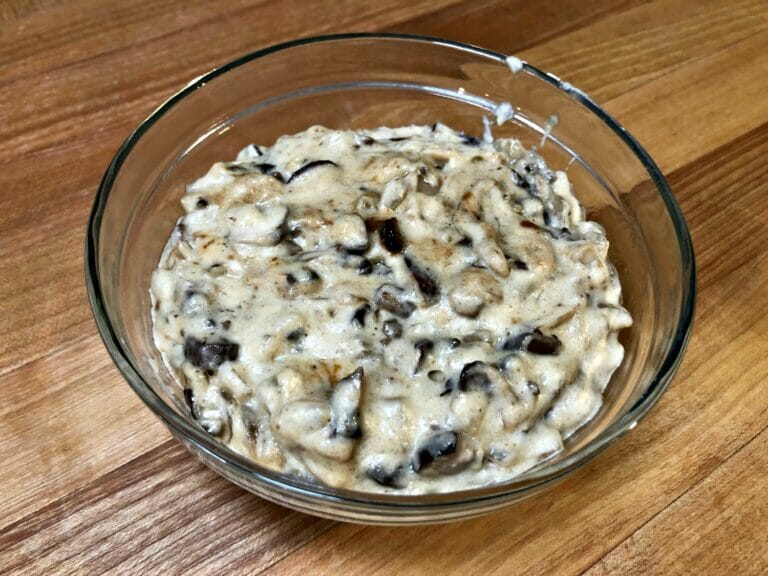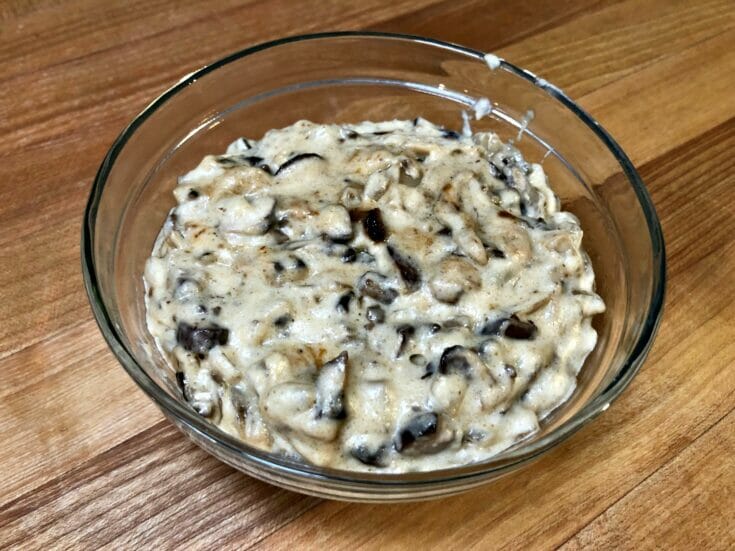 This recipe for homemade Cream of Mushroom Soup replaces one 10.75 ounce can, and is an equal substitute in any recipe that calls for Cream of Mushroom Soup.
Ingredients
2 T. butter or oil
1 c. mushrooms; washed and diced (about 4-6 larger mushrooms)
1/2 c. yellow onion; diced (about 1/2 a medium onion)
1 T. minced garlic
1 c. milk or cream
2-3 T. flour
salt and pepper to taste
Instructions
Melt butter/oil in a pan over medium heat.
Sauté diced mushrooms and onions in butter until cooked through (5-7 minutes) stirring occasionally to prevent burning.
Meanwhile, mix milk/cream and flour in a small bowl or measuring cup until smooth.
Once mushrooms and onions are soft, add garlic and cook for 1 minute more -- stirring constantly.
Reduce heat to low and pour in milk/flour mixture.
Wisk continually until thickened (1-2 minutes)
Use in your favorite recipe or transfer to a food storage container to use later.
Notes
I dice my mushrooms so they kids can't "see" them -- but you could easily get by with slicing them if that is your preference.
I do believe canned mushrooms should work as well -- just make sure to drain them really well.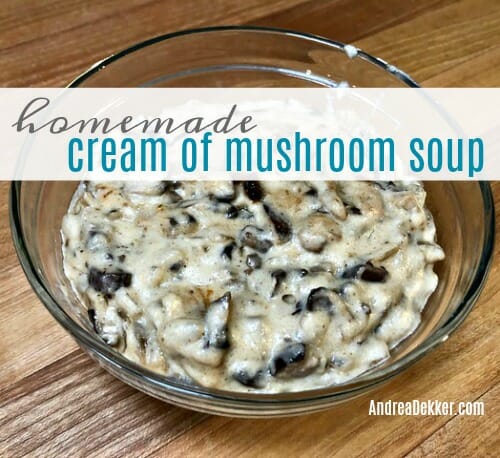 There you have it — my fairly simple, still very easy, family-favorite recipe for (slightly more nutritious) Tater Tot Casserole… and my very basic recipe for Homemade Cream of Mushroom Soup!
Two recipes in one post today — whew!
What are your family's favorite casseroles? And have you "remade" any of them over the years?
Visit my virtual recipe box for more simple, delicious, family-friendly recipes!