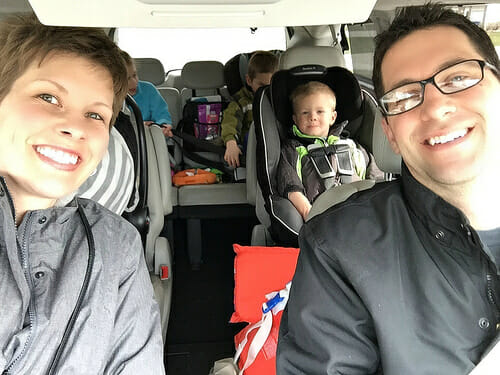 I'm back after taking a few days off last week to enjoy Dave and Nora's spring break.
We had a very fun week!
I probably tried to pack a bit too much into a few of the days, but we didn't have much of anything planned this past Friday, Saturday, or Sunday, so I was able to catch up on laundry, house cleaning, grocery shopping… and sleep!
Although we didn't actually travel anywhere, I'm positive our kids had a really great time doing lots of fun things we wouldn't normally take the time or pay the money to do on a regular basis.
Here's a peek at what we did on our Spring Break "Staycation"!
We started our staycation at the airport of all places… Dave brought a friend to the airport and took the older 3 kids along for the ride. They brought their binoculars (and pirate spyglass) to the airplane viewing area! 🙂
I took the kids to an Easter Egg hunt at a local church on Saturday — they got SO much candy!
Then, later that day, we had a Gender Reveal party for my youngest sister and her husband (at the same church)… it's a boy!
We let the kids stay up extra late one night to watch a movie they had requested to watch several times now — they even got popcorn and candy for a snack (usually they just get fruit as a bedtime snack).
They didn't even make it to the end of the movie and were all in bed by 8:30pm (we love us some early bedtimes!)
NOTE: they are just pretending to sleep in the photo below… they did not actually sleep like this all night!
.
On Monday, we surprised the kids by heading to a local hotel (we clocked it at 1.3 miles away). We really didn't have to pack anything, and it was so close, our kids never even asked, "Are we there yet?"
We spent the afternoon swimming, we walked across the parking lot to Arby's for dinner, and then Dave, Nora and Simon stayed at the hotel while James and Clara slept at home with me (that is my kind of vacation!)
Dave picked James up again in the morning for a couple more hours of swimming.
The kids thought it was SO MUCH FUN — definitely worth the tiny amount of effort and money we spent on that mini vacation!
.
On Wednesday, we ventured out to the Frederick Meijer Gardens to see the Butterfly exhibit. I've actually never been to it before and it was really fun. I'm not sure I'll need to go back any time soon, but it was fun to see, and the kids enjoyed it.
.
We were supposed to go to Rebounderz on Thursdays, but they canceled their Toddler Time because of spring break, so we had to change our plans. Instead, we hit up Costco and a new Aldi to run a few errands.
I'm trying to be open-minded about shopping at Aldi — but I'm still not a fan. Maybe I need to try it for several weeks in a row this summer (and go without kids)… it just seems like they only ever carry half the things I need to buy, and some of them aren't even any cheaper than Meijer. Plus, since I use a Meijer credit card and MPerks, I get lots of rewards, coupons, freebie products, and cash back by shopping at Meijer.
Simon's newest photo book arrived (this is always a really big deal for my kids) so we spent lots of time looking through all the pictures.
It really is crazy how much younger the kids look just one year earlier!
We also did a little experiment with white roses and colored water. It didn't work quite as well as I hoped it would, but at least the blue rose looks pretty!
We ended our staycation by having some friends over to play on Friday and visiting the library on Saturday.
The kids were all tired and went to bed super early most of the week.
My projects:
I didn't get as many things accomplished as I thought I might, but part of that was because it was freezing cold, snowy, sleety, and windy most of the days — so I didn't tackle any of the yard work or outside projects on my list.
I did purge our filing cabinet (something I do every year after we get our tax return) and updated our Important Information Binder (something I try to do after the New Year).
I also purged Clara's clothes, purged my clothes, and Dave purged his clothes. Then we both got a handful of new-to-us items at our local thrift store during a 5 for $5 sale!
I'm through episode 3 of Call the Midwife and reading a book about stress and sleep. It's taking me a while to get into it, but I think it will be a good read.
Our Weekly Menu
After 2 months of not eating out, thanks to our mini no-spending challenge, we enjoyed a trip to Arby's and Culver's last week!
SUNDAY:
Zucchini noodles
Grilled chicken
Applesauce
MONDAY:
Arby's for our hotel getaway 🙂
TUESDAY:
Chips
Salsa
Quacamole
Fruit
WEDNESDAY:
Culver's after the Butterfly Exhibit
THURSDAY:
Lettuce Salad
Fruit
Rolls
FRIDAY:
SATURDAY:
Beef Stew
Roasted Vegetables
Applesauce
Rolls
Fresh Fruit
I've been keeping up with eating all sorts of veggies throughout the day — it's amazing how easily I can work them into almost any meal or snack. I've even been eating a lot of vegetables for breakfast (the kids think I'm crazy!)
Also, I finally REALLY enjoy cherry tomatoes! I've forced myself to eat them for almost 4 years now, and I can honestly say I'm to the point where I actually crave them as a snack or with a salad.
Now we're back to our normal routine again — school, church, blogging, etc.
It was fun to have a different schedule for a week, but I think we're all ready for our normal routines again.
Only 8-ish more weeks until Summer Vacation!!