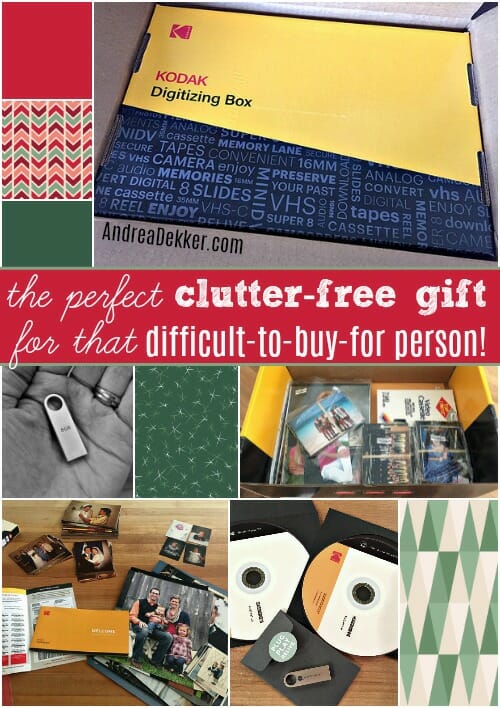 Today's post is sponsored by KODAK Digitizing Box. All opinions are my own.
With less than 6 weeks until Christmas, many of you might be finished with your holiday shopping already (way to go!) and many of you might not have even started yet (it's OK, you have plenty of time!!)
Wherever you are on your holiday shopping progress, you're bound to have at least one person on your list who you JUST DON'T KNOW WHAT TO GIVE!
They don't need anything…
They don't want anything…
They don't give you suggestions…
They aren't someone you can give cash or a gift card to (my trusty stand-by gifts)…
They aren't the type to appreciate handmade gifts (or maybe you just don't want to add more clutter to their homes)…
They definitely don't need another picture or drawing from your children to hang on their walls…
So… do you just buy them something practical? Or something silly (like a gag gift)? Or something random and package it with a gift card or consumable item you know they'll eventually get around to using?
Those could all be appropriate options, depending on the person.
HOWEVER… I have one more super fantastic gift option for the difficult-to-buy-for people on your list!!!
Give them the lasting gift of digitizing all their photos, videos, film strips, and other outdated media with the KODAK Digitizing Box!
NOTE: I have a discount code for all readers at the end of this post!
Almost every person I know older than 40 wants to have digital copies of their childhood and young adult photos… but the process always seems so overwhelming to them.
Where do they start?
What should they do first?
What equipment do they need to get started?
What if they don't know how to use a computer?
What if they mess up and waste their time?
How long will it take?
What if they poop out and give up in the middle and never finish?
With the gift of a KODAK Digitizing Box, you can give them all of this with virtually no effort on their part!
Guess who wins the "best gift award" this year?? YOU!
Every KODAK Digitizing Box includes a welcome guide with simple, step-by-step instructions, safety barcodes for every item, a pre-paid return shipping label, and access to personal online support to answer any questions.
If someone on your gift list has the ability to put pictures, tapes, and other outdated media into a box and put a pre-paid shipping label on the box, they can do this (so yes, pretty much anyone can do this!)
KODAK accepts 19 different types of media, including (but not limited to):
VHS tapes
Reel to Reel Audio Tapes
Cassette Tapes
Super 8 Films
35mm Slides
8mm and 16mm Reels
Photo Prints
and more!
Once the box is in the mail, there is nothing more for you (or them) to do except enjoy the fact that you've FINALLY crossed this massive project off your to-do list once and for all!!!!!
KODAK provides state-of-the-art tracking, barcoding, and personalized updates with email notifications and tracking information so you can monitor the progress every step of the way.
FUN FACT: KODAK is the largest digitizer of home movies and photos in the world — they actually invented mail-in processing!

They've helped almost half a million customers preserve their past already… so yeah, they know what they're doing when it comes to pictures!
In a few weeks, the originals will arrive back, safe and sound, along with the new digital thumb drives, cloud files, or DVDs!
Yes, it's THAT simple!
Once the digital files arrive, you may upload them to your computer and/or portable hard drive so you have a back-up, use the files to create digital photo books (something I've done for years), and/or store the digital files in a fireproof safe to preserve them for years to come.
Either way, it's one HUGE to-do crossed of your list!!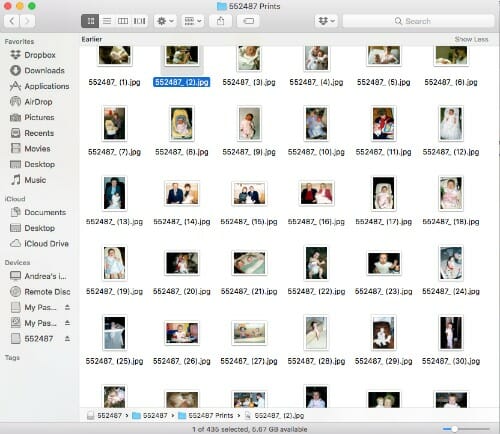 Do you have a few hard-to-buy-for people on your list who would LOVE this clutter-free gift?
If you are DONE with busy stores and malls but still have a few gifts to buy this year, consider the KODAK Digital Box as a practical, useful, clutter-free gift idea for any of the hard-to-buy-for people on your list this year.
Or better yet, purchase a box for YOURSELF and finally tackle that pile of pictures you're going to digitize "someday… when you have more time"!
We even have a discount coupon for you!

For a limited time, you can get an additional 30% off your entire KODAK order using the code ANDREA at checkout!
Just for the fun of it, here are a few of MY baby pictures… do you think any of my children look more like me than others?
A big thanks to KODAK for sponsoring this post and making it possible for me to provide all of the content on my blog free of charge! My opinions are 100% my own! Please see my full disclosure policy and contact me with any questions you have.