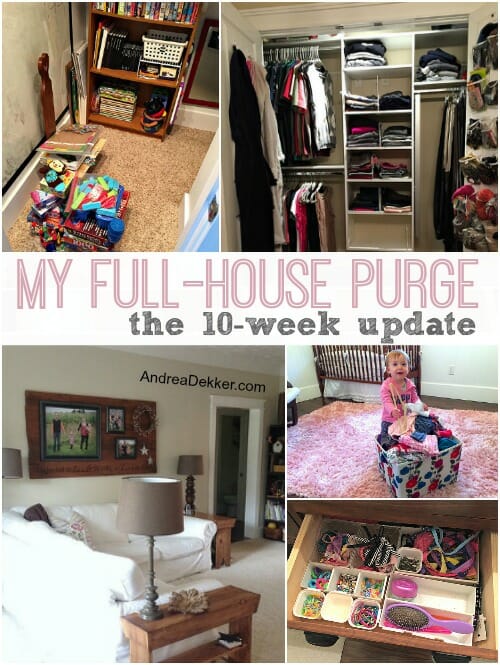 Roughly 10 weeks ago, I shared a "fun" challenge here on the blog — the opportunity to complete a FULL HOUSE PURGE before the New Year even began!
Post Summary: focus on one room per week, every week until the New Year (16 weeks at the time) and purge up to 16 rooms before the New Year (most homes have 16 or fewer rooms).
Since then, I've been diligently working to purge one room per week… and the results have paid off, as the entire main floor of our home is now less cluttered and more organized!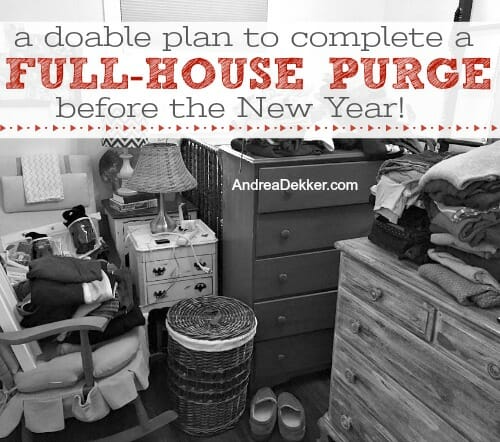 I shared my 5-week update last month — purging the mudroom, half bath, kitchen, dining room, and basement.
Now I'm back this week with my 10-week update — sharing the progress I made in the living room, office (and closet), master bedroom (and closet), master bathroom, and nursery (and closet).
Thanks to all the closets and storage spaces in these rooms, I was able to purge A LOT — in fact, I even surprised myself with how much I got rid of!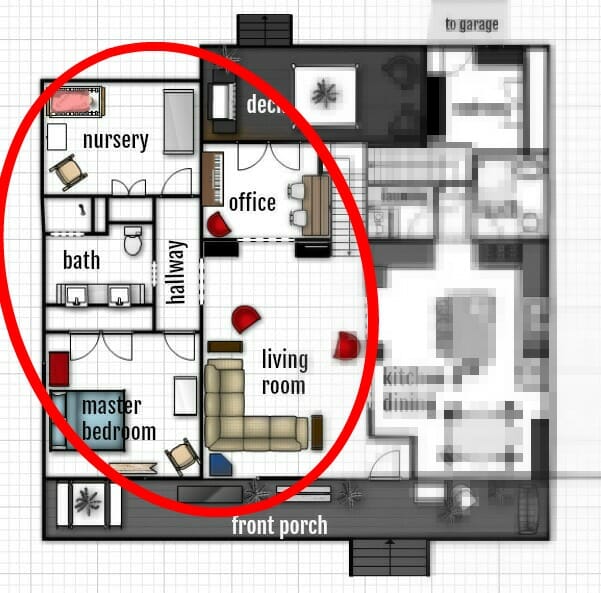 Living Room:
I'll be honest, we really don't store anything in our living room besides a few books and 2 baskets of baby toys — so this room took me all of 5 minutes to "purge"!!
I got rid of 10 baby books and 2 baby toys. However, in another 6-8 months, I'll most likely be able to purge the rest of the baby toys!
.
The Office:
The office took MUCH longer than the living room.
Our office serves so many purposes, it has so many functions, and it houses SO MUCH STUFF…
Our library book basket (which is always overflowing)
Our piano, all my piano music, and everything we need for leading Sunday School
Our filing cabinet and all the paperwork for my business and our personal needs
Our computers (laptops are stored in the upper left cabinet)
My sewing machine, all my sewing accessories, and any sewing projects I'm working on (upper right cabinet)
Several of Dave's school resources (in the upper right cabinet)
ALL the kids games, puzzles, movies, CD's, photo albums, and "school stuff" for when they play pretend school (in the closet)
I spent about 2 hours (over 3 afternoons) going through all the different cabinets, drawers, shelves, etc. and I purged A TON!
I ended up with 2 bags of paper to recycle, and 3 large bags of stuff to donate!
.
Master Bedroom & Closet:
Other than clothing, we really don't store anything in our bedroom, so Dave and I both took turns going through our clothing. Surprisingly enough, we ended up with 3 large bags of clothing to donate and a few items to trash.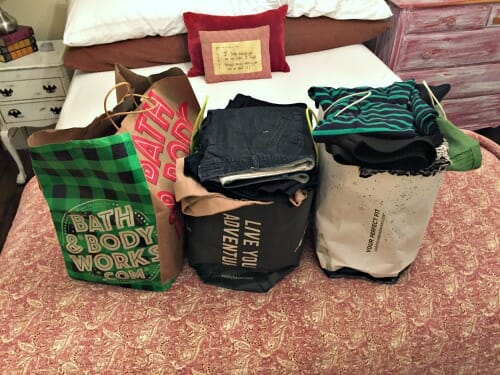 As I mentioned earlier this week, I've lost 60 pounds over the past year (35 were just extra baby weight) so I've purged quite a bit of clothing over the past 6 months… but apparently there were still several more items I was willing to part with!
BEFORE:
AFTER: a little more breathing room!
We store potential gifts for others on the top shelf of our closet, and with Nora's birthday and Christmas just around the corner, I used this time as a great opportunity to get all these gift items organized (and take stock of what I have).
I pulled out the items we'll use for Nora's birthday gifts and consolidated the rest in a much more organized fashion.
.
The Master Bathroom:
I already did a pretty massive bathroom purge earlier this year, so my time spent organizing our master bathroom was minimal. I was actually able to work my way through all the drawers and storage baskets in about 25 minutes one afternoon during Clara's nap and while the boys were watching a Netflix show.
I'm not even sure I purged anything — just a few trash items. The rest was simply consolidating, better organizing, and putting things back where they belong.
The room FEELS much more organized, much neater, much cleaner, and less cluttered — so the fact that I didn't purge all that much doesn't bother me.
The bottom drawer is still completely empty, as are the top 2 storage baskets!!
.
The Nursery:
I spent more time in the nursery than I thought I would — but it had been several months since I went through Clara's clothing, and so much of what was in her closet was now too small… sniff!
I purged a HUGE bin of clothing, along with a handful of baby gear and accessories I won't need anymore.
Clara "helped" and now her closet has lots more room for bigger clothes! 🙂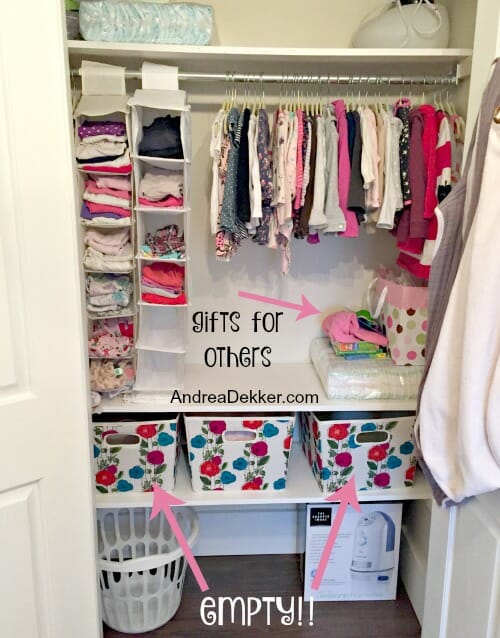 .
Now I'm moving onto the upstairs bedrooms, play room, bathroom, landing area, and closets for my last 5-week purge!
If you've been following along with my challenge, I'd love to know what type of progress you're making!!
Happy Purging!