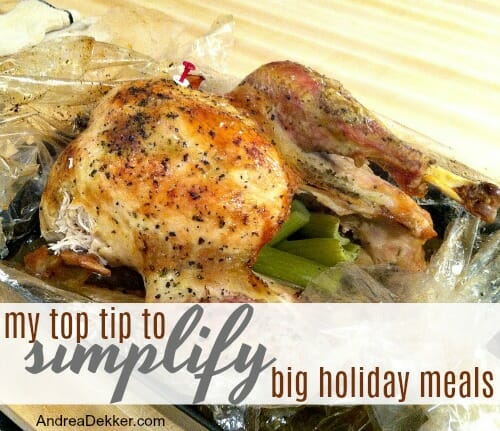 Thanksgiving is one week from tomorrow, and we're all getting excited at our house!
It's the first big holiday break of the school year, and it will be so nice to have Dave, Nora, and Simon home from school for the long weekend (I'm also taking the long weekend off from blogging, which will be extra nice too!)
To top off the excitement, Nora's birthday is ON Thanksgiving Day — it will definitely be a fun-filled day for our children and family.
I like to keep ALL holidays as simple as possible right now, but Thanksgiving is a big one for me — maybe it's because we've often been the hosts for this big meal and I know how much work it can be to roast the "perfect turkey" and have all the foods ready at the exact same time so everyone can enjoy piping hot food together.
If you're hosting a big meal this holiday season, let me share one tip that has completely revolutionized the way I prepare my Thanksgiving meal and drastically helped to simplify my most favorite holiday!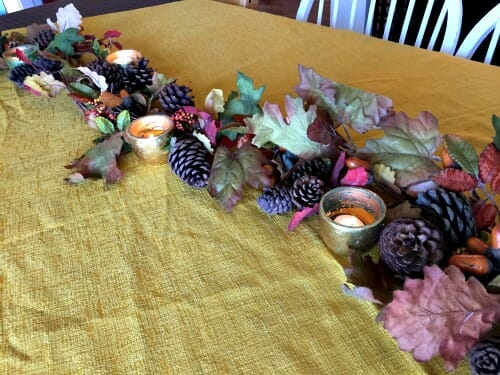 .
My Top Tip To Simplify Thanksgiving Dinner = Cook The Turkey In Advance!
In fact, I go so far as to choose all recipes I can prepare entirely a day (or a few days) before, and then simply warm them up in the slow cooker or reheat in the oven on Thanksgiving Day.
Let me explain how I do this….
I buy my turkey at least a week ahead of time — if it's frozen, it will need several days to defrost in the refrigerator (at least 3-5 days for big birds).
Usually 2 days before the meal, I season the turkey and put it in an oven bag (seriously, these bags are amazing, there's almost no chance you can dry out your meat using them!)
I always roast my turkey breast side DOWN for super juicy meat. Roast according to the directions on the bag for your size turkey, then let the cooked turkey rest on the counter for at least an hour, or until it's cool enough to handle.
The finished bird will not look like the perfectly golden birds you see in magazines (it will look really funny since the breast is facing down), but since no one else actually sees the full bird, it really doesn't matter what it LOOKS like at this point.
Once the meat has cooled significantly, flip the turkey over (breast side up) and start slicing as many full slices of meat as you can (my preference is to eat slices of meat over shredded turkey for my Thanksgiving meal). Put the meat in a VERY LARGE food storage container — I often use 2 containers, one for white meat, one for dark meat.
Once you have the majority of the breast meat sliced, then move on to the rest of the turkey, slicing, carving, and removing as much meat as you can (even if you have to shred it — you will use the shredded stuff in other recipes).
Put your containers of meat in the fridge to reheat on Thanksgiving Day.
NOTE: Sometimes, if I know we'll have WAY too much meat, I divvy up the turkey and put some in the freezer right away.
Now, time for the gravy and homemade broth!
Pour at least some of the juices and drippings from the bottom of your roaster into a large sauce pan to make turkey gravy (optional).
I prefer to make the gravy ahead of time as it can be finicky and hard to get JUST the right consistency. Once I get it to that point, I remove the gravy from the heat, let cool for a bit on the counter, and refrigerate in an air-tight container until Thanksgiving day.
NOTE: I don't have a recipe for gravy on my site — I usually just whisk 1/4 c. of flour into 1 c. water or broth (in a small bowl or measuring cup), then I pour that mixture into the pan of hot meat drippings and continue to whisk over low heat until the mixture thickens.

This will work for roughly 2 cups of drippings — if you are making tons of gravy, you'll want to whisk in more flour (or cornstarch).
Once my turkey and gravy are set aside in the fridge, I dump any extra juices and pan drippings into my biggest slow cooker. I add in all the bones and the turkey carcass and fill the rest of the slow cooker with water and some seasonings to make homemade bone broth.
I usually put in a few bay leaves, several smashed cloves of garlic, a sliced onion, some celery, and maybe a carrot or two. None of this is necessary, but I feel it gives the broth good flavor.
Turn the slow cooker on low and let it simmer all night long! Or, if you'd rather do it in a stock pot, let the pan simmer (with the lid on) all day.
Once the bones have been simmering all night (or day), turn off the slow cooker and let it cool for a couple hours. Then strain the broth to remove all bones, cartilage, and bits of skin.
You may then use that broth to make stuffing (see below) or simply divvy it up into containers for the freezer. It's delicious and very nutritious!
Moving on to a few make-ahead side dishes!
If you made your turkey 2 days before Thanksgiving and let the broth simmer over night, it's now the day before Thanksgiving… which means it's time to make the rest of your side dishes.
I use the homemade broth to make stuffing (here's my favorite Sausage Stuffing recipe). I can attest to the fact it tastes fantastic, even when I make it a day or 2 in advance.
I'll also make some sort of potatoes and some sort of sweet potatoes or squash. Once these foods are fully prepared, I put them in large casserole dishes or baking pans in the fridge, and will simply pop them in the oven to reheat on Thanksgiving morning.
A few of my favorite potato recipes:
I often make some sort of make-ahead salad or raw vegetable dish and some sort of fruit dish as well: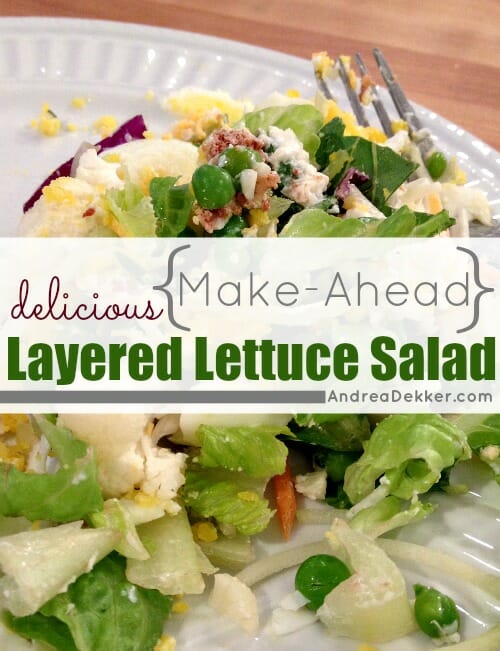 .
Don't worry, I didn't forget dessert!
I ALWAYS choose dessert recipes I can make at least a day or 2 in advance — usually at least one pumpkin dessert, one cookie or bar-type dessert, and then maybe an apple dessert…. or cheesecake!
Cookies, bars, and cheesecake can all be made 2 days in advance, the pumpkin or apple desserts should probably be made the night before so they are slightly more fresh.
Either way, the desserts are made AND cleaned up before the event — which is definitely my preferred hosting style!
Here are a few of my favorite Thanksgiving desserts:
All of these can easily be made a day or 2 in advance!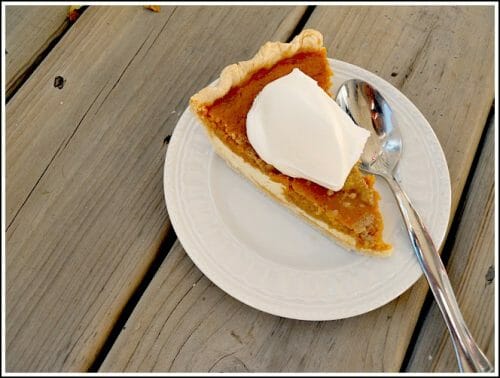 .
ON THANKSGIVING MORNING…
On Thanksgiving morning, put the sliced/shredded turkey (and some broth) back into the slow cooker on low so it's nice and warm by the time guests arrive to eat.
Set your oven to preheat and eventually put your stuffing, potatoes, sweet potatoes, squash , veggies, or any other warm side dishes you are serving in the oven at an appropriate time.
Pull your fruit and veggies/salad out of the fridge and set the table.
You're done!
No more wondering if the turkey is cooked through, no more waiting until the last minute to make the gravy, no more burning your fingers trying to quickly slice the meat before it gets cold, no more trying to make 8 different things at the same time and hope they all finish cooking and baking at the same time, and no more huge mess to clean up after your busy day.
By making your turkey (and side dishes) a day or 2 ahead of time, 90% of the prep work AND cleanup is done before your guests arrive, which means you can most likely enjoy a hot meal with your guests — imagine that!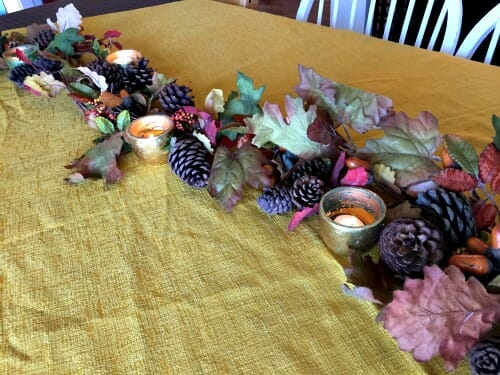 After the meal, put the dirty dishes in the dishwasher, and package up any leftovers — either for the freezer or to send home with your guests (I save lots of extra yogurt and cottage cheese containers for this purpose).
Then enjoy the rest of your afternoon, doing whatever YOU want to do instead of holed up in the kitchen cleaning up after your big meal.
How do YOU simplify big holiday meals!
(Side Note: Dave and I totally lobbied for ordering Chinese this year — we got vetoed by the rest of the group!)