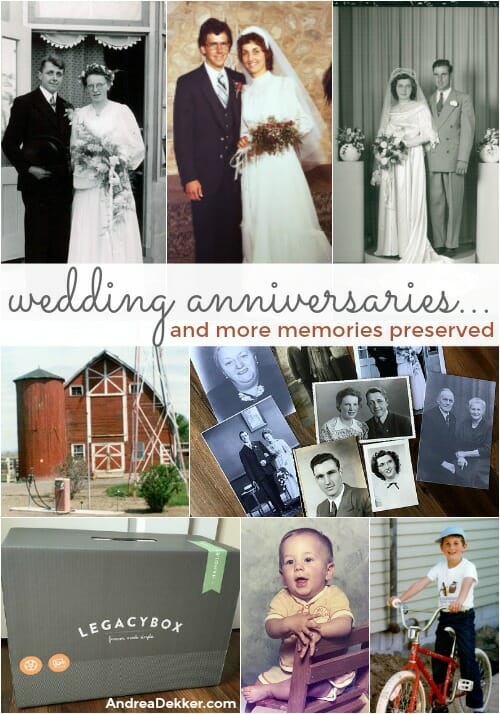 Summer is the season for weddings… and for anniversaries (at least in our families.) Dave and I celebrated 10 years in June, my parents celebrated 35 years in July, and Dave's parents will celebrate 36 years later this month!
Nora loves flipping through our wedding album and trying to guess who is who 10 years later — and she recently saw this picture of Dave's parents' wedding and immediately pointed out that "Papa's hair wasn't white when he got married" 🙂
Speaking of Dave's parents' wedding anniversary, we decided to give them an early "anniversary-type gift" and finally digitize hundreds of old family pictures (something his mom has wanted to do for years) with the help of Legacybox.
As some of you might remember, we gave my parents a Legacybox for Christmas and they used it to digitize a bunch of old family VHS tapes along with many of their older photos. We were so happy with the results that we figured it was time for Dave's parents to give it a try too!
.
What is Legacybox?
Legacybox is a brand that preserves all your outdated memories — from VHS tapes to Super 8 film and more!
The kit and instructions are very user-friendly and include everything you need — including round-trip shipping, a crush-proof box, and personal concierge service so you can talk with an expert at any time.
They have a quick turnaround time — usually just a few weeks — and their barcoding and online order tracking ensures your memories stay safe throughout the entire process.
Also, they have the BEST tagline — "forever, made simple." — it just fits their service so well.
The whole process is so simple and straightforward — the only hard part is narrowing down your pictures to the few hundred you want to digitize!
Once you decide what pictures you want to send in, simply put them in bags of 25, place the included barcode stickers on each bag, put the photos in the box, and ship with the included pre-paid postage label.
The second hardest part is waiting for the digitized media to return — thankfully it only takes a few weeks for piles of pictures to be neatly consolidated and copied onto CDs or a USB drive!
Of course, you get all the originals back as well — along with the super sturdy Legacybox storage box, which is a great way to store your original copies if you choose to keep them all.
When we got our photos back, I immediately copied everything to our portable hard drive before giving the box to Dave's parents. Now we both have a digital copy of everything.
Here's a peek at some of our preserved memories.
These are just a few of the old pictures Dave's parents had. The young couple in the middle is Dave's dad's parents — Dave's Grandpa, Simon Dekker, is who our Simon is named after (read more on that here).
These old, faded pictures are my favorites — I'm so glad we were able to preserve them.
This little cutie is Dave, around 6 months old — do you see any resemblance with our kids?
These 2 pictures are Dave and his sister with their grandparents.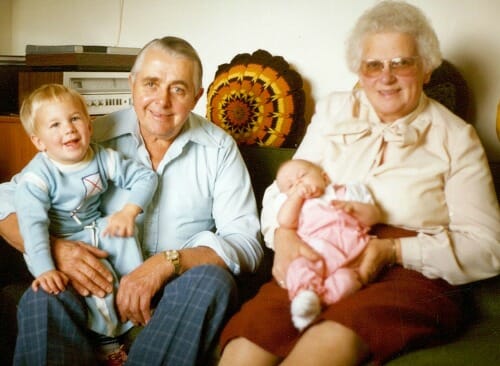 For some reason, this photo of Dave on his bike was one of my top favorites from the hundreds of pictures we digitized.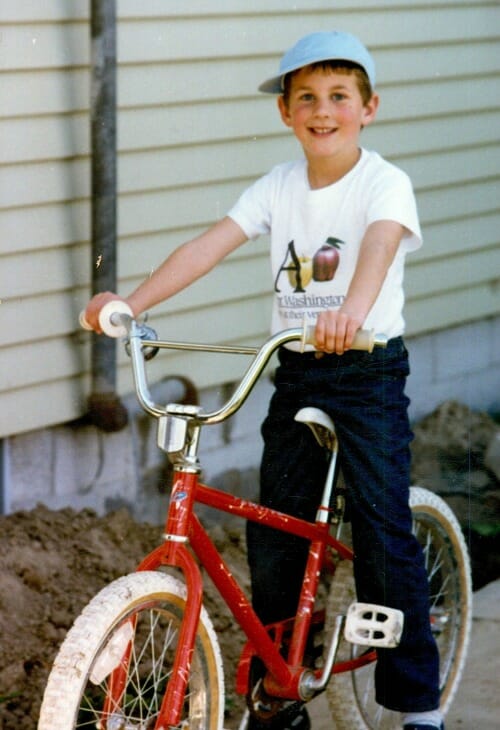 And this is the big red barn on his parent's property back in Washington.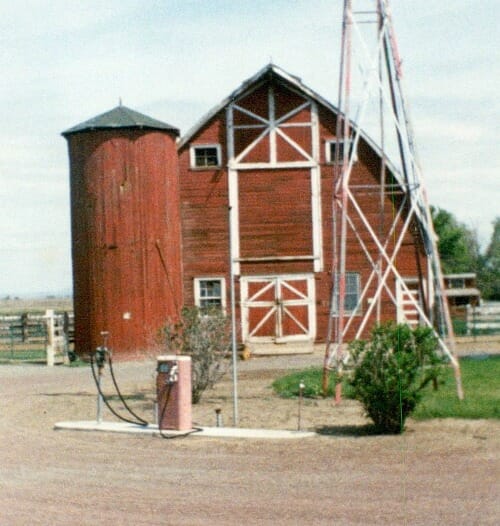 It was so fun for me to scroll through all of Dave's family's old pictures and hear some of the stories that went along with the photos!
.
Ready to Preserve Your Memories?
Are you looking for a VERY simple way to preserve your memories? If so, you're in luck!
For a limited time, Legacybox is offering YOU 40% off your first Legacybox using the code ANDREA at checkout!
This would be a fabulous anniversary or wedding gift, a great Christmas present for those of you who do your holiday shopping over the summer, or even a fabulous "just because" gift for yourself.
Not only will you clear some of your photo clutter, you'll preserve your memories for future generations to enjoy over and over again!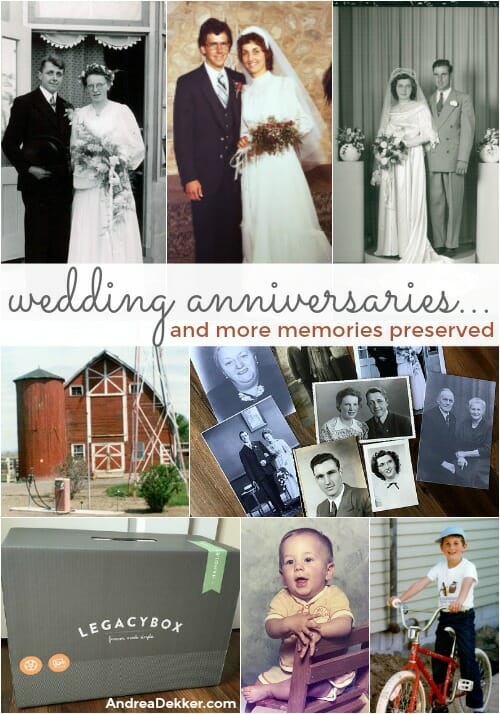 A big thanks to Legacybox for sponsoring this post and making it possible for me to provide all of the content on my blog free of charge! My opinions are 100% my own! Please see my full disclosure policy and contact me with any questions you have.