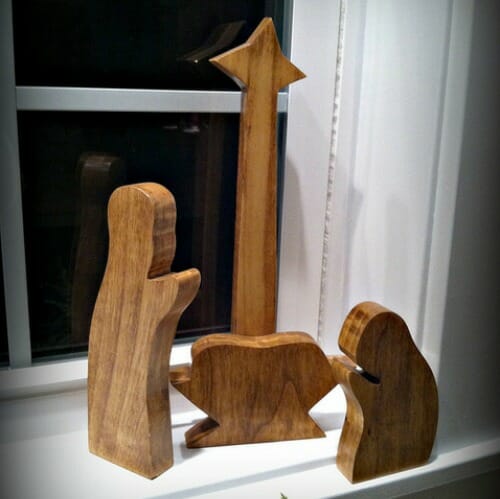 Over and over again, I've been asked what family traditions we take part in over the holiday season.
Over and over again, I've felt slightly ashamed when I explain that we really didn't do any traditions this year (or last year, or the year before that).
I think the only two things Dave and I have done every year since we were married are to send out some sort of holiday card or letter and to put up a Christmas tree at some point during the season.
Other than that, we've changed and altered and skipped and added traditions and activities as we felt worked for us and our current stage of life.
To be very clear… I LOVE LOVE LOVE the holiday season. I love holiday decorations, I love holiday parties, I love sending (and receiving) holiday cards, I love holiday baking, and I love holiday traditions.
However, I refuse to let a "but we've always done it that way" get in the way of me and my family enjoying this time of year and celebrating the real reason for the season.
Does it REALLY matter if we've always set up the Christmas decorations the day after Thanksgiving — but this year we're not planning to do it until tomorrow when Dave starts Christmas break and can be around all day to help deter Simon from pulling down our tree and breaking every single ornament?
Does it REALLY matter if we've always celebrated Christmas with one side of the family ON Christmas Day, but have recently changed it to a different date that works better for everyone involved?
Does it REALLY matter if we decorated Christmas cookies last year but aren't going to do it this year (unless you count these)? Or if we got invited to an ugly sweater party this year and didn't go to one last year? Or that we never do Elf on The Shelf or much with Santa Claus?
Does it REALLY matter if our church has always done certain things the same way, but now this year, with a new pastor, we might try something new?
Does it REALLY matter that we hardly got Nora any Christmas gifts the past 2 years (because she really didn't understand) but that this year, we're giving her more — and have hardly any for Simon?
Does it REALLY matter that we don't do stockings, or go Christmas caroling, or that we didn't go to the Christmas parade that was literally at the end of our street because it was so stinkin' cold and raining/snowing/sleeting?
I think you know where I'm going with all of this…
And that my answer to all of the above is a resounding "NO!"
I think traditions CAN BE fabulous and fun. They can add extra joy and excitement to various times of the year, and they can actually help to simplify the season because we all know what to plan on and what to expect.
However, traditions can also become a total drag and create unneeded stress when we try to force or hang onto something that's no longer there, just because "we've always done it that way".
Changing or stopping a long-standing tradition can be difficult and emotional — especially for more sentimental folks. However, in my experience, when it's obvious that a certain tradition is just not working, a change is SO refreshing.
I do realize that sometimes, we participate in traditions that we don't particularly love — because we do it for people we love (like our crazy aunt who insists on Christmas caroling every year, or our kids who NEED to decorate the Christmas tree on a certain day every year). That's fine, and definitely a nice gesture on our part.
I just feel that it's important to continually evaluate our traditions (during the holiday season and all year long) to assure we're actually enjoying the tradition. Otherwise, it just becomes another to-do to check off our list — and I don't think any of us need or want more unnecessary busyness.
So this year, as you look back on everything you've already done, and contemplate what you'll be doing over the next couple of weeks, take a few moments to consider if you'd like to change something next time around. Maybe drop one thing that's no longer working and add something else — or maybe just a few small tweaks to mix it up a bit.
There is no "perfect" way for you or your family to celebrate the holiday season (or any occasion throughout the year). Life will go on if you change, drop, or add a tradition… I promise!
What are your thoughts on traditions?