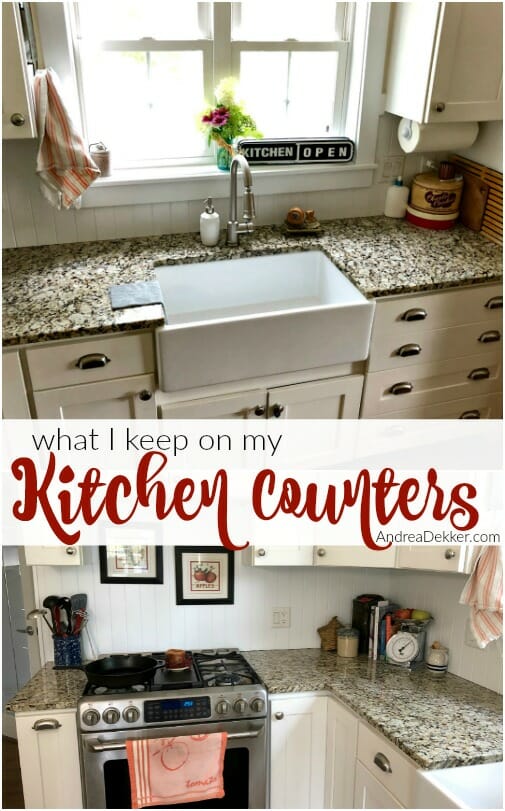 I'm often asked what I keep out on my kitchen counters… and I suppose my quick answer is "not all that much".
I'm definitely not a minimalist, in fact, I actually like decorative items sitting out on my kitchen counter. However, I've never been big on letting too much stuff sit out on my kitchen counters — especially not appliances.
NOTE: if I ever get my dream toaster, it WILL sit out on my counter!
That said, here is what you'll find on our kitchen counters whenever I'm NOT cooking, baking, or serving food (although it seems like I'm almost always cooking, baking or serving food these days!)
The Sink Counter Areas:
I keep the 3 bamboo cutting boards I use ALLLLLL the time propped up next to the refrigerator.
Next to the cutting boards are 2 decorative antique tins. The bottom one is empty, the top one holds candy. We keep a bottle of hand lotion next to the tins.
We have a soap dispenser next to the sink, as well as a soap dish with my kitchen scrubbers.
I often use the windowsill as a nice place to display flowers, small picture frames, or other decorative items.
Whenever we have dirty dishes that can't go in the dishwasher, we stack them to the right of the sink. The clean dishes dry to the left of the sink on these drying mats (also a big favorite for me).
The Range Counter Areas:
I have a few more decorative items in the back corner of the counter between the sink and range — I often change this area up based on the season.
Right now, I have some bread cookbooks, my sourdough crock, and a kitchen scale filled with artificial apples.
Next to the stove, I have a ceramic container with some of the spoons and spatulas I use several times a day. The rest of my spatulas and kitchen gadgets are in the big top drawer of our island (see below).
Oh, and I should also mention that I keep all our knives in our utensil drawer because I don't particularly care for traditional knife blocks on the counter. I use a handy knife block that fits right inside our drawer.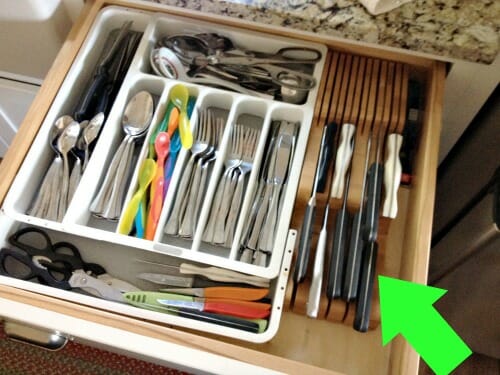 The Pantry Counter Area:
I keep my favorite fruit caddy over on the counter by the pantry.
As you can see, we do not have a massive amount of counter space — but that's OK because we have a VERY large island in the middle of our kitchen, and I do almost all the food prep and food serving from this island.
Aside from washing dishes, I don't actually use the other counters all that much.
.
So where do we keep our Small Appliances?
They are all hidden away inside our pantry cabinets!
Everything is very easy for us to access and we don't have to look at it sitting out all the time.
More Kitchen Related Posts:
Got questions? Leave them in the comments and I'll do my best to answer them!
And of course, I'd love to know…
What do YOU keep on your kitchen counters?