What I Keep on My Kitchen Counters
posted by Andrea | 09/19/2017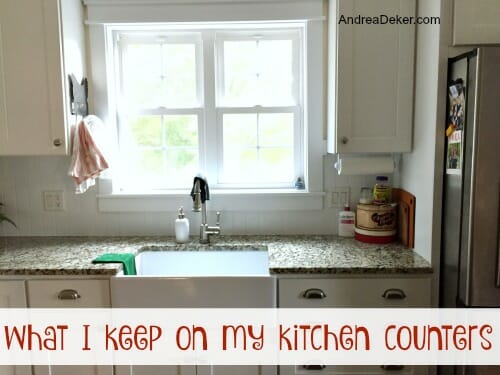 I was recently asked what I keep on my kitchen counters — and I thought it would make a good blog post (especially since I've been asked this question many times over the years).
My quick answer is: "not a lot".
I'm definitely not a minimalist, and I don't mind a handful of decorative and functional items sitting out on my kitchen counter; but I've never been big on letting too much stuff set out on my kitchen counters — especially not appliances.
I'm not sure why — but I've always "vowed" not to have any appliances out on my counters unless they looked really, really great (if I ever get my dream toaster some day, it WILL sit out on my counters!)
That said, here is what you'd find on our kitchen counters if you came over any time other than when I'm cooking or when we're cleaning up after a meal (I promise, I did NOT frantically clean or put things away for this post).
I keep the 3 cutting boards I use ALLLLLL the time propped up next to the refrigerator.
Next to the cutting boards are 2 decorative antique tins. The bottom one is empty, the top one holds candy. We keep a bottle of lotion next to the tins and our vitamins on top of this so we can easily remember to take them every day.
We have a soap dispenser next to the sink — and we often use the windowsill as a nice place to display flowers the kids bring me.
I have a couple more decorative items in the back corner of the counter — the fern and star are just for show, but the antique lether container holds all my hot chocolate and tea (for when company comes — I don't really drink the stuff).
Next to the stove, I have a ceramic container with some of the spoons and spatulas I use several times a day. The rest of my spatulas and kitchen gadgets are in the big top drawer of our island (see below).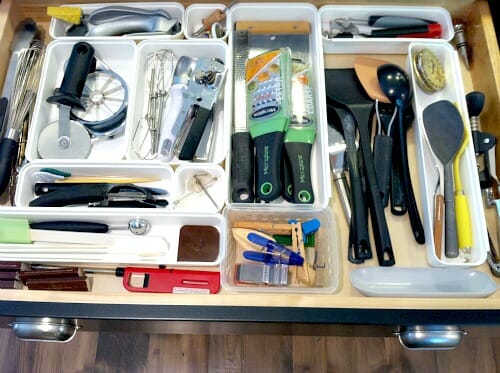 Oh, and I should also mention that I keep all our knives in our utensil drawer because I really dislike knife blocks on the counter. I use a handy knife block that fits right inside our drawer.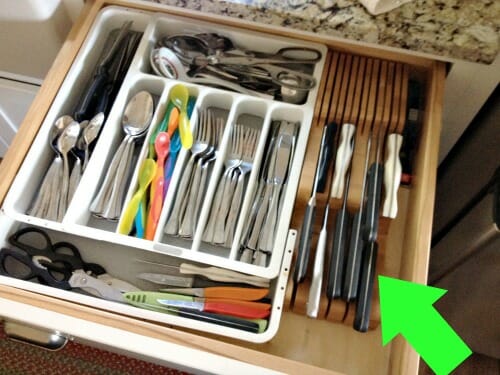 We have a wooden fruit bowl and a small ceramic crock on the counter by our pantry. We use this crock for random tiny things that we don't have a designated place for — like box tops for education that Nora brings to school or an extra key that we aren't sure what it goes to.
As you can see, we don't have a massive amount of counter space — but that's because we have a VERY large island in the middle of our kitchen — I do almost all the food prep and food serving from this island, so aside from washing dishes, I don't actually use the other counters all that much.
We try not to let anything pile up on the island (because it's where I do all my kitchen work) but we do keep our water bottles sitting out on the corner of the island for easy access throughout the day.
So that's it — aside from when I'm baking, cooking, washing dishes, cleaning out the dishwasher, or getting a craft set up for the kids, our counters are fairly empty.
.
And in case you're wondering where on earth with keep all our small appliances — they are all hidden behind cabinets!
The microwave and toaster oven are in the pantry.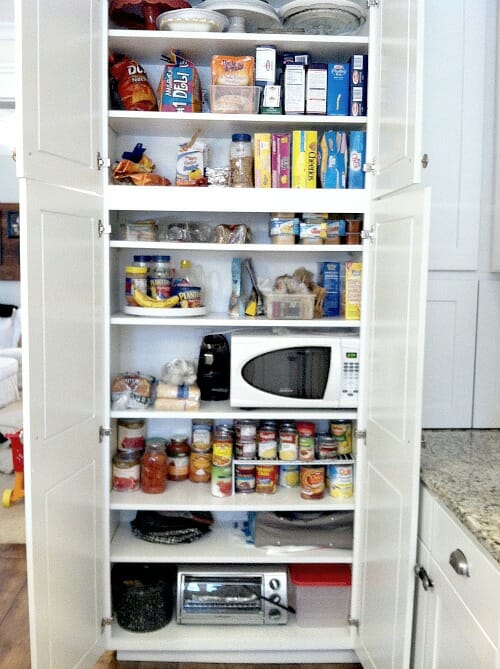 The coffee maker, toaster, and George Foreman are hidden behind our little "appliance garage".
I don't have a stand mixer because they are too bulky for my taste, but all other small appliances (hand mixer, immersion blender, waffle maker, steamer, apple slicer peeler corer, etc.) are in the upper cabinets next to the pantry.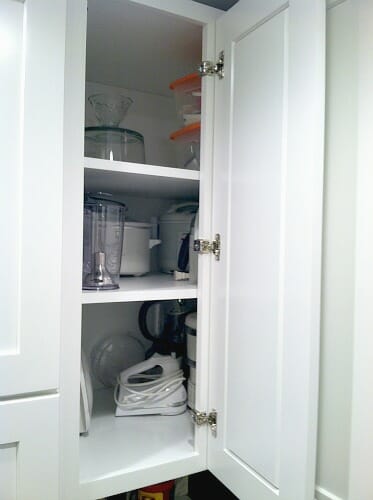 Everything is very easy for us to access and I don't have to look at it sitting out all the time.
.
I'd love to know… what do you keep on your counters?