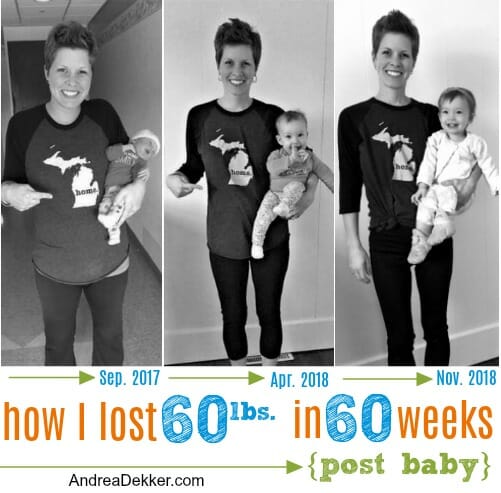 As many of you know, I am a FIRM believer in "all things in moderation"… I also REALLY dislike all forms of traditional exercise. So, before we get any further into this post, I want to clarify a few things right from the start.
I did NOT go on a "diet"
I did NOT forbid myself from eating anything, even super unhealthy junk foods
I did NOT exercise at all, outside of playing with my kids, taking them for walks, etc.
I did NOT start this health journey with the intention of sharing it publicly
I did NOT think there was any possible way I would lose over 60 pounds in the same number of weeks
Now that we got that out of the way, let me share my first-ever post about my first-ever attempt to lose weight.
WAAAAAAY back in December of 2016 (almost 2 years ago), Dave and I officially decided we wanted to try for a 4th baby. At that time, my hope was for another Fall baby so I could coast through the holiday season snuggled up with my baby, wearing bulky sweaters and leggings to "hide" my extra baby weight, and enjoying yummy holiday treats.
Once January rolled around, I would finally get serious about losing any leftover baby weight, along with the 5+ pounds of extra weight that stuck around after my first 3 pregnancies.
When Clara was born on September 25, 2017, that "weight-loss plan" began!
I wanted to lose the 35 pounds I gained with her pregnancy, plus the additional 5 pounds I mentioned above, for a grand total of 40 pounds.
However, since no one wants to worry about weight during the holidays, the first part of my "plan" was to coast through the holiday season without much concern for my weight. I never weighed myself, I just focused on eating nutritious foods while still enjoying plenty of holiday treats.
Once January hit, it was time to actually start working towards completing the rest of my 40-pound weight-loss (I still had about 20 pounds to go at that point).
I had NO idea where to start or what to do – this was completely uncharted waters for me!
I knew a fad diet or extreme eating plan would never work for me, I knew I would not be motivated to exercise with a 3 month old baby and 3 other children to care for, I knew I couldn't drastically cut calories since I was nursing, I knew I wasn't willing to spend any money, and I knew I wanted to complete my 20-pound weight loss by my birthday in June.
That left me with roughly 6 months and very few options to lose 20 pounds!
After a little research, I decided to download the Noom App and complete their 14-day free trial.

The Noom App focuses on logging food, counting calories, and eating "less dense foods" like tons of fruits and veggies, lean protein, healthy fats, etc.

I did not participate in the coaching or group sessions (hello, introvert here!) but I did really enjoy the health and nutrition information they provided every single day during the free trial. I learned a TON in just 2 weeks!

After the trial period was over, I continued using the free version of the App to log calories and make better food choices.
Fast-forward 6 months of eating smarter, and I woke up on my birthday 30 pounds lighter than in January (a 50-pound loss from Clara's birth, and 10 pounds more than my goal!!)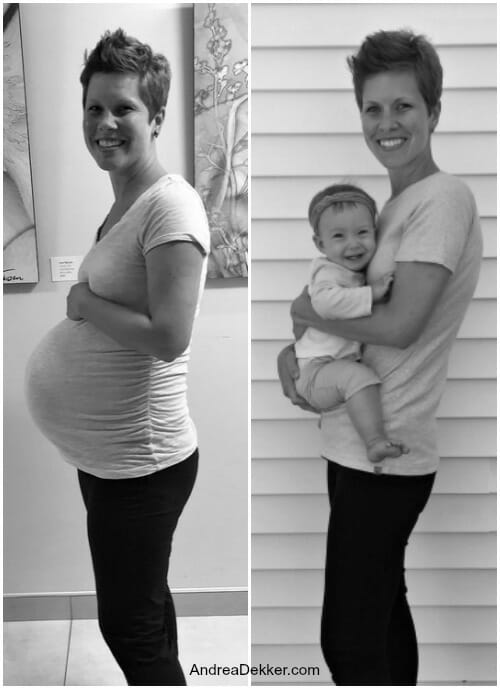 Since my birthday in June, I've lost another 10 – 15 pounds — NOT because I'm actively trying to lose more weight, but because my new eating habits have stuck around, and I'm enjoying the extra energy, better sleep, clearer skin, and healthier lifestyle I have as a result.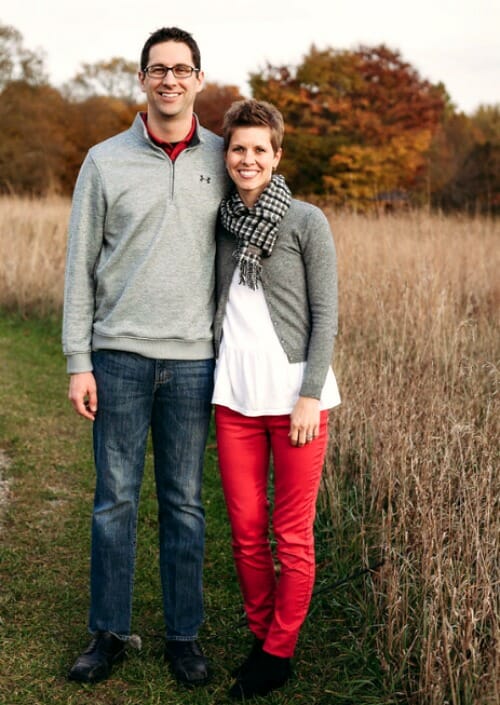 .
So… what did I do to lose the weight?
Honestly, I didn't do anything super-special — no fad diets, no special drinks or pills, no fasting, no crazy exercising, nothing. Just good old fashioned eating smarter, eating cleaner, and a full year of slow-but-steady progress.
Here are a few more details for those of you have asked! 🙂
1. I gave myself plenty of TIME.
After 7 years of weight fluctuations due to my 4 pregnancies, I didn't expect the extra weight to magically fall off in 30 days, 6 weeks, or even 3 months. It took me A YEAR to lose the weight, and I wasn't even a large person to begin with. I also didn't have horrible eating habits or a bad relationship with food.
If you are struggling to lose weight, or if you're just beginning the process, know that it will take TIME, lots and lots of time.
Don't get discouraged if you don't see results in a couple weeks. Slow and steady weight loss is MUCH more attainable (and maintainable) than a quick fad diet or cleanse.
2. I focused on eating as many vegetables as I could.
Instead of thinking about all the foods I probably shouldn't be eating, my main goal was simply to eat as many vegetables as I possibly could at every single meal.
It was a slow process, but after 60 weeks, my diet is so full of vegetables now — I'm often not even hungry for other less healthy foods.
Our family now eats spaghetti squash or zoodles in place of traditional pasta almost all the time
We swap cauliflower rice for regular rice almost all the time
I swap sweet potatoes for white potatoes almost all the time
If we do eat white potatoes, I mix in turnips or rutabaga and no one ever knows the difference
I roast 2-3 sheet pans worth of vegetables every 2-3 days
We have a huge tub of ready-to-eat raw veggies in the fridge ALL THE TIME for snacks or quick side dishes
I add spinach to almost every "pasta" dish, every casserole, every egg dish, every smoothie, etc. etc.
I've experimented with so many delicious salads (and homemade dressings and vinaigrettes) for lunches or side dishes
I fill my plate almost 2/3rd full of vegetables at every single meal (even breakfast)
Putting my focus on eating as many veggies as I could turned my weight-loss into a fun challenge instead of a harsh punishment, so this was a great motivation for me.
3. I majorly cut back on snacking.
Keeping in line with my life-long commitment to all things in moderation, I truly did not eliminate anything from my diet (even candy!)
That said, I majorly cut back on snacking and focused instead on filling up on nutritious foods during each meal.
If I DO have a snack, it's because I'm legitimately quite hungry, and I'll opt for a nutritious snack instead of a cookie or brownie.
Some of my go-to snacks are:
raw veggies and hummus or guacamole
plain yogurt with fresh berries or frozen cherries, and cinnamon
fresh fruit and nuts
a small bowl of broth-based soup
As I tracked my calories with the Noom app, it was astonishing to me how many calories were "wasted" on snacks throughout the day — even healthier snacks. So I just decided that I'd focus on filling up at each meal, and then not worry about snacks throughout the day.
This saves me SO many calories, and I honestly enjoy my meals more because I'm usually quite hungry by the time the next meal is served.
4. I stopped drinking calories.
I've never been one to drink many non-nutritious beverages. However even drinks like milk, 100% juice, cider, and fresh lemonade have SO many calories — and I drank A LOT of milk (like 500-700 calories a day!)
Since I've never gotten into coffee, tea, alcohol, or any other flavored drinks, the decision to drink only water was fairly easy for me (outside of my milk obsession!)
I still have milk on occasion, but other than that, I drink water for every meal and any time I'm thirsty.
5. I stopped stressing over a little wasted food.
I absolutely HATE to waste food — even non-nutritious junk food. It just feels so wrong to me, and it's not how I was raised.
I was the mom who regularly ate the stuff left on my kids plate, even if I wasn't hungry, even if I didn't like the food, even if it was cold — simply because I didn't want to throw food away. I KNOW some of you can relate to this!
I also ate EVERY SINGLE BITE on my plate, even if I didn't particularly care for the food and even if I was super full.
Now, I eat until I'm full, and then I stop (revolutionary… I know!) If this means throwing away a small amount of food from my plate, then so-be-it. If this means my kids have a little wasted food, oh well.
We've gotten into the habit of starting with smaller portions and having more if we're still hungry. This cuts back on a lot of waste as we just save the untouched food for leftovers the next day… and I don't walk away from the table overly-stuffed.
6. I spent tons more time in the kitchen.
I'll be honest, eating healthier has meant TONS of extra time in the kitchen for me.
Not only do I wash, chop, and prepare SO many different fruits and vegetables on a daily basis, I'm also making mostly "from scratch" foods for our meals instead of relying on some of the processed convenience foods we used to enjoy a couple times a week.
Plus, I often end up making 2 variations of each dinner as I do not expect our kids to eat everything Dave and I have been eating. They have more carbs in their meals while we have more veggies in ours, I use spicier sauces on our meals, and aside from Tilapia (which they love), I don't force them to eat fish.
On top of all this, we've eaten at home for the vast majority of all our meals these past 60 weeks. Aside from an occasional outing to Culver's or Arby's, or an invitation to Dave's parents' for dinner, we always eat at home — which means I'm always "in charge" of what I'm eating. This was great for losing weight, but definitely contributed to more time spent in the kitchen.
7. I waited until I was ready.
I think this might be the MOST important piece of my healthier-eating puzzle… especially since I'm so strong-willed!
Anyone could TELL me I should eat less sugar, anyone could EXPLAIN all the benefits of eating more nutritious foods, and anyone could SHOW me how fabulous they looked and felt after losing a few pounds or changing the way they ate. However, none of that would have mattered one bit until I was personally ready to try it for myself.
For the past 7+ years, I've been pregnant, nursing, caring for multiple small children, working on house projects, growing a business, and trying to squeeze in a few extra minutes of sleep whenever I could.
Although I'm not proud to admit it, my own self care was one of my LAST priorities. As long as I was eating something, I couldn't care less if it was good for me or not. I wasn't in a position to devote mental or physical energy to caring for myself in this way, and honestly, I'm OK with that.
It was a season of life — a very draining season of life — but I'm through it now.
Our house projects are basically finished (minus our laundry room!)
My business is in a good place where I no longer have to devote hours and hours every day to keep it running.
I've carried, birthed, and nursed 4 children and I'm SO CLOSE to moving out of this stage too.
Our kids all go to bed well and sleep all night long (the majority of the time).
Our kids are getting more self sufficient and don't need me to do every single thing for them anymore.
Both Dave and I will agree that we feel like we're finally turning a corner in our family life. We no longer feel like we're running on fumes at the end of every day, we no longer feel overwhelmed with all the "extra" that comes with working, home projects, church and school commitments, raising children, etc. etc.
I can devote much more mental energy (planning meals), physical energy (preparing meals), and emotional energy (resisting food temptations) to my own health right now… all of which were essential to my success these past 60 weeks.
.
Of course, it's not always as simple as "giving it time", eating the "right foods", and waiting until you're "ready" — I do have several other things working my favor.
For example:
I'm still fairly young
I have a good metabolism
I'm very goal-oriented and self-motivated
I wasn't hugely over-weight to start with
I've always had a healthy relationship with food
I'm home almost all the time so I have access to my kitchen and my own food
I enjoy cooking and coming up with new recipes
I'm not a picky eater
I'm not allergic or sensitive to any foods (that I know of)
I don't have any medical conditions that would make weight loss more challenging
We have wiggle room in our grocery budget to accommodate the cost of healthier, more expensive foods
Dave is very supportive and never makes me feel silly or guilty for doing something for myself
.
Looking back over the past 60 weeks, I'm proud of myself for sticking to my plan, for losing every single pound of baby weight (and more!), for incorporating many new healthier habits into my own life (and my family's life), for trying new foods, for experimenting with new eating styles, for realizing my various "food triggers", and resisting many of my unhealthy food temptations!
I'm also super proud of Dave and the kids! They have all been so adventurous and always tried my new (and sometimes crazy) recipe concoctions without too much complaining (the kids still won't eat beets, most fish, or veggie omelettes, but they do pretty well).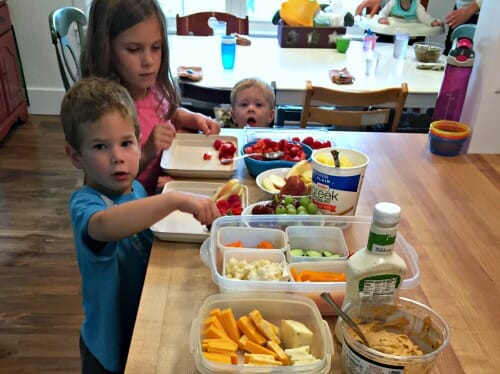 Yes, we still eat grilled cheese, quesadillas, brats, hamburgers, baked beans, pizza, mac and cheese, scotcharoos, donuts, pumpkin pie, chocolate cheesecake, and more… BUT we eat so many other more nutritious options alongside of these occasional treats.
I can honestly say my entire outlook on food has changed over the past 60 weeks – which is so crazy for me to realize.
It's not even about weight-loss or weight-management for me anymore (I'm no longer actively trying to lose weight)… it's more about how much better I feel now that I'm eating healthier, more nutritious foods.
I'm still in favor of all things in moderation, and I'll still have small portions of special treats, but I'm so much more aware of how food (nutritious or junk) affects my life… and I have a feeling my healthier cooking and eating habits will stick around for a long time!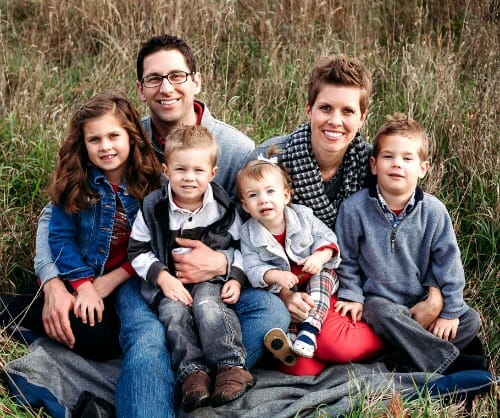 If you're starting your own weight-loss journey (or if you're stuck in the middle, not seeing progress as quickly as you'd like to), I hope today's post will offer a little motivation and encouragement.
Know that it WILL take time, it WILL be challenging, you WILL hate it at times, others WILL make rude and annoying comments, but the results WILL be worth it!
.
And if you're no where near a point in your life where you have enough mental, physical, or emotional energy to devote to eating more nutritiously… please don't let yourself feel guilty. There are MANY worse things in life than eating less nutritious foods — I promise!
If eating more nutritiously and/or losing weight is important to you, you will find the right time eventually… don't push it.
In the mean time, enjoy your holiday season and all those yummy treats… with a few raw veggies on the side!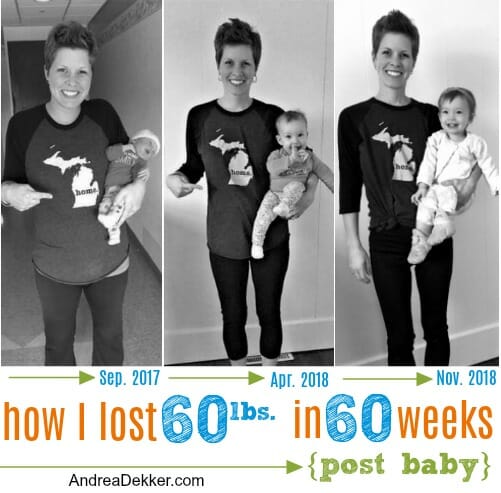 Professional family photos via Zander & Breck Photography