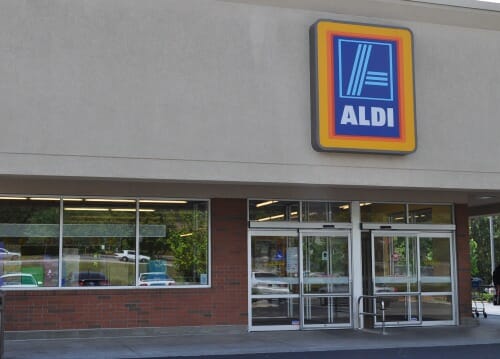 2019 UPDATE: Thanks to the the addition of 2 brand new, very nice Aldi stores in our area, I now do almost ALL my grocery shopping at Aldi, and just love it! Read more about my current Aldi shopping routine here.
Two questions I get on a VERY regular basis (like every single week) are:
1. Do you shop at Alid?

2. Why don't you shop at Aldi? (usually asked after I answer "no" to the first question)
Now, to be fair, I have nothing against Aldi stores in general — and I DO shop there every once in a while (like once every 4-5 months) to stock up on canned goods and chips — because they have great prices on those items.
I just don't do my regular weekly grocery shopping at Aldi (for a variety of reasons listed out below)
My mom shops at Aldi, many of my friends and relatives shop at Aldi, and I'm sure many of you shop at Aldi — that's fine. The store by me is ALWAYS jam packed any time I've been there, so obviously, not everyone shares my opinions 🙂
My intention in writing this post is in no way trying to persuade YOU not to shop at Aldi; I'm simply stating a few reasons why it doesn't seem to make sense for ME to shop at Aldi — and I'm officially typing it up in a blog post so I can link to this post whenever I get Aldi questions in emails (insert evil laughter!)
So, if you've ever emailed me wondering why I don't shop at Aldi — here's why!
1. The Aldi closest to me is not great.
I don't know, maybe I'm picky, but the only Aldi store that's remotely close to our home is extremely small, kind of dirty, and it's always very picked over (the last time I went, they were out of eggs, potatoes, sweet potatoes, and yogurt!)
Also, I've been to this same Aldi many MANY times in the last 7 years and I don't think I've ever seen more than one cashier working at a time — which means the line is at least 10 people long (seriously). I've never waited less than 15-20 minutes to check out, and it's often longer.
Because I'm big on time management, I've frequently timed myself shopping at Meijer and then at Aldi, and I can almost always get in and out of Meijer faster than Aldi because of the ridiculously long checkout lines. (My record at Meijer is 17 minutes for a full week of groceries!)
2. Aldi has a lack of variety.
Honestly, there have been times when the massive variety of products at Meijer can actually be overwhelming for me. However, I do appreciate being able to choose from more than 3 types of yogurt (vanilla, blueberry, strawberry) and more than 3 types of cheese (cheddar, colby jack, mozzarella).
I'm not super brand loyal and I don't buy exotic foods or high-priced brands, but the Aldi store by me has an extremely limited selection of foods — and the produce is almost laughable.
They do have great prices on produce, but they rarely have it in stock to actually buy. As I mentioned earlier, the last time I went their specifically for potatoes (I was making lots of soup) and they were completely out of russet potatoes, red skin potatoes, and sweet potatoes. They were also out of bananas, apples, celery, and carrots — and this wasn't the first time they were out of what I needed.
3. Aldi only sell groceries.
This might sound like a "duh" answer — but I'm used to shopping at Meijer where I can get everything I need in one trip. For those of you who aren't familiar with Meijer, it's basically like a Super Target or Super Walmart.
On top of my weekly groceries, I can also buy a couple cans of spray paint for my next project, a flood light bulb for our front porch, a baby present for my friend's shower, a birthday card for my grandma, and fill a prescription — all without loading Nora in and out of the car 15 times and driving all around down.
Plus, I can grab a rotisserie chicken for $5 or a 40%-off HUGE deli pizza for about $3.99 if that's the plan for dinner (we do this once in a while).
For those of you who don't know me well, I absolutely HATE running errands, so the fact that I can do everything at one store at Meijer is pretty much a deal-clincher for me. Not only do I save time and gas money, I also save both my and Nora's sanity 🙂
4. Aldi doesn't save me time or money in the long run.
Aldi is known for having great prices on groceries without the need for special sales or coupons — and I totally get how this is appealing for most people. Aldi DOES have great prices on a lot of things, and as I mentioned above, I do shop there every once in a while to stock up on canned goods and chips.
However, after calculating my various Aldi trips (approximately $35-$40) versus Meijer trips (approximately $50), I figured that I only saved an average of $10-$15 per week. Now, that sounds like a lot, especially after adding it up week after week… BUT since I can rarely find everything I need at Aldi, I still have to go to Meijer to pick up the rest. This extra trip wastes time and gas — and also usually costs an extra $10-$15. So my over-all weekly totals end up almost identical.
I'm not a huge couponer, but I do save several dollars each week using coupons; and Meijer has some really good weekly sales, so if I just learn to stock up when items are on sale (and use coupons if I have them) I can often get better prices at Meijer. Plus, the Meijer store I shop at has a KILLER reduced produce rack and reduced bakery rack. I can fill my cart with product for pennies on the dollar — much cheaper than the prices at Aldi.
5. Aldi doesn't take credit cards.
I realize this might go against everything that Dave Ramsey followers believe, but Dave Dekker and I use our one credit card to buy everything. EVERYTHING. Then we pay off the entire bill at the end of the month.
Our credit card is a Meijer Master Card so we get extra discounts for buying gas and groceries at Meijer. We also get extra coupons mailed to us monthly for 5%, 15%, and even 20% off groceries and general merchandise. And if that isn't enough, at least once a month, I get a $5 off a $50 gift card purchase — which means I can buy a $50 gift card for $45 (and then turn around and use that gift card to buy groceries.)
So not only is it like a free $5 off, I can also use any other discount coupons AND dollar-off manufacturer coupons in one transaction (no, it's not as confusing as it might sound!)
I don't even own a debit card and I rarely carry cash, so if I'm going to shop at Aldi, I need to make a separate trip to the bank — which uses more gas and more time.
.
Again, I'm certainly not trying to say YOU shouldn't shop at Aldi — so please don't feel the need to defend yourself if you do. I realize that all Aldi stores are very different and you might have an extremely nice store by you, you might not have any other grocery stores to choose from, or you might love using cash 🙂
I also know for a fact that all Meijer stores are different and that the Meijer I shop at is extremely nice.
So for those of you who have questioned why I don't do my regular shopping at Aldi — hopefully this (really long) answer will help to explain!
Do you have a favorite (or least favorite) grocery store?