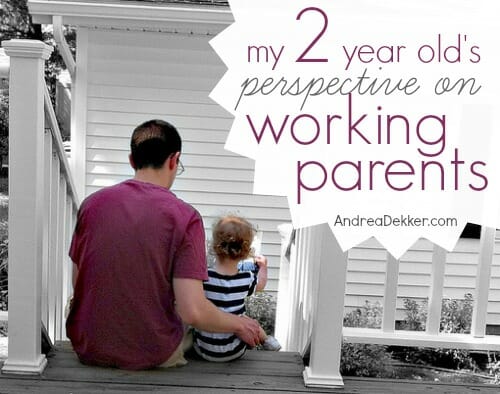 Before I had kids, I NEVER EVER expected to be a stay-at-home-mom. Even though both Dave's mom and my mom were stay-at-home-moms, I just knew that was NOT for me.
I loved working, I loved contributing to our family's income, and frankly, I figured that since I really didn't like small children that much, I would be a better parent if I wasn't around my kids ALL DAY LONG.
To be perfectly honest, I AM a better mother when I get a break during the day 🙂
Fast-forward a few years, and we were expecting our first baby. I was working almost full-time from home AND 2 days a week for a local non-profit organization job that I really liked.
I figured this would be the absolute PERFECT set-up for me and for our family. I could work from home 3 days a week (and some on the weekend if necessary) and then bring Nora to daycare 2 days a week to give me a little break. Plus, my sister said she was willing to watch Nora 1 day a week — which meant only 1 day a week of daycare!
Well, daycare for only 1 day per week is apparently really difficult to find — so thankfully, my 2-day-a-week job was willing to let me work 1 day a week in the office and 1 day a week at home. This meant I only had to leave the house 1 day a week AND my sister was my babysitter — win, win!
However, after several months of Nora refusing to eat or sleep on the 1 day I was gone, I was getting stressed and starting to dread that day every week (not to mention it wasn't a walk in the park for my sister either!)
I eventually ended up quitting that job, and although it was a bummer for me, Nora was MUCH happier 🙂
I was officially a FULL-TIME work-from-home-mom, and while I was thankful to still be doing what I loved via my computer and making additional income, it was really hard for me to learn how to balance everything. It was also hard for me to be around Nora all day, every day, without getting much of a break (since she wasn't a big napper).
However, we made it work and I was happy that she was happy.
I've definitely been guilty of plopping Nora in front of the TV or iPad so I can get some work done — but our flexible schedule also offers us a lot of one-on-one time all day long.
I knew I was doing what was right for OUR family, but I couldn't help being a little jealous of my friends who "got to" work outside the home while their children played willingly with other kids at daycare. Then in the evening, they could have uninterrupted family time without trying to balance work and family all day long.
Yes, I realize the grass is always greener on the other side, because many of my friends who work outside the home have told me how much they wish they could work from home 🙂
After more than 2 years of being a full-time, work-from-home-mom, I can honestly say that THIS is what I'm supposed to be doing. Although there are many frustrating moments and difficult days, I'm so fortunate to be able to do what I love, from home, with the people I love.
I'm not complaining — nor do I think my situation is the right solution for all families.
However, the other day, Nora was lamenting the fact that Dave was at work again (she always has a rough time on Monday mornings since he's not around when she wakes up.)
This is the conversation we had…
She asked me, "Why does dad have to teach kids at school?"

Without really thinking, I responded by saying, "He needs to work to make money so we can buy your special toys and snacks."

She was quiet for a little bit and then said, "What if I don't need my special toys and snacks… could dad stay at home?"
I was literally speechless!
.
I was amazed that my 2-year old could process the fact that she would rather do without her toys and special treats IF it meant spending more time with her Dad!
I will agree that Dave was gone A LOT from November through February with basketball practices, games, student council events, and other obligations he was committed to — but he still saw Nora every day.
Thankfully, he's been home a lot more lately, and when he's home, he plays with Nora for hours at a time and is great about helping with Simon too.
Before I go any further, I just want to note that this post is in NO way meant to put a guilt-trip on Dave or any other working parent.
This conversation also made me stop and think about how important it has been for ME to be home with Nora these past 2 years.
As you probably know from reading some of my other posts, Nora is very much a mama's girl and NOT thrilled about being around strangers, other kids, or in strange places. I'm positive her separation anxiety and sensory issues would be much worse if I insisted on working outside the home and sending her to daycare — even for just a few days a week.
Honestly, I would LOVE for Nora to be able to go to daycare (or even just have a babysitter) — but at the same time, I'm so thankful we don't have to deal with that right now.
Every family is different, and I definitely don't think there's a "right" answer for if you should or should not be home full-time with your kids — but I DO think it's amazing how perceptive our kids are.
Even at 2 years old, my little girl can already distinguish between her desire for tangible goods and quality time.
I'm fairly positive "quality time" is her #1 love language (totally opposite of me by the way!) so that makes a difference too — but I think it's super important to realize that our kids want US.
Even if they are older and say they want the latests and greatest iPhone, clothes, handbag, etc. they still want (and need) US — quality time with US, to know we're listening and that we have time for them.
That's more important than anything we could buy them — and it can be achieved whether we work full-time, part-time, from home, outside the home, do volunteer work, etc. — we just need to be intentional about it!