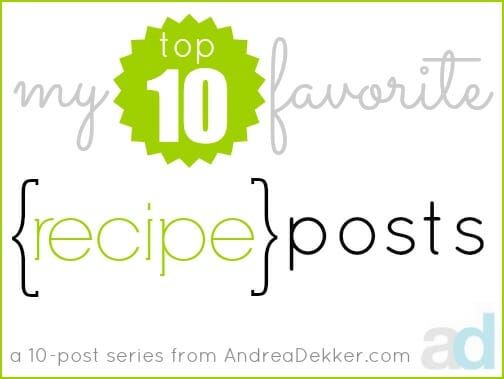 As I planned ahead for the arrival of baby Simon, I thought it might be fun to resurrect some of MY favorite posts from the past 3.5 years of blogging. I'll be publishing this 10-post series during the 4 weeks after his birth (read all the posts here).

I hope you enjoy reading (or re-reading) these posts as much as I'll be enjoying the extra snuggles, books, smiles, and naps with Nora and Simon!
Over the past few years I've shared hundreds of super simple, family-friendly recipes here on my blog (you can browse through them all here). I'm not a gourmet chef by any means — and frankly, I really don't know much about the "right way" to cook and bake. However, I do know what we like, what tastes good, and what's easy to make — and that seems to have resonated well with many of you!
I'll be sharing more of my favorite kitchen-related posts in a future Top 10 Post (think Meal Planning, Freezer Cooking, Pantry Stockpiling, Canning, etc.) but today, I'm sharing some of my favorite recipes here on my blog.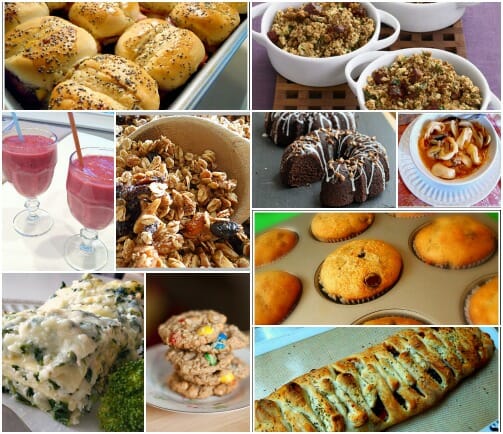 Here are my Top 10 Favorite Recipe posts — in no particular order.
Stromboli is one of my go-to recipes for a busy weeknight — because it literally only takes minutes to throw together (as long as I remember to defrost the dough the night before). Plus, I can customize the filling ingredients to fit our tastes — or whatever ingredients I have on hand.
Related Post = Stromboli Bites — perfect for game day, after school snacks, appetizers, etc.
.
At least 3 times a year, I'll make a MASSIVE batch of Monster Cookie Dough. I'll bake at least 8-10 dozen cookies (putting some in the freezer for later) and then put the rest of the dough in the freezer as well. This assures that we'll basically have a never-ending stash of Monster Cookies in our pantry or freezer at all times!
Related Post = Simple (semi-homemade) Monster Cookies — they make a much smaller batch of cookies
.
This is BY FAR the best Chicken Lasagna recipe I've ever tried. And even if you don't want to make lasagna, the cheesy sauce is absolutely delicious — perfect for any type of pasta (and yes, this is one of Nora's favorite meals too!)
For the record, almost any type of pasta dish ranks pretty high on the list of favorites in the Dekker house — so I have LOTS of pasta dishes sprinkled throughout my blog. You can see more of the main-dish pasta recipes here.
.
I got this recipe from Dave's mom a couple years ago — and she got it from a co-worker (who probably got it from a friend or something). Since then, I've not only shared the recipe on my blog, I've also had recipe requests from friends, family, and church folks who have sampled these sandwiches at various potlucks.
They are SOOOOOOO delicious (hence the name) and SOOOOOOOO simple to make. There's no way I could do a Top 10 recipe post without including these sandwiches.
.
I always keep a variety of fruit (usually purchased on the discount produce rack) washed and ready to go in our freezer. We use it to make smoothies all year long — our favorite combination being Apple, Banana, Berry.
Smoothies used to seem like an overwhelming thing to make — but since I have all the fruit ready to go, I just throw in a little yogurt and some water or juice and I'm ready to blend. It's such a healthy (and relatively filling) snack or treat any time of the day.
Related Post = Any Fruit Smoothies
.
Anyone who follows me on Facebook knows that I make this cake (or one of the MANY variations) on an extremely regular basis — sometimes multiple times each month.
It's the world's simplest semi-homemade cake that tastes like you slaved away all day — and actually looks relatively gourmet too. As long as you have a cake mix and a box of pudding, your bundt cake-making possibilities are virtually endless 🙂
Related Post = Any "from-a-box" Bundt Cake
.
Chicken Pot Pie is definitely one of our all-time favorite recipes (and yes, even Nora gobbles this up!)
Although it seems like a little extra work (with all the chopping and simmering) I can have the pie in the oven in about 30 minutes and then I just need to wait for it to bake.
This is one of those recipes that often tastes even better as leftovers… and since it makes a double batch, I usually make one pie for dinner and then put the filling for the other pie in a freezer container for later.
.
This recipe is from my mom — and I think she got it from my grandma. It's by-far the best Banana Muffin (or Banana Bread) recipe I've come across and I never make less than a double batch (yes, the muffins freeze fabulously!)
The chocolate chips add just the right touch of sweetness — which is probably why you'll usually find me whipping up a double batch on a monthly basis.
.
Dave and I love eating yogurt and granola for breakfast or even for a snack.
Related Post = Homemade Granola Bars
.
My all-time favorite soup — hands down. It's super delicious and really filling — almost like a stew.
I've brought a slow-cooker filled with this soup to many potlucks and I've never had to bring any of it home again. It's so good that I even make it in the spring (and maybe even on a cool summer day!)
.
So that's my list… make sure you check out ALL my recipes in my virtual recipe box.
Which recipes are your favorites?