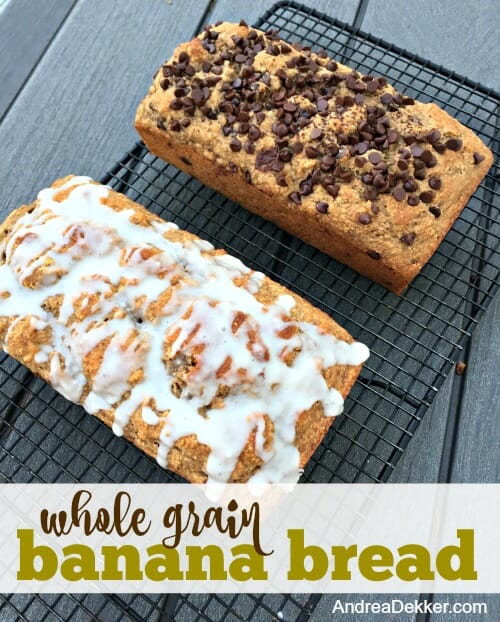 As I mentioned earlier this month, one of my favorite things is "red tape bananas" — which, if you have no idea what I'm talking about, are the very brown, overripe bananas sold for a deep discount at many grocery stores.
I try to buy a bunch or 2 every time I hit the grocery stores, and I freeze them (in the peel) to use for baking throughout the next few weeks.
Banana bread is a HUGE favorite in our house, and my old stand-by recipe for Banana Chocolate Chip Bread (or muffins) is always a winner for breakfast, snacks, and even dessert.
However, as I've been integrating more whole grains into our daily diet, I've started the process of "making over" MANY of my favorite recipes.
My banana bread recipe was the very first quick bread / muffin recipe I made over — and after pulling several successful loaves of banana bread from my oven these past few months, I believe I'm FINALLY ready to share this recipe on the blog!
My recipe is 100% whole grain; however, you could easily do a 50/50 mix, or even use 100% all-purpose flour if that's what you have in the house.
I'm sharing a few different variations of the recipe (mostly just different mix-ins like chocolate, granola, etc.) so you can tweak it to fit your taste buds.
Either way, I'm confident this recipe will produce extremely moist, flavorful, sweet, delicious banana bread WITH the added benefits of whole grain, fruit, Greek yogurt, etc.
Give it a try and let me know what you think!!!
Recipe for Whole Grain Banana Bread
Makes 2 loaves
INGREDIENTS:
5 medium overripe bananas; mashed (I always freeze and defrost mine so they are extra mushy)
2 eggs
1/2 c. applesauce (or vegetable oil)
1/2 c. plain Greek yogurt (or sour cream)
1/2 c. honey ** (or granulated sugar)
1 T. vanilla extract
1 T. cinnamon
3.5 c. whole grain flour (I use 450 grams of freshly ground soft wheat, spelt, and oat flours)
1 T. baking powder
1 t. baking soda
1 t. salt
1/2 c. – 1 c. optional nuts, granola, or chocolate chips * to mix into the batter or sprinkle on top
1/3 c. optional cinnamon-sugar to layer in the batter and/or sprinkle on top **
1 c. powdered sugar + 2 T. milk to make an optional glaze for the top
* If you choose to add the chocolate chips you can decrease the honey to 1/4 c.
** If you choose to layer cinnamon-sugar in the middle and on top of the batter, you can eliminate the honey all together.
DIRECTIONS:
Preheat oven to 350ºF. Grease 2 loaf pans (I use 8″ x 4″, but you can use any size you have — adjusting the baking time accordingly)
In a large mixing bowl, combine all wet ingredients (bananas, eggs, applesauce, yogurt, honey, and vanilla).
Add in flour, powder, soda, salt, and cinnamon. Mix with a rubber spatula until just combined.
Add in any of the optional mix-ins (or save these to sprinkle on top)
Let batter rest for 10 minutes so the whole grain flour can absorb the liquid.
Pour batter into prepared pans and sprinkle with optional toppings, or layer with cinnamon-sugar if desired.
Bake in preheated oven for 40 minutes (less time for 9″ x 5″ pans).
Remove loaves from pan and let cool on a wire rack.
Drizzle still-warm loaves with glaze if desired.
Eat and enjoy — or freeze for later.
I usually make this bread first thing in the morning (hence the dark pictures above!), so we can all enjoy still-warm-from-the-oven bread with our breakfast. We polish off the better part of one loaf for breakfast, and the kids usually finish the first loaf for dessert after lunch.
I often slice the 2nd loaf and put the slices into individual bags and freeze for packing lunches or taking snacks on-the-go throughout the next week or 2.
That said, this bread will keep well for 3-4 days if stored in the refrigerator. I leave it out on the counter the first day, but then refrigerate it after that as it's very "wet" with all the bananas, yogurt, applesauce, etc.
This has been my go-to quick bread recipe for the past 4 months… I'm certain I've made it at least 10 times since Christmas alone!
The kids just gobble it up, and considering it is packed with fairly healthy ingredients, I almost always say "yes" when they ask for more!
Here are a few of the different ways I've made this bread…
With chocolate chips and granola sprinkled on top.
With cinnamon-sugar layered once in the middle of the batter, and then sprinkled on top.
With a powdered sugar glaze poured over top.
I've also made it into mini loaves (3 mini loaves = 1 regular loaf) which are PERFECT for gifts!
A few more recipes that use overripe bananas:
What are you waiting for…. go stock up on overripe bananas and make some whole grain banana bread!!!
Do you have a favorite quick bread recipe?
Visit my virtual recipe box for more simple, delicious, family friendly recipes!