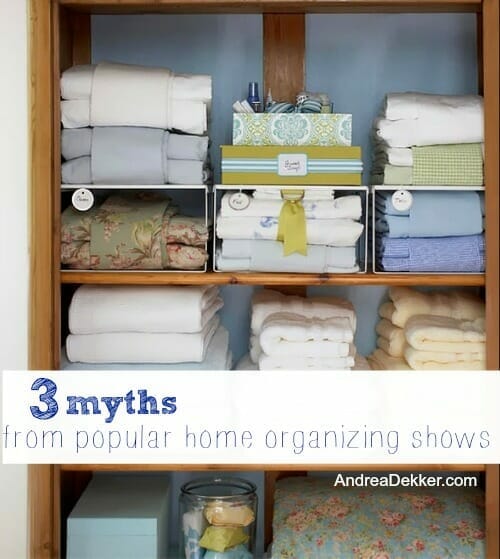 Although I haven't watched much TV in the past 7 years, I definitley watched my fair share of organizing and home makeover shows in the course of my life — everything from Hoarders and Extreme Home Makeover to Clean Sweep and Fixer Upper.
The results are always jaw-dropping — which is one reason the shows are so addicting. However, as I hope many people realize, these shows are far from "real life".
They have teams of people (including professionals) working around the clock to transform the spaces in record time, they can do so much more with their budget since much of the labor is donated and the products are discounted due to advertising, and of course… they only show all the fun stuff on film!
Although I do think these makeover shows can be very motivational, I also think they have the potential to make real life organizing projects in our own homes seem out-of-reach and overwhelming for us normal people.
If you've ever felt completely overwhelmed with the thought of everything you need and want to do around your home, I hope today's post offers a few helpful suggestions and ideas. It might not be as fun-filled or as entertaining as your favorite home show — but I think my advice is a bit more practical! 🙂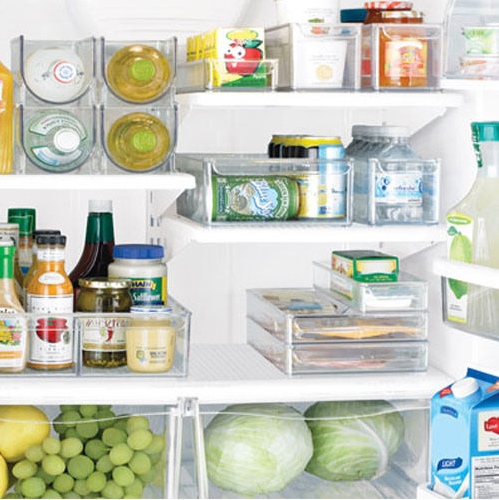 .
1. You do NOT need huge amounts of time, money, or resources to complete your project.
Contrary to what you see on TV, you don't need to take time off from work, you don't need to hire childcare or ship the kids off to grandparents, you don't need to move into a hotel for the week, you don't need to bribe all your friends and family to help, and you don't even need to spend money hiring a professional.
You just need to get started (sooner rather than later if possible!)
Yes, the project might go faster and be more fun with many helpers and an unlimited budget, but I can speak from lots and lots of personal experience that even as a mom with several young children at home, I can carve out a few minutes here and there to plug away at an organizing project.
Of course, I am grateful for the times Dave is home and I can get a full hour or more of uninterrupted time to work on my project — but I've finished many larger organizing projects in 15-20 minute intervals — every little bit DOES make a difference!

2. You do NOT need fancy containers or coordinating color schemes.
Oh how I love the look of matching organized bins — but I also know that it is NOT necessary in any way for a functional and organized space.
Yes, I can see the appeal for TV and magazine audiences — and it's a great marketing tactic to sell specific products, but it's often not practical or economical. Unless you already have a bunch of matching containers in your home, this concept could add a hefty price tag to your organizing project. Plus, it takes a decent amount of time and energy to set up the system, make the labels, and keep refilling the containers.
Aside from my whole grains (which all look the same if I don't have them labeled) you will find very few cute containers or fancy labels in my organized home… and yet, I can still quickly and easily find everything I need.
If cute containers and labels are your thing, go ahead and use them… but please know they are NOT necessary to successfully organize your home.
In fact, I strongly encourage you not to purchase any organizing containers until AFTER you've finished going through a significant amount of stuff. You might be surprised how many empty containers, boxes, bins, etc. you find as you start to purge!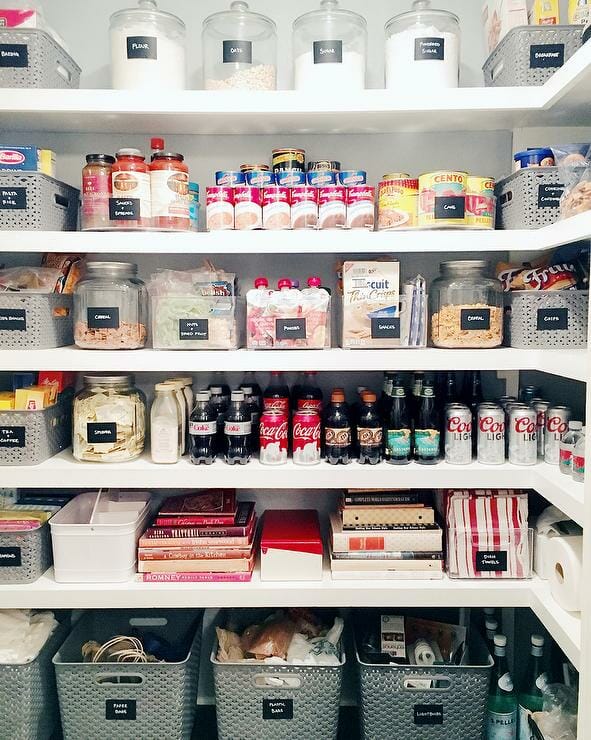 3. You can NOT expect to get organized once and be done.
In my experience, people with messy homes are often people with messy habits (after all, homes don't get messy unless the people inside them make messes!)
If you're a messy, disorganized person who decides to finally get organized "once and for all"… but then immediately goes back to your normal lifestyle of piling papers, not picking up after yourself, etc. etc, you will end up with a messy home sooner than you realize.
Although it's not always fun or glamorous to think about daily and weekly maintenance, it's an essential part of every organized home — and the part they never show you on those makeover shows!
Yes, getting organized and seeing the before/after transformation is much more exciting than picking up your clothes every day, washing the dishes after every meal, and filing all the paperwork that comes through your door. However, I guarantee you'll need to do the maintenance if you want to enjoy your organized space for more than a few days.
One concept that has always helped me with the not-so-fun maintenance part is to literally time each task as I do it so I realize how quickly I can actually plow through the things on my list.
I now know that I can easily clean out the dishwasher in less than 5 minutes and load it with dirty dishes even faster — so what's the point of procrastinating? I realized I can fold a load of laundry in less than 10 minutes and make my bed in about 3 minutes — so why don't I just do it right away?
Knowing how quickly I can complete these daily maintenance tasks helps me to "do it now" versus putting it off until "later" — whenever "later" might be!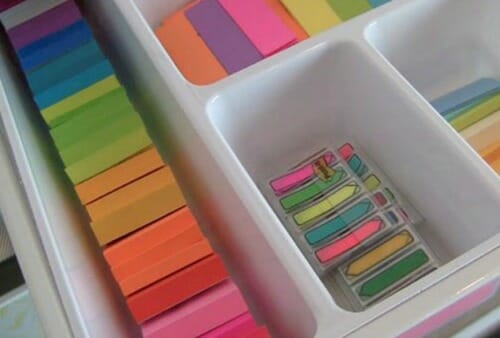 .
The next time you watch your favorite organizing makeover show (or read your favorite organizing magazine or blog), enjoy all the fun before and after footage, get motivated to tackle your own organizing project, and then actually get up and DO something to move yourself towards a more organized home and life.
Don't let yourself become overwhelmed because you don't have a huge crew of professionals or neatly organized bins to help you. Just pick one area, set your timer, and get started!
Also, just for fun, I'd love to know…
Do you have a favorite organizing show (or magazine or blog)?