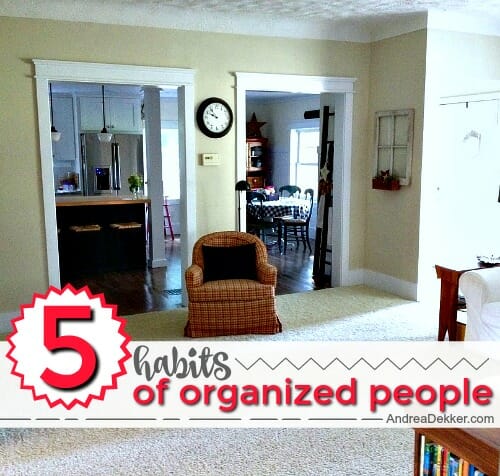 I'm often asked for my "secrets" to enjoying an organized home with little kids home with me all day long.
Obviously, my house isn't perfectly clean and organized all the time; but for the most part, it IS relatively neat and picked-up. And no, I don't have a housekeeper, magical powers, or a super special secret to share with you… just a few habits I've learned over the years that make it possible to keep my home neat and organized every day with very little effort.
If you're the type of person who doesn't necessarily love cleaning and organizing, but still wants a neat and organized home, here are 5 simple things I do EVERY day to prevent clutter build-up in my home.
They only take a few moments to complete (especially now that they are all second-nature for me) and with a little practice, they could be second nature for you too!
1. I put things away when I get them out.
Putting things away when I get them out is probably the simplest and most important thing I do on a daily basis (maybe an hourly basis!) to keep my home neat and organized.
Whether it's putting clothes away after I've finished wearing them, putting dishes and food away after dinner, or putting toys and books away when we're finished playing; those few minutes here and there save me hours and hours of cleaning and organizing later on — plus I don't have to look at the clutter surrounding me all day long!
2. I purge extras.
For the most part, I try to not to hang onto extras of anything, because by not owning extra stuff that I don't need, use, want or love, I have less stuff to store, less stuff to clean around, less stuff to organize, etc.
If you're big on deal-shopping or love finding freebies, this one will probably be the trickiest for you. I used to be one of those huge freebie-loving ladies too… then I realized that even if something is free but I don't need it, it still costs me time, energy, and effort storing and cleaning around it.
I literally had to change my frame of mind when it came to finding deals. I now only bring things into my house if they have a place and a purpose — no matter how great of a deal they might be!
3. I keep piles at bay.
I keep paper to a minimum, and I file any paper I do need to keep ASAP. I don't let dirty laundry back up…. or folded clothes stay in the basket for days at a time. I rarely let dishes pile up next to the sink for more than a couple hours after dinner, and I try really really hard to keep clutter away from all my flat surfaces.
In my personal experience, I'd much rather take care of the paper, the clothing, and the dishes right away (while it's still a manageable amount) than let them pile up for days until it seems totally overwhelming — at which point it's really easy to keep making excuses and saying "I'll do it later".
4. I don't make excuses.
Speaking of making excuses, that's also something I try hard NOT to do.
Obviously there are days when my excuses get the best of me and dishes sit overnight, laundry goes unfolded for a day, or I procrastinate on a work-related activity… but those instances are honestly quite rare.
This is not because I just love working and cleaning and doing household chores. No, I struggle with this on a daily basis — after all, it's always more immediately gratifying to put off chores and work. However, I also know that in almost every single situation, it is SO much more beneficial for me to "do it now" versus make excuses and put the tasks off until later.
5. I try to leave every space better than when I arrived.
When I'm leaving a room and going to another room, I'll do a quick 3-second scan of the room to see if I can pick something up, bring something to the other room, throw something away, etc. etc.
When I'm in the kitchen making dinner, I'll wipe down the counters while I wait for the water to boil or I'll chop onions and peppers for the freezer while the kids are coloring at the table and cookies are in the oven.
When I'm in the bathroom, I'll take 10 seconds to wipe down the countertop before I leave, or empty the trash if it's getting full.
Often, I'll even catch myself doing this in a public place — like throwing trash away or wiping up spills I see. I just can't let myself leave a space without doing something to make it better, neater, cleaner, more organized than when I arrived.
Maybe I'm crazy, but it usually takes less than 30 seconds of my time and I feel like I'm making a positive change — plus, if you think about how many times you leave various spaces in your home, you could pack a lot of organizational power into those 20-30 second segments!
When it comes to organizing an entire home, I totally understand how overwhelming that process might feel for you.
I admit that the simple tips I shared above will NOT magically transform your home into a blissfully organized oasis overnight. However, if you start now and implement a few (or all) of my tips above on a daily basis, I know you will see positive change.
Yes, it might take weeks or even months to notice the difference, but you're headed in the right direction — not to mention you're creating awesome habits for yourself and modeling those good habits for anyone else who lives with you.
We're still in the very early months of another New Year… which means it's a great time to look for simple, small changes you can make to better organize your home and life.
It might not seem like much now, but if you're anything like me, you'll look back in a few years and realize that these simple, small changes have completely transformed the way you live your life and how you feel about the spaces around you!
Isn't that exciting!?!?
What are your simple tips to keep clutter at bay?