Normally, I don't blog about accumulating more stuff — but I will admit that there is definitely some STUFF that has helped me to majorly simplify and organize my life (a.k.a. stay sane) as we continue to add more babies to our family.
But before I type even one more word, I want to make it very clear that NONE of the items listed below are in anyway 100% essential in order to survive with multiple babies and toddlers in your home. We could get by with SO much less stuff if we really had to… and I certainly don't want to cause any of you to think you absolutely must buy everything on my list!
However, since I'm regularly asked what STUFF helped me to simplify after Nora… and then Simon, and/or what I'll be doing or buying before and after baby #3 arrives, I figured it was time for a blog post 🙂
When it comes to navigating life with multiple little people, this is some of the STUFF than has helped me to stay organized and simplify everyday life.
A really organized diaper bag: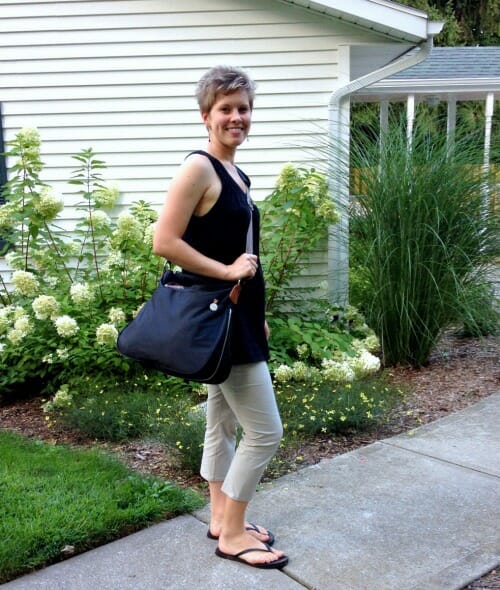 I never actually had a "real" diaper bag until after Simon was born — and I can't tell you how much simpler it has made getting out and about with 2 little kids.
Here's a link to the review I did of our amazing PacaPod diaper bag — you can read that post for TONS of more details on our bag.
Since that post, I've also started using the PacaPod Hastings backpack diaper bag which is equally amazing as it can be worn as both a backpack and a cross body bag so both my hands are free to deal with kids.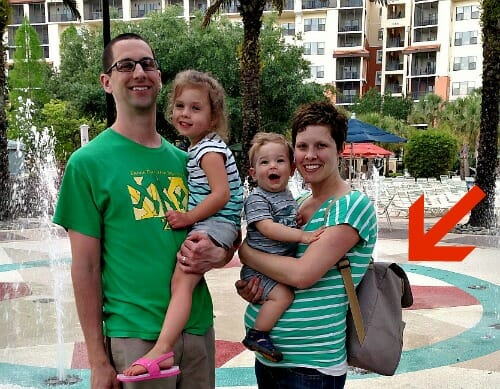 I was fortunate that both bags were given to me by PacaPod… but I seriously can't say enough good things about how much these ultra-organized diaper bags have helped me to quickly and easily get out the door on time.
I know that everything is stocked and ready to go, and since everything is nicely organized, I can find what I want when we're in the middle of a meltdown. Definitely a sanity-saver for me!
A video monitor: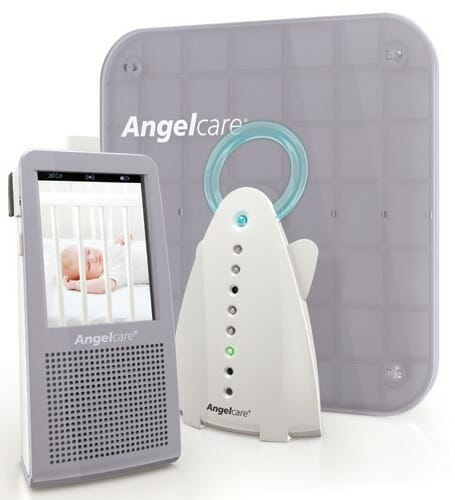 Never in a million years did I ever expect to be advocating for an expensive video monitor… but after 2 years of using a cheapy monitor from Craigslist… and now 1.5 years using video monitors, I can not believe how much simpler they have made our lives.
If you've never used a video monitor (or if you've never had children who are difficult sleepers) you are most likely rolling your eyes right now — and that's totally fine. They are really expensive.. and as I mentioned above, none of the things on my list are necessities in any way.
The video monitor has actually been more helpful with Nora as we can see what she's doing without actually going into her room.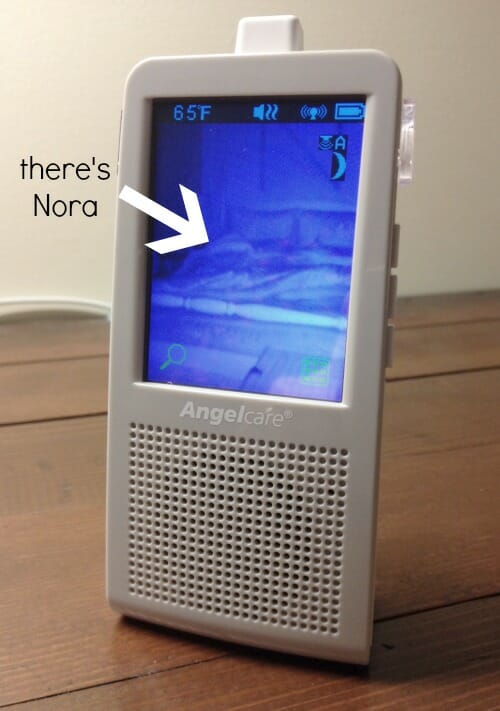 She makes A LOT of noise when she's sleeping and frequently starts crying for us… but often, when we look at the monitor, we can see that she's still laying down and probably just crying in her sleep.
Other times, we can see that she's up, walking around in her room, or has turned the lights on and is playing… so we can tell her she needs to go back to bed (there's a walkie-talkie feature on these monitors).
The video monitor has also been really nice for Simon as he is exactly the opposite of Nora. He'll sit and play quietly in his crib FOREVER and I wouldn't even know he was awake unless I had the monitor.
Normally, I wouldn't care if he sat in his crib for hours (as long as he was content) but he'll often poop when he's sitting there, and he gets pretty bad diaper rash if I let him sit for too long. So once I see he's sitting up and playing with the toys in his crib, I'll usually go in there within 10-15 minutes.
Here's a post that talks more about the Angelcare video monitors we have (we really like them) — although I'm fairly confident almost any video monitor would be very useful.
A double stroller: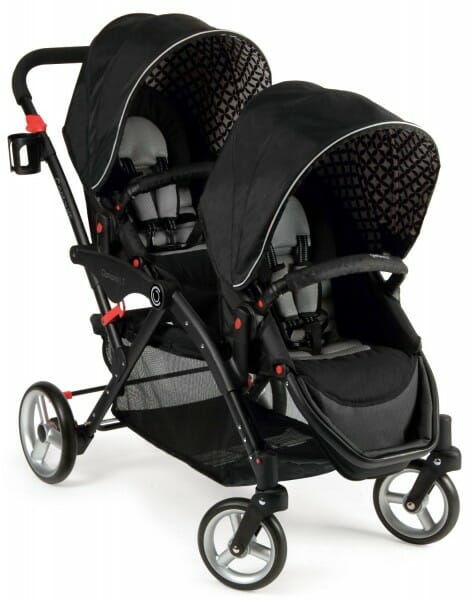 So many people told me never to "waste" money on a double stroller because I could just "wear the baby". Well, what happens when the baby weighs 24 pounds at 8 months old, and you're pregnant again?
I held off buying a double stroller for about a month before I knew that I most definitely needed a double stroller with all the walking we do.
Over the past year, we have walked miles and miles and miles with our double stroller and I can honestly say I don't know what I would do without it.
The kids love it, Dave and I love it, we use it multiple times a week (often daily) for extended walks all around town, running errands, visiting parks, etc. Nora has already told me how sad she will be when she needs to give up her spot to the new baby 🙂
Here's the post I wrote about our specific double stroller — and honestly, EVERY time we go out with our stroller, at least one person comments on how neat it is that the kids can face each other while we walk (yes, that's my favorite feature too!)
If you have 2 (or more) kids under 4, I would most definitely say you would benefit from a double stroller — and you can find a bazillion of them on Craigslist or at garage sales if you don't want to spend too much!
Netflix + ChromeCast: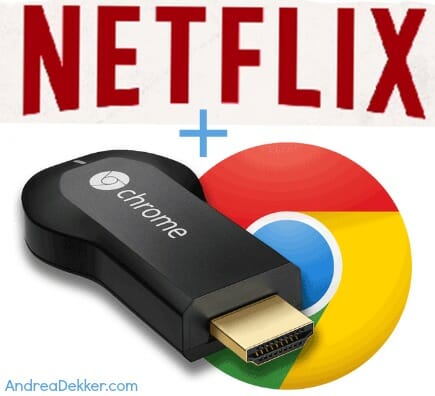 I know, I know… there are some of you reading this who "never" let your kids watch TV.
But I do — and to be perfectly honest, they watch a fair amount of TV. Well, Nora does. Simon basically has NO interest in TV 🙂
Since Nora has never really been a napper, TV was the only form of "down time" I had — and even still, when she's tired but just WON'T give in and rest, sitting quietly and watching a few episodes of Curious George or going for a long walk are just about the only things that she can handle without a complete meltdown (and long walks aren't always possible in Michigan).
You can read more specifics about why Dave and I chose the ChromeCast + Netflix combo here, but the bottom line is that we can now watch almost any PBS show with no commercials or interruptions on any "screen" in our house at any time it's convenient for us.
That means Nora can watch a show on my phone when we're waiting an extra long time at the Dr. or she can watch a show on the iPad when we're on vacation and don't have regular channels, and of course, we can stream everything directly to our TV for "regular" TV watching without commercials or time limitations.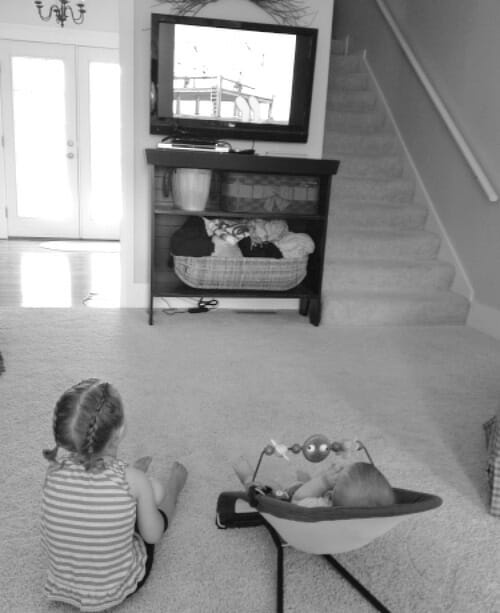 And yes, Dave and I definitely benefit from the ChromeCast / Netflix combo as there are several shows and movies we've enjoyed over the past couple of years.
This "on demand" TV was especially helpful when Simon was very little and needed to eat and sleep all the time. I could turn a quick 10 minute show on for Nora when it was time to feed Simon and put him down for a nap and she wouldn't "bug us" or accidentally wake him up by playing loudly outside his room.
Definitely a life-saver for me 🙂
A white-noise machine: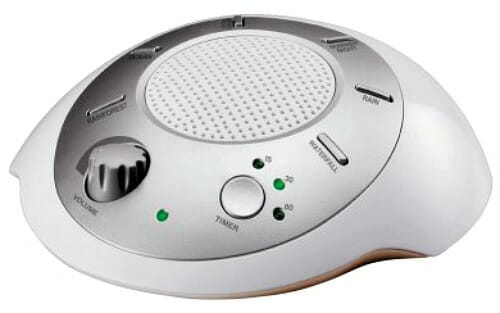 We have a white-noise machine in every bedroom of our house because we are ALL light sleepers and because they help us sleep better, longer, and more soundly.
Even though our Spring Break room sharing went better than I expected, I'm still a little nervous about having Simon and Nora share a room once #3 arrives (we want to keep our guest room set up as a guest room for now). However, I have a feeling our noise machine will help the transition to be easier since it will hopefully drown out any noise the two of them make in their sleep or by moving around in their beds.
I would say that a noise machine would be very useful even if you just have one child, but definitely more useful with multiple children.
Here's a link to the noise machine we use. It's very reasonably priced compared to many of the other ones I looked into (only $15 at Bed Bath & Beyond with my $5 coupon)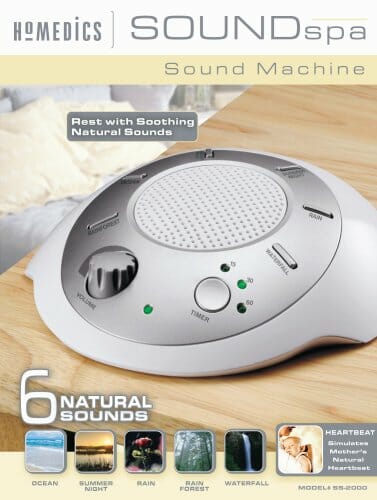 A baby carrier:
I actually hesitated to put this on my list because there are a bazillion different types of baby carriers and I KNOW the ones I use won't necessarily work for all of you.
I also didn't use my baby carriers as much as other moms I know (because I preferred the double stroller route as I mentioned above) but at the same time, I used them enough in those earlier months that I think they warrant a spot on this list 🙂
With Nora, I only had the Moby Wrap (a BRAND NEW garage sale find for $5!!) It worked OK, but definitely wasn't nearly as comfortable after 3 or 4 months — plus, she really only wanted to look out (see image above) and I know that's not the best way to wear the babies.
When it came to Simon, I got a Boba 4G Carrier. Simon loved it and I loved it — and I could almost always get him to sleep within a few minutes of wearing him around the house or around the grocery store 🙂
The Boba was SOOOOOOO comfortable for me to wear. However, Simon got so big so fast that it was kind of awkward to wear him in the front, but he did NOT like being worn on the back. So around 7 months, we stopped using the carrier. By that time, he could sit up in the shopping cart anyway, and Nora was more willing to walk with me (or we just used the massive carts)
I still have both carriers and plan to use them both with baby #3. Who knows, maybe he will like them for longer than my other two did — or maybe I'll just keep him in the carriers regardless of if he likes them or not, simply out of necessity to have both hands free for the other 2 munchkins 🙂
Either way, I definitely DO think having some sort of baby carrier was super helpful for me with both babies so far.
.
That's my list for now.
I would also add things like a camera phone to take pictures and videos, a dishwasher, a reliable vacuum cleaner with a hose attachment, and a super-capacity washer and dryer… but many of you probably have those regardless of if you have children or not 🙂
Again, I just want to make it super clear that NOTHING on my list is an absolute necessity in order to raise functional or happy babies — they are just "extras" that were really nice for me to have.
I'd love to know…
What STUFF would make your list?