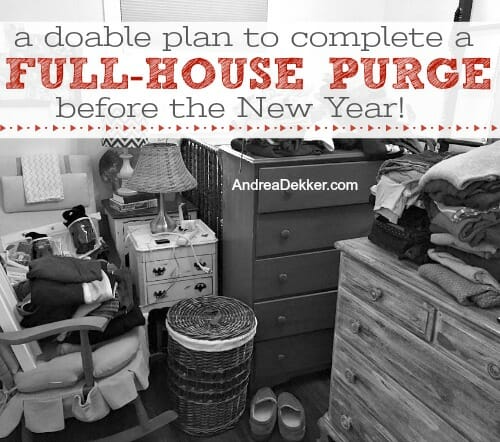 It's roughly 16 weeks until the start of another New Year — which is often the time of year everyone wants to "get more organized".
However, wouldn't it be fantastic if you could dedicate a chunk of time, every week from now through the end of the year, to complete a full-house purge BEFORE the New Year?!?!
I realize that might sound overwhelming and/or impossible…. but let me break it down for you and simplify things a bit!
.
STEP #1: Make a numbered list of every single room/space in your home.
Here's what my list would look like:
mudroom
kitchen
dining room
half bath
laundry room
living room
office
master bedroom
master bathroom
nursery
landing area
kids' bedroom
playroom
kids' bathroom
storage closet
basement
That was simple enough… right!
.
STEP #2: Assign one room per week.
As I was thinking through the various rooms in our friends' and family's homes, I realized many homes have between 12-20 rooms/spaces in them… and with roughly 16 weeks until the end of the year, purging one room/space per week might just be a fantastically doable approach to completing a full-house purge before the New Year!
Once you know how many spaces you have in your home, take a few additional minutes and literally assign one room per week in your planner, on your calendar, in your favorite to-do App, wherever… just write it down.
If you know you'll have a busy week, schedule a smaller, less-cluttered room for that week (like a half bathroom). If you know you'll have more free time one week, make it a goal to tackle a larger area (like an overflowing closet or a basement storage area).
Once you have this tentative plan in place, the project will already SEEM more doable (even though you haven't actually purged a thing yet!
.
STEP #3: Dedicate a spot for donations and a "maybe" pile.
Whenever I purge, I find it most helpful to have 3 piles, bags, boxes, etc.
Trash
Donate
Maybe
I use large, heavy-duty trash bags for the trash. I dump the trash immediately after I'm finished purging a space (or whenever they get too full).
I use large paper bags with handles or cardboard boxes for the donate (so they are easy to transport). I put these bags and boxes into the trunk of my van (or on the bench in the mudroom) so I remember to donate them the next time I'm running errands (which is fairly regularly).
I use some of our extra clear plastic storage tubs for the maybe pile. I put these maybe items in our storage closet upstairs. This storage closet is clean, somewhat small, very easy to access, and I use it on a daily basis, so I am regularly reminded of my maybe items every time I walk into the closet.
Having a dedicated (separate) space for my maybe pile has been helpful for me as it feels like I'm making so much more progress when I physically remove items from the space I'm purging — even if it's just to this temporary storage area.
I have a little extra time to think about if I really want to purge those items or not, but at the same time, I can enjoy the immediate benefits of less-cluttered, more-organized space in the area I'm purging.
Of course, I'll eventually need to deal with my "maybe items", but considering the time it saves while I'm purging, it's worth it for me to take this 2-step approach.
.
STEP #4: Purge the first room.
The first 3 steps should really only take you a few minutes to complete… yay!
Now that we're actually purging, it won't go quite as quickly — but don't get discouraged just yet. Choose the room you decided to start with back in Step #2, grab your garbage bags, your boxes, your bins, etc. from Step #3, and get started!
QUICKLY go through each closet, dresser, cabinet, drawer, cubby, shelf, bin, box, basket, flat surface, etc. in that space and pull out anything and everything you don't absolutely need to have in that space (and then distribute it to your trash bag, your donation box, or your maybe tub).
If something needs to go to another area of your house, bring it to that area and quickly put it away. If you can't quickly put it away, just set it in that room to deal with once you're ready to purge that space.
The trick here is to move QUICKLY… don't over-think things. If you aren't sure, put it in the maybe pile to deal with later.
You might even try setting a timer for 20 minutes to see how quickly you can move. Once the timer goes off, set it for another 20 minutes. I certainly don't expect you to finish an entire room in 20 minutes, but these little alarms are a good way to track your progress and keep you on task (in case you're the type to easily get side-tracked!)
When you've made your way through the entire room/space, bring your trash to the trash bin, put your donate items in your car (or garage or mudroom or somewhere close to your car!), and put your maybe items in the designated spot from step #3.
At this point, I usually like to go back into that room with a dust cloth and vacuum. I realize this isn't necessarily part of the purging process, but once a room is decluttered, I like to "finish the job" by running a dust cloth over all the flat surfaces (including baseboards, door frames, window sills, etc.) and vacuuming really well. It looks SO nice!
.
STEP #5: Repeat step #4 with every room in your house!
Yes, I know, somewhat of an anti-climactic ending… I can simplify the process, but unfortunately, I can't magically make it happen without some time and a little elbow grease!
The good news is you still have 16 weeks… and you only need to focus on one space per week!
If you don't fully finish a space in one week, it's up to you whether you continue on with that space or move to the next space. In my opinion, I'd probably suggest moving on to the next space, because if you have a tendency to procrastinate, or if you are a perfectionist, you could easily get held up on one space for weeks and weeks and weeks without moving on.
Just make as much progress as you can in one week, then move onto the next space.
It won't be perfect and it won't happen over night… but it will be SO MUCH BETTER than if you did nothing at all!
UPDATE: I completed a full-house purge! Here are my posts with more details and photos of my purging.
.
And when the New Year rolls around, you can tackle your maybe pile!