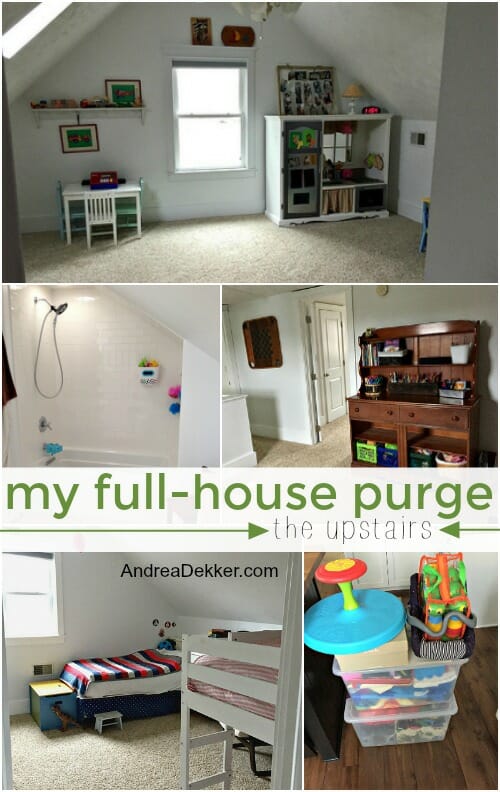 Now that the New Year is finally here, I'm happy to report that I did successfully purge every single room, closet, dresser, cabinet, and shelf in my home over the past 16 weeks.
Honestly… I got rid of SO MUCH MORE than I thought I would.
However, even though this full-house purge has been a humbling experience for me, I will say that never once did I ever feel pressured, rushed, or stressed by the thought of purging our entire house.
I simply took my time, chose one room per week, and picked my way through that room as time and space allowed — during nap time, while kids were playing or coloring or finishing lunch, after they went to bed, when Dave took them outside, etc. etc.
Nothing like I used to do before kids where I hunkered down for an afternoon and got through the entire house! But still not bad considering everything else I have going on right now.
If you haven't read up on my full-house purge, I've included the links below. Even though my initial "challenge" was to purge your home BEFORE the New Year, you could also do this challenge AFTER he New Year — so essentially starting right now!
Quick Links to Previous Full-House Purge Posts:

My Initial Full-House Purge Post
It feels GREAT to know that I've weeded my way through our entire house… and the next couple of months are the perfect time to work through your own house as you'll most likely be inside more due to cooler weather (at least those of us in the Northern Hemisphere!)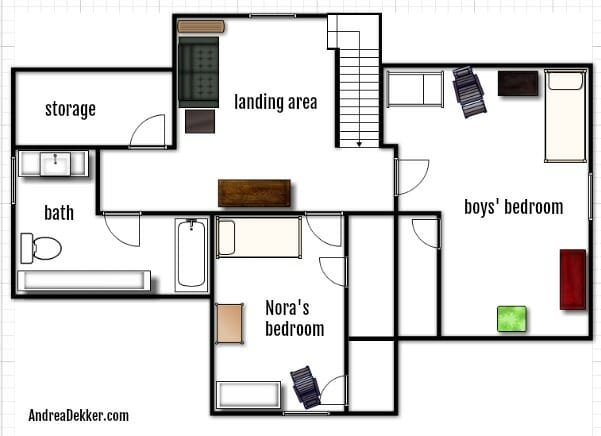 For the last 5 weeks, my focus has been purging the entire upstairs (see blue print photo above) — 2 large bedrooms with large closets, the landing area, the bathroom, and the storage closet.
The upstairs is essentially our kid's domain, so the weeks surrounding Christmas were the absolute PERFECT time to purge this area. Not only were Dave and Nora home from school to help with the process, but the kids were excited about the new toys and gifts they got for Christmas so it was MUCH easier to purge old things.
As I mentioned above, we ended up purging SO much more than I thought we would — honestly, it's almost a little embarrassing for me to share today's post as I realized how much TOYS and KID STUFF we had accumulated over the past year. It's just crazy how quickly more stuff seems to work its way into our homes… today's post is proof of that!
.
LANDING AREA:
The landing area was one of the selling points of our home for me. I just LOVE this space!
It has served many different purposes for us over the last 8 years — den, play area, reading nook, etc. — and, as of a couple weeks ago, it is now our craft and "school" space (the kids LOVE playing school).
The reason for moving our crafts out of the play bedroom into the landing area is because Clara could reach them all with our previous craft setup. Of course, she'll still be able to grab any craft supplies the kids leave laying around, but as long as they put things away, it should be a couple years before Miss Grabby-Pants is tall enough to get into the crafts!
We do keep some toys out here still, but we purged SO MANY toys the kids decided they didn't want.
This is not a very large space, so purging only took 15 minutes, and then a few more minutes to move the craft stuff out here (there are several supplies in the dresser drawers and then on top of the dresser as well.
I'm sure we'll keep tweaking it to fit our evolving needs, but for now, it seems to be a good fit for this space and the needs of our kids.
.
THE KID'S BEDROOM:
Last Christmas break, we moved the kid's bedrooms around (again) and put all 3 older kids in the same room (at their own request). We didn't think it would last more than a few weeks, but they LOVED sharing a room… and are still all together a full year later!
We asked if they wanted to split up bedrooms and rearrange the upstairs over Christmas break and they all said "no", so we're sticking with this arrangement for a bit longer!
We did purge some clothing a month ago, so other than that, there wasn't much to purge from this room — just a few dress up clothes (and then straightening out their closet.
.
THE PLAY ROOM:
As I mentioned above, the kids all sleep in one bedroom… which means the other bedroom is ALL TOYS!
This room is huge, so it's a great playing space. However, it can also easily accommodate lots and lots of toys without feeling too crowded — and after lots of birthday and Christmas gifts, it was time to lighten our load a bit and enjoy a little more "breathing room" in our play space.
To my surprise, the kids were very willing to purge so much stuff — more than I even anticipated!
After about 45 minutes, we ended up with 1 large bag of trash, a trunk full of donations, and 4 large tubs of toys I decided to put in the basement for now.
I honestly hate the fact that I'm "hoarding" some of their toys in the basement instead of just purging them. I feel like a hypocrite.
However, they truly purged SO much more than I thought they would (including some of the toys I thought were their favorites) and I don't want to have them crying in a month because they purged their favorite thing.
Also, several of our toys are still in the original packaging (used, but kept nicely) and could make good gifts for younger cousins or friends — so for now, the tubs are staying in the basement!
Our basement bins are sorted and organized by the following:
Barbies, Ponies, Shopkins, dolls, stuffed animals, etc.
Cars, trucks, trains, Little People things, balls, blocks, etc.
Musical instruments, games, crafts, art supplies
Everything else
If they don't ask for anything from the tubs, I'll probably donate most of it this summer — we'll see what happens!
.
KID'S BATHROOM:
The kid's bathroom was another super-easy room to purge as we basically keep nothing "extra" in this space. The drawers of the vanity are empty aside from a brush and a few hair accessories. The cabinets along the wall just house extra toilet paper, extra towels, and the boy's PJ's and undies for after bath time.
I did give this space a thorough cleaning (something it desperately needed) and we tossed our foam bath letters (Clara got new ones for Christmas) but other than that, we didn't make any significant changes to this space.
.
STORAGE CLOSET:
This storage closet has never been featured on my blog before — mainly because it's just a small storage closet that I never really think of sharing!
However, this storage closet has been invaluable to us over the past 8 years — serving as our main "extra storage" since we don't store much in our basement (besides Christmas decorations, extra pantry staples… and now 4 tubs of toys!)
Over the years this closet has been home to everything from camping and baby gear to tax returns and electronics, to gift wrap and presents we're trying to hid from our kids.
Currently, it has a little of everything in it — extra chairs for when company comes over, a cabinet full of gift wrap, extra gifts, all my extra sewing stuff, some extra electronic cords, our luggage, an extra roll of carpet for the upstairs rooms, an extra mirror, a few decorative items, etc. etc.
We truly don't have a great organizational system in here, but the space still seems to function well enough for us, so we haven't put much time or money into this closet.
Eventually, we've thought about combing this closet with the bathroom to make a separate shower area — or even an upstairs laundry area, but that's more than we're willing to take on at this point in our lives, so we just continually mull these ideas over in the back of our brains for a future "someday project"!!
.
That's it! We purged our entire home BEFORE the New Year, which means I can focus more of my efforts on maintenance moving forward.
I know there will always be "more" I could do — in fact, I just did another purge and reorganization of our kitchen cabinets the week before Christmas (more on this in a couple weeks too!) so it's always a work-in-progress; but I love knowing that I've looked through and purged every space in my house at least once each year.
If you're looking for a good cold-weather project this winter, go back to my initial post, make a list of the rooms in your home, and pick one room to get started on this weekend!
There is never a perfect time to start purging, so stop making excuses, stop telling yourself you'll do it after you do _________, grab a trash bag, and start walking through your home TODAY!
You might be surprised how much motivation you build up as you work!
Happy Purging!