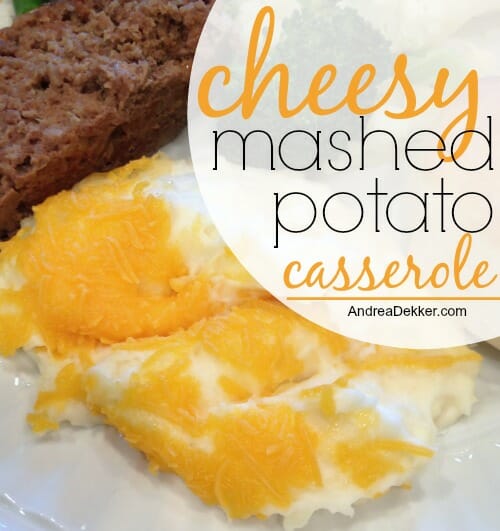 Mashed potatoes are one food Dave, Nora, and I just can't have enough of.
Don't get me wrong, we pretty much love all forms of potatoes — including, but not limited to, baked potatoes, fried potatoes, riced potatoes, tater tots, hashbrowns, hashbrown potato casserole, french fries, and potato chips.
However, I'm fairly confident mashed potatoes would be all of our top choice when it comes to a good meat and potatoes meal like the meatloaf recipe I shared last week.
If your kids are anything like Nora (with an intense love of cheese and mashed potatoes) this recipe will certainly be a big hit with them. In fact, I'm sure it won't be too much longer and Simon will be eagerly sharing in our love of mashed potatoes as he scarfs down spoonful after spoonful of the creamy goodness!
Recipe for Cheesy Mashed Potato Casserole:
Servies 6
INGREDIENTS:
3 lbs. of potatoes; peeled, rinsed, and diced
2 T. salt (for water to boil potatoes)
1/2 c. milk or cream (add more or less depending on how thick you like your potatoes)
1/2 c. sour cream
1/4 c. butter
4 oz. cream cheese
1 t. minced garlic
salt, pepper; to taste
8 oz. cheddar cheese (or similar); shredded
DIRECTIONS:
Preheat oven to 350*F.
In a medium sauce pan, cover diced potatoes with enough water to cover them by an inch.
Add salt and bring to a boil.
Boil for 15-20 minutes (depending on the size of your potatoes) or until potatoes are very tender.
Drain water.
Add milk or cream, sour cream, butter, cream cheese, garlic, salt, and pepper to the potatoes and mash until everything is combined.
Scoop potatoes into a greased 9″x9″ casserole dish.
Sprinkle shredded cheese over potatoes.
Bake, uncovered, for 20-30 minutes, or until cheese is melted and potatoes are heated through.
This recipe is SO SO simple — however, you could easily make it even simpler by substituting instant mashed potatoes. I've personally done this before when I was short on time — and due to all the added ingredients, only a avid potato aficionado could tell a slight difference 🙂
Another thing I love about this recipe (besides the fact that it tastes amazing) is that it travels really well — making it the perfect meal to take along to a potluck or holiday party (although I would probably double the recipe for that and make it in a 9″x13″ pan).
I have never frozen this potato dish (in general, I don't freeze potato recipes). However, I almost always make it in the morning, or sometimes even the night before, and just pop it in the oven about 30 minute before we're ready to eat.
It's just so quick and easy — definitely two desirable qualities for me right now!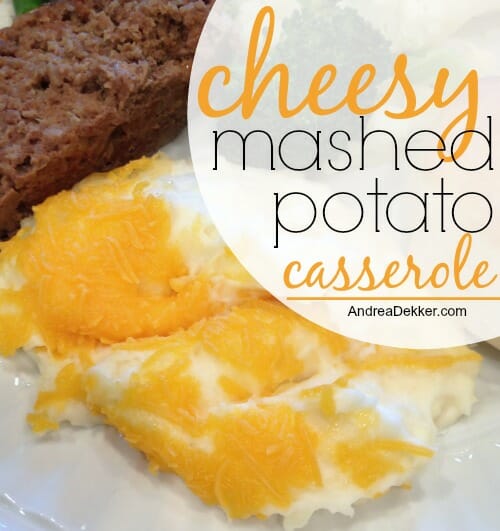 What are your favorite potato recipes?
Visit my virtual recipe box for more simple, delicious, family friendly, recipes!