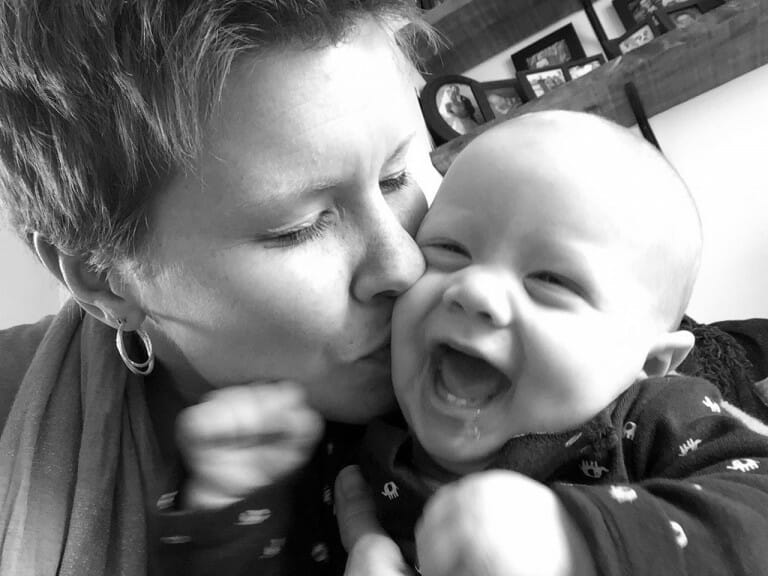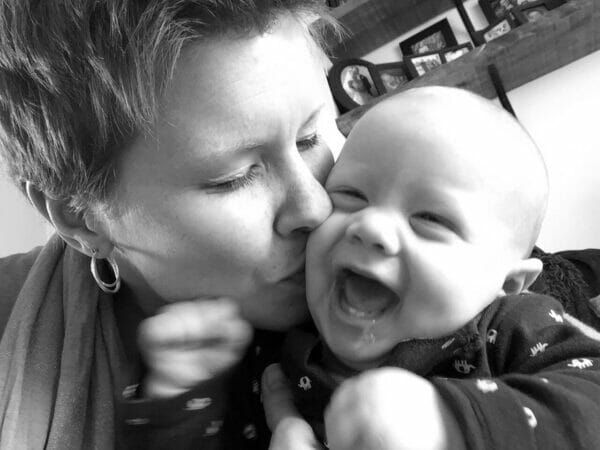 Last week was a fun change-of-pace week for us as Dave finished up his first semester of school with exam week… and although that meant lots of extra grading for him, it also meant no lesson planning at night and shorter school days during the week!
It was fun to have Dave home a little earlier on Wednesday and Thursday afternoons, and he didn't even need to go to school on Friday because he wasn't giving an exam that day. Instead, he stayed home with the kids for a couple hours in the morning while I ran some errands, dropped a few bags off at our local thrift store, and scored a few great finds of my own (at the thrift store).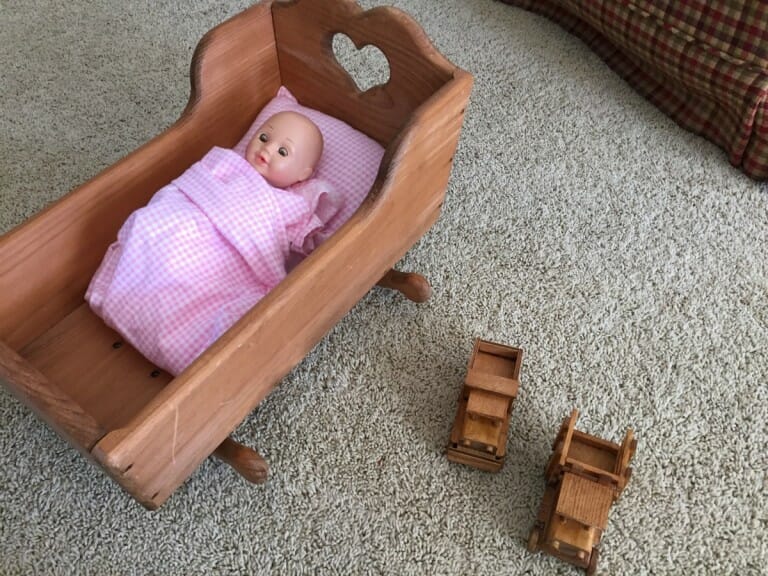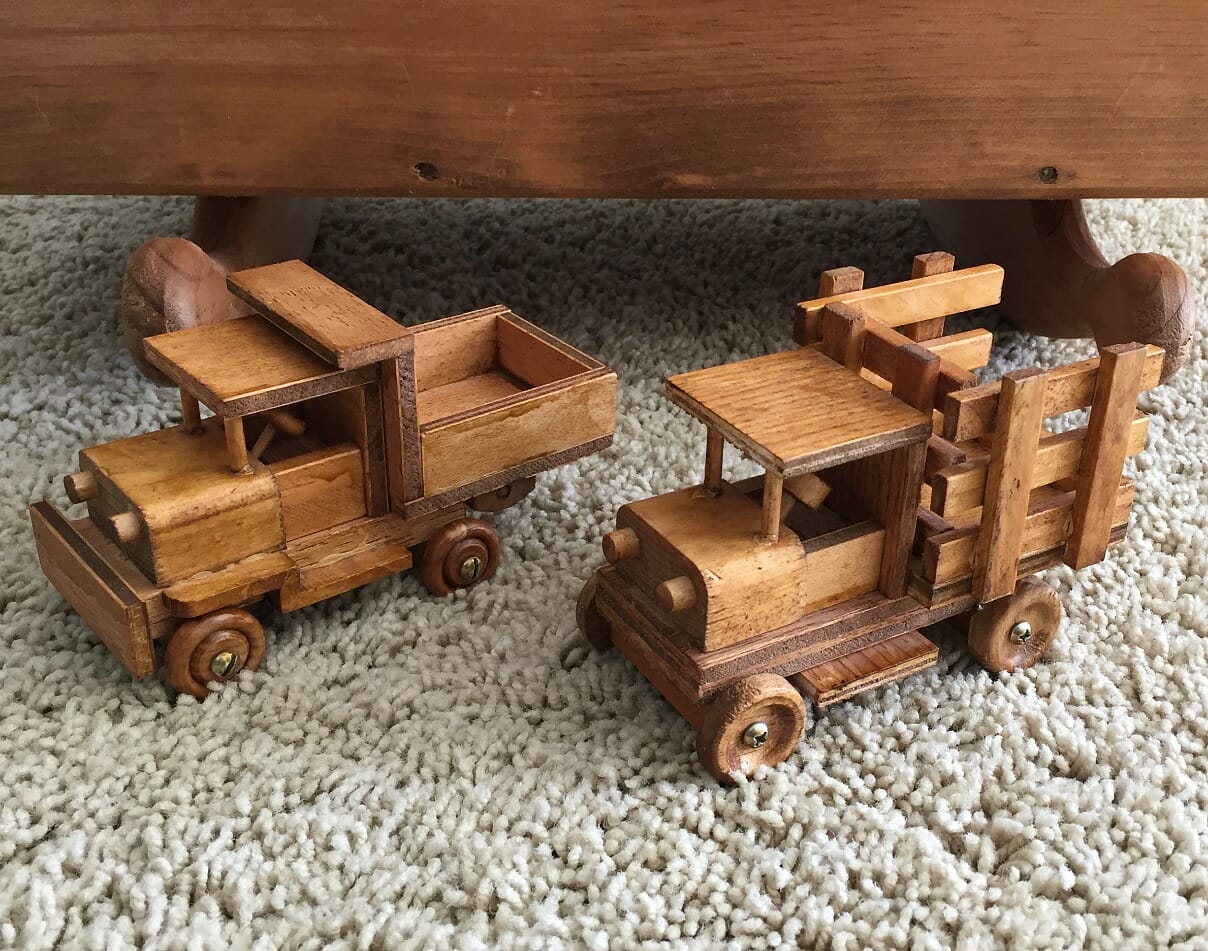 I got the wooden doll cradle for $2.50, and those 2 ADORABLE wooden trucks for $1.50 total (I think the trucks were handmade!) Simon is having so much fun with the trucks and Nora is loving the doll cradle.
I also found a giant "Art Jar" for $2 and I'm hoping that will keep Nora busy a few afternoons this week 🙂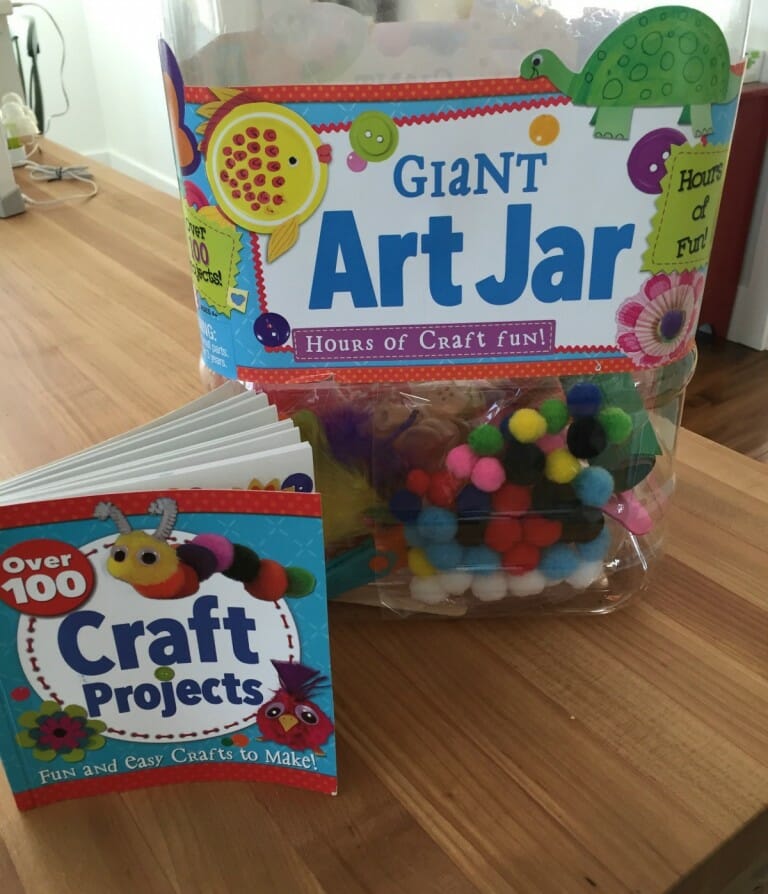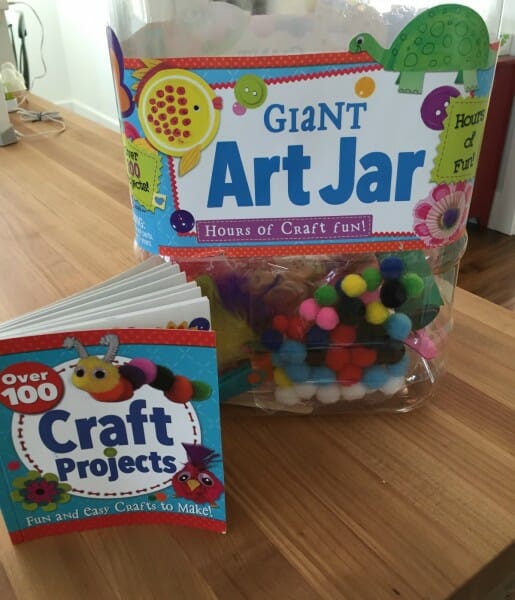 NORA:
Speaking of Nora, she is as full of energy as ever.
Playing dress-up and doctor are still 2 of her favorite activities. Simon is slowly warming up to the idea of being her patient, which means there is hope that Dave and I will get a break from 27 checkups a day 🙂
She is having fun with some clearanced Gingerbread House kits that we got for pennies after Christmas. I opened everything up, put it all in one large food storage container, and she can get it out whenever she wants and decorate cookies for a bit.
I did tell her not to eat any of it as it's all VERY stale, but she just loves squeezing the frosting out — and it's a perfect quiet activity to occupy her for a bit when the boys are napping!
She has also turned into quite the "helper" — and although she is actually NOT that helpful, it is cute to see her being a good big sister to James and Simon 🙂
This past Saturday, my mom took Nora to a "Lollipops" concert (a Pops concert for little kids) put on by our local professional symphony, and then Nora went to a skating party with my sister and brother-in-law in the afternoon.
Although I know she can handle being gone that long and being away from me all day — it still sometimes catches me by surprise how much she really has grown and matured this past year.
It honestly seems like yesterday when she was Simon's age — screaming and crying if I was away from her for even an hour or two. And yes, I can still vividly remember when she was James' age and she basically clung to me every moment of every day (and night). I thought I'd never make it. I thought motherhood would do me in. I'm glad I was wrong 🙂
.
SIMON:
Oh, my Simon boy…
He has been SO stubborn lately. In fact, you might notice that he's wearing the same orange striped shirt in almost every picture in this post. That's because he wants to wear THAT shirt every day. I promise, it is eventually washed each week!
He is also refusing to wear a bib anymore and only wants to drink out of real cups (not sippy cups).
Oh yeah, and he feels it is necessary to wear his snow boots ALL. DAY. LONG! He cries when I take them off for his nap!
Simon loves being outside in the snow and doesn't seem to be phased by the cold at all (the picture below is him crying because he has to come inside).
Thankfully, Simon is still our silly little boy most of the time — climbing on (and in) everything, learning to play nicely with Nora, and trying really hard to be a good big brother to James (although I have to continually remind him that sitting on James is NOT ok!)
The latest news from Simon is that he REALLY wants to go potty on the toilet. I'm not extremely optimistic this phase will last — but he has kept his diaper fairly dry the last few days and he even pooped on the potty!
Who knows, maybe he'll be potty trained in the next month!
.
JAMES:
James is scooting and crawling all over the place and SOOOOO close to sitting up.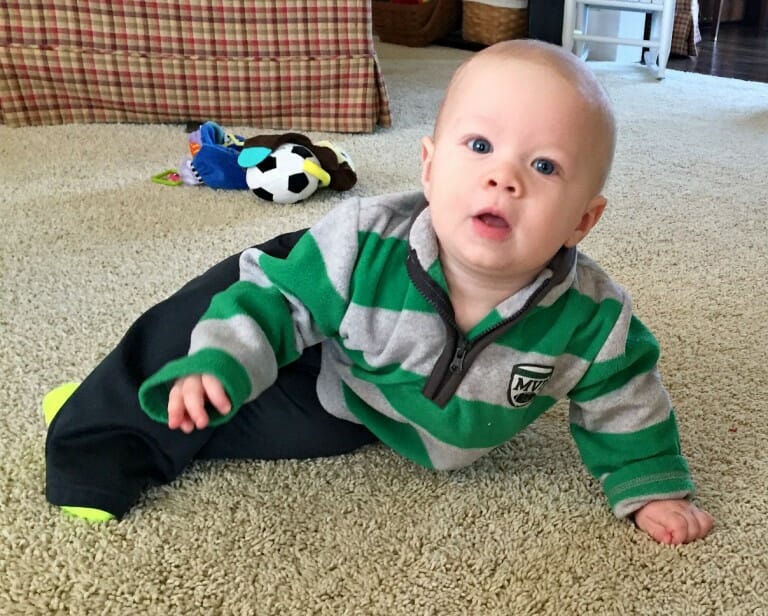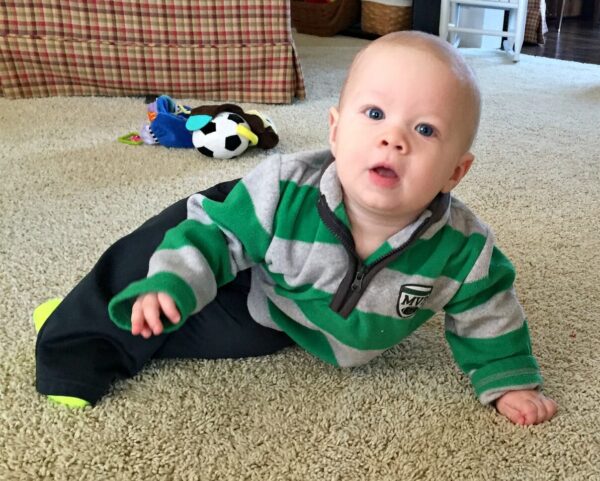 He still isn't sleeping well at night, but when he's awake, he is happy 97% of the time (praise the Lord!)
I honestly don't have a lot to say about James — he eats, he sleeps, he poops, he smiles, he jumps, he babbles, and he is VERY content to just lay on the floor and play with toys while his brother and sister whiz around him!
.
Me:
I feel like I got a lot accomplished last week as Dave was home a bit more than usual — I washed all the sheets after the repair man came and pulled one of Dave's socks out of the drain pipe of our washing machine (no idea how it got in there!) I also washed a bunch of toys that are frequently sucked on.
I ordered some new spring clothes for the kids from ThredUp (p.s. they currently have a deal that you can get $20 FREE if you sign up now!) and I also used 2 Shutterfly coupons to get a few freebie Valentine's gifts (this was Nora's idea)
I've been finished with our 2015 Family Photo Album since the first week of January, but I was waiting for a good deal to upload and order it. Well, I got a 35% off coupon code from Blurb on Thursday, so I ordered that book, and then started my 2016 photo album. It felt good to finally finish that book and be able to move onto the next one.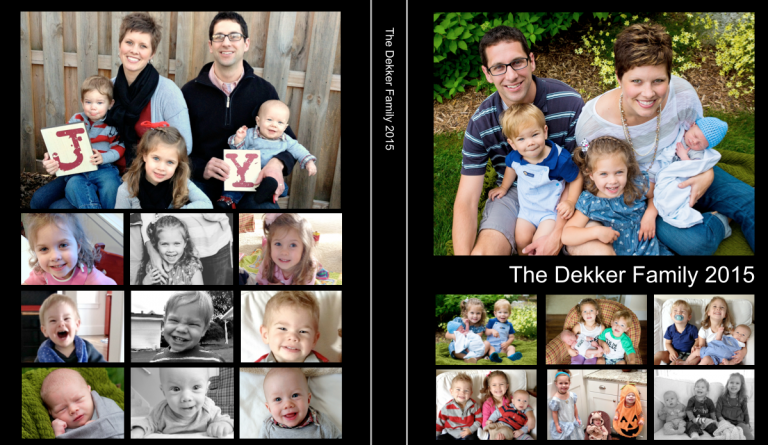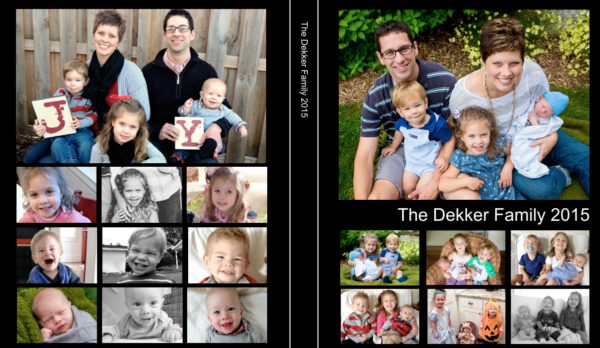 I guess our BIGGEST news from last week is that we bought a minivan!
We don't get it until tomorrow — but I'm SO excited!
It was actually a very last-minute decision (which normally isn't like us) but we've been looking at minivans for a long time, we know EXACTLY what features we want, and we had a firm budget that we wanted to stick with. So when I found a minivan on Craigslist this past Thursday that met every single one of our "wants" and "needs", I quickly emailed and set up a time to see it on Friday. Dave and I both test drove it on Saturday… 2 hours later, we made an offer that they accepted.
I never thought I'd be this happy to own a minivan, but I just can't wait to get it all vacuumed out and set up with our car seats and other "car stuff"!
I'm sure I'll share more about the van later — in the meantime, here's the picture from the Craigslist ad (it's black).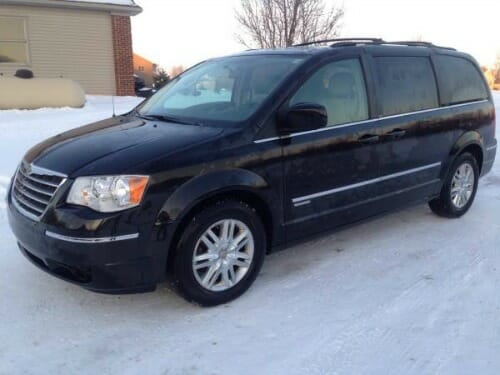 .
Our Meal Plan:
SUNDAY:
Chips and salsa
Guacamole
MONDAY:
We went to Culver's to celebrate the end of the semester for Dave (and to use up a bunch of freebie coupons we had). It only cost us $4.87 for all 4 of us to eat a full meal and custard!
TUESDAY:
Spaghetti and meatballs
Green beans
Lettuce salad
Fruit
WEDNESDAY:
Chicken and Wild Rice Casserole (here's the recipe I used — although I simplified it a lot!)
Applesauce (I made it fresh that day to use up some wilty apples in the fridge)
THURSDAY:
Split Pea Soup with Ham (recipe coming later this week!)
Salad
Bread
Ice Cream
FRIDAY:
Chicken Cordon Blue
Rice
Broccoli and Cauliflower
Applesauce
Chocolate Chip Cookies
SATURDAY:
Grilled chicken Caesar salad
Cut up fruit
Chocolate chip muffins
We have a pretty slow week this week (I literally only have 2 things written in my planner) so I guess we'll just enjoy being home and having a more normal routine after our "different" week last week.
Also, I'm eagerly anticipating next week when I can flip our handprint calendar over to the February page — I think that one is my favorite!