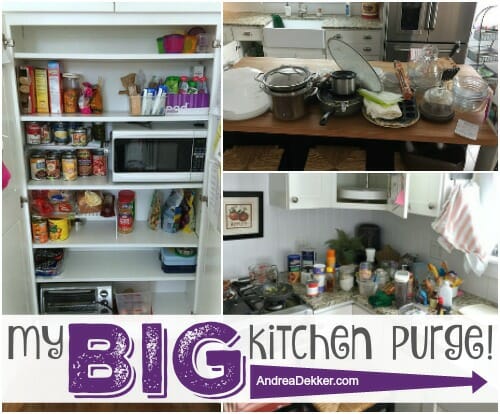 Yesterday, I shared how I clean all our amazing thrift store finds; and today, I'm sharing more about a recent BIG Kitchen Purge that most likely restocked the shelves of those same thrift stores 🙂
The Dekker family definitely does our part to support the local thrift stores… both buying and donating!
In general, I purge fairly regularly — but it's mainly kids clothes, shoes, toys, books, games, papers, crafts, art projects, junk mail, etc.
The kids grow out of things so quickly that I can easily take at least 1 or 2 grocery bags full of kids things away every month (in addition to all the non-dontable items I trash or recycle on a daily basis).
When it comes to household items, I haven't purged much since this past summer… mainly because I haven't gotten anything new since then.
However, now that the holiday season is behind us and a few months of COLD weather are ahead, it seems like a good time to purge my way through the various rooms and closets in our home!
I already purged a bunch of our wrapping supplies and Christmas decorations last month. I also purged my closet (and gave away all my maternity clothes) 2 weeks ago, and most recently, I tackled our kitchen!
The kitchen often feels like one of the most overwhelming rooms to tackle — maybe that's why I wanted to start there. I know how often I use my kitchen (sometimes it's in constant use all day long) so I know that purging, cleaning and better organizing my kitchen will have a big pay-off in the form of more efficiency and productivity in the busiest room of our home.
I was honestly hoping to tackle this kitchen purge over Dave's Christmas break, but that obviously didn't happen.
So the week after he went back to school, I decided I wasn't going to put it off any longer — I banged out the whole project in one morning (with 3 kids at home with me!)
Simon found my phone and literally took a "burst" of 68 pictures of me like this!
The cabinets I was dreading the most were the 2 corner Lazy Susans. I waited until Clara was down for her morning nap, gave the boys a snack and a pile of stickers at the table, and got to work.
I pulled everything out of both cabinets, wiped down the turn-tables and shelves (something I hadn't done since we renovated the kitchen 5 years ago!), and only put back what I wanted to keep.
Everything I no longer wanted or needed went onto the island for me to deal with later.
After only 20 minutes, I had both of my overwhelming corner cabinets finished — and they looked SO nice again!
I plowed through the rest of the 18 cabinets and 10 drawers (following the same "empty, wipe down, put back" approach) in the remainder of Clara's morning nap and her afternoon nap (about 2 hours total time).
Meanwhile, the boys got to watch a show with popcorn, eat a special lunch, and "help" fix things in the kitchen 🙂
I ended up with a HUGE donation pile, an over-flowing bag of trash, and a whopping FIVE empty shelves + TWO empty drawers!!!
NOTE: the picture below is only about half of what I actually purged from my kitchen… I somehow "forgot" to take a picture of everything loaded up to bring away 🙁
Clara was very impressed when she woke up!
How / Why did I have SOOOOO much to purge?
I shared a bit about my Big Kitchen Purge on Facebook… and, not surprising, there were several people who questioned how on earth I could purge so much from only one room in my house (especially since I purge fairly regularly and I hate shopping!)
Honestly, I wondered the same thing!
As I thought about my Big Kitchen Purge, I realized I haven't done much to purge my kitchen since we renovated it 5 years ago. YIKES!
We had so much extra and empty space after our renovation that I never felt the need to purge because we always had plenty of space for more things (and I do really love fun kitchen gadgets!)
However, after 5 years of Christmas, birthday, and "just because" gifts from people who know I enjoy cooking and baking, AND 5 years of companies sending me all sorts of fun kitchen goodies to try out, it was most definitely time to purge!
I didn't realize how much stuff we had that I wasn't using (some items were still brand new with tags on!) I also surprised myself with how many wedding gifts I purged based on the fact that my cooking style and lifestyle are both so different than they were when I registered for wedding gifts 12 years ago.
It feels SO good to know that the kitchen has been cleaned out, wiped down, purged, and reorganized — and honestly, I'm already benefiting from my efforts as it's now even more enjoyable for me to spend time in the kitchen.
.
A Few More Thoughts:
As I went through our kitchen, I noticed we had a handful of mismatched paper plates and disposable napkins left over from various birthday parties and other holiday meals. I decided that part of my kitchen purge was going to be using up all these random paper products to get them out of my kitchen.
I stacked all the plates on top of my regular plates and put all the napkins in the middle of our table. We used them for about a week until they were all gone. The kids thought it was awesome and I enjoyed having fewer dishes to wash. Plus, we now have one more empty shelf where all these paper products use to live!
Also, after I was finished purging my kitchen, I went through the items I was planning to donate and pulled out a few containers to help me better-organize other areas of my home.
I gave Nora 4 medium-size food storage containers to hold various craft projects, and I gave Simon and James each a storage container to keep their treasures safe and sound.
I used a ceramic tart pan I no longer wanted to corral various bottles of oils and vinaigrettes so they don't leak on my shelf. And I used several mini bread loaf pans to organize small items in my kitchen (rubber bands, twist ties, tiny bottles of extracts, etc.)
I also used a few glass and plastic jars I had lying around to better organize some of my baking candies.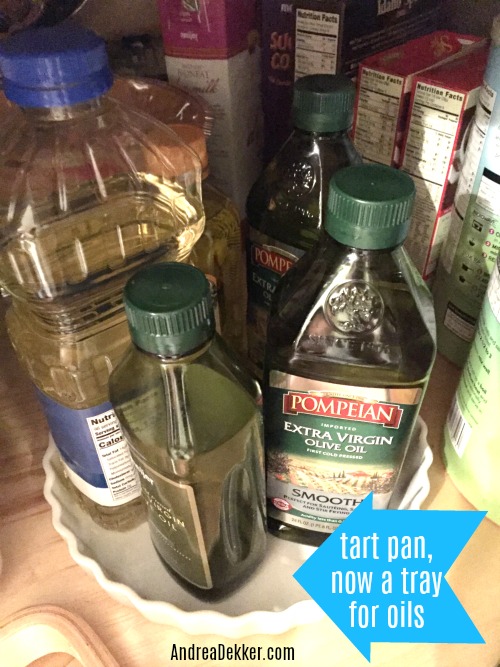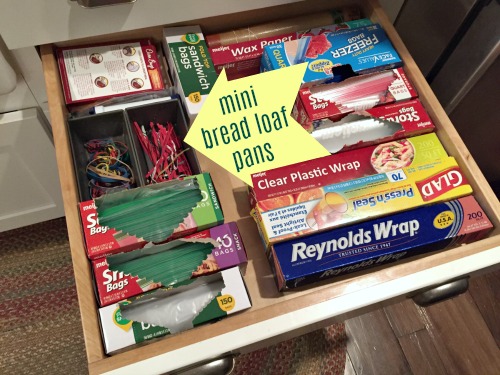 .
I'm thrilled with how much empty space I have in my kitchen now, as well as how quickly I was able to plow through this Big Kitchen Purge!
Want to get YOUR kitchen and entire house more organized?
My friend Lisa, from Organize 365, just started another one of her 100 Day Home Organization Programs — which, in my opinion, is one of the simplest, most straight-forward programs to walk you through the entire process of purging and organizing your home with easy-to-follow to-dos, tips, lists, and suggestions (she started with the kitchen these past few weeks!)
I asked her if she would consider opening up her registration for a few days (just for my readers) and she said yes!
SO… if you didn't have a chance to sign up when I shared her program earlier this year, you can sign up now through tomorrow (1/24/18).

Since my kitchen purge 2 weeks ago, I've taken 2 more trips to the thrift store after purging our mudroom, our upstairs storage closet, and our master bathroom.
Next up… craft supplies!
What's next on YOUR to-organize list?