When (Some) Busyness Leads to (Mostly) Simple
posted by Andrea | 05/17/2016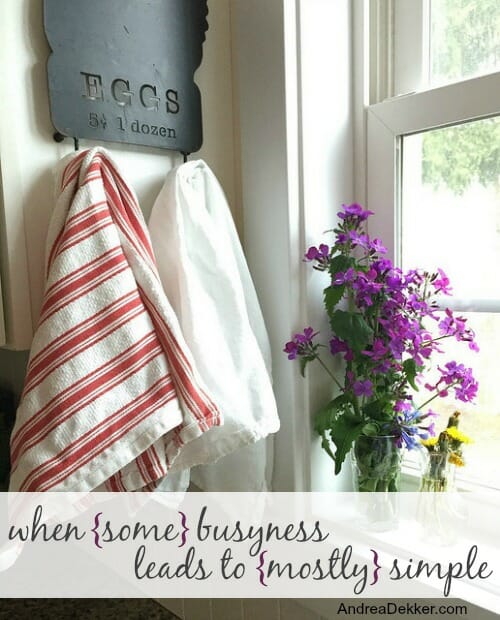 One of the over-arching goals I have for my life is that of simplicity.
I thrive on structure, order, calm, and quiet. I don't enjoy busy, hustle, chaos, or mess.
Over the past 5 years, I've made HUGE strides in my quest to simplify my home, my schedule, my business, and my life — and it has really paid off!
I have shared many of my tips and tricks for simple living, decluttering, time management, and organization. I have also made it very clear that simple living is not always EASY — it requires hard work and dedication and perseverance, trusting that those busy periods of life will eventually lead to simpler times.
Yes, sometimes a simple life requires a boatload of busyness, hustle, chaos, and mess. 
The trick is finding the right balance of SOME busyness in order to achieve MOSTLY simple.
Here are a few examples from my own life:
Late Nights = Simpler Mornings
There are many nights when I stay up too late wrapping up a project, cleaning the kitchen, packing lunches and backpacks, emptying out my email inbox, and preparing breakfast and snacks for the next day.
Yes, I would much rather be sleeping. Yes, it's busyness and hustle. BUT, a short period of busyness at night drastically simplifies our entire morning — which ultimately leads to a happier, more peaceful, more productive day (so it's totally worth it!)
Nesting = Simpler Life After Baby 
For me, the weeks leading up to the birth of a new baby are always very busy. I work hard and spend countless hours cleaning, organizing, cooking, baking, gardening, writing blog posts, etc. to get my home, business, and life in order BEFORE the baby arrives.
It is a lot of extra busyness, BUT it allows me to rest, relax, and enjoy simpler days at home with the new baby after he or she arrives.
This was extra sweet with James because he was born in the summer when Dave was home all day. And in fact, Dave's family had a scheduled family vacation the week after James was born. Initially, we were all planning to go with a 2-3 week old baby, but then James was born 2 weeks late — literally 4 days before the vacation — so Dave took Nora and Simon while I stayed home with James. It was one of the most restful and relaxing weeks I've had in a really long time, and it was only possible because of all the extra work I did before he was born.
Busting My Butt to Start a Business = Simpler Days Home With Children Now
As I've mentioned before, I worked countless hours to build and grow my business when I first started out 9 years ago (6 years ago for the blog). I stayed up late, woke up early, read tutorials, followed suggestions of other big bloggers and business owners, said "yes" to every opportunity, and even worked countless hours for free just to get my name out there and build up my brand (all while working full time at my day job).
It was so busy and tiring and I wanted to quit at least once a week. At the time, I had no idea if things would ever work out, but I pushed through a few very busy, very exhausting years… and thankfully, it was worth it!
For that past 4 years, I have enjoyed a much more relaxed, slower pace of life as I no longer work my full-time day job AND I have cut back significantly in my blogging work in order to stay home with my kids. Without my initial efforts to build my business and my blog, I most likely wouldn't be able to enjoy working from home and setting my own schedule now.
Busy Home Renovations = Simpler Years Ahead to Enjoy Our Home
We spent the past 5 years renovating our home and re-landscaping the yard. It was a TON of work and took a ridiculous amount of time — but considering we hope to live here for many many years to come, it was worth a few years of stress and busyness to have many years of enjoying our home and yard.
Dave and I have already mentioned how this spring seems so relaxed and simple compared to the past few springs when we were working feverishly to finish up yard projects and gearing up for a summer of home renovations.
I have no doubt we will thoroughly enjoy our simpler summer this year, but it wouldn't be possible without all the work we've done and all the hours we put in during previous summers.
In my own personal experience, my life is happier, less stressed, more joyful, etc. when things are simpler, less cluttered, less full, and less busy. HOWEVER, I can't just enjoy simple living all day long without doing any work to achieve it.
In general, I don't think "busyness" is always a bad thing or something we need to feel guilty about — in fact, it's often necessary.
I feel that almost every period of simplicity and rest is a direct result of a period when life feels too busy or too full.
I think the "problem" arises when we are just "busy being busy" and not working towards a bigger goal.
In all the examples I gave above, I had a very specific end-goal in sight — whether it was something small like a simpler, less-stressed morning, or something huge like growing a business so I could eventually stay home with my children. All of my busyness, time, effort, and stress was for the purpose of achieving a simpler life in the future.
The unfortunate thing is that sometimes we work and work and work through an extremely busy period of life in order to achieve a certain goal and enjoy a simpler life — but for whatever reason, we don't hit our goal and we just keep pushing and working and living busy stressed-out lives in the process. I have no magical tips or words of wisdom for these situations… it's hard and discouraging, but I suppose it's just a part of life we all have to endure at times.
The important thing (at least for me) is to continually evaluate my times of busyness to see if they are worth it in the end. Are these busy times allowing me to simplify and slow down later on, or are they snowballing into more busy, more busy, more busy?
I'm naturally a workaholic, so it's easy for me to fall into the "busy for busyness' sake" camp (I suspect some of you can relate!) I have had to intentionally choose to slow down and simplify when I eventually achieve my goals — and although it's difficult to do, I can't say I've ever regretted it.
Are you in a busy and "too full" season of life right now?
DON'T let yourself feel guilty or like you are doing something "wrong"!
But DO stop and evaluate whether your busyness is getting you anywhere.
Have you enjoyed simpler times as a result of busier times? Or are you just busy being busy?
Whether it's a few hours of busy to experience a simpler day, or a few years of busy to achieve a simpler lifestyle, I think it's only natural that a (mostly) simple life requires (some) busy! 
What do you think?