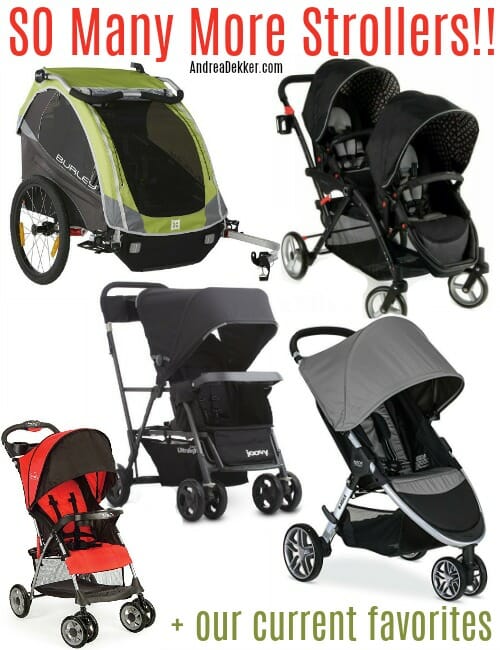 Exactly 5 year ago, I shared this post about our favorite strollers.
At the time, we only had one child, but I had already tried out close to a dozen different strollers — buying and selling them on Craigslist (and often making a profit in the process!)
Well, 5 years and 3 more babies later, we have an entirely new line-up of strollers… and that's what I'm sharing more about today!
It really is somewhat ridiculous how many we have, but we use them all on a regular basis, we have room to store them all, I got all but one of them for free or at rock-bottom prices on Craigslist, and I will most definitely be able to resell them all over the next few years!
Of course, there are pros and cons to all of our strollers — and OUR stroller needs are most likely very different from YOUR stroller needs. However, since I'm all about sharing what works for US in our current stage of life, I figured it was time for an updated stroller post!
Let's get started…
1. Britax B-Agile Stroller + Travel System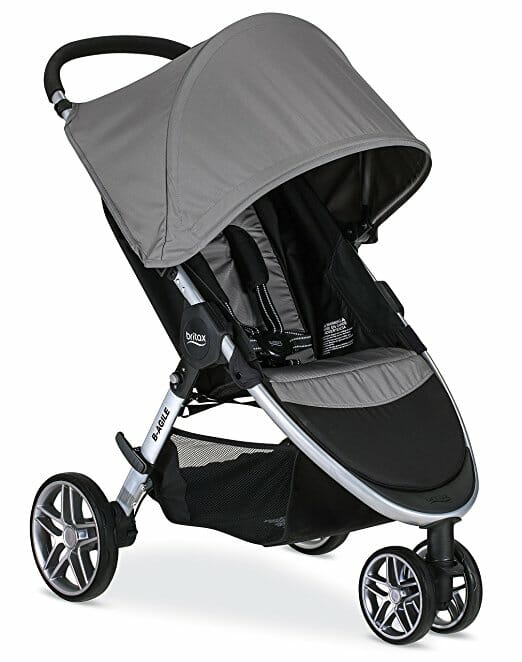 This is currently the stroller I use most right now (sometimes 2-3 times a day) mainly because it's the stroller that came with Clara's Britax infant carseat. The Craigslist ad for the carseat said "free stroller" and while I know I technically just paid for the whole travel system, I got a great deal on the carseat (roughly $60 I think) and the "free" stroller sealed the deal for me!
This stroller is very light-weight and SO easy to push around. The wheels glide everywhere and turn on a dime. It's technically a jogging stroller — and you know I don't jog — but I really do like only 1 wheel in the front. It's so much easier to push than strollers with 2 wheels up front.
The only thing I don't like about this stroller and carseat combo is that it requires BOTH hands to unhook the carseat from the stroller. I need to grab both sides where it connects and press a button, so I don't have one hand free to then pull up on the carseat handle. It was very awkward in the beginning, but now that I'm used to it, there are no issues — still a design flaw in my opinion though!
The B-Agile folds down instantly with the push of a button, and fits very nicely in the back of my trunk, or even in the passenger seat if my trunk is full.
It also has a very large sunshade, which is nice, now that Clara is sometimes using the stroller without the infant carseat.
Our current "plan" is to transition Clara out of her infant carseat over the summer, at which point, we will definiteliy sell her carseat and base. I'm still debating if I want to sell the stroller WITH the carseat or not. I really do love this stroller as a super convenient single stroller. And there are plenty of times I use a single stroller these days as the older kids often prefer to walk or ride their bikes with me.
We'll see what we decide over the next couple of months!
.
2. Contours Options Elite Double Stroller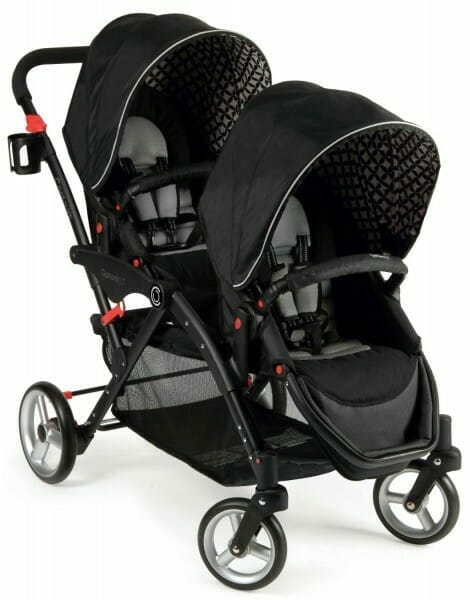 The Contours double stroller is the first and ONLY stroller I've ever purchased brand new from the store — and wow, have we gotten our money out of it!
I purchased it right after Simon was born (using BuyBuyBaby store credit I had left over from years before!) and we've put many miles on it over the past 4 years.
I absolutely love all the different seating options (hence the name "options") available with this stroller, especially that I can put a carseat in either the front or the back of the stroller, and that each seat can face forward or backward independently.
I blogged more about this stroller in a post 4 years ago — with lots more pictures of the different ways it can be configured.
We currently still use this stroller fairly regularly because James can't always keep up with the older kids, especially if the older 2 want to ride their bike.
Often, I end up propping James' bike on the canopies of this stroller when he gets tired, and he sits in the front while Clara is in the back facing me. I'm sure it's quite the sight for our neighbors!
There are so many things I love about this stroller… and a few I don't. 🙂
The Contours stroller is great for walking on paved roads, but it's definitely NOT an "off-road" stroller, even on smooth grassy areas. It does not turn quickly and if the child in the front seat is heavy, it can be somewhat difficult to steer around tight corners. It's also somewhat bulky to fold down (but most double strollers are).
The one other negative about this stroller is that it's currently selling for more than DOUBLE the price I paid just 4 years ago! I think I got mine for around $170 with a coupon, and it's now selling for $400 — which doesn't even include the infant carseat adapter! Boo!
One newer accessory they now offer for this stroller is the Shopping Basket — which hooks onto the infant carseat adapter. It instantly turns this stroller into a fabulous option for running errands (something I do regularly with my strollers) so it could be a good option for me even once we only need it for one child.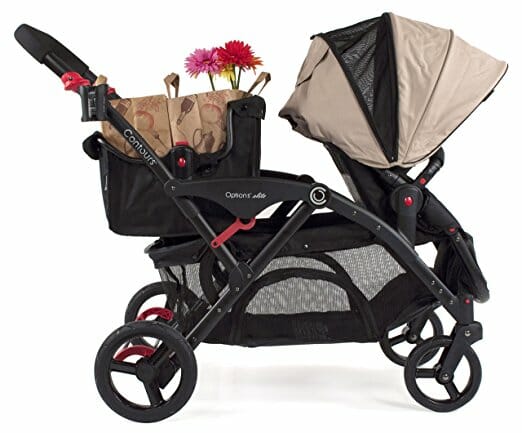 That said, I have a feeling we'll be selling this stroller within the next 6 months… once Clara is able to sit more confidently on her own, we'll most likely use our double bike trailer as our primary double stroller (more on the bike trailer below).
.
3. Burley D'lite Double Bike Trailer/Stroller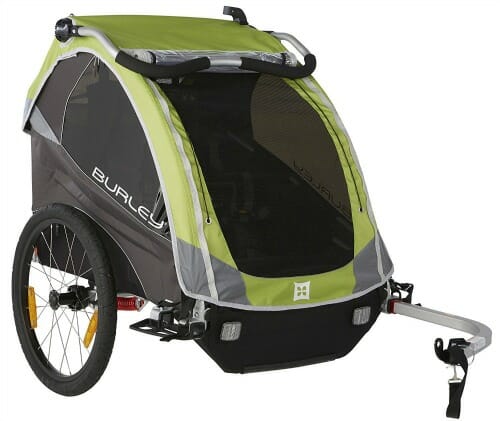 This bike trailer/stroller combo is a dream come true for Dave and for me!
We have wanted one of these since we had Nora, but just couldn't bite the bullet and spend the money. We did find a used one on Craigslist for a reduced price, but quickly realized it wasn't the "right fit" for our needs and sold it again immediately.
Then, 3 years ago, I was offered the opportunity to review the Burley unit with multiple accessories and attachments on my blog! I was about 7 months pregnant with James, so it was SUCH perfect timing. I was SO excited!
Not only did we get the bike trailer (with an extra attachment piece so we can switch it easily between our 2 bikes), we also got the complete jogging wheel attachment and the 2-wheel attachment — both of which are fantastic.
This stroller is amazing!
I can literally push this stroller with one finger, even with both Simon and James inside. It glides over almost any surface and is perfect for off-roading adventures.
Personally, I like using it with the 2-wheel stroller attachment best (it turns on a dime and fits through any normal doorway) but Dave loves using it as a bike trailer.
It's nice that it works in conjunction with our baby bike seat and/or our tag-a-long bike attachment!
We will most certainly be using this bike trailer for many years yet — and when the day comes when Clara is confidently riding a bike on her own, I will be so sad to finally sell this beauty.
I suppose the one negative to this stroller is the insane price tag.
It would truly cost $1000 to buy the stroller and all the accessories we have — honestly, you could practically buy a used car for that price!
Also, it doesn't work well until a child can sit up really well on their own (so around age 1). Burley sells an infant insert, but it has bad reviews and it doesn't look comfortable for the infant or the other child who needs to sit next to the infant.
.
4. Joovy Caboose Ultralight Stroller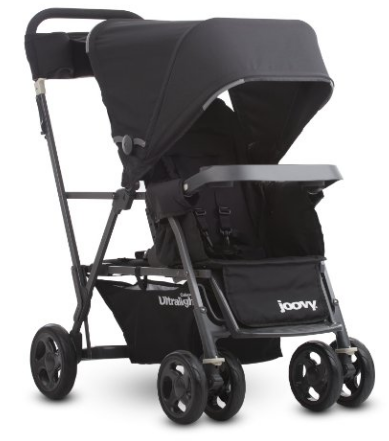 This stroller is absolutely AMAZING for my current season of life!
Not only does it easily hold 2 or even 3 of my big kids at a time, it's also super lightweight and folds down extremely small (especially if I remove the snack tray and canopy).
This stroller does work with our carseat, but I prefer it for use with the older kids as the carseat takes up SO much room that there's almost no place for another child to sit or stand.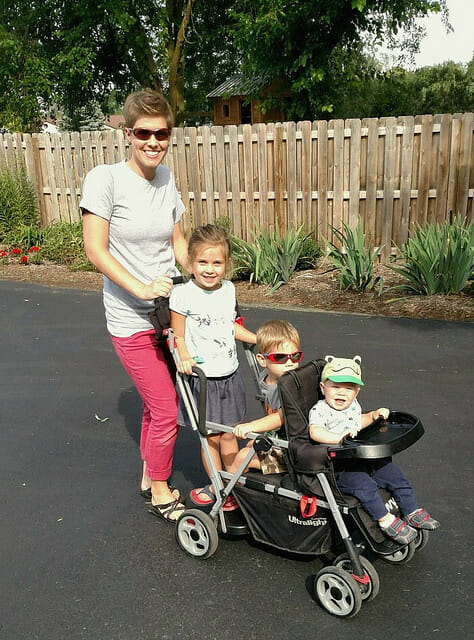 I scored this gem for $30 at a local mom's sale 2 years ago and I have a feeling it will be the one stroller I hold onto for a long time — just because it's so compact and so versatile!
I love that the sunshade is completely removable if I want to have 3 kids on the stroller. And I also love that the sunshade is large enough to completely cover 2 kiddos if they are both sitting down.
Also, this is one of our only strollers that actually comes with all the accessories! It comes with the child snack tray, it comes with the adult organizing caddy, it comes with the sunshade, and it doesn't require an additional attachment for the infant carseat.
I will say that the smaller wheels make the stroller more challenging to push (especially with 3 kids on it!) It's definitely only designed for use on smooth surfaces.
Also, if you are quite tall, I'm guessing the handle would be too low for your comfort.
That said, this is still a fantastically useful and practical stroller for our family — and probably the one stroller we'll hang onto the longest as there are just so many ways to use it with bigger kids!
.
5. Koolcraft Cloud Plus Lightweight Stroller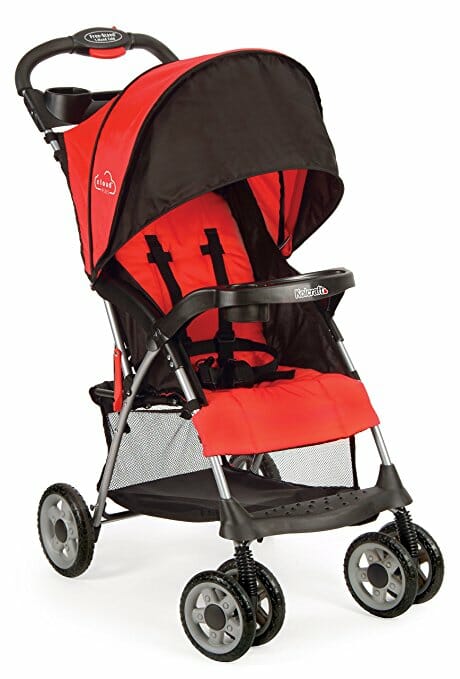 This cute little stroller is the newest addition to our "family" of strollers. I recently found it for $5 at our local thrift store, and even though it wasn't too dirty, it looks fantastic now after I washed it up!
It truly is VERY VERY lightweight and pushes extremely easily. It folds down super small, has a generous sunshade, and a decent size basket for storage. Plus, it comes with a parent organizer and a removable child's tray.
I also like that it pushes with a bar and not 2 separate handles — this makes it much easier to push one-handed.
.
That's a lot of strollers — I know!
However, keep in mind that the kids and I walk and bike ALL over the place — so we truly do use one or more of our strollers every single day.
Also, as I mentioned above, I essentially got all our strollers for FREE.
The Burley was compensation for writing a blog post, the Contours double stroller was purchased with gift cards I didn't currently have a use for, the Britax came "free" with the infant carseat I wanted to buy anyway, and the Joovy and Koolcraft strollers cost a total of $35!
So, assuming I'll be able to sell all of these strollers for SIGNIFICANTLY more than $35 someday, I think I made out all right!
One of the reasons I thought to share more about our strollers this week is because I cleaned them all up last weekend.
It was the perfect day to let them air out and dry off in the warm sun and slight breeze. Now they are fresh again for another season of use!
If you're wondering, here's a link to my post about how I clean our strollers.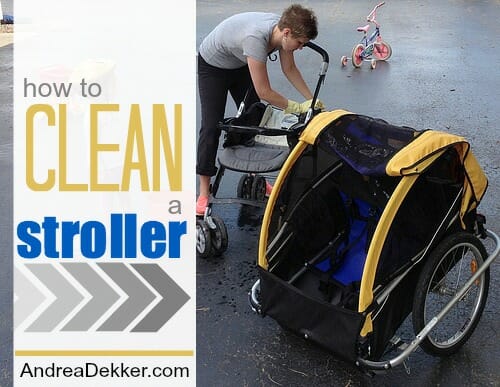 .
I'd love to know what YOUR favorite strollers are/were… and why!