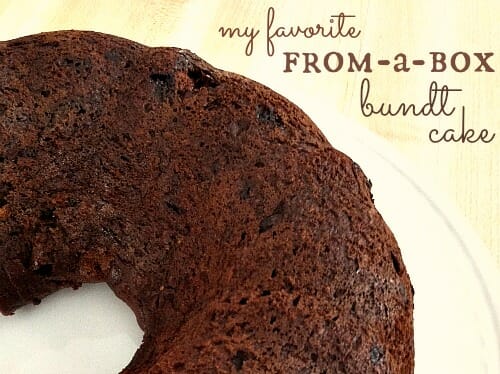 You may have noticed that I don't have many traditional cake recipes on my blog — and that's because I don't particularly love cake or frosting. However, the Triple-Chocolate Bundt Cake recipe I posted over 2 years ago is STILL one of my favorite desserts. It's so simple, it starts with a boxed mix, and Dave just so happens to love bundt cakes — win, win, win!
Dave and I love chocolate — so the "triple chocolate" is definitely a winner for us. However, there are other times when we might prefer a less overwhelmingly chocolate dessert (like if we're bringing dessert to a potluck or a friend's house), so I started experimenting with different cake mixes and different ingredients and made a whole bunch of variations of this most delicious (from-a-box) cake.
But you'd never guess it was from a box… seriously!
I make some version of this cake at least once or twice a month — or whenever we need a quick dessert. Often, I'll make 2 cakes at the same time, cut them both in half, put half of each in the freezer for later (yes, they freeze extremely well), and save half to eat right away.
If you're looking for a simple and delicious dessert recipe for yourself or an upcoming event, give this one a try!
Recipe for My Favorite "From a Box" Bundt Cake
INGREDIENTS:
1 pkg. any variety of store-bought cake mix (18.5 oz.)
1 pkg. any flavor instant pudding (4 serving size)
1 1/3 c. water
1/2 c. vegetable oil
3 eggs
1 c. mix-ins (optional) — chocolate chips, nuts, peanut butter chips, etc.
DIRECTIONS:
Mix cake mix and dry pudding in a medium bowl.
Add the wet ingredient and any mix-ins; stir until combined.
Pour the batter into a greased and floured bundt pan.
Bake at 350 for 45-50 minutes.
Remove cake from pan and cool on a wire rack.
Can't get much easier than that!
The best part of this recipe is that you can use it over and over and over again — just with different ingredients to suit your tastebuds (or your cravings). Feel free to try your own combinations of cake mix, dry pudding mix, and mix-ins — this is just a short list of some of our favorites!
NOTE: This picture is just an example to make my point that any cake mix can work… however, I did NOT make the chocolate cake from the white cake mix 🙂
Our favorite ingredient combinations
Chocolate cake, chocolate pudding, semi-sweet chocolate chips
Chocolate cake, butterscotch pudding, 1/2 c. milk chocolate chips + 1/2 c. peanut butter chips
Yellow cake, vanilla pudding, semi-sweet chocolate chips
Yellow cake, lemon pudding, 2 t. lemon extract, 2 T. poppy seeds
Chocolate cake, butterscotch pudding, 1/2 c. chocolate chips + 1/c. pecans
Red velvet cake, vanilla pudding, white chocolate chips
White cake, vanilla pudding, 2 t. almond extract, slivered almonds as a garnish
The pudding makes this cake super dense and moist, so you honestly don't need frosting. However, if you love frosting, feel free to try different varieties of frosting, glazes, or even just powdered sugar.
And yes, this cake definitely tastes delicious with ice-cream!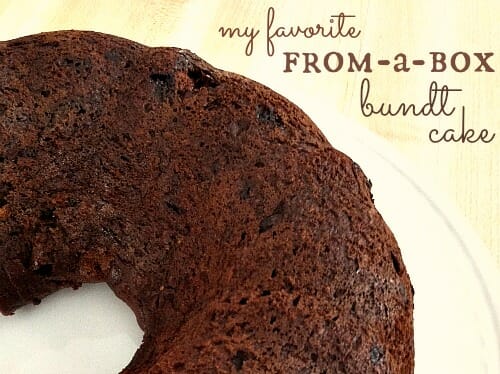 Do you have any "go-to" desserts you make all the time?
Visit my virtual recipe box for more simple, delicious, family friendly, recipes!