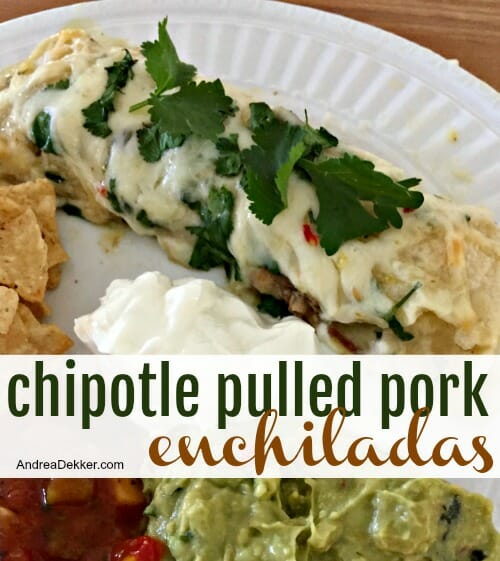 Mexican-type foods are often my go-to for busy weeknights — mainly because they can almost always be made ahead of time and either reheated in a slow cooker or baked in the oven.
Plus, our family LOVES chips, salsa, guacamole, sour cream, and all other "toppings".
I've had fun cooking my own tortillas lately, so in an effort to use them up, I've been making lots of quesadillas and enchiladas these past couple months. 🙂
The first time I made this recipe, I used canned green chilis, but was then told to try canned chipotle peppers in adobe. I was initially a little nervous because our kids aren't big on lots of "spice" in their foods.
However, I was pleasantly surprised how much of the spice was gone after cooking the meat for several hours. All that was left was amazingly flavorful pork that is absolutely PERFECT for enchiladas — or any other Mexican-style meal you want to throw together (Dave and I love this pork on loaded nachos too).
If you're looking for a fantastic make ahead freezer meal to add to your weekly meal plans, give these Chipotle Pulled Pork Enchiladas a try.
Yield: 20+
Chipotle Pulled Pork Enchiladas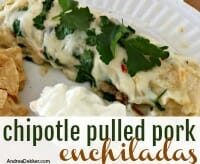 If you're looking for a fantastic make-ahead freezer meal to add to your weekly meal plans, give these Chipotle Pulled Pork Enchiladas a try!
Additional Time
40 minutes
Total Time
8 hours
50 minutes
Ingredients
For the Meat
1 pork roast or loin (2-3 pounds)
4 cloves garlic, minced
1 t. cumin
1 t. salt
1/2 t. pepper
2 c. broth or water
3-4 c. cheese, divided
For the Sauce
1 can (10 oz.) green enchilada sauce
1/4 c. milk
1/4 c. broth or water (or liquid from the pork cooking)
2 T. fresh cilantro
Instructions
Put pork roast in a large slow cooker
In a small bowl, mix garlic, chipotle pepper, chili powder, cumin, salt and pepper. Rub/spread mixture on all size of pork (I used a rubber spatula).
Add broth or water to the bottom of slow cooker (try not to wash the seasoning off the meat).
Cover and cook on low for 5-8 hours depending on the size of your roast.
Drain most of the liquid off the meat (reserve for later) and shred meat with 2 forks. Add some liquid back if meat seems dry. Taste and re-season with additional salt and pepper.
Place a few Tablespoons of shredded meat down the center of a tortillas, top with shredded cheese, and roll up.
Place tortillas into a greased pan OR into a freezer bag for later.
FOR THE SAUCE:
Mix enchilada sauce, milk, broth, and cilantro in a small bowl
Set aside until you're ready to bake the enchiladas (can be refrigerated for a few days or frozen for later).
**I usually only bake a half batch of enchiladas at a time so I freeze half the sauce until later.
TO BAKE:
Preheat oven to 350 degrees. Lightly grease a 9″ x 13″ dish. Spread about 1/2 cup of the sauce in the bottom of the dish.
Place rolled-up enchiladas in pan and pour remaining sauce over top.
Sprinkle with additional cheese.
Bake (covered with foil) for 20-25 minutes. Remove foil and bake for an additional 5-10 minutes, or until cheese is golden and bubbly.
Notes
We love serving these enchiladas with any (or all) of the following!
chips and salsa
lettuce salad
sour cream, diced onions, or any of your favorite toppings.
Recommended Products
As an Amazon Associate and member of other affiliate programs, I earn from qualifying purchases.
Nutrition Information
Yield
20
Serving Size
1 enchilada
Amount Per Serving
Calories

344
Total Fat

27g
Saturated Fat

15g
Trans Fat

1g
Unsaturated Fat

9g
Cholesterol

81mg
Sodium

679mg
Carbohydrates

6g
Fiber

0g
Sugar

1g
Protein

20g
Nutrition information does not include additional toppings.
I thought I had more pictures of making and shredding the meat, but I can't find them on my phone or computer — and I made SO much meat this last time that I won't be making it again for a while!
That said, the meat is so ridiculously simple to make, you can probably manage just fine without step-by-step photos. Just rub the spice mixture on all surfaces of the meat, pour in the broth, and let it cook for several hours! Your house will smell amazing!
Also, the chipotle peppers in adobe are CRAZY SPICY! You will want to wash your hands and cutting board immediately after touching them. However, as I mentioned above, they really do NOT make your meat crazy spicy — they just add great flavor.
My kids don't like anything even remotely spicy and they LOVE these enchiladas!
Side Dish Suggestions
chips and salsa
lettuce salad
sour cream, diced onions, or any of your favorite toppings.
Of course, if you just want to make the meat mixture, there are so many other ways you can serve it — on a salad, on buns, on nachos, in quesadillas, etc. etc.
It's such a fun twist on traditional pulled pork and a nice change of pace from "more boring" beef or chicken enchiladas.
Our family loves this meal… and I hope yours does too!
Visit my virtual recipe box for more simple, delicious, family friendly recipes!