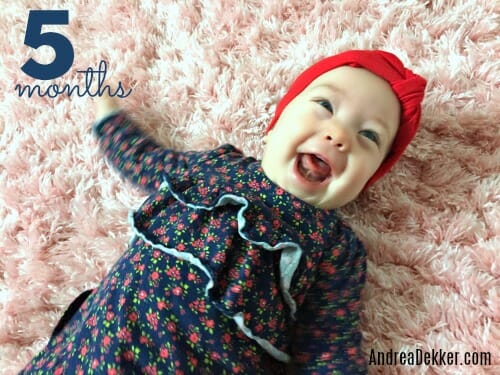 Can you believe this little lady celebrated 5 months yesterday!?
Clara is rolling both ways now, making all sorts of cute baby noises, smiling at almost everyone, and grabbing anything she can reach (which means everything she can reach goes into her mouth).
She continues to slowly lose hair on top of her head, while her thick mullet continues to grow down the back (don't worry, I trim it regularly)!
Also, she finally has eye lashes… and just like my other kids, they are SO long!
She's still sucking her thumb (and often her first 2 fingers), but it seems to pacify her most of the time — I tell Dave she cries the least of any of our babies, but he says I just can't hear her over all the other noise in the house!
Clara is starting to realize when she doesn't know someone — which means she has been very attached to me lately. She will happily smile at "strangers" from a distance, and she'll even let more familiar faces hold her, as long as she knows I'm right there!
Ah… I am so loved! 🙂
.
Since we're almost half way into Clara's first year of life, I figure it's a good time to answer the questions I've gotten about how I decided to feed her.
Many of you know Nora's long journey to finally eating food… and that (for my own sanity) I decided to use bottles and formula for Simon. Then I switched back to nursing for James, and (after contemplating what I felt would be easiest for me at this point in my life) decided that nursing Clara would be the fastest, easiest, and most convenient option.
So that's what we went with — and it's going really well.
We have tried a bottle 5 or 6 times over the past few months…. unfortunately, it didn't go so well. Dave got her to drink an ounce or two a while back, but that's about it.
I haven't totally lost hope yet, but I have a feeling I will eventually be passing all my bottles on to my sisters and sister-in-law, as Clara won't be using them.
At least she sleeps well!
There are definitely days when I feel somewhat trapped and confined because she relies on me for all her eating needs. However, there are many other times when feeding her is a fantastic reason for me to slip away into a quiet room when the kids are being crazy or when I'm tired of being around people.
It's a convenient excuse for quiet — which I am grateful for these days!
That said, I know I'll be ready to be DONE whenever she's ready.
One VERY different aspect of nursing this time around is that I frequently need to feed Clara in a public setting as I'm gone so much more with the older kids.
Whether it's something for Nora's school, something at church, a playdate with neighbors, or even just visiting friends and relatives, I don't always have the comfort and privacy of my own home to feed her (I usually did with all my other kids).
It has definiteliy been a learning curve for me, but I'm getting so much better at it, and feeling so much more comfortable.
So far, I've fed her at:
church
the library
the mall
many friends' and relatives' homes
Nora's school
the park
in the van
and probably a few other places I don't remember
And yes, other people have been around me while I fed her!
.
I know this might not sound like a big deal to many of you — but it's a BIG DEAL for me. Even typing this and seeing how many different public places I've fed Clara is pretty amazing for me.
After realizing I'd be feeding her in more public places (and knowing how much I hate nursing covers) I decided to find a few new nursing tops.
My go-to nursing outfit is one of my beloved Glamourmom Nursing Tops with a v-neck shirt, cardigan, and scarf. I can hide almost all nursing activity with this combo.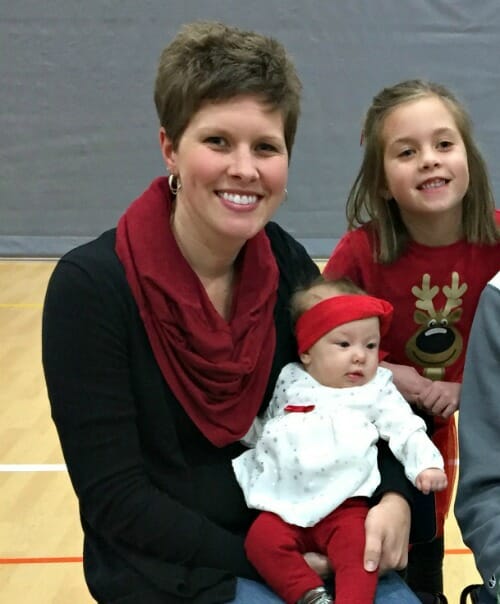 However, this time around, I was fortunate to stumble across the super cute nursing tops from Latched Mama online.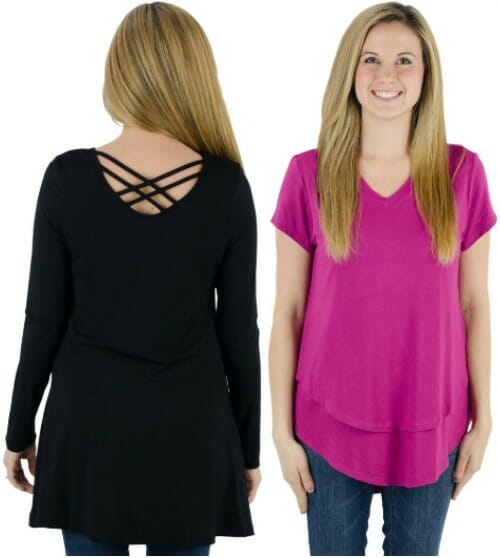 I currently have the Cross-Back Nursing Tunic (black) and the V-neck Nursing Tee (bright pink) and LOVE both of them so much.
Black and bright pink are 2 of my favorite colors to wear all year long, and the soft, stretchy fabric could work well for any season.
They are super stretchy but not clingy, they are thick but not too warm, and they hang really nicely. They would be perfect for traveling too because they don't wrinkle easily.
I wear these tops every week (sometimes multiple times a week with different pants or cardigans) and I get compliments on them ALL the time.
The black top looks more like a nursing top since it has an empire waste, but the pink top looks like anything else I might by for myself — so I can definitely see myself wearing this as a regular top, even after I'm finished nursing.
If I thought we might have a couple more kids, I'd probably invest in a few more Latched Mama tops — but assuming I only have a few more months of nursing left in my life, I can probably get by with these 2 super versatile tops!
.
Happy 5 Months Doll Baby…