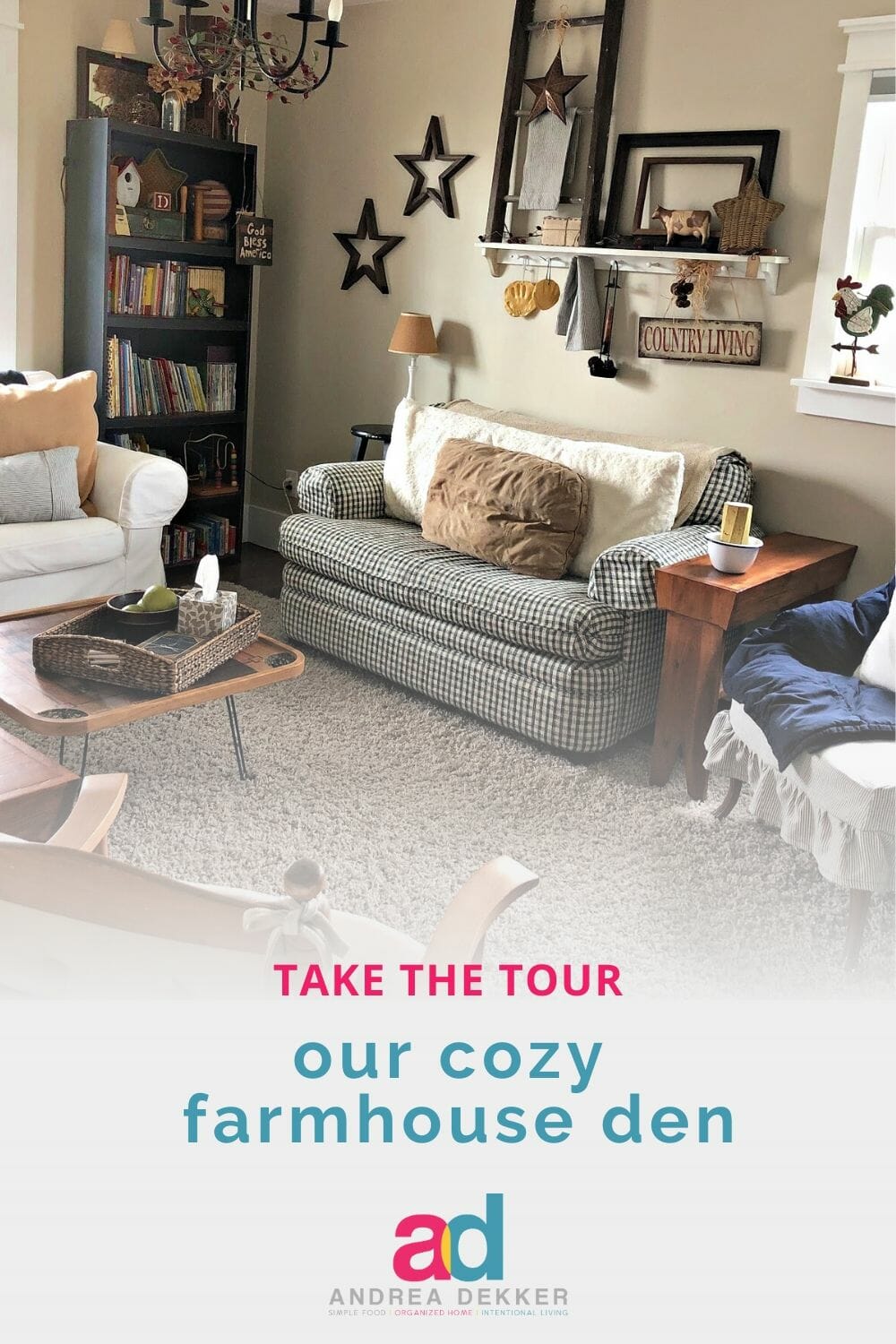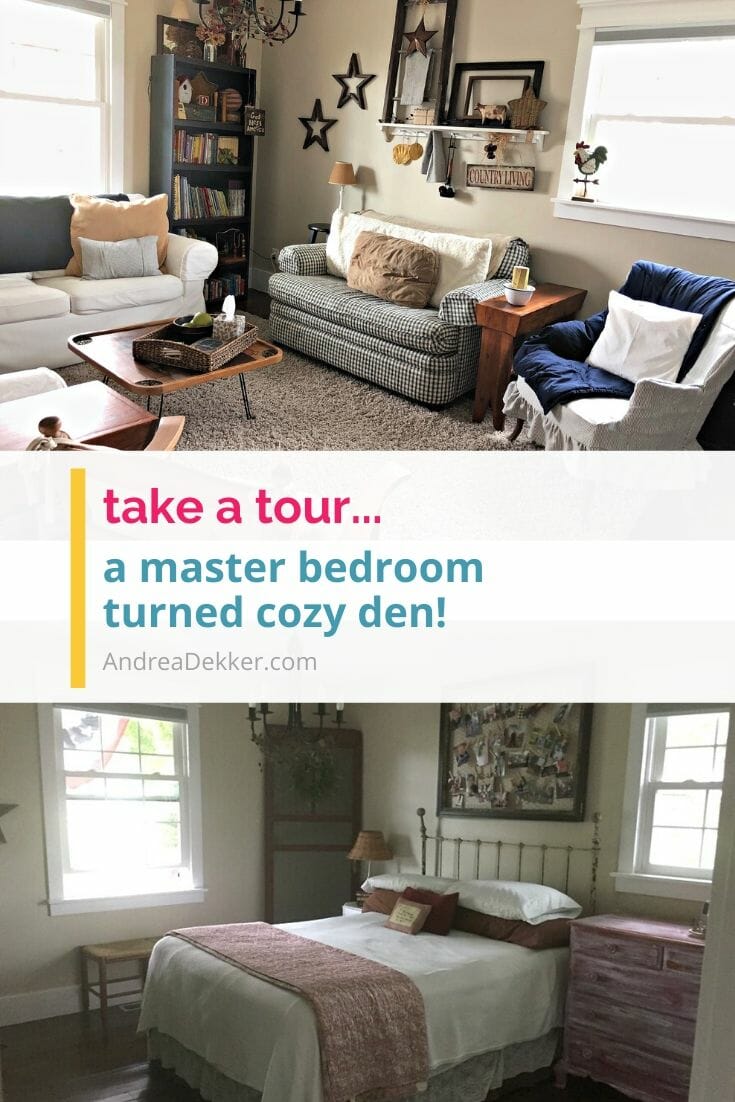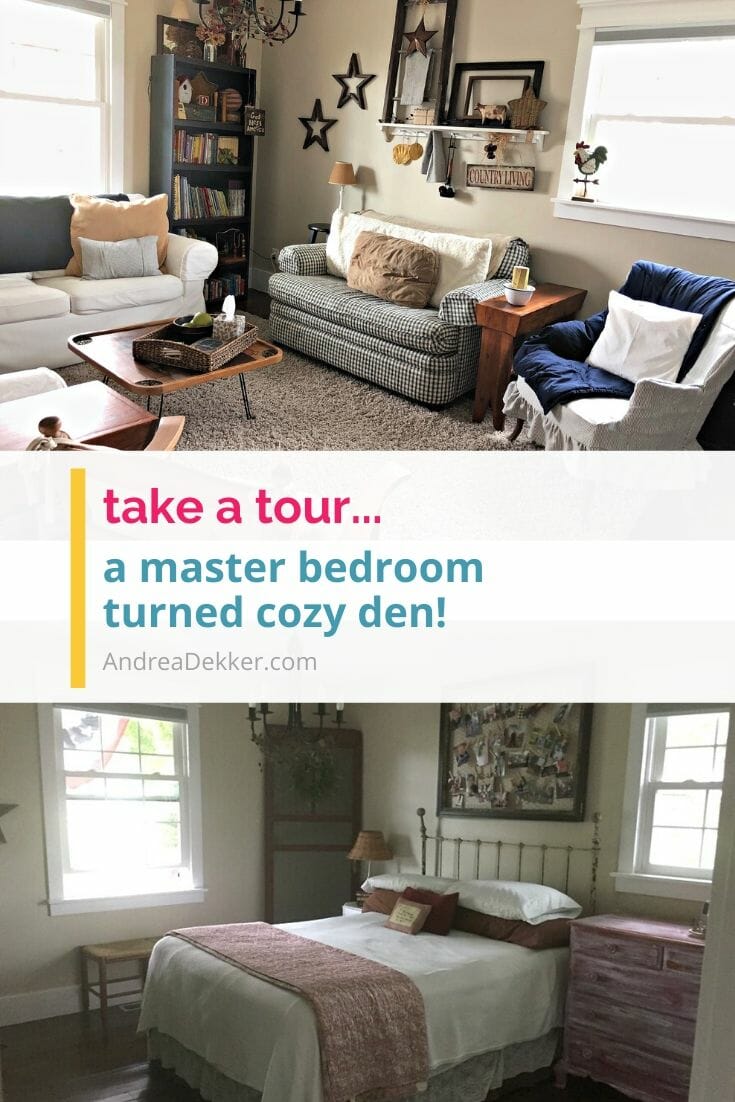 In an effort to create a more functional living space for our growing family, we recently moved our master bedroom to a much smaller room.
Then we transformed our previous master bedroom into a cozy farmhouse den our whole family now enjoys on a daily basis!
This mini-renovation took roughly 36 hours and resulted in a fantastic spot for family game nights, movie marathons, afternoon naps, or just curling up with a good book.
Watch the Full Video Tour of Our Den!
Click here if you can't see the video below. But be sure to come back and check out the before/after pictures below!

What do you think?
Compared to a traditional livingroom, this bedroom-turned-den is on the small side. However, since it's our SECOND living area, the smaller size really doesn't matter for us.
We are thrilled with our second living area — and the fact that we created this space so quickly with almost no out-of-pocket expense!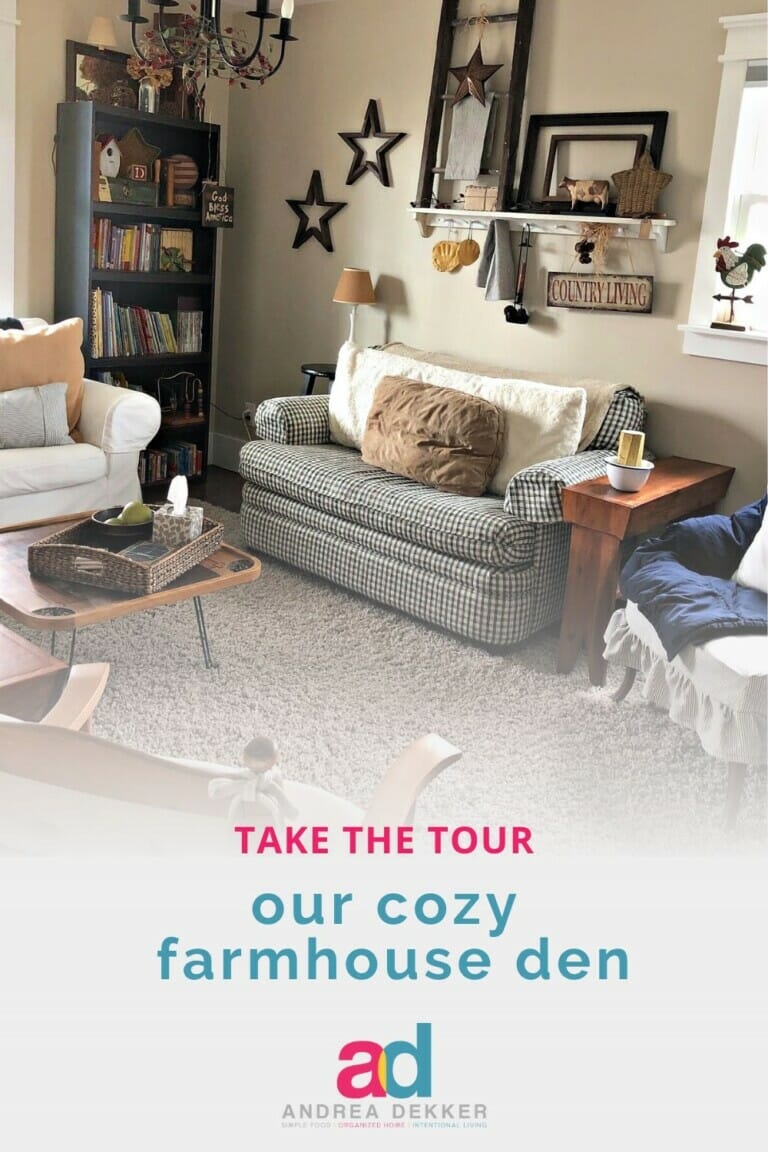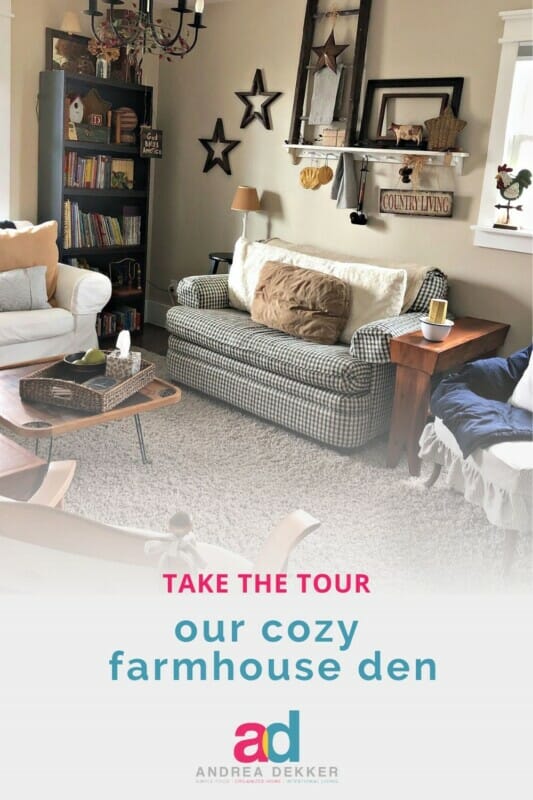 Check out the Before / After Photos:
The photos below should give you a pretty good feel for how this space transitioned from our master bedroom to a cozy den…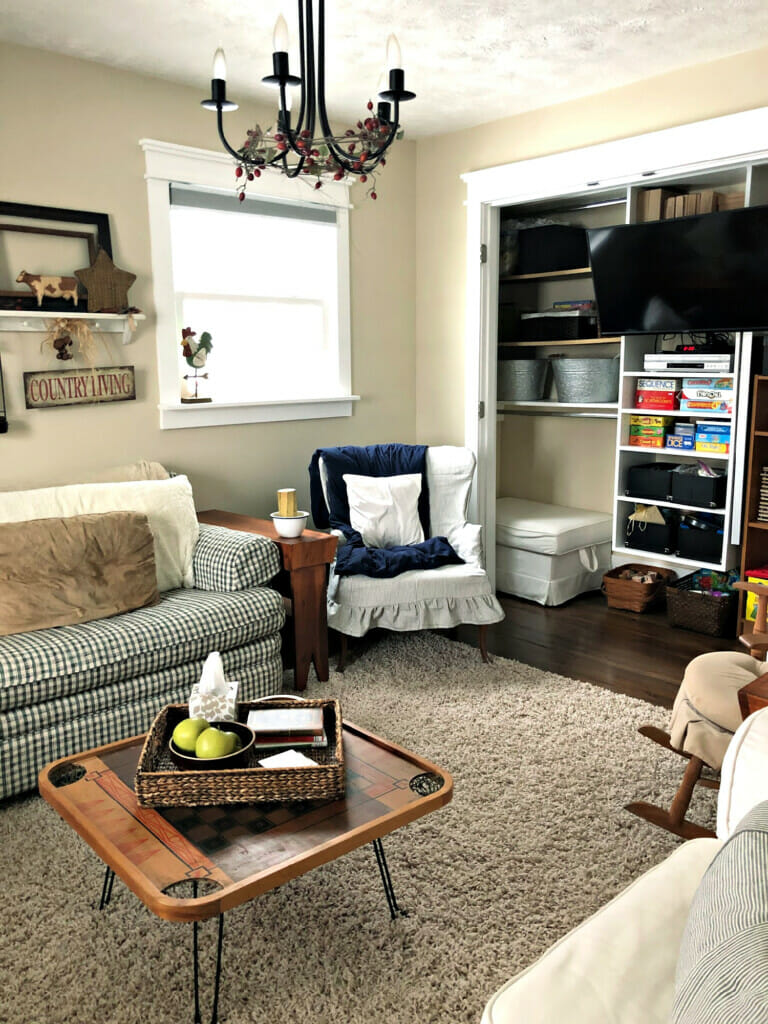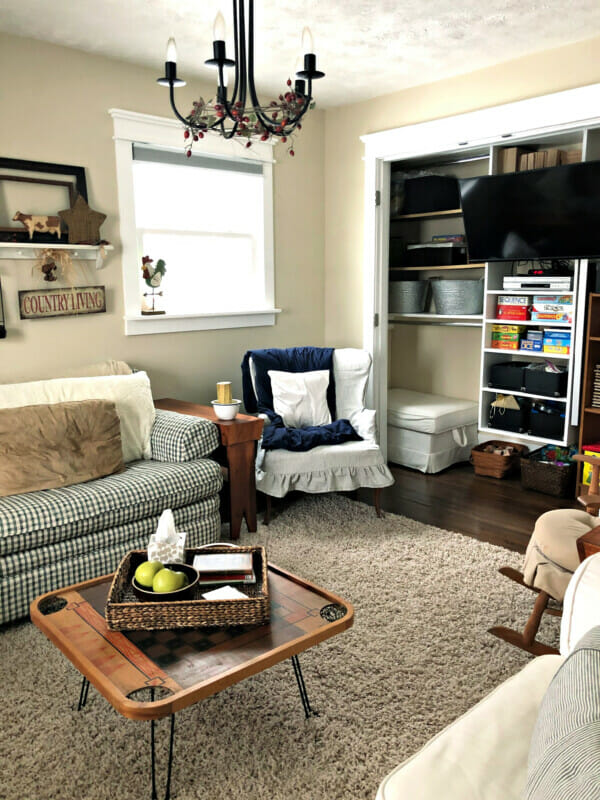 As you can see by the photos below, we took the closet doors off but kept the organizing system inplace (thanks to an extended-arm TV mount).
And if you look down the hallway, you'll see our new master bedroom! 🙂
I used some extra fabric to sew a slipcover for my Grandma's chair, and to make a handful of pillows.
And also we added legs to an antique game board for a fun farmhouse coffee table (the legs fold up for easy storage).
A Few Notes:
I fully admit that not everything in this space really "works" or "matches". Please keep in mind that we transformed this space in 36 hours, without leaving our home, with virtually zero out-of-pocket expense! We used what we had in the house. Eventually, I will most likely swap out some furniture and decor, but for now, we are just THRILLED with this new super-functional space in our home!
The paint color is NOT different — I'm not sure why it looks so different in the before pictures. It's Antique White.
We plan to install a small ceiling fan instead of the chandelier — but electrical work didn't make the cut for our 36-hour reno!
I plan to add curtains to the closet opening but the fabric stores aren't open and I didn't have scraps big enough to fit this space.
This is our SECOND living space. I know it's smaller than some living spaces, but we do have another living area too. Think of this sort of like a basement family room or kids' hang-out space.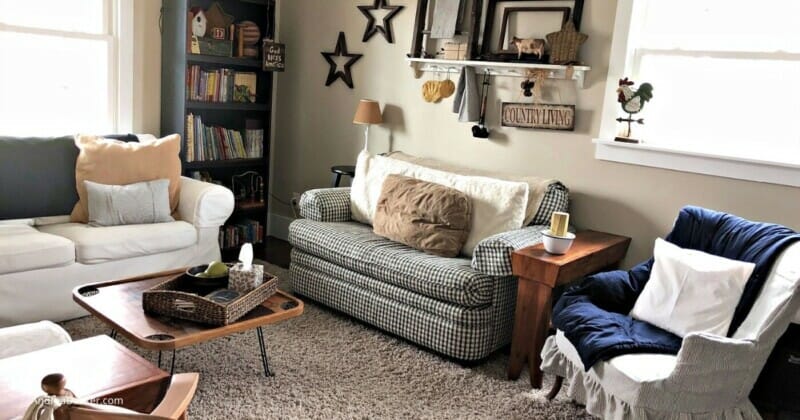 My Favorite Things About Our New Den:
We now have a second living area for our family to spend time in! This has been especially helpful with ALL of us home ALL the time these past 6 weeks. One child can be reading or working on homework while other kids are playing a game. Or the kids can be in one space while the adults are in another!
This space doubles as a guest bedroom (something we haven't had since James was born). As I mention in the video, the loveseat pulls out into a bed, and the corner couch is SUPER comfortable for sleeping. I moved our air mattresses and extra bedding into the den closet, so we're ready for overnight guests once the quarantine is lifted!
The new den is a very private space. If someone wants to watch a movie or take a nap in the middle of the day, we just pull the shades, close the door, and it's super dark and quiet in the den. It's also a great space when one child has a few friends over. They can do their own thing with friends without other siblings butting in.
It's so cozy! I know, I've said this a bunch already — but it really is such a cozy space! Our previous living room (picture below) was so big and open, with 5 different entrances to different rooms in our home. It was very awkward to arrange furniture, and people were always walking through the space to get to another space. There was zero privacy. Our new den is exactly the opposite — smaller, cozier, more practical for smaller groups, more private, etc. etc.
So… what did we do with our old living room?
I'll share all the details next week — but I will tell you it's TOTALLY different. There is no living room furniture in that space anymore, and (surprise, surprise) the new space is SO much more functional for our family's current needs.
Product Links:
Almost everything in this space was handmade or purchased from thrift stores or garage sales YEARS ago. Below, I've included a few links to items you can actually still buy!
NOTE: the only things I actually purchased to complete our den were the TV Mount and the Rug… and I used a gift card for the rug.
More Farmhouse Video Tours:
I know it's not "normal" or traditional to turn the master bedroom into a den — but it feels like the best and simplest solution for our family's current needs.
If we want to change things up again in a few months or years, we will!
But for now, we will continue to enjoy our cozy farmhouse den each day!